How does crypto staking work?
Instead of just keeping your cryptocurrencies in the wallets, you can earn rewards by staking these crypto coins. That's right. After 2020, most of the crypto exchanges and wallets offer cryptocurrency staking. This is a super easy method to earn passive income from your cryptocurrencies. And this is what I show in our newest course about crypto staking.
Cryptocurrency staking is actually already quite popular, but there isn't much educational content about it available. So I have decided to create this course so that everyone interested can learn how to do it with confidence. And I will demonstrate it step by step.
I have opened an account on one of the exchanges I use. I bought 3 different cryptocurrencies with a total current value above $5,000 just for this course to show you the whole process step by step.
By me saying the whole process, don't think it is something complicated. It is a matter of just a few clicks and you do not need to have any experience in blockchain or anything related to cryptos. It really is very easy.
So let's say you have $10,000 saved in your bank account, but instead of keeping it there, you can put that money to work and get up to 12% or even more on some of the exchanges per year. This is $1,200 without doing anything. Of course, if you have more then you could earn more. And if you have less, don't worry, you will still earn over time because the amount will be compounding every month.
Staking demonstration
In the course, I explain what crypto staking is so you will know what you are doing. I will share with you which companies allow it and which ones I prefer to use. I will also teach you which are the safest wallets you can use to store your cryptocurrencies. And how I personally diversify the risk by keeping my crypto in different places.
Additionally, I will talk about money management and how much one should put into cryptos. Because I know many beginners that want to start investing in cryptos, are unsure which is the best asset to buy or worry that it's too late. They wonder how much money they should invest and how long they should hold onto the asset.
I will try to answer all these questions. But what I will focus on is crypto staking because it allows you to earn extra passive income regardless of what the price of Bitcoin is or where the market goes.
I will demonstrate how to do the crypto staking right from my phone, sharing the screen of the phone with you. So if you decide to do it, you will know exactly what you need to do. I will share different strategies for crypto staking with you, which you can apply to your personal investment strategy. And it's really great when you put your money to work for you because this way, you won't lose the buying power of your money due to inflation. And the Crypto staking nowadays allows us to earn a respectable passive income.
What is crypto staking?
Let's get straight to the point, what is crypto staking?
I will try to explain in simple words. Staking crypto is the process in which you will help or support the security and operations on the blockchain network and you get rewarded for that. If this still sounds complicated, we can say that staking is like locking cryptocurrencies to receive rewards.
So instead of just keeping your cryptocurrencies on the exchanges or on the wallets, you can stake them and you will earn a reward which is not bad at all.
And since 2020, and now in 2021, most of the popular cryptocurrency exchanges and wallets offer their clients to stake crypto. So these are platforms like Binance, Coinbase, Kucoin, Kraken, Poloniex, and etc.
The platform that I will use to demonstrate crypto staking in the course will be Crypto.com. And I don't want to go into details what are the different crypto staking rewards in the different exchanges. Because they change them all the time. And if I tell you now the best conditions are on Binance, for example, next month it could be somewhere else.
When you decide if you should go for crypto staking, spend some time comparing several different crypto exchanges and crypto wallets to see which one will suit you best. And there are really many platforms and companies where you can earn interest as a reward from staking your cryptocurrencies.
The interest rates when staking crypto
So the ones that I have mentioned and most of the others work very similarly to how the banks work. So usually what happens with the banks is they get deposits and on the other side, they lend money to people who take credits.
And they get higher interest rates from the people that take loans. And give lower interest rates to the people that have deposits. So, for example, if I have a deposit in the bank, I would get, nowadays, about 1-2% maximum depending on the bank and the currency. But if I have a credit, I would be paying much more. 6-7, depends on what the interest rates are at the moment. So the exchanges and the wallets nowadays lend cryptocurrencies to the people that don't have cryptocurrencies.
And, for example, I have cryptocurrencies, and I can lock them into my account so the exchange can lend them to other traders. And I get an interest rate out of that, the exchange gives me the majority of the interest rate and holds a portion from which they profit. The second way the exchanges and the crypto wallets work is they actually do staking on the blockchain using our cryptocurrencies. And of course, third, they can buy assets, invest in real estate just like the banks. Or they invest in stocks, it's their business.
The thing is, when you choose your cryptocurrency exchange or wallet, you need to trust the company. Because they will be using your cryptocurrencies and you will be expecting them to pay rewards to you for that.
If you invest in something, you have to believe that you will profit out of it
And I know that many people are quite skeptical about cryptocurrencies. About staking, they start with, "Oh, my account will get hacked, I will lose the money, the price will go to zero". Now, if you start with that thinking, you better not invest in cryptocurrencies.
Because if you invest in something, you have to believe that you will profit out of it. Or when we are talking about crypto staking, you need to prepare your mind that you will be having passive income from your cryptocurrencies no matter where the price is. Is it going up or is it going down? At the end of the period, you will have a passive income coming into your account.
Crypto coins Proof of Stake (PoS)
Now, I will buy some crypto coins from an exchange, I will put them in a hardware wallet and I will show you how easy it is to stake a pure Proof of Stake token.
Proof of Stake (PoS) is a mechanism used by the cryptocurrency blockchain to allow a person to mine or validate blockchain transactions depending on how many crypto coins he has. This means that the more Bitcoin or altcoin you own, the more mining power you have.
And before I show you the actual crypto staking, be sure to check our free lectures about the best crypto wallets and the top cryptocurrency exchanges to see what I use and found to be the safest. I'll also look at the difference when you hold cryptocurrency on the exchange, on the wallet, and when you are actually staking them.
Staking crypto coins in a hardware wallet
Actually, by the time I'm writing this lecture, Algo is the easiest crypto for staking because all you need to do is to have it. And you will be getting crypto staking rewards.
Algo is the cryptocurrency of the blockchain called Algorand. The mission of this blockchain is to create an economy that is accessible for everyone with a digital currency that works fast and instantly. Like the fiat currencies but with the difference that it is digital. Algo or Algorand counts as a solution to 3 main problems of the blockchains today – decentralization, scalability, and security. The security in the Algo consensus algorithm is based on the honesty of the majority. The protocol is secured if 2/3 of the majority are honest.
And let's get to the point, how Algo staking works? You just need to have Algo in your crypto wallet and you will be receiving staking rewards. There is no action you need to take to stake Algo, no need to delegate it to someone like with Tezos, for example.
If you want to learn how to stake Tezos on Ledger, don't forget to have a look at our Crypto Staking course.
However, with Algo, you do not need to lock the crypto for a certain period. You just need to have Algo coins and you are already staking crypto. Even if you have 1 Algo token, which at the moment is around $1.25, you will be able to claim crypto staking rewards. And in the next lines, I will show you the whole process, step-by-step, using the Ledger Nano X hardware crypto wallet.
Purchase the crypto coins
And the first thing I will do is to buy some crypto coins. So I will open my Crypto.com mobile app and I will go to Track. There you can find all the assets that the Crypto.com exchange offers. I will scroll down and I will go to Algo.
You can see that at the moment, it sits at the price of $1.27. And actually, it did a nice break just a few hours ago. And this is one of the reasons I decided to writhe the article right now. So it broke an aggressive counter-trendline, which is my strategy for investing in the cryptocurrency market.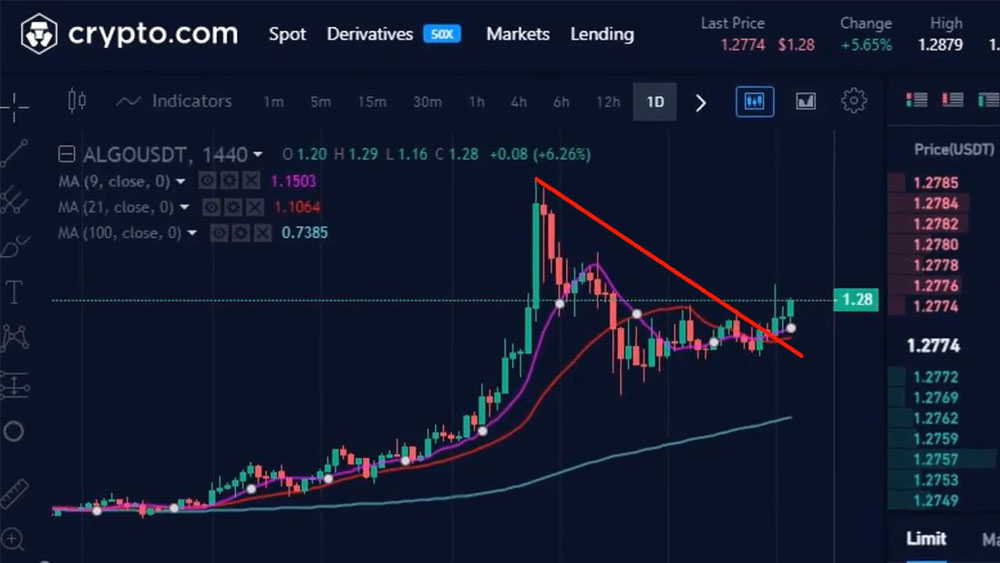 And at the same time, Bitcoin broke an aggressive counter-trendline, which is the signal for me when I want to buy cryptocurrencies.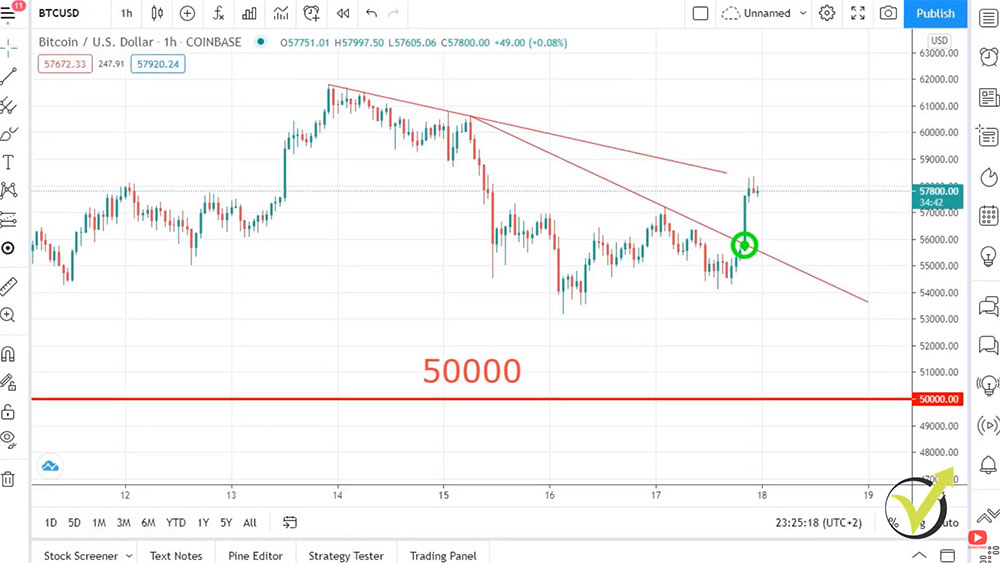 And Algo reached $1.70 in February 2021, which makes me feel comfortable buying it at $1.27, $1.28. So let me buy so I will not miss the price and I will be buying 350 of Algo, which will cost me about $447 at the current moment. I will tap on Buy and I will buy with my card right now, as I want to do it instantly while I'm writing this article. This is why I will pay a 2.99% fee. Usually, I use wire transfers because this way I pay less in fees.
It takes a little while for the purchase to be confirmed and completed. And once it is completed, I will have 350 Algo coins in the Crypto.com app. If I go to Accounts, and let me see what I have in my crypto wallet, I have Crypto.com CRO coins, I have Cardano, and I have the Algorand.
And I tap on Algo, I can see details on the transaction below – at what price I have bought it, what is the fee, and what is my total cost.
And before I send the crypto to my Ledger hardware wallet, I want to show you how much you can earn from the Crypto.com app for comparison. So if I go to the Earn section in the Crypto.com app, I will see the crypto assets that I'm already staking. Bitcoin, Ethereum, CRO coin, and etc. I have total earnings of $16 since I started staking my crypto coins. And then if I go to Algo, you will see that on the 1 and 3-month term, I will earn respectively 1 and 2% annually, which is pretty low crypto staking reward. That's why I prefer to stake my crypto on my Ledger wallet.
Install the Algo app on Ledger wallet
So the next thing I will do is to open the Ledger Live app on my phone and install the Algo app. My last transaction is the one where I showed how to stake Tezos coins on Ledger. And now I will go to Accounts and I will click on the plus button in the upper right corner, and I will tap on Add account, and then I will select Algo.
Algo app is ready, and the Ledger Live requests to "Allow Ledger Manager on your device". Then in the app catalog, I will look for Algo again. And I will tap on Install, which will start the installation of the Algo app.
So for the people who have never used Ledger, this is a crypto wallet that is known to be one of the most secure since it is offline. It's a hardware wallet. It's not connected to the Internet. When I'm transferring cryptocurrencies, sending or receiving, all I need to do is to connect the Ledger with the Ledger Live app on my phone so I can do the transaction.
All the cryptocurrencies are stored in different accounts
The Algo app is already installed but if I go back to the accounts, I don't see Algo. I will tap on the plus button and I will tap on Add account. Here I will search now for Algo and open the app of the Algorand one more time. And it says the application is ready. I will click on Continue and it says, "Accounts added successfully". Now I have the Algorand in my accounts.
All the cryptocurrencies stored in the Ledger Live app are in different accounts. And each of the cryptocurrencies is called to be an app. First, you need to install it, and then you need to add the account.
Now I will go to Accounts. And if I scroll down, you will see on the bottom it says, Algorand 1, and I will tap on Receive and I will connect the Ledger Live with the Ledger hardware wallet again. I see the address on my Ledger Live app and on my wallet. And I just need to compare it. Usually, it's enough to compare the first couple of letters or symbols and the last couple of letters and symbols.
And once I confirm that this is the address, I will just copy it and I will go back to Crypto.com app. And then I will go to my Algorand balance and I see that the price is already above $1.28. Hopefully, it will rise.
Withdraw crypto to Ledger wallet
Actually, they launched Algo on Coinbase Pro recently, so I guess this will help the price to gain some value. But what I will do right now, I will transfer the Algo coins to my Ledger wallet. I will tap on Withdraw because I will be sending it to external wallets. I will tap on that, Add wallet address. And right here, I will just paste the address from the Ledger wallet. It says Wallet Name, I can just call it Ledger X, for example. Pretty much that's it. I will tap on Continue and it says, "Check your email to confirm your new wallet address.".
And I need now to open my email where I have the confirmation from Crypto.com, I have the confirmation from my bank, and I have the withdrawal registration confirmation. And I need to confirm one more time the withdrawal address. So I tap on Confirm and it brings me back to Crypto.com. And you can see that the Ledger X address is already on the list. If I tap on Algo, and I have the option here to withdraw the amount, or I can select Max (350 Algo), and I will just tap on Withdraw. And that's it.
You don't need to do anything
The fee is 1 Algo and totally I will be transferring 350, so I'll be sending 349 Algo. And I will tap on Confirm and it will take just a second. Tap anywhere to continue. So now the Algo will be gone out of my balance in Crypto.com app.
Let's go back now to the Ledger Live app and see if we will have the Algo there immediately, usually should be almost immediately in there. I see that I have received 349 Algo.
So now if I go to Accounts and I scroll to the bottom, I will see the Algorand. I will tap on that. And if I scroll below, you will see that I don't have any crypto staking rewards and I cannot claim rewards. But it will take a very short time. Probably by the end of this article, the crypto staking rewards will be there and I will just refresh the page a few times.
So that's it, guys. I don't need to do anything. I don't need to delegate it as I did with Tezos. So I don't need to send delegation rights to any Baker or something like that. This is for the Tezos. For the Algo, all you need to do is to have Algo in your Ledger wallet. And from there you do nothing. Actually, I already have a reward of 0.00349 of Algo.
Claiming the crypto staking rewards
And I can claim it, but it's already added to my account. So if I tap on Claim, it says, "Congratulations, you earned 0.00349 Algo. Continue to claim your rewards.". But below, it says, "The rewards are smaller than the estimated fees to claim them.". Whenever I have some more crypto staking rewards, I can claim them and they will be added to my account. But now, actually, they are added to my account.
I just need to claim them but because there is some fee, I will wait. And keep in mind that approximately every 20 minutes you will receive crypto staking rewards. So staking Algo coins in Ledger is that simple. You just need to have the coins in your wallet. And you saw that I didn't do anything, and it started adding rewards to my account. Obviously, the more coins you have, the more crypto staking rewards you will get.
By the time I'm writing this lecture, the rewards are approximately about 6% annually. This is much better compared to the 2% that I showed to you in the Crypto.com app. So it is up to you where you want to stake your crypto coins, where you feel comfortable keeping your assets, your Algo in this case.
But the best thing and the thing I like the most with the Algo coin, and that's why I wanted to have it in my portfolio, is the fact that it is a pure Proof of Stake. You don't need to delegate it. You don't need to lock it for months. It's just that simple to do it.
Conclusion
Thank you very much for reading this lecture. I hope you have understood how you can buy cryptocurrencies, send them to a crypto wallet, and then start receiving rewards from staking them. And the easiest way for the moment is Algo indeed when we are talking about the type of cryptocurrencies.
But always make sure to check out the different crypto exchanges, the different wallets, what percentages they offer for rewards. For me personally, anything above 4-5% annually is good enough to have my cryptocurrency staking. And I prefer Algo in this case because I'm not locking it, just what I showed already in Crypto.com. But all I need to do is just to keep it in my wallet.
And as you saw, for example, with the Bitcoin and Ethereum, I had to lock it in the Earn section on Crypto.com. But because Bitcoin and Ethereum are Proof of Work and not Proof of Stake coins, I cannot stake them on the Ledger or on the other wallets. So I use the Earn option on Crypto.com. Thank you for reading and I will see you in the next lecture.