Ledger Nano X claims to be the safest hardware crypto wallet. But is it true to its claims? Should you consider buying it? In this Ledger review, we will share about it so you can decide easily!
With the increasing popularity of cryptocurrencies, the need for safe and secure crypto wallets is also increasing. When it comes to storing cryptocurrencies, online wallets are not considered to be safe as they are prone to cyber-attacks and other security threats. This is where hardware crypto wallets come in. They are more reliable and can store a great number of your cryptocurrencies. Ledger Nano X is a crypto hardware wallet that is receiving much popularity these days. But is it worth the hype? Don't worry, this is why we have compiled this Ledger X review.
In this Ledger wallet review, we will discuss every little and big thing about this hardware wallet including the background of the company, features of the wallet, supported coins, pros and cons, and a few other details.
At the end of this detailed Ledger wallet review, you'll be able to decide whether or not to consider Ledger Nano X as your cryptocurrency wallet. So, without wasting any more time, let's dive into our Leger review.
Ledger review: About The Company
Ledger was established back in 2014 by eight experts that have specialized in fields like cryptocurrencies, entrepreneurship, embedded security, and several other security solutions implementing the blockchain models. At present, the company has around 130 employees and offices in Paris, San Francisco, and Vierzon.
Ledger is becoming a major hardware crypto wallet manufacturer in the industry. You can determine the growth and popularity of the company from the fact that it has sold over 1 million products across the globe. Pretty impressive, isn't it?
You might be wondering to whom these crypto wallets are designed? Here is the answer, these wallets are specially designed for people who don't want to compromise on security. These hardware wallets are a lot more reliable, safe, and secure than online or software wallets that work on the internet and are highly prone to cyber-attacks.
Because Ledger Nano X is a cold wallet, all of your assets are kept offline. We will get into more details in the later section of this Ledger X review.
Features And Benefits of Ledger Wallet
Let's begin this detailed Ledger review with the key features and benefits of this hardware wallet. Make sure to learn and understand each aspect clearly in order to make an informed decision.
Security
The first question that comes to mind when considering any crypto wallet is, whether it is safe or not. This question keeps haunting the cryptocurrency enthusiasts when they go for purchasing any such device. For this reason, we will discuss the security aspect very first in this Ledger review. After all, it is the security that matters the more than anything else when it comes to the review of any crypto wallet.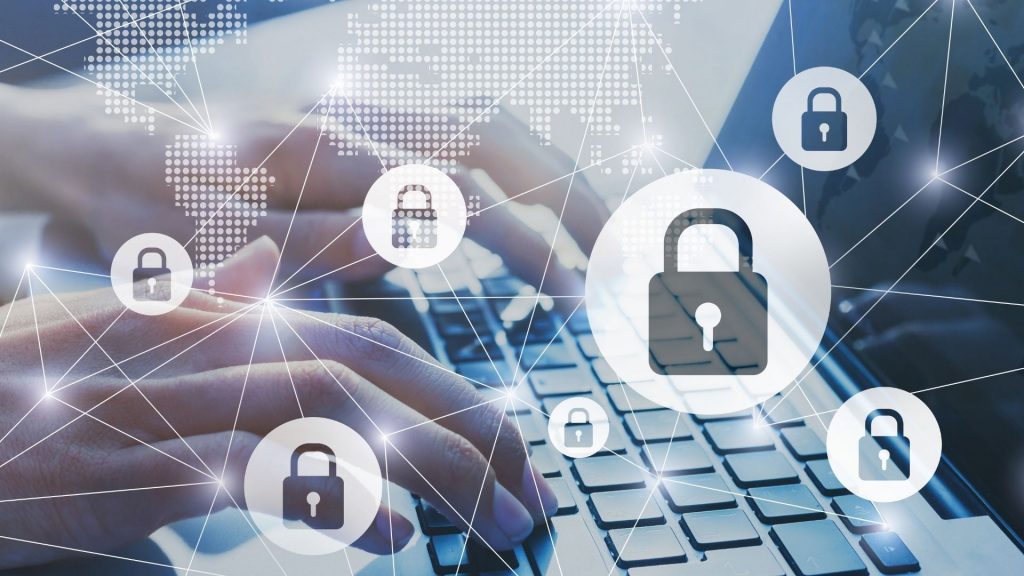 So, once for all, let's make this thing crystal clear that the Ledger Nano X hardware wallet is extremely secure. You can use this cold wallet to keep your Bitcoins, Altcoins, Litecoins, and all the other types of coins offline with full safety. This means a hacker can never access your wallet because it is not connected to the internet.
Staking
Staking cryptocurrencies is the future in the blockchain. Why? It does not consume energy as the maining does and evyerone can do it. With the Ledger it is easy to stake:
It is great that you can earn passive income from your cryptos while they are stored securely in your hardware wallet.
Wireless Connection
You will find that the Ledger hardware wallet comes with Bluetooth Low Energy or simply BLE connectivity which enables you to use the wallet without dealing with any cable clutter. Although wireless connectivity accounts for convenience and ease of use, it may also ring security bells into the minds of customers. But before jumping to any conclusion, note that there are no security concerns with this Ledger X wallet.
Know that only public data is transferred over BLE connection and your private data – seed and keys never leave the cold wallet, which means there is no need to worry about security.
Moreover, the company clearly mentioned that even if a hacker tries to hack your Bluetooth connection, he would never be able to make any changes to the system because the Nano X feature like Security Element (SE) would never allow anyone to do anything without your permission.
Secure Operating System
To take the security of their hardware crypto wallet to the next level, Ledger has developed and deployed a very unique and powerful operating system known as BOLOS. This operating system integrates a secure chip for the crypto wallet line and this feature makes it stand out from the rest of the hardware wallets. Ledger Nano X is the only wallet in the industry that comes with this technology.
To keep your assets tightly secured, you have to create a 4-digit pin for your device as soon as you receive it. As with any other password, you need to keep this pin to yourself. In case you forget your password, you have to give a 24-word recovery phrase in order to set a new pin. This phrase will be given at the time you set up your Ledger account for the first time.
With all these features in mind, it is safe to say that Ledger Nano X is one of the safest and secure hardware crypto wallets available right now. You shouldn't be worrying about its security aspects.
Excellent Build Quality
Because this is a hardware wallet, it is important to consider its build quality before making any purchase decision. You need to make sure whether or not it can withstand any physical damage.
Well, you can sigh in relief because Ledger X is constructed using the finest quality materials that can withstand any type of physical damage. The out body of this wallet is made from professional-grade stainless steel, it won't break even if you accidentally drop it.
Software wallets or the "hot" wallets are very different. Usually, you download them on your mobile or PC. They exist online, that's it. Many people prefer using online wallets because they are free and slightly easy to use.
However, the major concern with software wallets is, they can't be used to store huge amounts of cryptocurrencies because they can be easily hacked. Any hacker can access these wallets and infect them using a keylogger that can allow them to steal and change your cryptocurrencies. As you can see, software wallets are extremely exposed to cyber-attacks. Hence, we highly recommend using hardware crypto wallets instead. And we are not saying that software wallets are useless, it's just that they shouldn't be used for storing large amounts of cryptocurrencies.
Supported Cryptocurrencies
Ledger Nano X supports all the major as well as a few other cryptocurrencies. It is very important to learn about the cryptocurrencies that can be supported by a wallet because there is no wallet that supports all the existing variety of cryptocurrencies. This is especially true if you're interested in using less popular currency and not the major ones like Bitcoin and Ethereum.
The good news is, Ledger X supports over 1500 crypto coins and tokens, including the following: Bitcoin, Ethereum, Ripple, Litecoin, Bitcoin Cash, EOS, Binance Coin, and etc.
Have you ever wonder if you should buy Bitcoin, or Ethereum, or any other cryptocurrency? Check out this article to learn a proven strategy that will help you make the right choice.
Apart from these, Ledger X also supports many other less popular coins and tokens. So, even if you don't use mainstream cryptocurrencies, you can surely find your desired coin in the Ledger X supported coins category.
Design and Ease of Use: Ledger Nano X vs. Ledger Nano S
Talking about the look and appearance of Ledger Nano X, it is almost similar to their first model – Ledger Nano S. The few things that make the recent model different from its predecessor is its heavyweight and slightly wider screen. However, it is still very portable and offers a good hand feel.
Just like the previous model, the navigation buttons are situated next to the screen. Suppose if you want to opt "enter", press and hold two buttons at the same time.
Overall, we can conclude that the design of Ledger Nano X is similar but a lot better than Nano S. Because it comes with a wider screen, you can see the details and wallet addresses with much ease and convenience.
Further, if you want to connect your Ledger hardware wallet to your PC, you can easily do so with the help of a USB-C cable. The best part is, you can even connect this crypto wallet to your smartphone which is a lot more comfortable and easy to use. By using the latter option, you can manage and transfer your funds almost instantly.
Drawbacks
Although Ledger Nano X is packed with some of the advanced features, there are some things that you need to keep in mind before making a final decision.
Comparatively Expensive
When it comes to cold wallets, the problem is you have to actually buy them. While the prices of hardware wallets vary from model to model, Ledger Nano X is slightly expensive when compared to other similar devices.
At present, the Ledger Nano X is priced at 119,00 EUR. On looking at the price of its previous model, Nano S which was priced at 59,00 EUR, is quite expensive.
However, the real deal is, Nano X is a lot more advanced and secure than Nano S and any other hardware crypto wallet. This means it is totally worth the price it comes at, you're getting what you pay for.
Hardware wallets are not an expense, they are a mindful investment because the security they offer can't be ensured through the software wallets and crypto exchanges.
Ledger Nano X vs Nano S
We have mentioned several times that Ledger Nano X is an improved and better version of Nano S. But how exactly is it different from the previous model? Let's make it clear for the final time.
The price of Ledger Nano S is $59, on the other hand, Nano X comes with an increased price tag of $119.
Nano S is only compatible with Android and desktop computers, whereas Nano X can also connect to the iOS devices.
The type of crypto coins and tokens supported by each Ledger hardware wallet is the same.
Coming to the design and appearance, Nano X has a better and slightly bigger display that offers a higher resolution. Sadly, the touch screen feature is missing from Ledger devices. Finally, the body and construction of Nano X are better. This device is more sturdy and reliable than Nano S.
As you can see, there are very few differences between both the Ledger wallets. However, Nano X has a slight edge over its previous model. Ledger Nano X comes with support for up to 100 applications, has a huge screen, offers Bluetooth connectivity, and is easy to use. Further, it allows you to connect with your Android or Apple smartphone which offers added comfort and convenience.
Ledger Nano X might be twice as expensive as Nano S, but it is totally worth looking at its advanced features and functionalities.
What Is Included In The Hardware Wallet Package?
Ledger X comes with the following five components :
Ledger Nano X hardware wallet itself
1 USB Type-C cable
3 recovery sheets
1 keychain strap for the wallet
1 instruction leaflet
How to Get Started With Ledger Nano X Hardware Wallet?
Setting up the Ledger Nano X wallet is an easy and simple process. All you need to do is follow the below-mentioned steps.
1: Download Ledger Live
Ledger Live is an application that you need in order to set up your wallet and manage cryptocurrencies. You can install it on your desktop or smartphone. You can easily download it on your Mac, Windows or Linux from the official site of Ledger. Further, get it on your smartphone from the respective application stores.
Once you download this software, you'll need to set up an account which you'll be using for managing your wallet.
2: Set Up The Device
First things first, turn on your device. To do this, hold and press the buttons next to the USB slot until the screen gets active. Once it happens, simply read and follow the instructions that come to your screen. To go next, press the right button and to go back, press the left button. Once you find the "Set up new device" option on the screen, press both buttons together.
3: Create a 4-Digit PIN
After performing the above-mentioned steps, you'll need to set up a 4-8 digit PIN. Again, press both the buttons next to the screen together until you find the "Create PIN code" option. Now, select the digits by pressing any button and again press both simultaneously to confirm. Once that's done, click the checkmark "✓" and re-enter the pin code to confirm.
4: Note Down The Recovery Phrase
Once you've entered the PIN code, you will be provided with a recovery phrase which is a string of 24 words. Since it is only provided at once, make sure to note it down very carefully.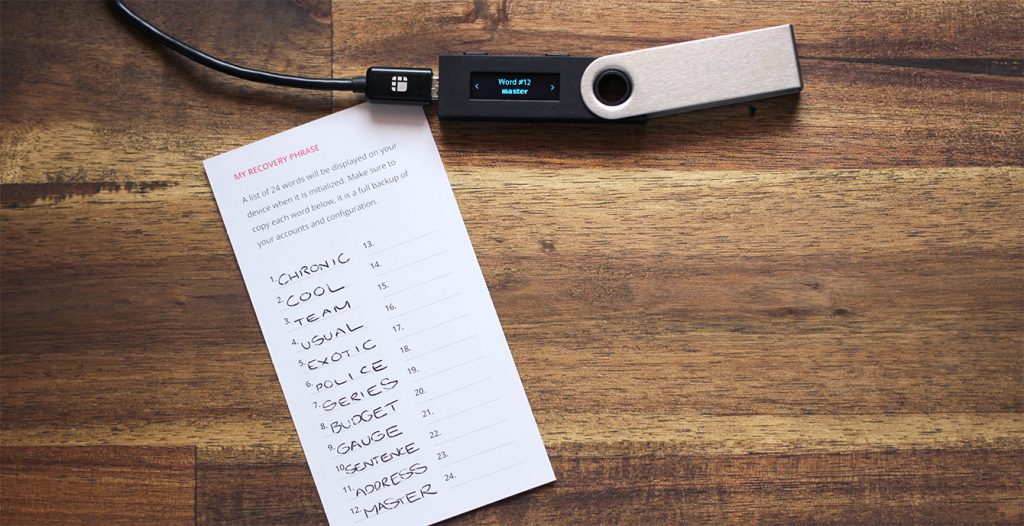 To get started, press the buttons simultaneously until you see the 1st word. Note it down and press the right button for the next word. Repeat the process until you've written all 24 words. Now again press both buttons and then use the left and right buttons to confirm the phrase word by word. And that's it!
Press both buttons one last time and you are ready to use your dashboard.
5: Install The Cryptocurrency Applications
Now that your device is set up, you can install the desired applications on it. For this, visit your Ledger Live Manager and select the desired apps. You'll find all the popular crypto apps including Bitcoin, XRP, Ethereum, and many others.
How to Send Funds With Ledger Nano X?
First thing you need to do for sending funds is mentioning the transaction details. Here is how to do that :
Select the Transact option from the bottom.
Select "Send".
Select the account to send funds.
Provide the recipient's wallet details. You can either do it manually or do it by scanning the QR Code.
Enter the amount you need to send.
Select "Continue".
After filling in the details of the transaction, you'll have to verify and proceed with the transaction. Here is how to do that:
After checking the transaction details, click "Continue".
Check that the device is unlocked and turned on and then opt for Ledger Nano X as the device.
Select the required cryptocurrency app and select "continue".
Check the transaction details once again to make sure everything is correct. Verify it and press both the buttons simultaneously.
Transaction Verified!
And that's done!
How to Receive Funds In Ledger Nano X?
To receive funds in Nano X, the first thing you need to make sure that you have a Ledger Live account, and the required crypto app. For instance, if you want to receive Bitcoin, you should have the Bitcoin app installed on your device and so on. Below are the steps you need to follow:
Click the Transact tab which is located at the bottom of your page.
Select "Receive".
Select the account you want to use.
Confirm the wallet address that matches the one shown in Ledger Live.
Now, simply copy the address and provide it to the person you want to receive the funds from.
Although the hardware wallets are safe, make sure that you provide the wallet address very privately to the person you want to make transactions with.
Ledger Nano X Pros and Cons
Pros
Can be used comfortably from the smartphone
High-quality construction
Bigger screen with higher resolution
Supports over 1500 cryptocurrencies
Cons
Final Verdict: Should You Purchase Ledger Nano X?
Ledger Nano X is undoubtedly one of the most secure hardware wallets at present. It is more reliable and safe than the other software and hardware crypto wallets. Because it stores your keys and addresses offline, no hacker can access and misuse them. This means you don't have to worry about cyber attacks on your assets.
Further, when compared to the previous Ledger model, Nano S, it offers advanced features and capabilities. Not only it allows you to manage your cryptocurrencies with your smartphone, but also has a huge screen that enhances its capabilities and ease of use.
Talking about the cryptocurrencies Nano X supports, there are over 1000 coins and tokens that this wallet works with. Having said that, you can store the major as well as less popular cryptocurrencies in this wallet. So, yes, you should definitely think about purchasing a Ledger Nano X hardware wallet.
We hope this Ledger X review clears your doubts and helps you in making an informed decision. Whatever your decision is, always remember that hardware wallets offer better security and safety to your crypto assets and hence prefer them over software wallets.
Frequently Asked Questions
Is Ledger Nano X better than Nano S?
Yes, Ledger Nano X has an edge over Nano S in many ways. You can say that it is an improved version that comes with enhanced features and functionalities. First of all, it allows you to connect your device with your smartphone. Secondly, it has a bigger screen which increases its usability. Moreover, it offers Bluetooth connectivity which means you don't have to worry about the wire clutter.
Is Ledger Nano X safe?
Yes, no doubt!
Ledger Nano X is extremely secure and safe. Because it is a cold wallet, all your keys are kept offline means you don't have to worry about cyber attacks. Further, its security features like Secure Element (SE) and secure operative system like BOLOS take the security to the next level.
Are hardware wallets a good investment?
It depends on your personal requirements and situations but in most situations – yes. If you've just started taking interest in cryptocurrencies and have a very less amount with you then purchasing a hardware wallet may not be a good idea as you can do fine with the online wallets. However, if you have large sums of cryptocurrencies or if you're an active trader, online wallets aren't a safe haven. In such conditions, more than a choice, hardware wallets become extremely important.