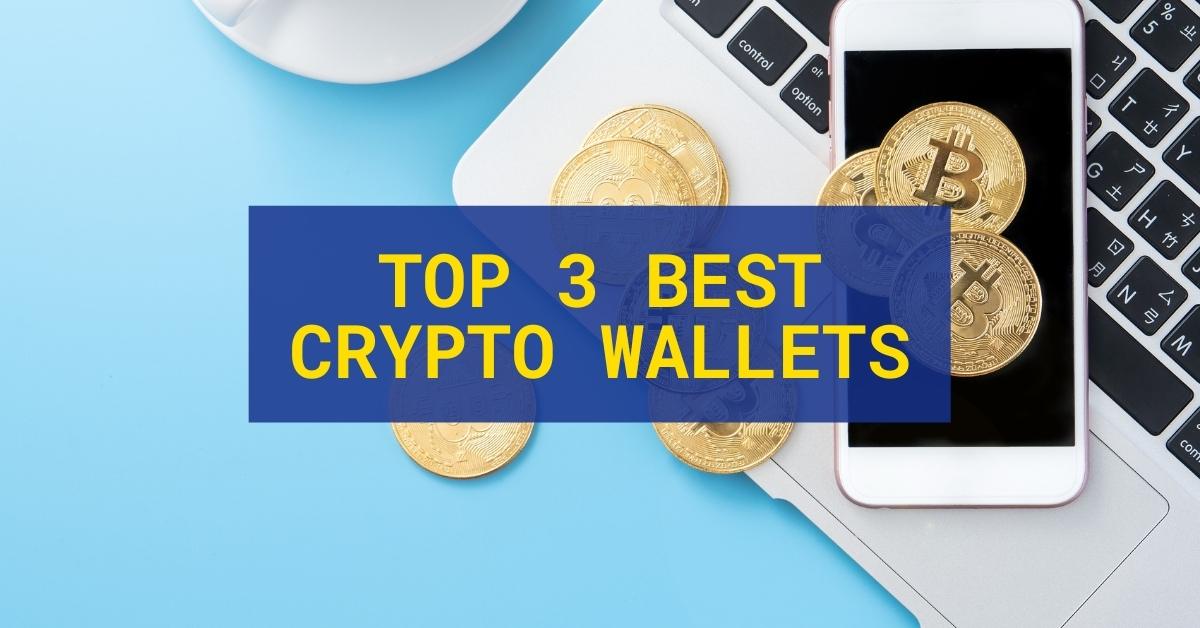 Best Crypto Wallet in 2021
Today I will talk about security when we invest in cryptocurrencies and I will share with you which are the 3 best crypto wallets that we use.
So I guess you already know that keeping your coins on a crypto exchange is not the best option because it is less secure than the wallet.
We use the exchanges to Buy, Sell and exchange cryptocurrencies, but you should not trust the exchange to keep your crypto coins safe. So once you select your cryptocurrency exchange and you buy your Bitcoin or other cryptos you need to make sure that you keep them safe on a crypto wallet.
Coinbase Has One OF The Best Crypto Wallet Apps
The first crypto wallet that I use and probably has one of the best apps, is the Coinbase wallet.
As you already may know, Coinbase is one of the largest cryptocurrency companies in the world. They are best known for their Coinbase exchange, but they also have a wallet. It connects to the Coinbase exchange and it is super easy for me to transfer cryptocurrencies from the exchange to the wallet. I do not need to copy-paste addresses. When I am in the Coinbase wallet I can choose to transfer the coins from the exchange easily.
Many people trust Coinbase wallet because Coinbase has many regulations and licenses. Also, the USD wallets of US clients have insurance protection by the Federal Deposit Insurance Corporation, up to $250 000 dollars. 
Coinbase wallet will be really comfortable for you if you are using the Coinbase exchange as well. Why? Because you can connect the two easily and transfer coins quickly without using addresses or any extra tags. However, you can use the Coinbase wallet to send and receive coins from friends or send to other wallets of course.
Software wallet is not as secure as a hardware wallet
Keep in mind that the Coinbase wallet is a software wallet, and it is not as secure as a hardware wallet like the Ledger, for example. However, Coinbase has one of the safest web wallets you can use. They store 99% of their assets in cold offline storage that can't be accessed. 
Coinbase wallet has one of the best crypto wallet mobile apps and is super easy to get started with, even if you are a complete beginner. The downside is that if you need support. Coinbase is known to have one of the slowest support responses compared to other cryptocurrency wallets. But as I said it is very easy to use the Coinbase wallet so you might never need support.
Exodus Can Be Used On A Mobile Device
The second option that I've been using quite a lot recently is the Exodus crypto wallet. This is a free software wallet that I use from my phone, but it could be used on a desktop. That is a great advantage in comparison with many other software wallets.
Exodus is a non-custodial wallet.
This means that you have private key access and you are in control of your coins.
Exodus gives you the option to back up your wallet with a 12-word phrase. This means that you can always rebuild your wallet on a new computer or if you lose your phone. That is why keeping your secure phrase offline is important. A piece of paper would work best and do not share it with anyone because if someone has your phrase, they can access your wallet from another device.
Another great feature with Exodus is that you can trade cryptocurrencies within the wallet and it supports over 100 coins. That I find is enough for me personally. This is useful when you want to buy some coins and simultaneously sell others. For example, couple of days ago, I wanted to sell Stellar and Buy Ripple. And I calculated that the fees I will pay on Coinbase to sell the Stellar, get Euros in my wallet, and buy Ripple with these euros would cost me 25% more in fees compared to exchanging Stellar to Ripple straight away. And I did it easily on the Exodus crypto wallet.  
Ledger – The Best Crypto Hardware Wallet
The third crypto wallet I use is Ledger. This hardware wallet is among the best and most secure wallets on the market.
The first important thing to note is that the Ledger is a hardware wallet, and that is a very secure method to keep your coins safe because it is offline, and no one else except you has access to it.
Having your crypto coins offline keeps them safe from hackers.
The most popular model so far was the Ledger Nano S, and in 2020 they launched the new Ledger Nano X crypto wallet. When it comes to security, both are safe. They have a PIN code, and they have a 24 words recovery phrase as a backup.
Yes, it is a bit more expensive than the other crypto hardware wallet options, but if you have thousands of dollars in cryptocurrencies, I guess you would be likely to spend $150 for keeping them safe, wouldn't you?
What are some of the major differences between the Ledger models?
The newer Nano X has Bluetooth compatibility with the Ledger Live Mobile. It has a bigger screen, and its battery can last up to 8 hours in standby mode. However, the size is slightly larger, and it is slightly heavier than the Nano S. 
But, the main reason why I prefer the new Nano X, is because it allows up to 100 apps installed on the device, and the Nano S only allows up to 20. And for iPhone users, you can manage your assets with the Ledger app using your iPhone, while the Ledger Nano S only works with an android app. So, if you are using Android and holding a few different coins, then the Ledger Nano S might be suitable for you, and you can select the cheaper version.
Lastly, once you purchase either of the two, you will receive consecutive emails with instructional videos on how to use it that will assist you in getting started, and in addition, they have good support that will answer your questions and emails.
Risk Diversification
And for the moment, I haven't found any issues using these 3 crypto wallets, but I don't want to keep all my coins in one wallet. I prefer to diversify the risk by not keeping all of my eggs in 1 basket.
For example, I keep the coins that I Buy and forget in the Ledger, and the ones that I Buy and Sell every few weeks I keep in the Coinbase and in the Exodus wallets.
The Bottom Line
I hope this short lecture will help you in selecting the best crypto wallet. If you want to use the 3 of them together, that is even better.
If you have questions about the crypto wallets, drop them in the comments below. Thank you for reading and I will see you in another lecture.