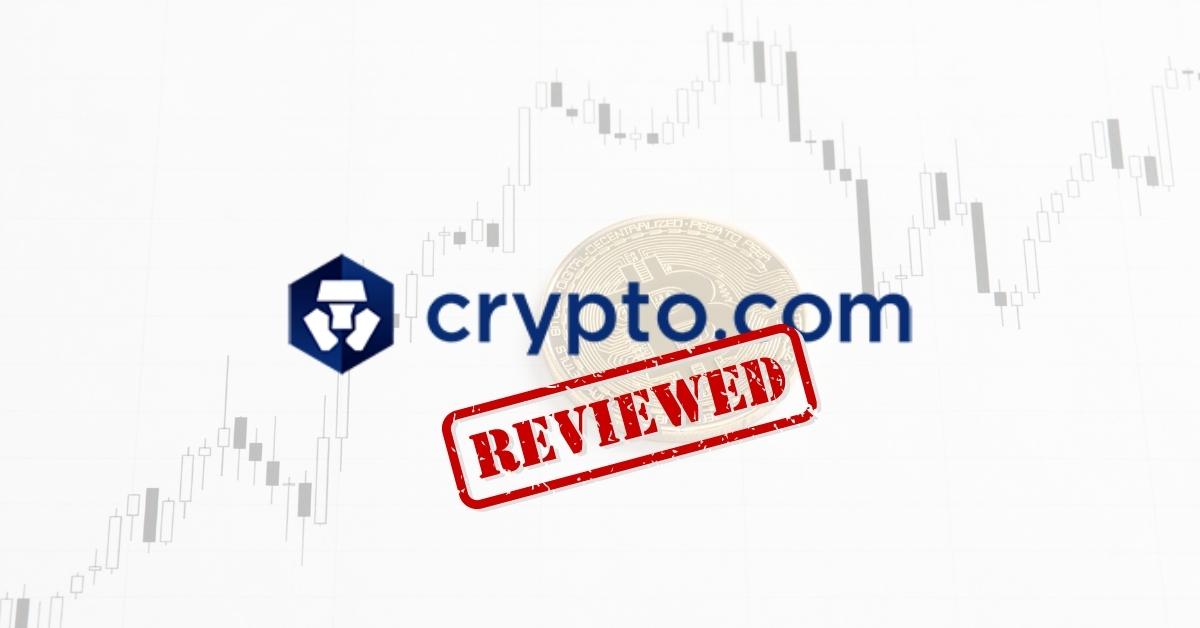 Crypto.com Review – App, Card, DeFi Wallet and More
Today we're going to review the Crypto.com platform. Among the areas that this review will cover are the Crypto.com app, the regulations, the account opening process, and fees. We will also dive deeply into the stacking options and the Crypto.com Visa card.
The Growth Of Cryptocurrencies
There is no doubt the growth story of cryptocurrencies has been quite fascinating and impressive. Ever since the first cryptocurrency was launched in the market in 2009, there has been a gradual increase in the understanding of the various benefits and advantages associated with cryptocurrencies.
Over the past 11 to 12 years there has been a phenomenal increase in the number of cryptocurrency brands and names.
According to experts, there are around 4,000 cryptocurrency brands as of January 2021 and the numbers keep getting stacked by every month.
Hence, tens of thousands of people are upbeat about the future of cryptocurrencies.
However, on the other side of the spectrum, there are many people belonging to the old thought process who may not be too comfortable with cryptocurrencies. They may have a few valid and justifiable reasons. Anyway, that has not stopped the growth of cryptocurrencies over the past few years and the growth story continues even today.
Crypto.com Review
There are obviously some reasons for the growing demand and the impressive growth of cryptocurrencies. However, the focus of this article is to go in for a complete and impartial Crypto.com review.
Crypto.com is one of the platforms that gained 10M users in no time and there are reasons for it:
exchange with a huge variety of cryptocurrencies
a friendly mobile app that offers many possibilities
crypto staking which is quite popular already
Crypto.com Visa cards where the clients receive cashback
Here are the requirements for staking cryptocurrency and applying for the Crypto.com card.
The role of a good crypto-trading platform is extremely vital. However, before going for this Crypto.com review, first, we need to have a basic understanding of cryptocurrencies. Then we also need to have a brief overview of crypto trading platforms.
Once you have a decent idea about both cryptocurrencies and cryptocurrency platforms, we believe that you will be in a better position to understand more about the contents and topics that will be discussed while going in for the Crypto.com review.
What are Cryptocurrencies?
If you want a simple definition of cryptocurrency, we can refer to it as a digital asset. The asset has been designed to perform the function of a medium of exchange. Through this medium individual coin owners can record their ownership and other relevant records of buying, selling, and investing in cryptocurrencies. The above information is stored in a digital ledger. The ledger exists as a computerized database. The best of end to end encryption technologies are used for securing the safety and security of each transaction that happens over a period of time.
What is interesting to note that crypto.com is launching it's own decetralized cryptocurrency exchange with low fees and fast execution:
Cryptocurrency also has a unique feature because it can help the owners to create new cryptocurrencies. It is not stored in a physical form like the paper currencies that we are all used for centuries. Further, cryptocurrencies are not issued by the central banking authorities nor is the value of each currency not guaranteed by the Federal Reserve banks.
However, whenever a cryptocurrency is created, minted before being issued it is considered to be centralized. A complex distributed ledger technology is used to monitor the movement of each and every bit of cryptocurrencies.
What is Cryptocurrency Trading Platform?
When we talk about cryptocurrency platforms we are referring to exchange platforms. These platforms are vital and important because of a number of reasons.
They help in permitting the exchange of one cryptocurrency for another. These platforms are also vital whenever there is a need for converting cryptocurrencies into fiat currencies or legal tender money as they are referred to in some quarters.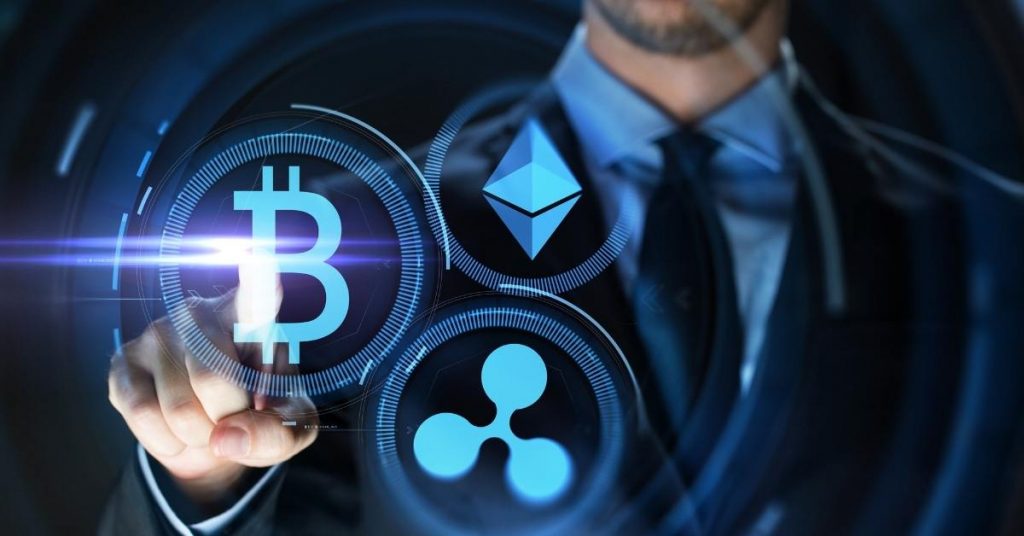 Hence, when we talk about sites like Crypto.com we are referring to a platform that helps in performing the above two important functions.
As the number of cryptocurrencies keeps increasing at a brisk pace, there also is a growing demand for cryptocurrency platforms. This has led to the proliferation and growth of new cryptocurrency trading platforms over the past few years.
Even as you read this article, it is quite possible that a few new cryptocurrency platforms may have gone online on the worldwide web. There are also such trading platforms that may not necessarily operate on the worldwide web. We will learn more about it as we go through the Crypto.com review.
It would be pertinent to mention here that all trading platforms are not the same. They are not created nor do they operate on a uniform basis. Of course, there could be some similarities and these things may also become a bit clearer when we go through the various points while talking about the Crypto.com review-related matters over the next few lines.
As mentioned above, there are different types of crypto trading platforms. Understanding this will help you to better understand how cryptocurrency trading works. If you are into cryptocurrency buying, selling, and investing, you should take time out and get to know more about the various crypto exchange platforms in the market. Do not underscore the importance of going through quality Crypto.com review articles and other reviews that talk about other cryptocurrency platforms across the world.
It would be pertinent to also mention here that cryptocurrency exchange platforms have grown quite amazingly over the past couple of years. They are evolved as the market itself evolves and becomes more mature. Many investors in cryptocurrencies prefer staying away from directly getting into buying and selling crypto tokens and coins. They would rather depend on these cryptocurrency platforms like Crypto.com to help them do the job on their behalf. This is perhaps because these platforms have experts, experience and they could guide both new cryptocurrency investors and also experienced ones.
Crypto.com Review
Now that we have had a reasonably good idea about the role, meaning, and scope of both cryptocurrencies as well as cryptocurrency exchange platforms, it would be a good idea to get into the much-awaited Crypto.com review.
To begin with, let us get started by understanding that like many other cryptocurrency trading platforms, Crypto.com is also one. It has been around for a few years now and has gained the trust and confidence of many cryptocurrency investors. We will also look at various other aspects such as Crypto.com fees based on the various Crypto.com reviews on Reddit.
What is Crypto.com?
Let us get our Crypto.com review started by understanding the basics of Crypto.com. It is a cryptocurrency trading platform that allows people to buy, sell, trade, invest and also earn interest on their overall cryptocurrency holdings and ownerships.
Let us begin by understanding that Crypto.com offers its platform only in the form of a mobile app. They do not offer desktop access.
Here are some of the services that are offered by this platform as mentioned in their website and also as mentioned in the various Crypto.com review articles and also various Crypto.com Reddit posts.
The exchange allows buying and selling of cryptocurrencies.
It is also possible to send funds to various other users of Crypto.com
It also comes with a crypto wallet.
You can stake cryptocurrencies and earn interest thereof.
Users can get a special cryptocurrency Visa card from Crypto.com.
It would also be pertinent to mention here that Crypto.com has the capability of supporting 90 major cryptocurrencies which are also referred to as CRO. This is a positive feature and many users have spoken positively about this.
Further, Crypto.com users also have the facility of receiving payments through various options. They can make use of CRO or could also make use of fiat currency or stable coins.
The site also allows its users and stakeholders to stake their cryptocurrency holding by swapping their CRO and earning interest out of it. This is indeed an attractive feature because it could help in boosting the interest yield by as much as 20 times in many cases. This again has been corroborated by many reliable Crypto.com Reddit review articles. When we consider the yields after factoring in expenses such as Crypto.com fees there are reasons to believe that it is quite impressive.
Review the staking option offered by Crypto.com?
When we talk about staking we mean that the cryptocurrencies or coins have to be locked up for a time period. In exchange for such lockup periods, the cryptocurrency owners are offered interest.
There are some great news for the upcoming Mainnet staking Rewards which are expected to aim at a return at 20% APY.
As mentioned above, in many cases, the interest earned could be quite high. However, it would vary on a number of factors such as the crypto coin in question, the time period for which it is staked, and most importantly the quantum of coins or cryptocurrencies that have been staked.
This can be understood better if you go through some reliable and trustworthy Crypto.com exchange review posts. Interest for such staking is paid to the investors by way of the same cryptocurrencies that they have invested in the first place.
The interest is not paid through USD or other forms of legal tender or fiat money. Hence, this is an important point that one should bear in mind when choosing this cryptocurrency trading platform.
Many good Crypto.com reviews on Reddit also talk about it. This is because it could help to offset a part of the Crypto.com fees that have to be paid.
Review Crypto.com App and Crypto Earn
The Crypto.com app has a unique feature that allows investors to earn returns on their cryptocurrencies. This feature is referred to as Crypto Earn. However, there are a few more points that you should bear in mind before opting for the Crypto Earn feature. This Earn feature is not available to residents of Malta, Switzerland, and Hong Kong SAR. To know more about it, it would not be a bad idea to have a closer look at the various Crypto.com review articles on Reddit that are reliable.
The interest is paid out weekly through a method of simple interest calculation. The Crypto.com app is useful in this regard because it shows the value of your cryptocurrencies at the time of payout. Many users of the Crypto.com app have liked this feature, and it also has found favorable mention in many Crypto.com exchange reviews.
However, as mentioned above there is a lock-in period when you decide to stake your cryptocurrency holding, partially or in full. Hence the value of the cryptocurrency during the period of lock-in should not make much of a difference. This is because the owner is not allowed to sell it. This has both positives and negatives attached to it.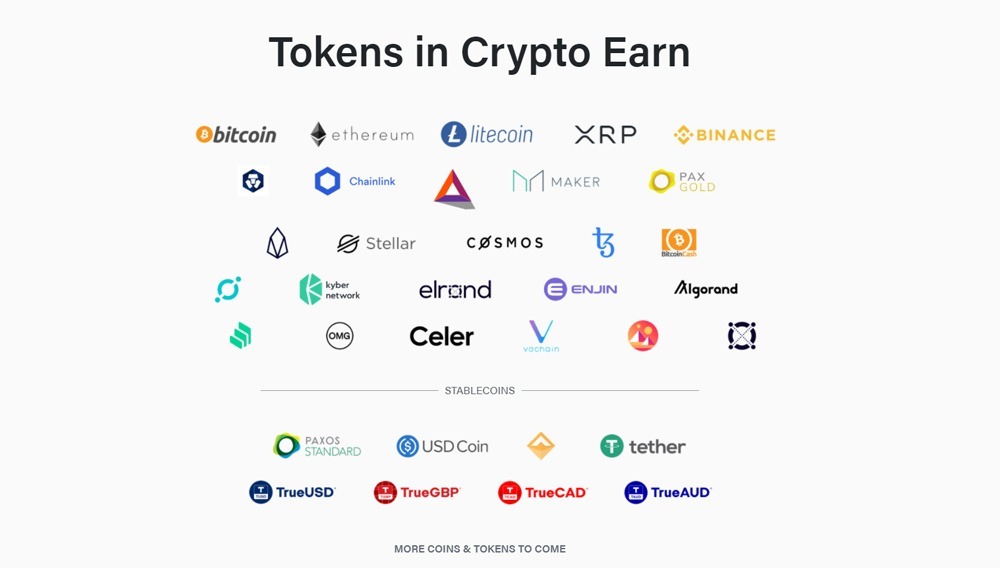 However, many Crypto.com exchange review writers and experts are in favor of this feature. This is perhaps because it does away with the risk of panic selling that often happens not only with cryptocurrencies but also with other forms of trading such as trading in stocks, shares, commodities, foreign exchange buying, and selling amongst others. It also could have a buffering impact to absorb a part of the Crypto.com fees and many experts and also authors of various Crypto.com reviews on Reddit also talk about this in length.
The lock-in period is also fixed by Crypto.com and it could be from one month to three months. Additionally, they also provide a flexible investment time-period option. The longer the time period, the better will be the interest-earning. Therefore, the end-users are also happy because it helps them to offset a significant portion of the Crypto.com fees and this also pushes the yield quite significantly.
Many experts who have penned these Crypto.com exchange review articles are of the view that choosing flexible options may not be the right choice. While it does offer more liquidity, the interest that you will earn is quite low when compared to a longer period of investment.
However, the investor is the best person to make this decision and it would depend on his or her risk appetite and the kind of returns that he or she is looking for.
For example, if you are able to stake around 50,000 or more CRO, you will be able to earn a better rate of interest. The rates of interest will also be higher in case an investor is able to stake around 500,000 CRO or even higher. On an approximate basis, this should earn an additional interest of around 2% and perhaps, even more, depending on the market situation. Going through a good Crypto.com exchange review perhaps may be able to give a better insight into this.
Use Cryptocurrency In The Real World
If you decide to use Crypto.com as an exchange platform, you also stand to gain in a few more ways. They offer a unique feature. This feature allows the owners to use cryptocurrencies in real-world situations. This is indeed a big takeaway and this again has won the appreciation and kudos of many genuine Crypto.com exchange review posts and feedback.
Not many platforms allow crypto owners to exchange coins with other investors. Therefore, you are better off in this respect if you decide to choose Crypto.com over other exchange platforms. In fact, while conduction this Crypto.com review, we have seen many posts on Reddit to talk quite a bit about it.
Crypto.com Visa Card Review
Crypto.com has an arrangement with Visa. This facility allows cryptocurrency owners to use the Crypto.com Visa prepaid card for purchasing physical services and goods. Crypto.com is perhaps one of the very few exchange platforms that offer a prepaid card.
However, there could be a thing or two that you must be aware of. Many merchant outlets still are not comfortable accepting payments made through cryptocurrencies. Therefore, Crypto.com has to convert the equivalent cryptocurrencies into USD, and only then you can use your special Crypto.com Visa card.
Crypto.com is at best helping their customers to automate the entire process of conversion of cryptocurrencies into fiat currencies like the USD. To know more about it, it would be a good idea to take inputs from articles or various Crypto.com reviews on Reddit.
Crypto.com Visa Card Rewards
We will also look at one more interesting aspect of Crypto.com and this has found mention in many qualitative and original Crypto.com review posts.
The service provider offers different types of card tiers. Each tier is tied to a different type of CRO reward amount. It also is based on the quantum of CRO that has been staked on the card. CRO rewards are offered and issued as and when as an investor you start using the Visa card.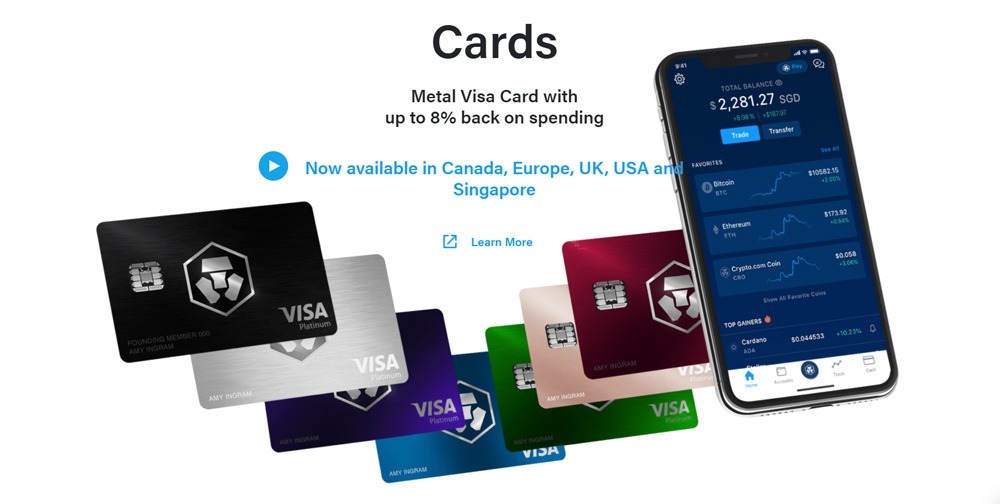 Apart from this, you also can get reward points for subscriptions to some popular sites like Netflix, Amazon Prime, Spotify, etc. However, the rewards go up depending on the amount of CRO that you have staked.
For example, if somebody is able to stake 5 million CRO, he or she or the entity in question will get an impressive 8% reward and this indeed is a big amount. This has also been mentioned in a positive light in some of the best Crypto.com reviews on Reddit.
Crypto.com Visa Cards Review & Order
And now I will demonstrate to you how you can order a Visa card from Crypto.com, which is already quite popular. Many people are using it all over the world and I will show you step by step how you can do it, how many CRO coins you need to stake. And by the time you're reading that Crypto.com review, the conditions might change but I guess the main idea will always remain the same.
I find the Crypto.com Visa cards really nice because we get cashback. So whenever you spend money in the malls, supermarkets, you buy anything with your Crypto.com Visa card, you get cashback. Which is awesome. So let me go straight to the point.
Crypto.com Midnight Blue Card
And in order for me to order a Crypto.com Visa card, I will need to purchase some more CRO coins. So I will show you how that works. Now, if I open the Crypto.com app and click on Card which you can find on the right side of the menu and the free one is the Midnight Blue.
And if I tap on View or Upgrade, I see that I have the Midnight Blue.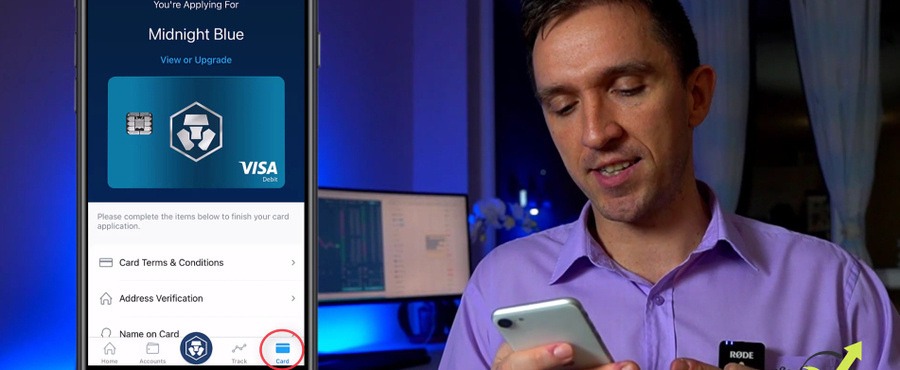 Crypto.com Ruby Steel Card Review
Then I have the Ruby Steel, it's the one that I'm going to order right now for the purpose of this Crypto.com card review. And I have the option "Without CRO Stake" and "With CRO Stake".
So "With CRO Stake", you'll see that I will have 2% Crypto.com card cashback. So whenever I purchase something with this Crypto.com card, I'm getting 2% cashback. And why not? If I'm spending $1,000, I will get back $20 in CRO coins. And if the CRO coin increases its value, I will have more into my account.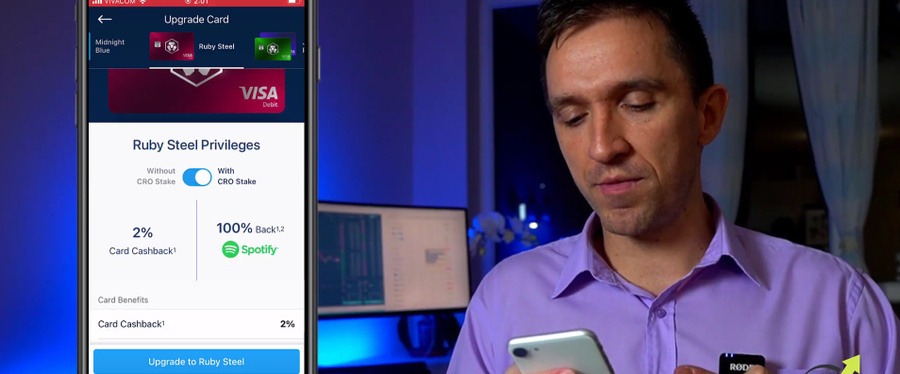 There is another benefit of using Ruby Steel Crypto.com card, and this is the100% Back on Spotify. So if you're using Spotify and you pay with the card, simply Crypto.com will recognize it and they will send back the money into your card as CRO coins again.
We have some more information below like monthly fees, annual fees, delivery fees, and it's free, no charge. And here is the thing, purchase and hold 5,000 CRO tokens for 180 days, which is 6 months, to receive the Ruby Steel card from Crypto.com.
So I have to buy the CRO coins, I need to stake them and this is basically the condition.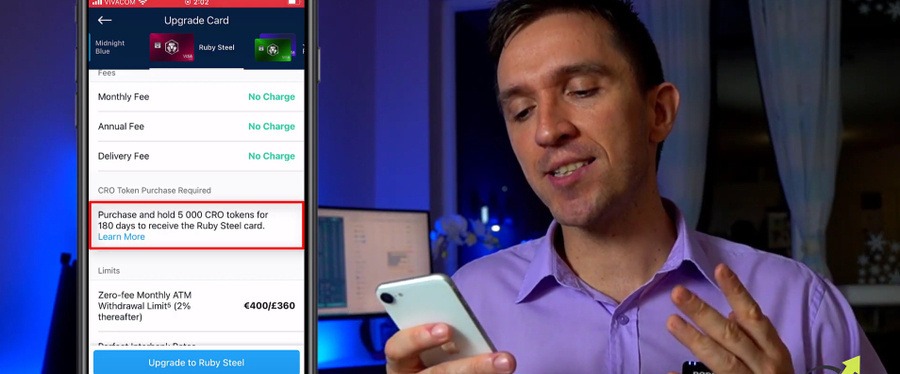 Crypto.com Jade Green Card
And for the other cards, it's different, there are limits. So let me go to the other cards, then we have the green and the indigo ones. So for the Jade Green Crypto.com card, we have 3% card cashback and we have 100% back from Spotify and Netflix.
And we have some more benefits, I'm not going into details. But here the difference, guys, is that I need to purchase 50,000 CRO tokens, which is not a small amount.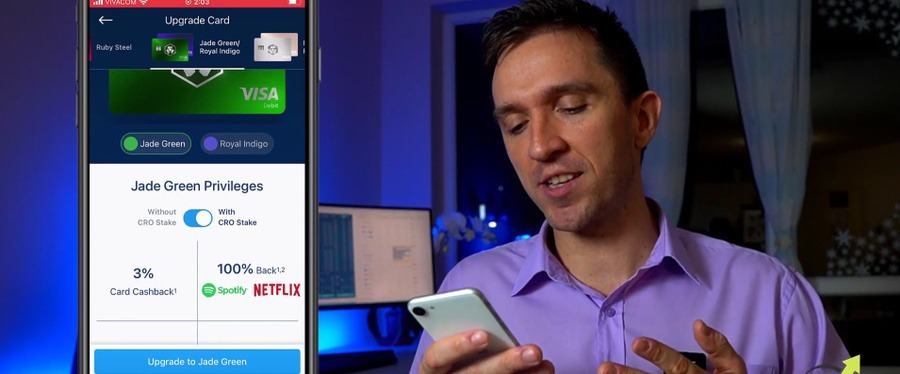 The White, Rose Gold, and Obsidian Cards
And if I go to the Icy White or the Rose Gold, you will see that I have more benefits and I need to purchase 500,000 CRO tokens. And if I go to the Obsidian, you will see the amount of 5 million CRO tokens, you do the math.
So please don't take any of the cards as a recommendation, the purpose of the lecture is informational and demonstrational.
How to Order a Visa Card From Crypto.com
So I will actually demonstrate how you can order, for example, the Ruby Steel card. Upgrade to Ruby Steel, I will tap on that.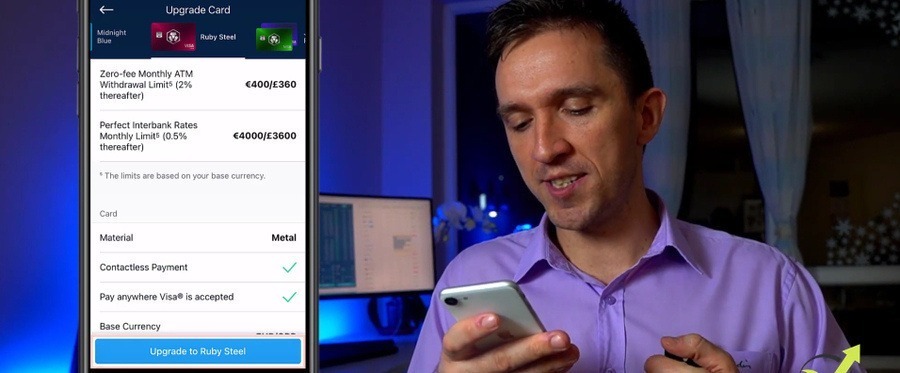 And I have 4 more steps to go. I will tap on Continue.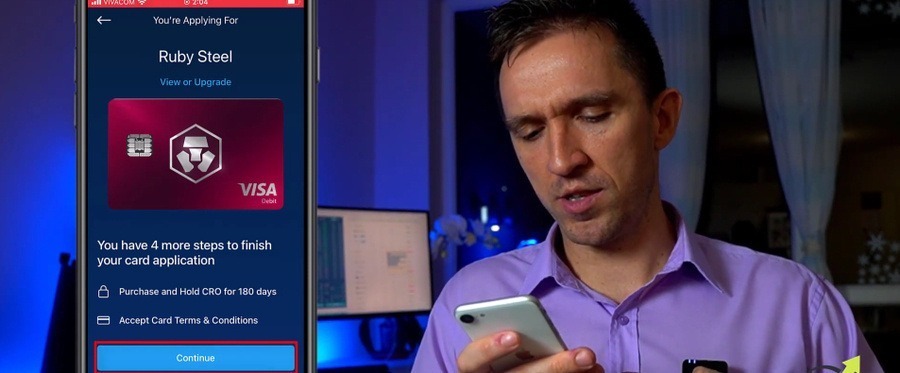 Let's review what I need to do to order this Crypto.com card. I need to purchase 5,000 CRO and holding period of 180 days, as I said this is 6 months, Purchase and Hold CRO. That equals approximately $771.95 at the moment. I will tap on Review Upgrade.
I will be using my Visa card and here it is.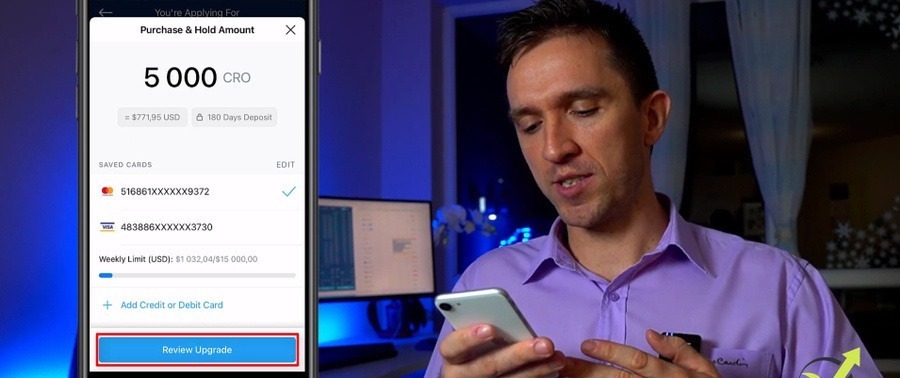 This is the summary. I will confirm it.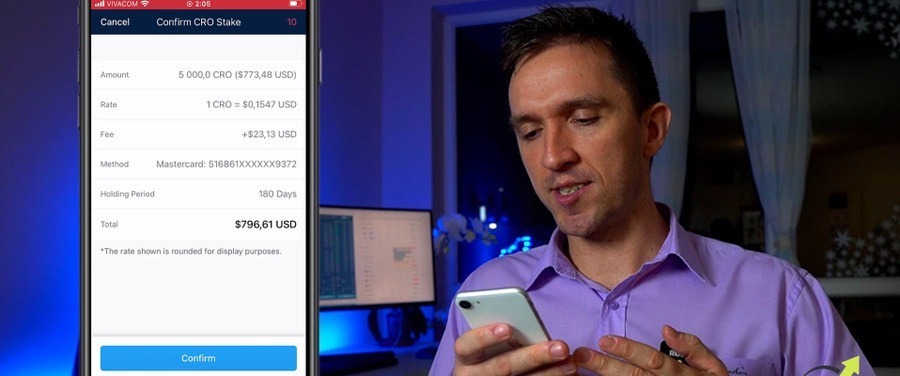 And I need the passcode, confirmation. And let's see if the purchase will go through. Usually, it works without any issue with Crypto.com for me when purchasing cryptocurrencies.
Even in Bulgaria, the banks usually don't allow purchasing cryptocurrencies. And I know in many other countries, it is the same thing. And it's not easy for the transactions to go through. So I need to authorize the payment, I should receive a message just in a second, here it is.
I will just copy it and I will paste it, tap on Continue.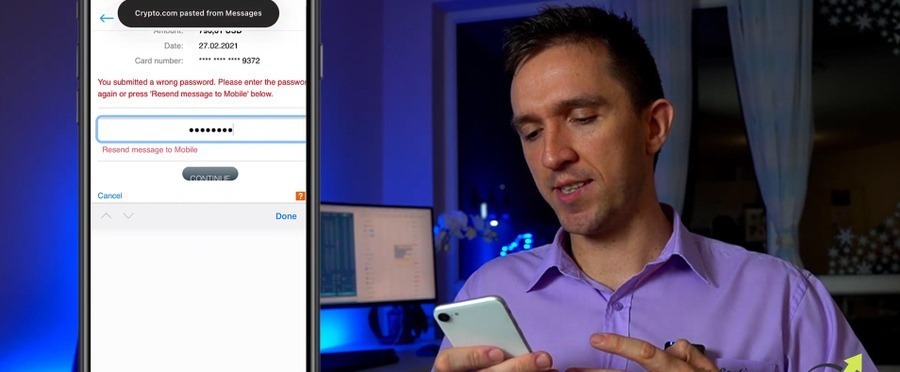 And it's processing. So this is how it works easily from the app. I already have ordered a few, and here you go, 'You successfully upgraded your card to Ruby Steel". Tap anywhere to continue.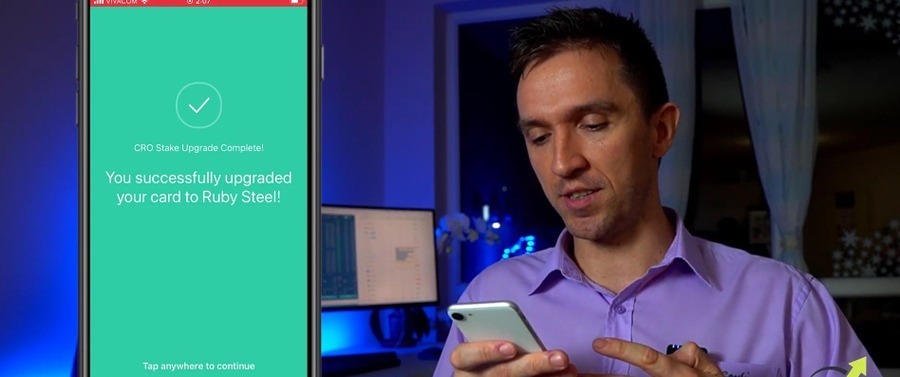 What I was saying is that I already have done that and I personally enjoy having such a card. But I wanted to demonstrate in one lecture how that works, so I will accept the terms and conditions. Always suggest you go over and read them, I will confirm it. Just a few easy steps and we can get your Crypto.com Visa card ready. Fill in the address, and what I need to do right now, is simply fill in my address.
And they might ask me as well to scan some documents for proof of address. And that's it. Basically, they will be sending the Crypto.com card and I'll be staking the 5,000 CRO for 6 months. And please don't take it as a suggestion to order any of the Crpyto.com cards. Some of them I find costly especially if you are reading this lecture later when the CRO coin price is higher, hopefully, it will be.
And if you have any questions or experience with the CRO staking and the Visa cards, I'll be happy to see them in the comments below. And if you're just starting out with Crypto.com and staking, you can use this link to get a bonus when you are staking some cryptocurrencies.
Crypto.com Fee Structure Review
Let us have a look at the fee structure of Crypto.com. Yes, there are many reviews on the Internet that talk about the complexity of the fee structure at Crypto.com.
They have a concept known as the maker-taker fee structure when it comes to trading with cryptocurrencies. It is tied to a 30-day trading volume. The maker fees could be in the range of 0.036% to 0.10%. On the other hand, the taker fee could range between 0.090% and 0.16%.
Though the fee structure may be a bit complicated, there is no denying the fact that it is in line with competition and Crypto.com is not overpriced on this count. Knowing the exact Crypto.com fees is therefore important.
The fee structure also is different for minimum and maximum withdrawals. It is dependent on the type of cryptocurrency that is being sued for withdrawals.
Since Crypto.com deals with almost 90 different types of cryptocurrencies, it will not be possible to tabulate and list down the fee structure for each of the cryptocurrencies that are dealt with by this crypto exchange platform. The best way to know about the fee structure would be to go through the website and look up the fee structure for various types of cryptocurrencies.
Most Crypto.com reviews on the Internet will also be suggesting the same thing because of obvious reasons. It may not be prudent to get into trading and other such activities without having a reasonably good idea about the applicable Crypto.com fees.
Interest Rate
Apart from understanding the applicable Crypto.com fees we also should know something about their interest rates. Since Crypto.com does not offer desktop access for their customers, the interest rate is restricted only to the Crypto.com app and the Crypto.com Visa card that we have talked about above.
The interest could be around 12% for rewards cards and FDIC-insured investments. It is around 8.60% for rewards cards and not for FDIC-insured stakes. Lookup on Reddit for any good Crypto.com review information and you will get to know more about it.
Account Opening
The entire account opening process is quite easy and can be done in a few minutes. However, you have to visit Crypto.com. Once you are on the site, you will come across links that make you download the Crypto.com app.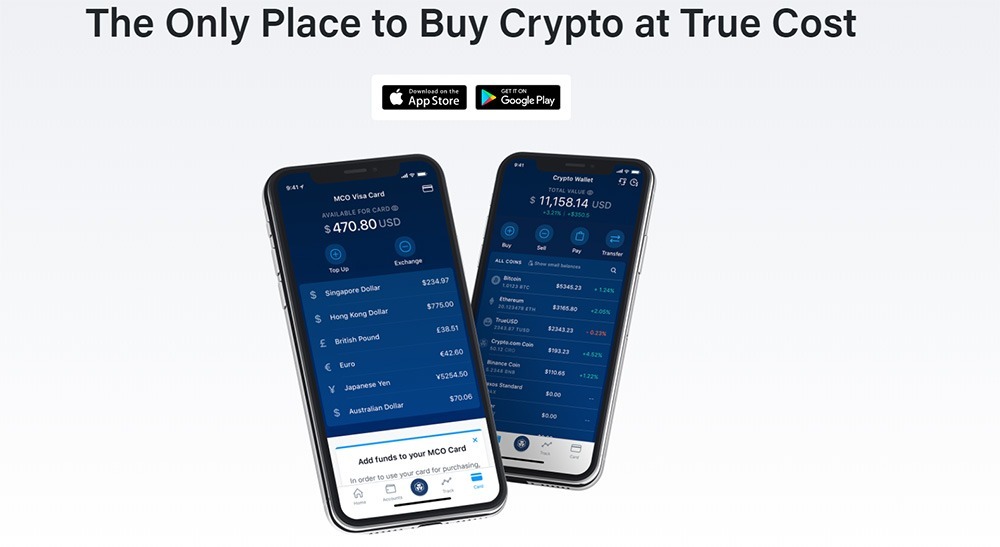 The mobile app is compatible both with Android and iOS. The minimum age for sign up is 18. It would not be a bad idea to go through a few well-written and factual Crypto.com review articles. It will help you to get a reasonably good idea about the chronology to be followed for opening an account with Crypto.com.
You will have to prove your credentials through some accepted documents and also mention your email and other personal details. This procedure is known as KYC and is a common practice for legitimate trading and financial institutions. Once you are through with this, you will be able to start transacting and start making use of this app-based online crypto exchange platform.
How safe is my money?
This is a common question that is asked by prospective customers who may have an idea to be associated with Crypto.com. The promoters of the company have taken adequate care and go through the rules and regulations laid down. This ensures reasonable safety as far as your money is concerned.
However, we need to bear in mind a few things. Crypto.com is not SPIC or FDIC insured. Further, Crypto.com is a company that is not based in the USA. It has its head office in Hong Kong where the regulations are quite different when compared to the USA and a few other western countries.
The absence of a mailing address or phone number on the website of Crypto.com is also mystifying and intriguing. Therefore, it would be better to do some due diligence, check with some other Crypto.com reviews, go through some reliable references, and then make a decision.
However, since they have been around for a few years now, there are enough reasons to believe that they are quite reliable and may have stood the test of time. The returns are good and the Crypto.com fees are also in line with what the competition charges.
Crypto.com DeFi Wallet Review
Now we will do a quick review of the new Crypto.com DeFi wallet. Is it safe, how it works, and the most important things you need to know before using it.
Crypto.com launched a fully decentralized open-source blockchain, the Crypto.org chain. The users got access to the Crypto.com DeFi wallet, where the cryptocurrency investors feel safer storing their cryptocurrencies while earning passive income from high interest rates.
First of all, when it comes to cryptocurrency wallets, one of the most important things is security. And Crypto.com DeFi wallet is a non-custodial wallet, where you have full control of your cryptocurrencies and private keys. You can manage over 100 coins including Bitcoin, Ethereum, CRO, Litecoin, and other ERC-20 tokens. Quite interesting is that you have the chance to select the speed of the transaction when you are sending cryptocurrencies. Of course, the faster you choose, the bigger fee you will pay. However, when we talk about fees, you will be surprised by how low they are.
Crypto.com DeFi wallet app
So let's have a look at the Crypto.com DeFi wallet app right away. What you see on the top is your name. So when you set up your DeFi crypto wallet, you need to give it a name. Then you have your balance which will be zero when you start.
They launched the Crypto.com DeFi wallet a few days ago, so we didn't put any funds yet. Then we have the option to Send and Receive. Obviously, we don't have any funds to send but if we tap on the Receive, you will see that we have a few options.
For example, if you click on the CRO coin, you will see your address, so you can send it easily. And if you are sending CRO coins from your Crypto.com app to the Crypto.com DeFi wallet, you will be paying 0.001 CRO as a fee, which is super low fee.
And let's focus on the menu that we have below. First, we have the Wallet. Then we have the Swap feature, which is quite interesting. This is where you can farm and swap DeFi tokens right in your wallet, which we find super useful.
And third is the Earn option, which is the thing that makes the Crypto.com DeFi wallet super attractive. As you can see at the moment or today's trades are super high for the CRO, which is 61.63. And just yesterday it was above 100% but it's decreasing, actually, the rates are floating.
This is why it says today's rate. So by the time you are reading this Crypto.com DeFi wallet review, the rate will be different. And if I scroll down you will see that the Earn option is possible for quite many coins.
Connecting the DeFi wallet with the Crypto.com app
Now if you go to the wallet and tap on the Settings icon and this is where you can connect to your Crypto.com app.
And I should check by connecting the apps, I understand the connection will associate my Crypto.com identity with this wallet. I will tap on that and I will confirm that I'm the beneficial owner and so on. I will just tap on Connect Petko Aleksandrov. And right here, I will need to enter my email address, so let me do that very quickly. I will send the connection email, so I will need to confirm it very quickly within a few seconds.
And here is the email, so I just tap on Connect, and I will need to enter my passcode for the Crypto.com app. I tap on Continue and authorize and launch the Crypto.com DeFi wallet. Almost done, open DeFi wallet, bring me back on there, I will enter the passcode and here we go 'Petko Aleksandrov successfully connected to the Crypto.com app'. Got it? And I am connected with my app, so now I can easily transfer coins from the Crypto.com app to my DeFi wallet.
Super simple, very friendly to use the DeFi crypto wallet, nothing really complicated, sending, receiving swap, Earn, that's it.
Crypto.com has surprised us many times and we're excited to start using the DeFi wallet. Probably, we will record videos while using it, so make sure to subscribe to our channel so you won't miss any updates and useful tips about the platform.
How Good Are They?
If you are not too bothered about being associated with a non-US crypto exchange platform, you may have quite a few reasons to choose Crypto.com.
They are run by a team of professionals who have rich experience in this business. Totally, a team of 19 highly qualified and experienced professionals is at the helm of affairs. At their Hong Kong headquarters, there are 700+ people working for the company. They have not yet received any negative feedback about the safety of money, customer services, efficiency, and other such things.
However, if you are looking for a US-based crypto trading platform, then you may feel comfortable looking for a company that is headquartered in the USA or other western countries.
Further, if you are looking for a platform that offers other trading options through personal computers, then Crypto.com may again not be the right choice. The overall fee structure is quite good but a few users believe that it could have been more straightforward and complexities could have been avoided.
Pros and Cons
Pros
Run by a team of qualified professionals.
Offer trading even investment in 90 different cryptocurrencies.
Visa tie-up.
Possible to use cryptocurrencies for buying and selling of common products and services.
Good support services.
Easy sign-up procedures
Health rate of returns for investments and staking of cryptocurrencies.
Cons
Complex Crypto.com fees structure
Can be operated only through mobile apps.
Conclusion
With so many cryptocurrency trading platforms out there, making the right choice is never going to be easy. However, those who understand cryptocurrencies in general and crypto trading platforms in particular, have reasons to believe that it is a trusted, reliable, and proven service provider.
They are known to make use of the best of technologies and they are headed and run by a team of 19 professionals who know quite a few things about cryptocurrency trading, the platforms, and other such things. Yes, some people are a bit unhappy that they are not able to offer trading platforms for those who prefer computers and laptops. The management must be aware of this and must be taking necessary steps on this count.