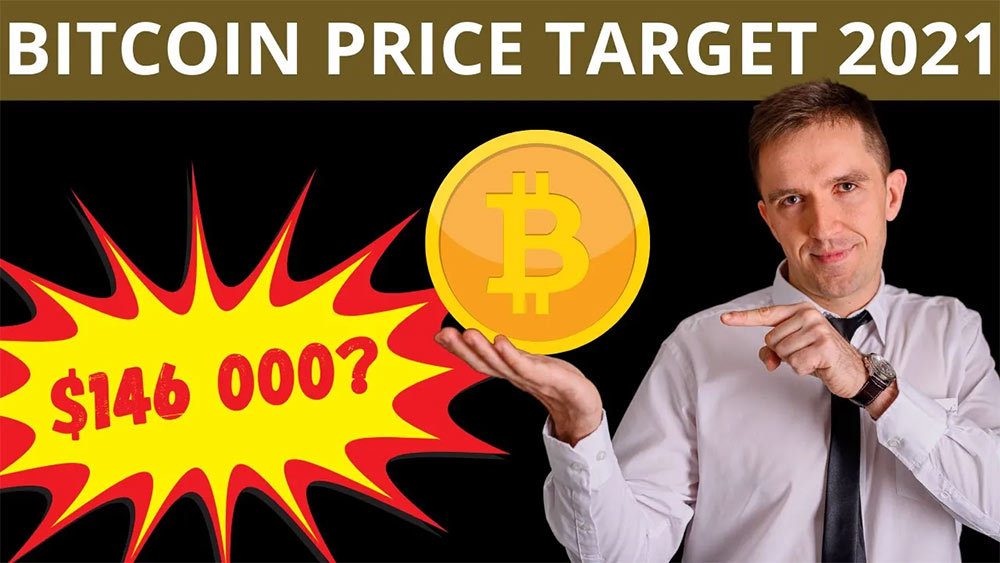 Bitcoin Price Target in 2021
Bitcoin price target 2021 – is $146 000 a BTC target or just the beginning
Today I'll be talking about the Bitcoin price in 2021 and why $146,000 is an important level for Bitcoin. After Bitcoin broke $20,000, it's been a lot of speculations over the internet. Different posts and predictions where people writing that the Bitcoin price will reach $250,000, others say it will reach half a million. More aggressive predictions go up to $1 million. The truth is nobody knows what will happen. And I can tell you what are the realistic targets that I'm looking at and where I see the price of Bitcoin in 2021.
Now, first of all, I'd like to say that it's a huge difference between 2017 and 2020, 2021. Why? Because in 2017, the mass of people was driving the price upwards. Everybody was crazy, everybody was talking about Bitcoin.
I was walking on the streets, in the mall, and I heard people at the age of 60-70, or even older speak about Bitcoin in Bulgaria which was really kind of money at this moment.
The major players can affect the Bitcoin price
Now, the difference in 2020, especially in the last quarter of 2020, is that the huge investors and institutional investors started purchasing Bitcoins which pushed the price aggressively.
There were many signs in 2020 showing that the price of Bitcoin will break the $20,000. This was PayPal announcing that they will implement cryptocurrency. For the moment, it is only for U.S citizens. I wish I was in the U.S because of that. Second, some insurance companies in the United States bought cryptocurrencies, and especially Bitcoin.
And that was something unusual until the moment. And many institutional investors announced that they want to keep the value of their funds and their investments by holding Bitcoin. I personally think that they still want to gain quick profits and many of them did. Because buying Bitcoin below $20,000 and after price reached $40,000, it's a profit of over 100%, which is quite unusual for the huge institutional investors.
However, you need to keep in mind that the price needs to reduce or to lower the fluctuations. Because of what had happened, it reached $40,000, then it dropped to $30,000, then it reached $40,000 again. Investors are not that likely to invest in an asset that will lose and profit that much every other day. They don't want their funds to be at the risk of losing 20% in one day, which actually happened with Bitcoin after it broke the $40,000.
Bitcoin is compared with Gold
Now, I know there are a lot of speculations about where the price will go. I never do predictions because, one more time, nobody knows where the Bitcoin price will be at the end of 2021. And as I recently said in one of my videos, you don't know a video or someone who predicted before 2017 that the price will reach $20,000, it will drop to $3,000 or something.
Then it will reach $14,000, then because of the Coronavirus in 2020, it will drop again to $3,000. Nobody has predicted that and that's why I don't suggest you believe any Bitcoin price predictions.
Even J.P Morgan made a very serious prediction for the Bitcoin price to reach $146,000 and I will explain why they did it. They compare it with the gold. So as you know the gold so far is accepted as an alternative currency and now a lot of people say that gold is threatened by Bitcoin.
If you want to learn how to trade gold with Expert Advisors, take a look at this course.
But what's the reality, how did they calculate it? I have the post right over here from CNBC. So J.P Morgan made a very long-term target for Bitcoin price saying that it will reach $146,000 as a target. But they said that would be a hard target, exactly because the institutional traders don't want to see huge volatility with the price. It says its price volatility would need to drop substantially, just what I've said earlier in this article.
It is a strong resistance line
And they calculated that Bitcoin price of $146,000 because they multiply the coins in circulation. Currently, it stands at over $575 billion. And currently, the gold investments in the private sector are somewhere above $2.7 trillion. Which
means that if the price of Bitcoin reaches $146,000, basically, it will reach the value of all the gold investments.
But here is the thing I don't agree with what J.P Morgan said, they said that this is a target for Bitcoin. What I personally think is, if that happens, if the price of the Bitcoin reaches $146,000 and it reaches the gold as a global value, I think then the price will just go to the $200,000-$250,000 like nothing. Imagine that gold has been the alternative currency for decades and now we have a virtual currency in the face of Bitcoin which will have over the $2.7 trillion of investment for the gold.
What will happen? The investors will jump more into Bitcoin, they will sell the gold to get more Bitcoin. So I don't think the $146,000 is a target, I think it will be just a really strong resistance line and if the Bitcoin price breaks, it will just go much further. That's what I think. I don't say it will happen but it's not just a target for Bitcoin. I think it's a strong resistance line if we compare it to the gold.
The Fibonacci targets
So I don't want to compare Bitcoin and gold. A lot of YouTubers do that, but I personally think that having Bitcoin or any other cryptocurrencies in your portfolio will bring you a great risk diversification and you can gain some quick profits, just what I show in many of my free videos on YouTube.
So that's why J.P Morgan said that the $146,000 is an important level. There is no other resistance, support, or any levels we have out there.
In my Bitcoin Investment Strategy course, I use the Fibonacci targets which are great targets for Bitcoin and I sell always when the price reaches any of the targets. But we don't have any levels out there because the price has never been into these levels. That's why J.P Morgan pointed out the $146,000 but, one more time, this is because if the price reaches there then it will reach the total value of the gold investments that we have in the private sector.
So we'll see if that will happen, we'll see what will happen if the Bitcoin price breaks that level. And I don't want to go to any predictions if this will happen this year, next year, in this decade, maybe it will never happen. We don't know. But if that happens, I'll be quite happy of course because my crypto portfolio will grow. And I'm sure that many of you reading this article right now are interested in this because you already have Bitcoin in your portfolio.
Conclusion
So be patient. And who knows what will happen in a few years? Maybe Bitcoin will be already so applicable to everything. I hope that we can buy and purchase stuff anywhere with cryptos, so we won't need to convert them into fiat currencies. And personally, I feel this is quite possible to happen as sooner as we expect because all the governments now are printing money so easily that they rise inflation really quickly.
Which makes Bitcoin a desirable asset, not just for the investors but for the retail traders and investors like me who want to keep value and not to lose savings because of the huge inflation happening especially after the Coronavirus crisis. That's how I see the price of $146,000 as I've explained. Not a target, I think it's a resistance. But we'll see what happens.
If you have found this article useful, I will appreciate it if you leave a comment below. I will see you in the next lecture.