In this Pepperstone review, we will look at the main features of the Pepperstone broker and the Pepperstone MT4 platform. We will review the types of accounts offered, Pepperstone account funding, and withdrawal. We will also take a closer look at the regulations under which the Pepperstone broker falls.
Pepperstone broker was founded in 2010 by traders for traders with a focus on global outreach. In the 10 years that they have been operating, Pepperstone broker has grown to be one of the largest MetaTrader brokers in the world.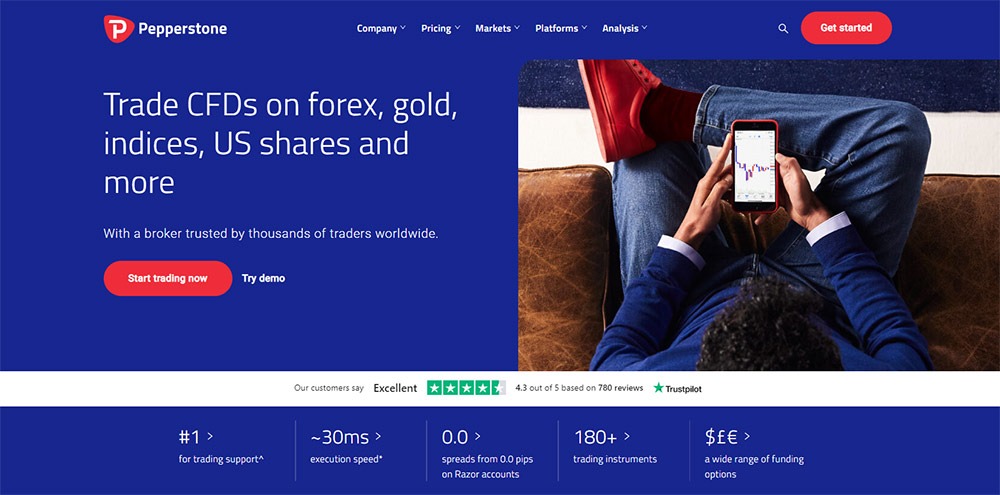 They have over 57 000 clients, and their daily average transaction size is 12.55 billion dollars. Bellow, you will find all the information you need to decide if Pepperstone broker is the right broker for you.
General Information About Pepperstone Broker
We cover a lot of information in this Pepperstone review. Below you will find a concise summary of all the general information you may want to consider. You will also find the name of the section where can read more information about the said topic.

Pepperstone Regulation and Security: Pepperstone broker is regulated by two tier-1 regulators and two tier-2 regulators. This makes them an extremely secure and trustworthy Forex broker.
Pepperstone Fees: Pepperstone's fees depend on whether you open a Standard or a Razor account. With a Razor account, you can be eligible for their Active Trader Program, which can further lower your trading cost.
Pepperstone Trading Possibilities: Pepperstone trading platform offers over 150 different trading instruments, including 61 Forex currency pairs.
Pepperstone Account Types: There are two main Pepperstone account types; they offer all the same features but differ in relation to fees.
Trading Platform: Pepperstones Broker allows traders to trade with both MetaTrader 4 and MetaTrader 5 in addition to cTrader. We will dive deeply into the Pepperstone MT4 platform.
Features: There are three main features that Pepperstone broker offers: Smart Trader Tools, cTrader automate, and social trading partnerships.
Research and Education: Through both in-house sources and partnerships. Pepperstone broker offers relatively extensive research and basic education for new traders.
Customer Support: Pepperstone has 24/5 customer service, through email, live chat, phone, or webform.
Promotions: You can become a premium trader if your trade volume is high enough. This gives you access to even more features and benefits.
Getting Started with Pepperstone Broker: They have four-step account creation and verification process that will also take you through funding your account.
Deposit and Pepperstone Withdrawal: Their deposit and withdrawal process is streamlined. Pepperstone broker offers a wide range of options for you to choose from when it comes to methods of withdrawal.
Before making your decision you can compare the trading conditions with other regulated brokers on our Trusted Brokers Page.
Pepperstone Regulation and Security
One of the most important factors for most traders is security and regulation. Part of Forex trading is investing your money. You need to trust that the company you invest in will keep your money and information safe. And that it will give you your profits in a secure and timely fashion.
One of the best ways to guarantee that your trading broker is a secure one is by looking into the regulator groups that they are a part of. Now, just because a group is not a part of a regulatory group does not mean that it is not safe, but the regulators do offer extra security.
Pepeprstone Group LTD (the parent company of Pepperstone Broker) is based out of Australia. Therefore it falls under regulation by the Australian Securities and Investments Commission of the ASIC. This is a tier-one regulation – the highest level of regulation that there is.
In addition to the ASIC, the Pepperstone Broker is also regulated by the tier-1 group, the Financial Conduct Authority. It also falls under regulation by two other tier-2 regulators. Being a part of these different groups means that they have to adhere to certain standards. This includes strict AML (anti-money laundering) requirements, KYC (know-your-client) procedures, and completing intensive audits. Due to all this, Pepperstone broker is considered to be a low-risk broker.
Pepperstone Review – Fees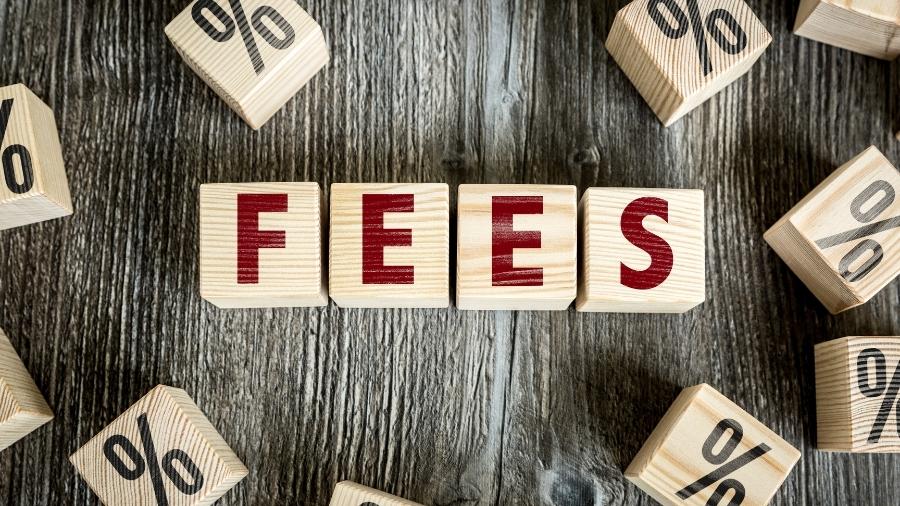 Brokers are in the business of making money, so there is always some form of fees. The type of fees you end up paying depends a lot on what sort of account you open up. There is more information on the different types of accounts in the Account Options sections. No matter which account you end up with, the Pepperstone fees are competitive.
Razor Account
The Razor accounts use a commission-based pricing structure along with prevailing spreads. In the Razor Account, the average EURUSD spreads are 0.16 pips. Even with the 0.70 pips commission, the Pepperstone all-in cost of 0.86 pips on both MetaTrader 5 and cTrader is comparable to the industry average.
Standard Account
Standard accounts are commission-free, but their spreads are higher and therefore not as competitive as the Razor account. With the standard accounts, average spreads (EUR/USD) are 1.16 pips, which is higher than the Razor account all-in cost.
Active Traders
Pepperstone has what is known as its active trader program, which rebates portions of the spreads. Based on your monthly trading volume and the tier you are a part of, you may be eligible for rebates.
United Kingdom: If you are in the UK, you must trade at least 15M dollars per month or 150 standard lots to be a premium client. If you meet those requirements, you may be able to receive tier-1 rebates (10% per lot). On the other hand, if you do more than 500 lots monthly, tier-3 rebates can be negotiated.
Australia: If you live in Australia, you must trade a minimum of 200 lots to qualify for the lowest tier or rebates. Tier-1 qualifies you for rebates of 1 dollar per lot, effectively reducing a spread to 0.65 pips from 0.75 pips. Furthermore, if you trade more than 200 lots monthly, you may be eligible for tier-2 rebates of 15% or more. This can reduce a spread to at least 0.638 pips.
If you want to compare the Fees with another regulated broker, and you do not want to pay commission, you can check out the Recommended Brokers we have on the website.
Pepperstone Trading Possibilities
During this Pepperstone review, we found that the broker has an extremely wide range of trading possibilities. They offer over 150 different instruments in Forex, equality and index CFDs, cryptocurrencies, and commodities.
The primary focus of Pepperstone broker is Forex trading, with 61 currency pairs in that field alone.
This means that if you focus on Forex trading, you should be able to easily diversify your portfolio and find all the opportunities you are looking for.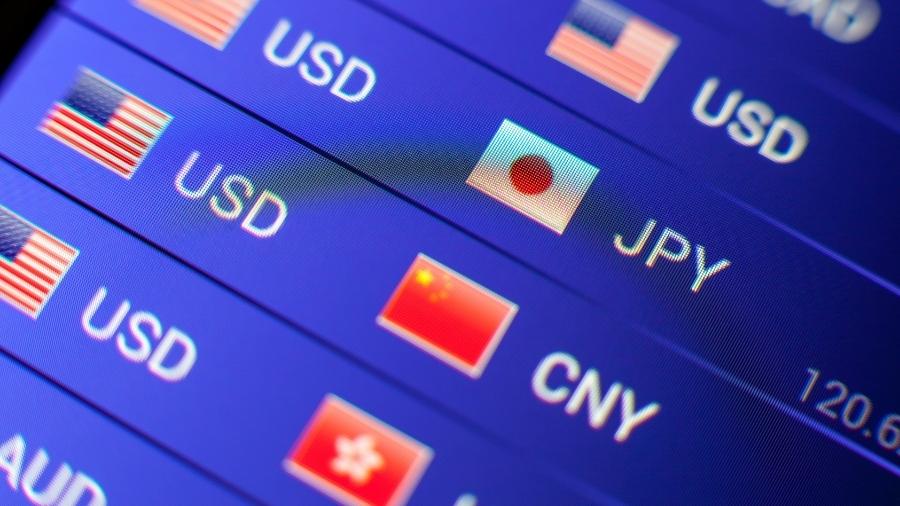 If you are interested in CFDs in addition to Forex trading, there are fifteen different commodity CFDs (soft and hard) that will allow you to branch out. But if you are really wanting to explore this field, you may find yourself limited with Pepperstone broker. Especially if you are interested in metals beyond gold, silver, platinum, and palladium.
Even their additional 64 equity CFDs and 15 index CFDs may feel limiting to advanced traders but perfect for traders simply looking to expand a little.
Finally, you can trade all of the five major cryptocurrencies through the Pepperstone platform. This is typically what most people look for unless they have strong experience or they are devoted cryptocurrency traders and enthusiasts.
Pepperstone Account Options
This Peppestone review will cover the two main account options at Pepperstone broker – the Standard account and the Razor account. It is important to recognize that the fundamental features of these two accounts are the same. So you are not really choosing between features. Rather, when you are making your decision between accounts, you need to focus more on the fee structures.
The Standard accounts have more prominent spreads, but they remain commission-free. On the other hand, Razor accounts offer you narrower spreads (by a significant margin); however, they do require a commission (seven currency units of the account currency per lot).
Both the accounts are competitively cost-effective. The Razor account, despite having the commission, is definitely the most competitive out of the two account options at Pepperstone broker. Additionally, there is no minimum deposit.
As far as the leverage, that depends on where you are trading. If you are a part of the Australian branch, the maximum leverage available to you is 500 to 1. On the other hand, if you are a part of the United Kingdom branch, the maximum leverage available to you is 30 to 1.
Pepperstone Trading Platforms Review
Pepperstone broker offers three of the most popular trading platforms that there are. First, Pepperstone offers MetaTrader 4, the most popular trading platform at the moment. Some traders are moving on to the newer platform known as MetaTrader 5, which Pepperstone also offers.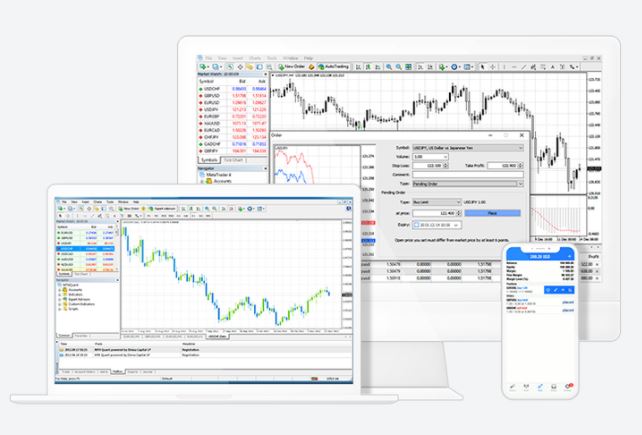 Finally, Pepperstone broker offers cTrader, which is the ECN trading platform. You will be able to access all three of these platforms through a desktop, a WebTrader, or a mobile application, which does set it apart from some of its competitors if you want access to your trading from your mobile device.
There is some important information considering which Pepperstone broker trading platform you want to use. First of all, it is worth noting that while all three trading platforms do support automated trading, Pepperstone MetaTrader 4 is far better than the other two options in that category.
Pepperstone MT4 also stands out with back-testing and other useful add-ons that. It is also worth noting that the Pepperstone cTrader platform does outshine both the Pepperstone MetaTrader 4 and Pepperstone MetaTrader 5 platforms if you are looking at the fundamental models, but the upgraded Pepperstone MetaTrader 4 is competitive.
When you are choosing between trading platforms with Pepperstone broker, you will not have to choose between features and tools offered by Pepperstone broker in addition to the trading platforms. Pepperstone broker offers its Smart Trade Tools with MetaTrader 4, MetaTrader 5, and cTrader Automate.
Pepperstone MT4 Review
Now, we will go briefly over the Pepperstone MetaTrader 4 platform.
After you download and install the Pepperstone MT4 platform and you are logged into your account, you have the connection to the server of the Pepperstone broker, you see the prices moving, you are pretty much ready to trade.
However, if you are using MetaTrader for the first time, you can follow this Pepperstone review along. Now, when we installed the platform, it had by default 4 charts, 1 for EURUSD, USDCHF, GBPUSD, USDJPY.

And most of the brokers will give you some default layout, but you can change pretty much all of that.
So, for example, if we want to tile the windows, we can right-click and go to Tile Windows, or that it will be an Alt + R combination on your keyboard.
You see the 4 windows are displayed equally on the screen.
And I can change any of these currency pairs as well, simply by drag and drop the currency pair I want to trade.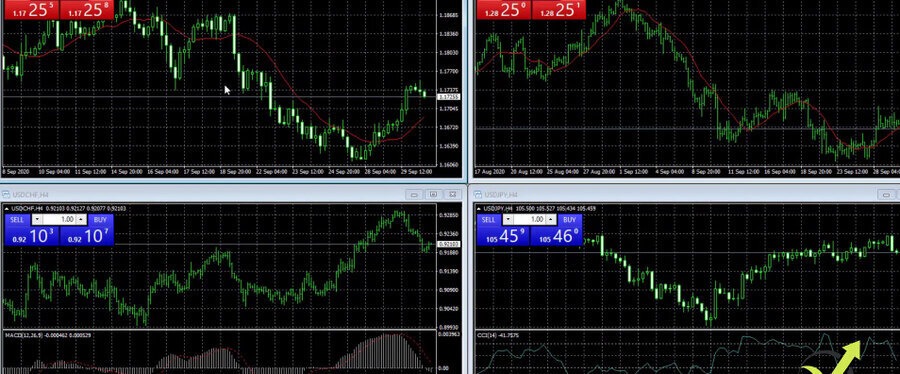 The Market Watch
So for example, if I want to trade USDCAD instead of EURUSD, I can just drag and drop it over the EURUSD, and I have now the USDCAD.
On the left side, we have the Market Watch where we see all the trading assets.

And if you don't see all of them, what you can do is simply right-click over it and go to Show All. This will display all the assets that the broker provides.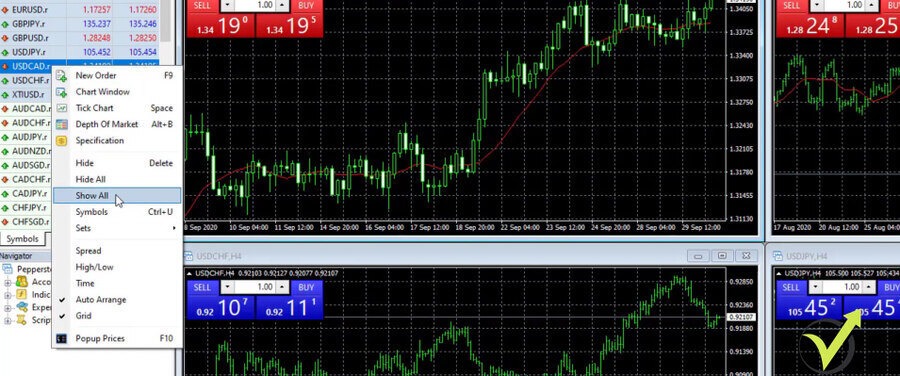 And if we scroll down, you will see that we have currency pairs, commodities, indexes. Here are the cryptocurrencies: Bitcoin, Dash, Ethereum, Litecoin.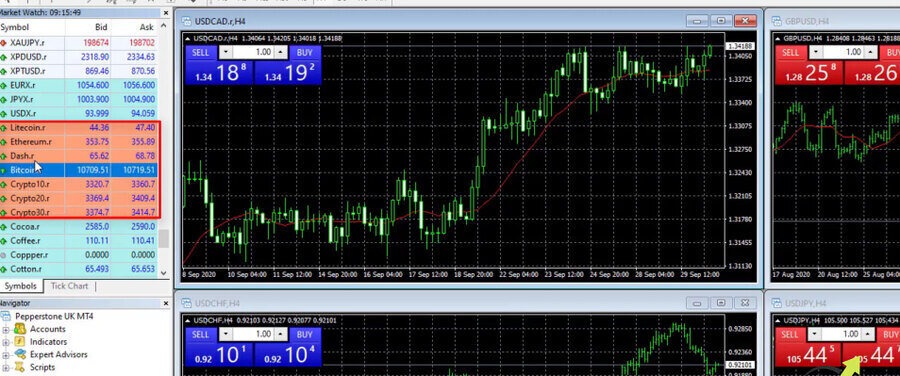 And in the Market Watch we have 2 prices. One is the Bid price and then we have the Ask price. Now the Bid price is cheaper than the Ask price.
If you look at the Bitcoin, at the moment it is 10 709.51 as a Bid price and it is 10 719.20 something with Ask price or $10 more. Why is that? Because this is the spread. If we right-click again and we go to Spread, a third column will appear and it will show the spread.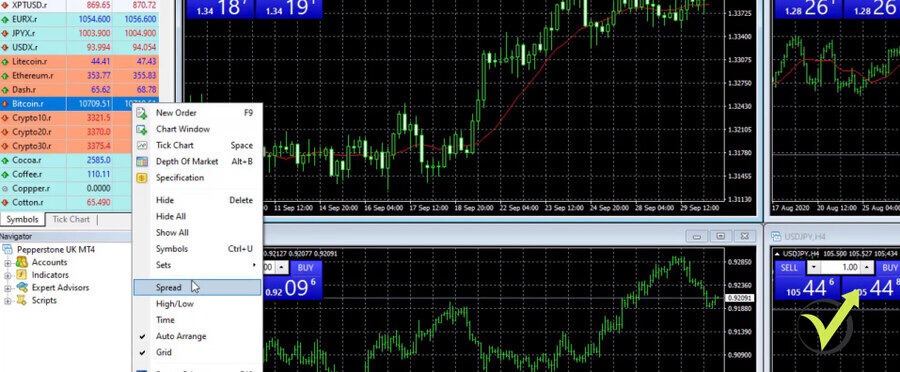 For the moment it is fixed with Pepperstone broker for the Bitcoin at $10, you can see the Ethereum is about $2 and the Litecoin is about 3, Dash is about 3 as well.
The Bid price, Ask price, and spread
Something important to know about the Bid and the Ask price is that we Buy the asset at the Ask price, which is the more expensive price, and we Sell at the Bid price, which is the cheaper price.
Now, if we drag and drop the Bitcoin over the chart, you will see that the Buy price is the more expensive one 10 727, and the Sell is 10 717. Or if we Buy 1 Bitcoin now, we will Buy at the more expensive price, which is the Ask price.
And if we want to close the position, we will be closing it on the Bid price and we will pay this difference of $10 to the broker, which is called the spread. And this is one of the ways that the Pepperstone broker benefits from our trading. It is just like the exchange bureau, the bank when you go to exchange currencies, there is always a difference between the Bid and the Ask price or the Sell and the Buy price.
It is very, very important to look for the brokers that have a small spread because obviously if you have a huge spread, this will minimize your profits.
And in most of our courses, we include Expert Advisors and sometimes some students report profits. Others report losses with the very same Expert Advisors for the same period of time. And this is because they use different brokers and some have really huge spreads, especially for Bitcoin.
So trading with a small spread is vital and always look for the brokers that have a smaller spread.
Pepperstone MT4 Navigator
Now, below the Market Watch, we have the Navigator where we see our accounts.

If you have a Live Account or another Demo Account, it will be displayed here. We have the Indicators which we will show a little bit later. And below we have the Expert Advisors where we can place the Expert Advisors.
Do you want to know how to place the Expert Advisors on Pepperstone MT4? Check out the Top 5 Strategies (+EAs) for Cryptocurrency Algorithmic Trading course.
MetaTrader 4 Scripts
And we have Scripts that are very useful, especially when we create Expert Advisors, export historical data from the broker, and many other things. So all of these windows are customizable. For example, we can decrease the size of the Navigator. Usually, we keep it that way at the Academy just to see the Expert Advisors that we have. we can change as well the place so we can drag it above the Market Watch.
But usually, we keep it the way it is, the way it comes after the Pepperstone MetaTrader 4 installation, and we just customize the chart windows. Below we have the terminal where we will see the open trades, the closed trades, the result, we will see the account history once we have the Expert Advisors trading.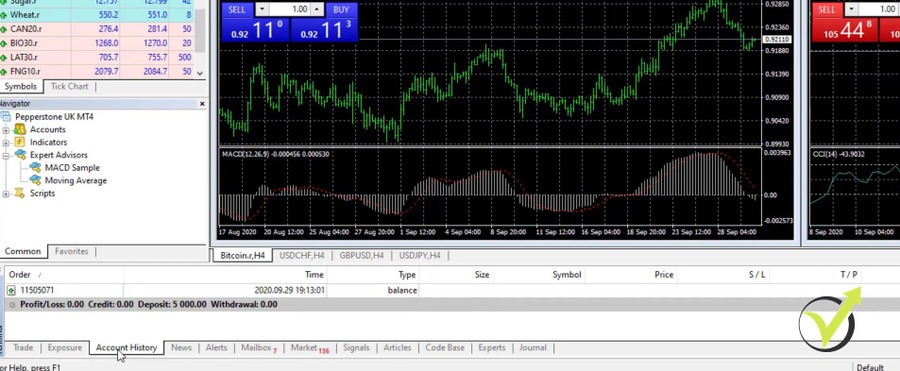 And on the top we have different drawing tools like horizontal lines, vertical lines, we have the trend line which you can use if you have such a strategy. We show many strategies in our courses using trend lines and especially counter trend lines.

Timeframes in Pepperstone MT4
And we have the different timeframes in MT4.
For example, with the Bitcoin we are on the H4 chart right now, we can change it to M1 or to M5 and M15. These are the available timeframes in Pepperstone MT4. We have the daily chart, weekly, and monthly.

What that means, for the beginners, if we are on the M15 chart, it means that 1 candlestick is 15 minutes of a time. It is now 9:23:20. And when it is 9:30 or half past 9, we will see a new candlestick opening. So 1 candle represents 15 minutes. If we switch to an hourly chart, 1 candle will represent 1 hour.
So when we have the full hour complete and the new one starts, a new candlestick will open.
Chart Types in Pepperstone MT4
On the top, we have as well different chart types. So we have candlesticks, we have the bar chart, which is very similar to the candlestick.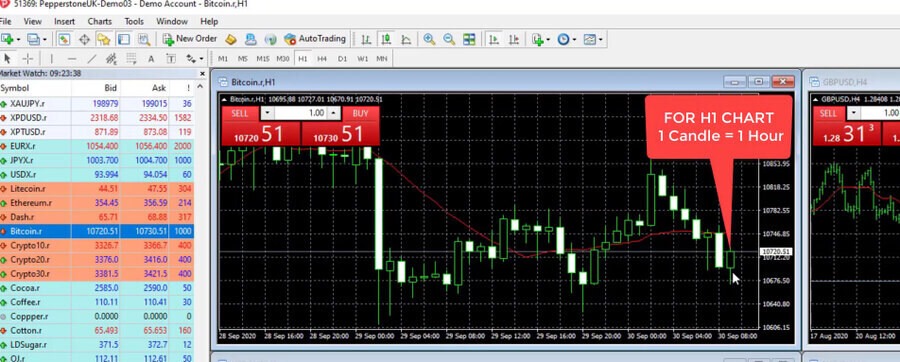 But with the candlesticks, we have more visual representation of the price.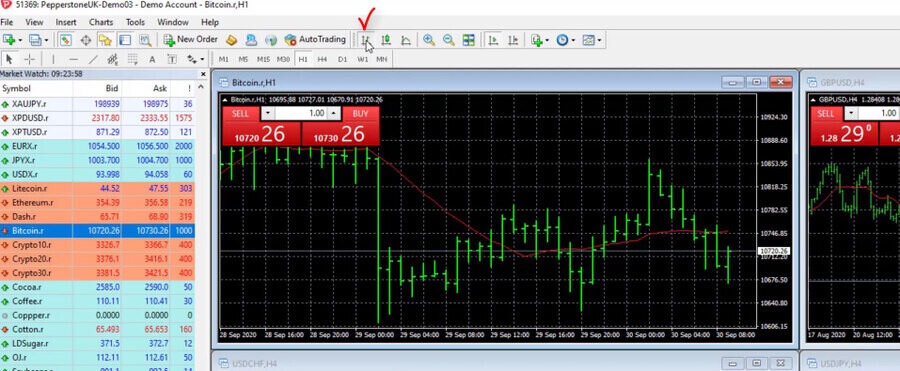 And we have as well the line chart, which is just the line connecting the closings of these candlesticks.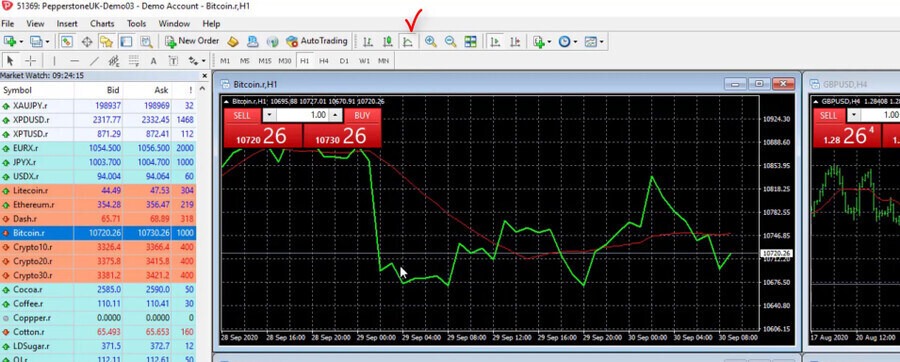 In this case by default, when we installed the Pepperstone MT4 platform, we have white candlesticks if it's a negative bar. The price opened at the price of 10 748.38 and it closed at 10 697.26. It opened here, it closed here. And it's a negative bar.
And the next one, the one that we have until the moment is positive, you can see that it opened at 10 695 and still, it didn't close. We'll see how this bar will close at the end of the hour. So what we will do now? We will just remove the other charts, we will close the GBPUSD, USDJPY, and USDCHF, and we will leave just the Bitcoin.
Pepperstone Review – Features
What can really make the best Forex trading brokers stand out from the rest is what sort of unique features they offer. And Pepeprstone broker does offer three main features. The Smart Trader Tools mentioned earlier, the cTrader Automate, and social trading partnerships.
Smart Trader Tools
Smart Trader Tools: Pepperstone's Smart Trader Tools is an upgrade package with 28 different plugins. They are compatible with both the Pepperstone MetaTrader 4 and Pepperstone MetaTrader 5 platforms.
This upgrade set really takes the standard MetaTrader 4 platforms and turns it into one of the best trading platforms there is. It creates a more solid trade execution, allows retail traders to manage their portfolios with tools that the professionals use, and enhances risk management.
It is not uncommon for brokers to claim that they are offering traders cutting edge technology. What most are really offering is the basic version. In this Pepperstone review, we found that the Pepperstone broker really does deliver on their promise.
cTrader Automate
Just like it sounds, this feature correlates with Pepperstone cTrader platforms. This feature provides traders with the opportunity to customize indicators and automate their trading solutions. This is really great for traders (individual and company) who do not already have an existing solution on another platform, such as the MetaTrader5 platform. The cTrader Automate is also great for both optimizing strategies and back-testing.
Social Trading
In addition to the automated trading solutions that Smart Trader Tools upgrade and cTrader automate provide, Pepperstone broker has a lot to offer when it comes to social trading. This happens through their partnership with five of the most popular social trading platforms – Myfxbook, Mirror Trader, MetaTrader Signals, ZuluTrade, and DupliTrade. It is worth noting that some of these services may require a minimum deposit, so make sure you investigate which option is best for you.
Research and Education
No matter what is your experience, there is almost always more to learn when it comes to Forex trading. Forex education is a really key component of the industry. Therefore, it is important to consider what kind of research and education opportunities your broker offers.
With Pepperstone broker, you will find research opportunities both with in-house analytics and through their partnerships with different third-party firms.
The in-house research provides traders with market news and trading opportunities on trading days. Every time they release new information, they send it to their users in a very professional and thorough way. This is beneficial to both traders looking for new ideas and those just looking for something to look into while taking a trading break. Traders will also have access to research by leading groups FX Evolution and BK Forex.
As far as education, Pepperstone broker provides traders with a wide selection of both written content and video lessons. This is really beneficial for new traders.
Their information is broken down into seven main categories. While very thorough for the most part, the CFD section does focus solely on gold. Their educational content does focus mainly on the basics. More experienced traders wanting to further their education may want to consider another source for education.
Customer Support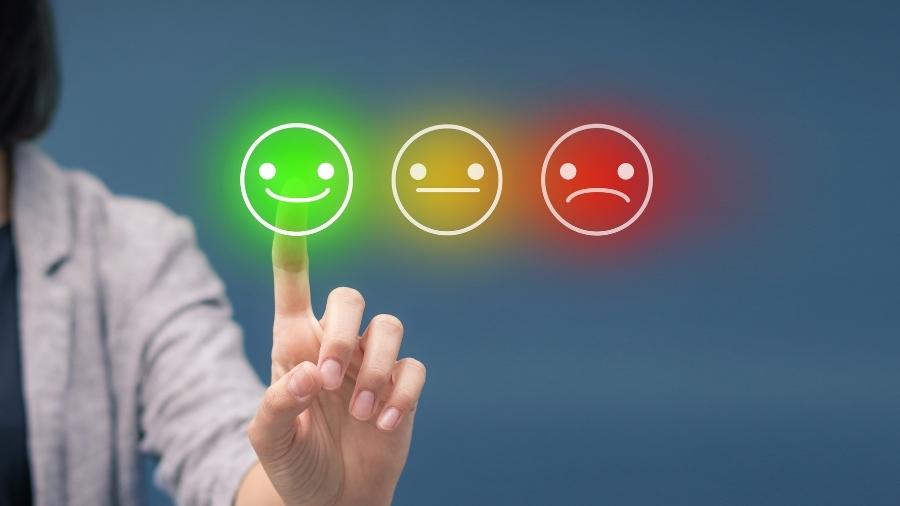 As you are trusting your broker with money, good customer support is important in case there ever is a problem. Pepeprstone broker does offer customer support for 24 hours five days a week through email, live chat, phone, or through a webform they offer. Customer support through live chat and phone are obviously dealt with right away. All written requests are handled within 24 hours.
While their customer support is good, you should not find yourself having to deal with them all that often. This is because the Pepperstone broker takes pride in being extremely well-managed and transparent. This means that you should not regularly run into all that many problems.
For any of the more common problems or questions traders have, they do have a thorough FAQ section. There you can browse a variety of topics – funding and Pepperstone withdrawal; managing your Pepperstone account; opening an account; new to trading; platforms and tools; and understanding trading conditions.
Pepperstone Review – Promotions
If you become a premium client through Pepperstone broker, you will have access to additional bonuses and promotions. Such promotions include more advanced trading tools, a premium rebate program, and VPS hosting.
You will not even be pressured to make a bigger despite becoming a premium client. This is rather based on your trading volume. If you trade around 15 lots (it varies slightly based on the assets traded), you can become a premium client.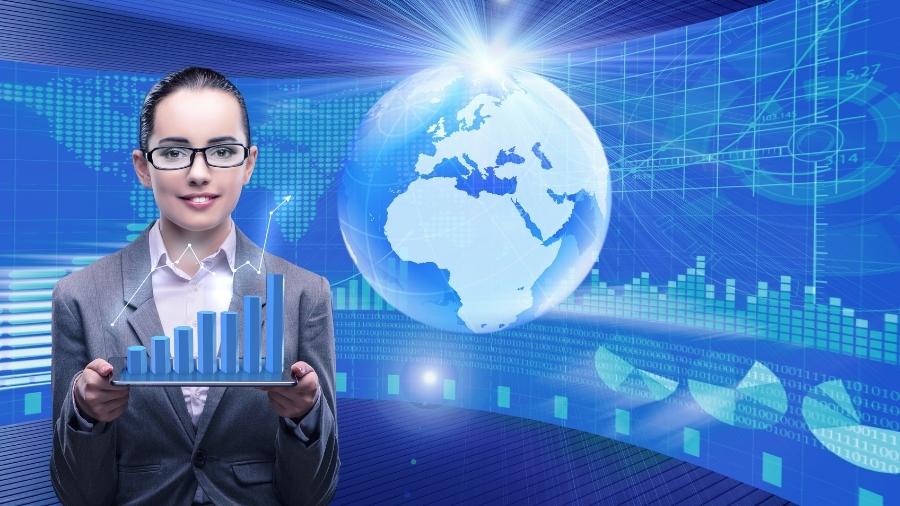 Furthermore, once you become a premium client, you can become a member of their Active Trader Program if you are also a Razor account holder. There is more information about this program under the fees section, but it essentially awards traders rebates based on their trading volume, which further lowers their cost of trading.
That is one of the nice things about Pepperstone broker – the more you trade, the less you pay to trade.
Beginning with Pepperstone
When you are first beginning with Pepperstone broker, you will need to open an account. You do those through an online application, which is fairly standard in the industry.
The application will take you through a four-step process that is very clear and easy to follow. The four steps take you from opening and verifying your account through funding it.
It is an extremely simple process. Though it is worth noting that you will need a copy of both your ID and a proof of residency document so that Pepperstone can meet their regulator's requirements.
You do not need to feel concerned about giving Pepperstone broker your information and documents. They are extremely well-regulated and trustworthy.
Their account-creating process includes funding your account. This means you will be able to start trading very soon after you verify your Pepperstone account.
However, it is worth noting that if you are new to trading, it is a good idea to go through some, if not all, of their educational content pertaining to the types of trading you are planning to do before getting started as education, is key to successful Forex trading.
Pepperstone Demo Account Review
For new traders, it is advisable to undergo some, if not all, educational information in regard to the type of trading you plan to do. This is crucial for a successful trade.
When you feel comfortable enough you can start trading. We strongly advise you to start with the Pepperstone demo account before jumping into live trading. This way you will become familiar with the broker and trading platform you decide to use.
Now we will show you how to open a Pepperstone demo account, how to install MetaTrader and the basics of MetaTrader that you need in order to start trading manually or with Expert Advisors.
Let's start by opening the website of Pepperstone, one of the brokers that we have been using for Cryptocurrency trading.
And again, please don't take it as a recommendation because we are not related to any of the brokers. We are not promoting any of them.
Of course, we need to select one of them to show in our courses. So Pepperstone is a regulated broker and they have relatively small spreads for Cryptocurrencies.
How to Open a Pepperstone Demo Account
So after you select your trading broker, what you will need to do is to open a demo account. And you can do it either if you log in into the client's area, or most of the brokers will have the button test, demo account, open demo account, and etc.
In this case, we try a 30-day Pepperstone Demo Account. So if the Pepperstone broker limits the demo account to 30 days, for example, Dukascopy limits it to 15 days. All you need to do is to write their support to extend the account. And usually, they do it without questions asked so you can ask them to extend the demo account to a lifetime so you will have more time to test the strategies.
Once you're logged into your Pepperstone demo account, just click on Request an Account.
We will be using MetaTrader4 and I can select if I want to put a nickname, let's say I will put Petko Aleksandrov, and then I would like my currency to be in USD. I will start with a smaller amount, let's say 5000 USD.
If you are planning to trade on a Live Account with 5000, it's not a bad idea to start the same amount on a Demo Account. This way you will be doing more realistic testing.
Back in the Pepperstone account, click on Submit.
It will take a couple of seconds and I have my Pepperstone Demo Account open. Here is my account number.
Installing the Trading Platform
And if I move my email from my next screen, you will see that I have received immediately the email from Pepperstone.
It says Hi Petko Aleksandrov, your Demo MetaTrader4 Account is now ready. To get started, install the MT4 platform.
This is the link that they send you and you can install the platform. I will click on that and it brings me back to their website. It depends on what you want to install or if you want to use the Web version, you can open it from right here.
Then for MetaTrader 5, they offer MAC version and Windows, and they have the mobile apps.
Review Pepperstone MT4 on Windows
We will be using MetaTrader 4 for many reasons. Personally, I prefer MetaTrader 4 and it's still the more preferable platform for most traders. I will be using it with Windows.
Click on that button. The installation file is downloaded. I will click on it and you will see how easy it is to install the platform.
Now what you can do is click on Settings.
Then select the destination. And usually what I do is I just change it according to the account that I will be trading. However, I can call it, for example, Pepperstone Crypto Trading, so I know that on this platform I will be trading Cryptocurrencies and I click on Next.
And it installs just in a few minutes. The platform will open automatically.
I will click on Finish.
And it brings you usually to the MQL5 website.
And below is the platform opened. Let us just make it fit the trading screen, and here it is.
Login to Trade Account
Now, I will log into the Pepperstone demo account that I have just opened. I go to Login to Trade Account,
and here, I will enter the account number and as well I will enter the password.
That's it. Once I do that, I click on login and it will take a few seconds to log in to the account, and I'm connected to the server of the Pepperstone broker. In the bottom right-hand corner, you can see that I have a connection to the server.
And on the left side, I see all the quotes, or in other words, I see the prices moving. This means that I am connected to the market and I'm ready to trade.
Pepperstone Deposit and Pepperstone Withdrawal
Deposits and withdrawals are two key components to any Forex trading broker. The process by which you do so is often a deciding factor for traders. If the process is too complicated, a trader may not feel confident that they will get their money.
Pepperstone supports a relatively wide range of different deposit and withdrawal options, including bank wires, credit and debit cards, Neteller, Union Pay, Bpay, PayPal, and POLi. The Pepperstone deposits are instant except for bank wires, which can take up to five business days to go through.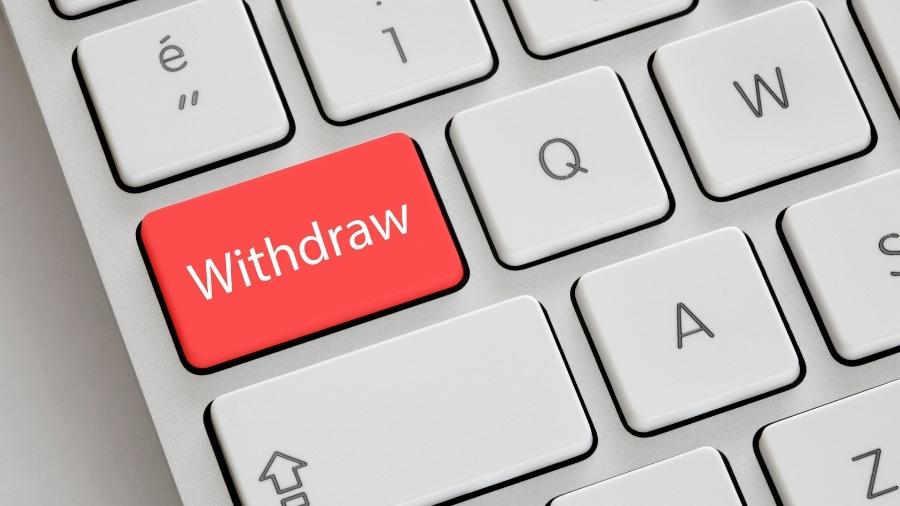 Pepperstone only has withdrawal fees with bank wires, though any of the third-party options may have separate fees.
It is important to note that the name on your trading account has to match the name on the account of the payment option you use.
Pepperstone withdrawal and Pepperstone deposit process are extremely streamlined and simple to use. Their range of different options along with their fast turnaround and low to no withdrawal fees makes it easy for every trader to access their earnings.
And, as mentioned in the customer support section, if you do happen to run into any problems, their customer support is available and ready to help you sort it out.
Pepperstone Broker Review – Conclusion
In this Pepperstone review, we found that this is a very good broker when it comes to Forex trading. They fall under many regulations and they are very transparent with their traders. Everything Peppersotne offers should be enough for both novices and more experienced traders.
The main reason why Pepperstone broker may not be for you is if you are really interested in expanding your CFD portfolio, especially with metals. Other than that, Pepperstone broker really is one of the best trading brokers available today.
For more regulated brokers go back to the Brokers Page.
Is Pepperstone an ECN Broker?
Yes, Pepperstone is an ECN Broker. While they only offer one ECN trading platform, it is the most popular one there is, cTrader, which will fit most ECN trader's needs.
Is There a Minimum Deposit for Pepperstone?
Many Forex trading brokers require a minimum deposit ranging all the way from 100 dollars to a thousand or more. One of the benefits to Pepperstone is that there is no formal minimum deposit, which is good for new traders who are just interested in trying it out. It is important to understand, however, that how much you put in limits how much you can trade and therefore how much you can make.
Is Scalping Allowed with Pepperstone?
Yes. Many brokers do not allow scalping, which is entering and exiting trades extremely quickly, but doing so is allowed with Pepeprstone. In fact, there is no minimum time that a trade has to be kept open.
How Does Pepperstone Make A Profit?
Some companies are not very transparent with how they are making money, but Pepperstone is a very transparent broker. They make money from overnight swap fees, commissions, and charging spreads.
What is The Minimum Lot Size at Pepperstone?
You have a lot of freedom when it comes to lot size with Pepperstone. Clients may even trade in micro-lots if they want, which is 0.01 lot. However, trading more may make you eligible to be a premium client.