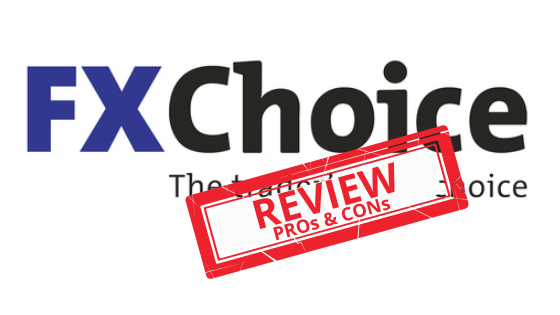 FX Choice Review – PROs & CONs

FX Choice Review by Forex Academy team
Overview
FX Choice Review was written to give a better idea to our students and traders about the conditions of the broker. We will point out the Pros and Cons and it is a personal choice if one will choose it as a broker.
FX Choice is a broker for Forex and CFD trading that is based in Belize and operated by the company FX Choice LTD. It started in 2010 and since then has become fairly popular, executing about 15,000 transactions a day.
It allows traders to trade just under 40 different currency pairs and a variety of CFDs, including precious metals, energies, indices, and commodities. This review will take you through the various things you need to consider to help you decided if FX Choice is the right broker for you.
Types of Accounts
We always suggest our traders test a broker with a Demo account first. This way you can test the trading conditions of the broker and any type of strategy or Expert Advisors.
In this FX Choice review, we will tell you in details the different type of trading accounts with the broker
There are two types of accounts that you can open with FX Choice. You can open a Pro account or a Classic account. There are actually not very many huge differences between the two. Both accounts require a minimum deposit of 100 dollars and have a minimum trade size of 0.01, both of which are fairly standard things across various Forex brokers.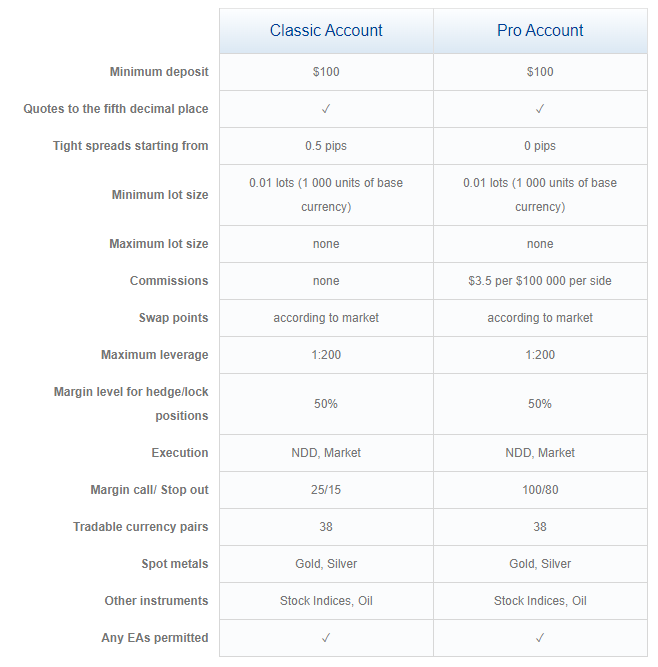 Before opening an account you might want to compare FX Choice broker with another recommended broker such as HotForex Broker.
The important difference between the two is that the Classic account is commission-free and therefore offers higher spreads.
On the other hand, the Pro account is based on commissions with tighter spreads due to ECN.
The average spread for the Classic account is 1.2 pips on EUR/USD; the average spread for the Pro account is 0.5 pips on EUR/USD and $3.86 per lot. There are a few differences beyond that.
If you decided to get a Pro account, you get a choice of desktop platforms. You will be able to use MetaTrader 4 and MetaTrader 5.
Keep in mind that MetaTrader platforms are developed by third part company called Meta Quotes. All the brokers, just like FX Choice pay yearly fees to provide the platform to their clients. The fee is above $75 000.
Anyway, if you find some issues with MetaTrader, do not hurry to blame the broker. MetaTrader 5 has still many bugs unfixed, and this is why many traders prefer to use MetaTrader 4.
It is much more comfortable for algo trading. This is why our trader Petko Aleksandrov uses MetaTrader 4 n his courses. It provides a choice of direction for the Experts, compiling many EAs with one click and easier Magic numbers usage.
So in this FX Choice Review, we will tell you more about the broker, and we will leave it up to you which type of account you prefer to use.
Beyond the two different account types, you have the option to open a corporate or an individual account. Corporate accounts will allow multiple traders to use the account, while an individual account is designed for one person to use.
This opens up more options beyond the Pro versus Classic to ensure that your account is exactly what you need it to be.
FX Choice Review for the trading conditions
The minimum initial deposit is the amount an FX broker requires you to deposit to get started. Different Forex brokers will all require different amounts. Most Forex brokers have various account options with different minimum requirements to cater to all types and expertise level traders.
That is not the case for FX Choice. FX Choice requires a minimum 100 dollar initial deposit for both Classic and Pro account holders. This is a very reasonable requirement. You, of course, can go beyond that 100 dollars if you want to.
The spreads for FX Choice vary based on what kind of account you use, but they do not differ all that much. A spread is the price difference between where a trader can purchase/sell an asset. The average for both the Pro and Classic accounts really good.
Leverage in Forex trading allows you to use a small amount of your money to control/trade a larger sum. Different Forex brokers will provide different maximum leverage amounts. That is the largest ratio that you can control with your money.
FX Choice has a maximum leverage level of 1:200. That is fairly average in forex trading. More expert traders may want the ability to have a higher leverage level, but 1:200 is good for most traders, especially newer traders who may not know all the ins and outs of forex trading yet.
Platforms
FX Choice is a broker that only uses MetaTrader platforms.
That means it offers various platforms developed and released by MetaQuotes Software Corporation, such as MetaTrader 4 and MetaTrader5.
Most of our traders prefer to use MetaTrader 4.

MetaTrader 5 is preferable from many traders but it has the disadvantage that most brokers do not offer hedging on MetaTrader 5. This means that you can not trade many EAs on MT5.

If you want to test another broker that offers the MetaTrader platform you can give it a try with any of our Recommended brokers on the website of the Academy.
This also means that if you want to use a non-MetaTrader platform, you need to find a different Forex trading broker.
MetaTrader across various brokers is relatively the same, but there are some differences based on the trading spreads, execution, and tools.
FX Choice review for the features offered with MetaTrader by the broker:
allows algorithmic trading with EAs
includes virtual trading
a desktop platform
a web platform
social and copy trading
51 charting indicators/studies
seven watchlists
trailing stop
Here are a few features that FX Choice does not offer. It does not have a proprietary platform, and it does not provide cTrader.
FX Choice review: Payment Options
One of the most significant benefits of FX Choice is the wide variety of payment options. Different Forex traders all have different preferences as to how they want to be paid, which can limit their options as far as websites/brokers can use.
FX Choice offers:
wire transfers
credit/debit cards
various e-wallets.
An e-wallet is an online storage of funds that a person can use to make online transactions. Most e-wallets will need to be connected to a valid bank account.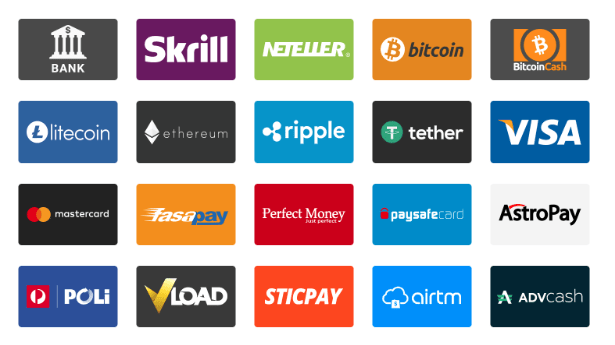 Some of the methods are not available in particular countries. It depends where you live and what are the restrictions in your region.
FX Choice review for the he e-wallets offered by the broker:
Skrill
Neteller
Bitcoin
ePayments
Astropay
Trustly,
FasaPay
Perfect Money
PaySafeCard.
Payments can be in the form of the United States Dollar (USD), the Euro (EUR), the British pound sterling (GBD), the Australian Dollar (AUD), the Canadian dollar (CAD), and, of course, Bitcoin. This range of options should make it available to most Forex traders, and if you use a different currency, you can always convert afterward.
Safety
Because the broker has been operating for so long, it has built up a reputation with clients that newer programs have not.
However, FX Choice is still considered high risk by many people in the field because of the lack of outside regulation.
There are three tiers of regulation jurisdictions that a Forex trading broker/website can be regulated by.
Tier-1 jurisdictions are considered to be the best, and if a company is regulated by a tier-1 regulator, it is generally considered trustworthy. Examples of tier-1 regulators are the Securities Features Commission, the Commodity Futures Trading Commission, and the Swiss Financial Market Supervisory Authority.
Tier-2 jurisdictions are considered average. There are not as many restrictions and requirements as required by a tier-1 jurisdiction, but it still offers decent protection. Examples of tier-2 jurisdictions are the China Banking Regulatory Commission, the Israel Securities Authority, and the Securities and Exchange Commission.
Finally. tier-3 jurisdictions are the easiest to be a part of and require the least. Examples of tier-3 jurisdictions are the BVI Financial Service Commission and Mauritius' Financial Services Commission.
FX Choice is not regulated by any tier-1 or tier-2 jurisdictions. It is a part of one tier-3 jurisdiction, the local International Financial Services Commission. They do have a code of conduct, but there is not a lot of enforced compliance-checking, reporting, or supervision.
Some Forex traders are fine with a company that has a good reputation, but others need the added insurance of a tier-1 or tier-2 regulatory jurisdiction to feel safe. If you are one of the later, it is important to know that FX Choice does not have that, and therefore you may want to consider using a different platform.
Research and Education
FX Choice also offers MetaTrader 4 and MetaTrader 5 users, a virtual private server service (VPS).
However, they do not offer things like daily market commentary and auto-chartist. The lack of research options may be a problem for some forex traders.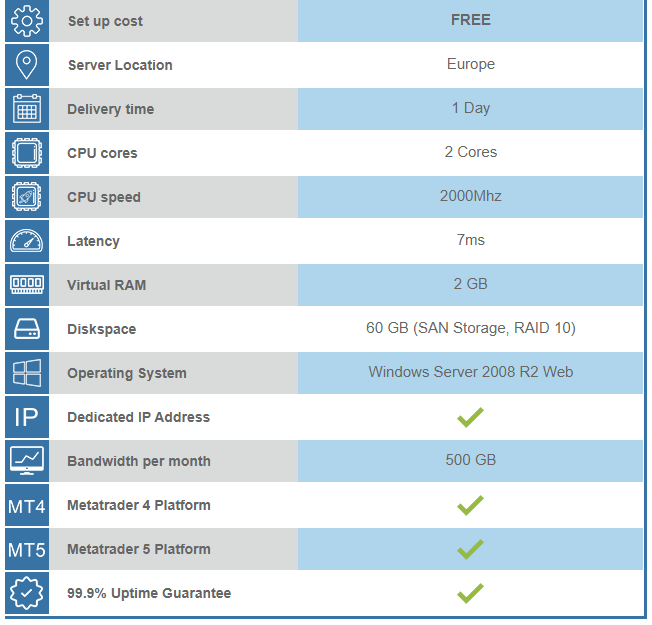 Besides research, FX Choice does offer a range of various types of educational content. Educational content helps a forex trader learn more about forex trading so they can get better at it.
Not all brokers offer this kind of content, but many do. This kind of content generally appeals more to novice Forex traders as they try to figure out what they are doing and how to be profitable. Some experienced Forex traders may not be interested in this content and therefore, may not care whether or not it is offered, but educational content can appeal to more people than just novice traders.
However, we would suggest you take a look at our Trading courses, and get more professional education which will lower the chance of losing money on the market.
Lots of traders like to continue to learn about Forex trading, as there is almost always more to learn. More knowledge leads to better and more profitable trading.
Mobile
Most Forex traders do the majority of their trading on a computer of some sort, usually a desktop computer, but as it is impossible to be around said desktop all the time, having access to a mobile platform can be beneficial.
It gives you the opportunity to check on your trading whenever you want, wherever you are. Mobile platforms are becoming more common, but not all brokers off them.
FX Choice does offer a mobile platform available for both iOS and Android. You can download this platform directly from either the iTunes store (iOS users) and Google Play (Android users.)
The platform is fairly basic, so you are limited in how much you can do from your phone. And you can not place Expert Advisors on your phone. But you can monitor the algo trading from the phone.
The fact that mobile trading is an option with this broker is a benefit, but it is not the best mobile trading option out there. People looking to do lots of mobile trading may want to look for a different broker with a more advanced mobile service.
Pros and Cons Summary
With this FX Choice review we want to point out the Pros and the Cons so you can make your choice easier.
PROs:
They do offer a commission discount for active traders. That means the more people trade, the more money they make. For people trading for fun or as a hobby when they have the time, this does not matter a whole lot as chances are they will not be trading enough to get the discount. However, people who spend a lot of time and effort trading, especially those who use it as a primary source of income, will find this extremely beneficial. It is not a huge discount, but every dollar counts.
It is regulated in Belize. While the regulation is fairly liberal, there is some which makes it more trustworthy than some other brokers. It has also been around for a decade, which means it has built up some credibility. It is known to have excellent service and support; LiveHelpNow has awarded it the Exceptional Customer Service award on multiple occasions.
It offers competitive spreads, which makes the pricing very much worth it. Spreads are one of the most important things to consider when picking a Forex broker. If a broker does not have goods spreads, it is not a good option.
For the ECN environment, it has a low initial deposit of only 100 dollars. Most traders will end up depositing more as time goes on, and possibly more from the beginning, but 100 dollars is a great starting point for new traders. You do not have to risk too much of your own money when you do not know what you are doing yet.
You can use both MetaTrader 4 and MetaTrader 5. They are the most popular trading platforms. Of course, if you are interested in a different platform, you need a different broker as FX Choice only offers platforms developed by MetaQuotes Software Corporation.
They do offer some extra tools such as a VPS. Extra tools are always as a benefit, as they are above and beyond what is required for you to be able to trade.
FX Choice has a positive price correction. This means that if a trader slips into negative balances due to special circumstances, FX Choice will zero out the balance. This prevents people from losing more money than what they originally plan to trade.
CONs:
The biggest con for FX Choice is the fact that it is only regulated by a single tier-3 jurisdiction, which makes it riskier than some other trading platforms. There is always some risk in Forex trading, but when a broker is well regulated, it becomes substantially less risky. You have to decide if a good reputation is enough for you to trust a broker, or if you really would prefer tier-1 or at least tier-2 regulation.
FX Choice does not offer very many research tools. This may not matter to some people because they use research tools from another platform or simply do not want to use them at all. But for others, research tools are extremely important.
FX Choice only offers a small range of tradeable instruments. If they have the instruments you want to use, this will not be a problem, but if they do not, this is not the broker for you.
We hope that this FX Choice review was useful to you, and we would appreciate it if you leave your review and experience with this broker. This will be useful to many other traders.
If you are looking for a bigger choice of brokers, check out the Brokers Page.
Is FX Choice a good broker?
FX Choice is a preferred broker for many traders. It allows the traders to trade with a spread starting from 0.1 Pips. FX Choice offer MetaTrader and algo trading.
If FX Choice a regulated broker?
FX Choice is a long time on the market and has built a good reputation. However, it is considered a risky broker by many traders because it lacks outside regulation.
How Do I fund the FX Choice account?
Recently FX Choice has introduced ePay to deposit and withdraw funds from the account without free. However, when withdrawing from ePay to a credit card, you will still pay a 1% fee.
Can I start trading Forex with $10?
The minimum amount to deposit to a trading account with FX Choice is $100. No matter if it is a Pro account or Classic account.