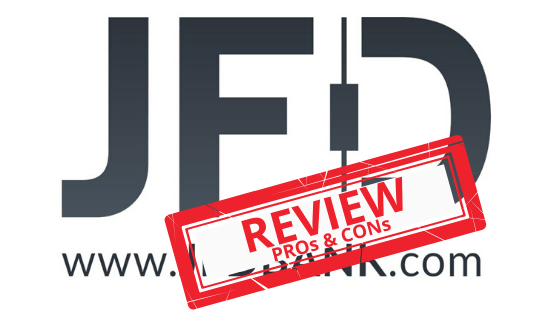 JFD Bank Review – PROs & CONs
JFD bank Review – an honest review to make your choice easier
JFD bank review is written by our team to give more information to our traders and students about a regulated broker which we and many of our students tested.
The broker JFD Bank is with locations in Spain, Bulgaria, Germany, Cyprus, and Vanuatu. It offers three different platforms for trading (more information below) with a large variety of trading instruments.
Since the company started in 2013, it has won a multitude of awards every year, making it a popular option for many traders.
Below you will find all the information you need to decide if JFD bank is the right broker for you.
If you feel that this is not the right broker for you, you can easily compare the conditions with more brokers we have on the Recommended brokers page.
Account Types
JFD Bank does not offer multiple different kinds of accounts. They say they do this to maintain transparency and give every trader access to everything they need. Some people prefer this approach, while others may miss the options provided by other brokers.

This is really just personal preference. While this does make it more straightforward in many ways, it is important to understand how they deal with rebates, promotions, and deposit and withdrawal fees as it is more specific than some other trading brokers out there.
Below you will find all the information that you need about the JFD Bank Standard Account, including the minimum deposit, the leverage, the commissions, and the platforms offered.
There is an option provided by JFD bank known as a demo account. This kind of account is free and mimics the exact conditions that you would find in a real account.
It is great for novice traders who are trying to learn about Forex trading, and it also allows traders to test out the broker before making any commitment.
Unfortunately, the demo account will only support MetaTrader 4 and MetaTrader 5; you will not be able to test or practice with the Guidance platform (more information below.)
When you sign up for a demo account, you will put in your information and then select a hypothetical deposit amount between five hundred and five million dollars. If you know how much you are going to deposit when you start trading, it is suggested that you practice with that same amount.
JFD bank review for platforms offered
JFD bank offers its own platform in addition to offering compatibility to both MetaTrader 4 and MetaTrader 5, the two most popular Forex trading platforms out there.
Also, MetaTrader platforms are most suitable for algorithmic trading and the expert advisors created with EA Studio and FSB pro.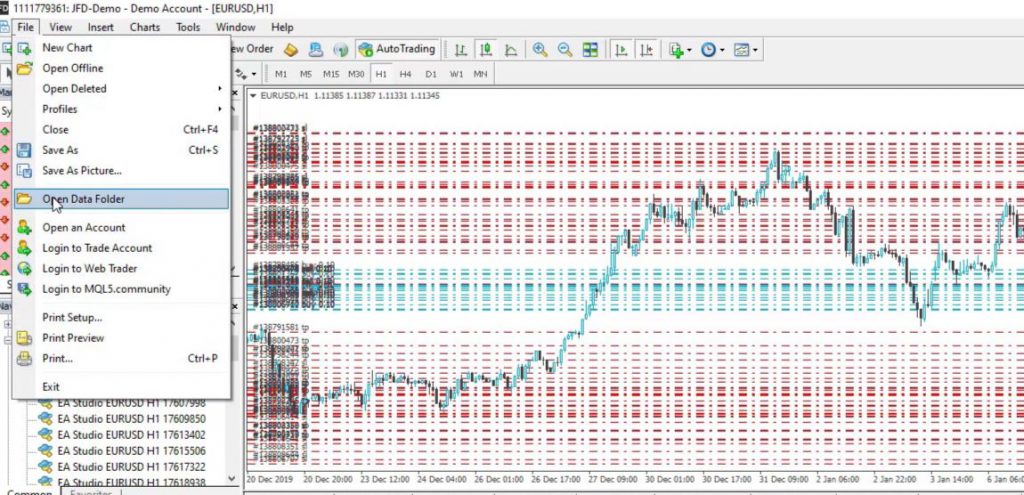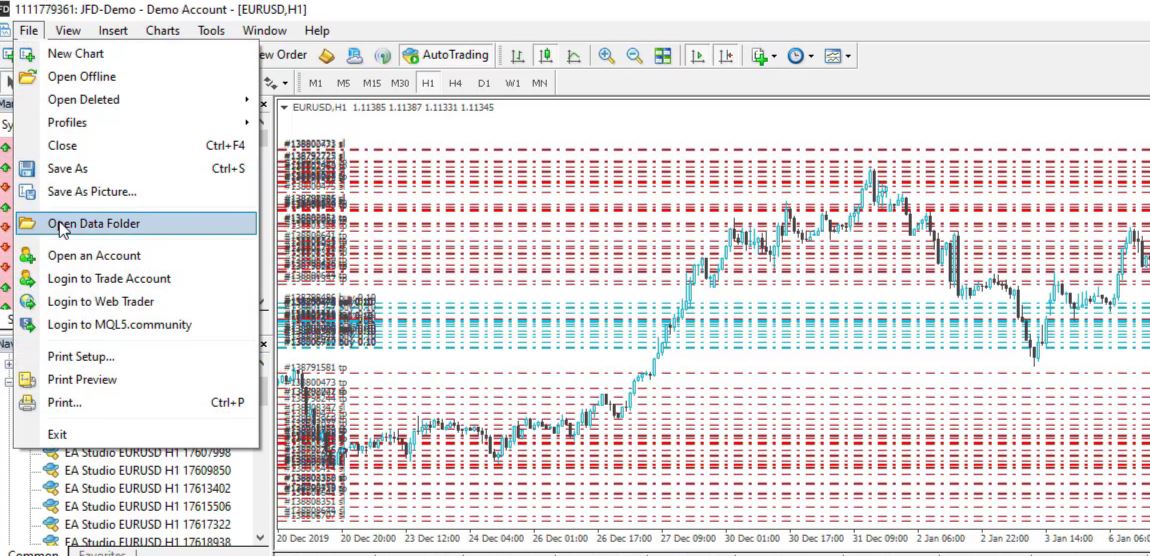 MetaTrader 4 and 5 are both accessible through Webtrader, mobile, and PC. They both have various widgets and tools that can be added on, 1-click trading, and technical analysis tools.
As far as differences, MT5 supports ten additional languages, provides access to more markets, and offers more pending order types. Despite that, MetaTrader 4 is actually preferred by many traders.
This because MetaTrader 4 is more suitable for algoritihmic trading:
The Magic numbers are set automatically when using FSB Pro
You can set Only Long or Only Short positions
You can compile 99 Expert Advisors with one click of a mouse
Yes, when trading with many Expert Advisors it is a headache to compile all the EAs from the Meta Editor. But with MT4 you can right click over the Experts tab, and select Refresh. This compiles them all.
JFD Bank Review: the benefits of MetaTrader 4 are coming from the Meta Quote company, not from the broker
JFD bank's third party platform is called Guidance. It provides many of the things that MetaTrader 4 and 5 offer, but there are a few important differences that you need to note.
Embedded into the platform are social tools and various webinars. A lot of new forex traders will use Guidance, while people who already know MetaTrader 4 or 5 may prefer to stick with that. You can use Guidance through the web, or you can download it onto your PC, but they do not currently offer a mobile option.
Leverage
Leverage is basically the ratio of how much money you deposit and how much money that allows you to control. Different brokers will all have different leverages.
Some companies have one leverage ratio for everything, but others, such as JFD bank, have leverage limits individualized to what asset is being traded.
Our JFD Bank review research showed that the usual leverage limits are the following:
major CFDs have a leverage limit of 1:30
minor CFDs have a leverage limit of 1:20
non-major equity indices and commodities have a leverage limit of 1:10
individual equities have a leverage limit of 1:5cryptocurrencies have a leverage limit of 1:2
These limits are a lot lower than some other brokers, and less than their advertised leverage rato of 1:400.
That ratio is for their professional clients. When you sign up for JFD banks, they will assess what leverage ratio they want to offer you. You may be able to get better leverage after you gain some experience.
JFD Bank review: Trade Sizes
Trade sizes are often referred to as lots. It is the amount or number of currency units (whether that be USD, AUD, EUR, etc.) that you buy or sell.
For forex trading, the minimum order size is 0.01 lot, which is one micro lot. For CFDs on indices and commodities, it is 1 lot, which is equal to 1 CFD. Sometimes there is an exception with some instruments where mini lots (0.1 CFD) are enabled.
A margin call is when a trader does not have any free or usable margin-left and therefore requires new/additional funding. On JFD bank, the margin call is set to 100 percent.
Stop out level is the point where the broker (in this case, JFD bank) will automatically close a trader's active positions due to their margin level decreasing. JFD bank sets this point at 50 percent.
Trading Costs with JFD Bank
JFD banks requires commissions, overnight financing fees, and currency conversion fees, all of which are fairly common for most brokers. The fee that most traders view as the biggest drawback to JFD bank is the inactivity fee.

That means they will charge you if you take a break from trading. This does prevent the accumulation of abandoned accounts, but it can also be rather pesky if traders want to take a break for whatever reason.
JFD Bank review: Assets
JFD bank offers over 1500 instruments. That broken-down looks like:
+6oo physical stocks
500 plus shares
64 currency pairs
21 ETFs
14 index CFDs
7 commodities
5 cryptocurrencies
4 ETNs
2 precious metals
This amount and variety of instruments are what draw many people to JFD bank. They offer above and beyond what is considered standard in the field.
For people who are looking for instrument options, JFD bank is really one of the best brokers in that area. Pretty much everyone should have the instruments they want with JFD bank.
Spreads
A spread in Forex trading is the price difference between what a trader purchases an asset for and what they sell an asset for. This broker does not have a ton of published/advertised information about what types of spreads traders should expect.
In algorithmic trading the spreads are very important because the EAs trade all the time. This is why beofre writing this JFD Bank review, we have ran variety of tests to check the spreads.
They say that they use inner-banking core spreads starting at 0 pips for Forex trading and that there are not minimum spreads. Tests done on their demo account option shows that the spreads generally start at 1 pip, which is considered to be competitive.
Deposits
Most brokers require a minimum initial deposit from traders. That is basically the amount of money a trader has to deposit to get started. Usually, once they make that first deposit, future deposits can be with any amount of money (this is the case with JFD bank.)
The minimum initial required deposit for JFD Bank is 500 dollars, which is higher than many other brokers. Most other brokers require around 100 dollars for an initial deposit, which may be much more accessible to novice traders.
While expert or experienced traders may have no problem starting with 500 dollars because they are confident in their ability, someone new to forex traders may feel more comfortable starting smaller. Nevertheless, 500 dollars is not to out of reach for most people to save for.
You can make your initial (and other) deposit through a variety of methods:
bank wire transfer
SafeCharge (with MasterCard, Visa, and Maestro)
Skrill
SOFORT
Neteller
The deposits that you make must be from a bank account under the same name as your account with JFD bank, and there can be various fees depending on the currency you deposit.
Withdrawals
Withdrawals can be made from the same sources that deposits are made with. So that is a bank wire transfer, a SafeCharge (with MasterCard, Visa, and Maestro), Skrill, SOFORT, and Neteller.
When you are choosing how you want to make your deposit, you should consider withdrawal fees because your withdrawal will have to go through the same source your deposit did.
Bank Wire Transfers do not have any charge (unless there are charges on the bank's side), but if you use SafeCharge, Skrill, or Neteller, you will have to pay some extra withdrawal fees.
The other thing you want to consider when deciding how you want to withdrawal is how fast you expect to get the money. Skrill and Neteller are both processed in 24 hours, making them the fastest options.
SafeCharge can range in time depending on what kind of credit you are withdrawing, SOFORT generally takes 1 to 3 days, and bank wire transfers usually depend on where your bank is.
JFD Bank review: Tools Offered
There are two main types of tools that forex trading brokers will off their clients: research tools and educational tools. Research tools are tools that help a trader plan and make decisions. These tools can include things like calculators and economic calendars.
JFD bank does offer an economic calendar with their Guidance platform, but other than that, they do not offer a lot in the research department. Instead, they focus on educational tools.
They have articles on market trends and other news that pertains to forex trading (this can also be considered research.) They also offer webinars where clients can watch live streams on various subjects pertaining to forex trading.
Whether you are a new trader or an experienced one, there will probably be webinar topics that will interest and aid you. While their research is lacking, their educational tools definitely outshine some of their competitors.
Customer Service
Customer service is generally a priority for most forex traders as they are trusting their chosen broker(s) with their money. JFD bank has 24/5 LiveChat customer service.
Before writing this JFD Bank review we have tested the support as we believe this is very important especially for the beginner traders.
That means that from 23:00 CET Sunday to 23:00 CET Friday, clients can reach live customer support. Beyond that (and for hours, the LiveChat is not available), they can be reached via phone and email. They also have social media accounts on Twitter, LinkedIn, Facebook, and Youtube.
Countries Offered
Of course, it is important that the broker you choose is actually available in the country of which you reside. JFD Group LTD is authorized to work with clients in the EEA and a few other countries such as Belarus, China, Turkey, Ukraine, Switzerland, and the UAE.
They also have a sister program, JFD Overseas LTD, that can work with even more countries, and offers all the same things. There are restrictions placed on JFD bank in countries, including the United States (there are options for the US, though), Russia, and any other country where it is considered illegal.
Pros and Cons Summary for JFD Bank review
The PROs:
They are a regulated company. They are under the Cyprus Securities and Exchange Commission, which provides various benefits to traders such as negative balance protection and a required client compensation scheme, which ensures clients' trading capital up to a certain point, in this case, 20,000 EUR.
It is also regulated by BaFin and VFSC.
As mentioned above, JFD bank offers competitive spreads. Their spreads seem to start at 1 pip, with no stated minimum. Most traders consider brokers to have competitive spreads if their standard account starts with spreads below 1.5 pips. As this broker only offers a standard account with 1 pip spreads, it is considered competitive.
JFD bank is a Straight-Through Processing or STP broker. That means it passes trades directly to the reference market, so it does not trade against its clients.
They offer 60 currency pairs, including minor and exotic currency pairs.MetaTrader 4 and MetaTrader 5 are both supported, the two most widely used forex trading platforms, which makes JFD bank an accessible broker to most traders.
The CONs:
The deposit that they require as an initial deposit is rather high. As mentioned above, most other brokers are around 100 USD and do not go past 250 USD. This may seem especially steep to some traders, especially newer ones.
Additionally, deposit (and withdrawal) fees must be paid by the client. Their leverage is pretty conservative, though you do have the ability to get a bigger ratio with time, once you prove your experience. It is worth noting that newer traders may actually see this as an advantage, as a smaller ratio is considered less risky.
We hope this JFD Bank review was useful and we will be happy to read your experience with this broker below in the comments.
Use the Brokers Page to compare more brokers and pick the right one for your trading.