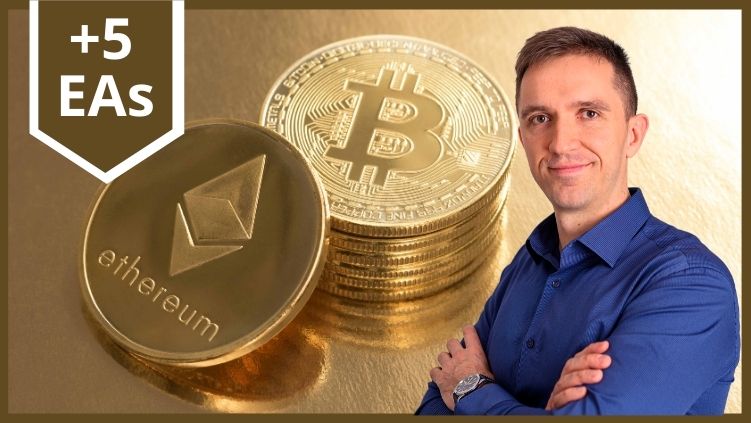 Cryptocurrency algorithmic trading with the best 5 strategies we have!
The Cryptocurrency algorithmic trading course by Petko Aleksandrov has launched with a new version in Nov 2020. Petko is the Head Mentor and trader. He will teach you his cryptocurrency algorithmic trading system that he and his team have created over the past year. Whether you are a newbie or professional trader or just curious about the cryptocurrencies that everybody is talking about, Petko will guide you, step by step, through the process of creating strategies and show you everything you need to know, in detail, to trade cryptocurrencies automatically.
Do you still hesitate when to buy cryptocurrencies on Exchanges? Millions of people have lost their savings because they didn't use any strategies, and many continue to. There is no need to continue this cycle.
<<<BRAND NEW COURSE RERECORDED COMPLETELY in NOVEMBER 2020>>>
Cryptocurrency algorithmic trading is possible, and in this course, you will receive 5 strategies that are tested and showed the best results in the last years.
You will learn Bitcoin algorithmic trading with 4 strategies and 1 Ethereum trading strategy. This way, you will achieve great risk-diversification, and you will be able to catch different market opportunities. More, you will learn how to use these crypto algo trading strategies manually and automatically.
Petko teaches the most important aspect of creating robust strategies and employing them to have them ready to trade cryptocurrency algorithmic trading Robots for professional trading without requiring any programming skills. The critical aspect is that he trades many Robots in one account.
What will you learn in this Cryptocurrency algorithmic trading course?
how

to use

robust robots for cryptocurrency algorithmic trading

eliminate the emotions while trading by using cryptocurrency trading algorithms

generate trading strategies by yourself on different cryptocurrencies and different time frames

how to create your strategies and export them as Expert Advisors without

the need to have any

programming skills

follow the precise performance of the strategies and decide which ones to use for real trading

how to test and trade with the 5 Experts that you will receive in this Cryptocurrency algorithmic trading course
Most important: Petko will personally monitor the strategies and update them monthly if it is needed. You will be able to see the current parameters at any moment.
With live demonstrations, you will see how Petko placed the EAs for real trading and what results potentially one can achieve. Algorithmic crypto trading is a fantastic method for the cryptocurrency market because you do not need to stay in front of the screen and follow the charts.
No programming skills are required, you will receive the 5 Crypto Robots ready, and you will learn how to place them on the MetaTrader platform correctly.
Content and overview
This cryptocurrency algorithmic trading course is aimed at teaching beginners and experienced traders. The system does not require previous experience in trading or programming.
There is a quick start to algorithmic trading cryptocurrency, which is not rocket science as many people think it is. Petko will introduce you to the 5 strategies, and you will learn from practical examples.
You will learn how to perform a robustness test for each strategy or Expert Advisor before placing it onto the live market. It is far better for a strategy to fail when you are creating it than failing once trading on the live market.
By the end of this course, you will learn how to place these 5 EAs on one trading account, test these strategies, and select the best performers to trade with on a separate live account.
Who is your Instructor?
Petko Aleksandrov is the head trader at EA Crytpo Trading & EA Forex Academy. He is a trader with over ten years of experience. After graduating from university, he continued his Forex studies at the London Academy of Trading. He was invited to stay as a mentor but decided to return to his home country Bulgaria and establish the first Forex and Cryptocurrency algorithmic trading academy. Soon his online courses started to generate considerable interest around the whole world, and in the first year alone, he had more than 10 000 students across the globe.
Petko believes that good traders are not more knowledgeable, but those that are not greedy and have no fear of cryptocurrency algorithmic trading. That's why he teaches cryptocurrency algorithmic trading to avoid these two common traits in his students. He has proven that success in cryptocurrency algorithmic trading stems from diversifying risk by deploying multiple strategies and assets in the same trading account in many free educational videos and courses.
His focus is on cryptocurrency algorithmic trading because these are currently the most volatile assets and suitable for even novice traders.
Like with all of his other courses, once enrolled in the Cryptocurrency algorithmic trading course, you will receive personal support from him in our trading Forum.
The biggest advantage is that you will receive lifetime updates to the course. This means that you will receive all improvements that Petko updates the course with as soon as they are released. And also, you will receive monthly updates to the 5 strategies. This way, you will collect many strategies and have a huge portfolio of Expert Advisors.
There is a 30-day 100% money-back guarantee, so you can always use this option if you decide that this is not your trading style.
We cannot wait to see you in class.
Enroll now and learn how to trade like a pro.
What am I going to get from this cryptocurrency algorithmic trading course?
Trade 100% automatically with more than one cryptocurrency algorithmic trading strategy and build your account.

Diversify

your

risk

a

cross

five different strategies, two different time frames, and two different cryptocurrencies

How to handle algorithmic cryptocurrency trading even if you are a beginner crypto trader

Build your profit

by taking advantage of the

volatility of each cryptocurrency algorithmic

trading asset,

automatically with many strategies in 1 account
What are the requirements?
You should be able to use a computer/laptop at a beginner level.

Very open-minded trader for cryptocurrency algorithmic trading

Have any PC, notebook, laptop, tablet, or phone with an internet connection

Basic knowledge of trading on

MetaTrader

would be

an advantage, but not a requirement.
What is the target audience?
Traders who wish to learn to trade

profitably

People who want to trade

algorithmically

and not to spend the whole day in front of

their

screen

Traders

willing to first test on a demo account before trading live

People who wish to

trade

cryptocurrency

algorithmically,

trading on the value of the assets, to make money
Course Features
Lectures

19

Quizzes

0

Duration

500 weeks

Skill level

All levels

Students

8002

Certificate

Yes

Assessments

Yes