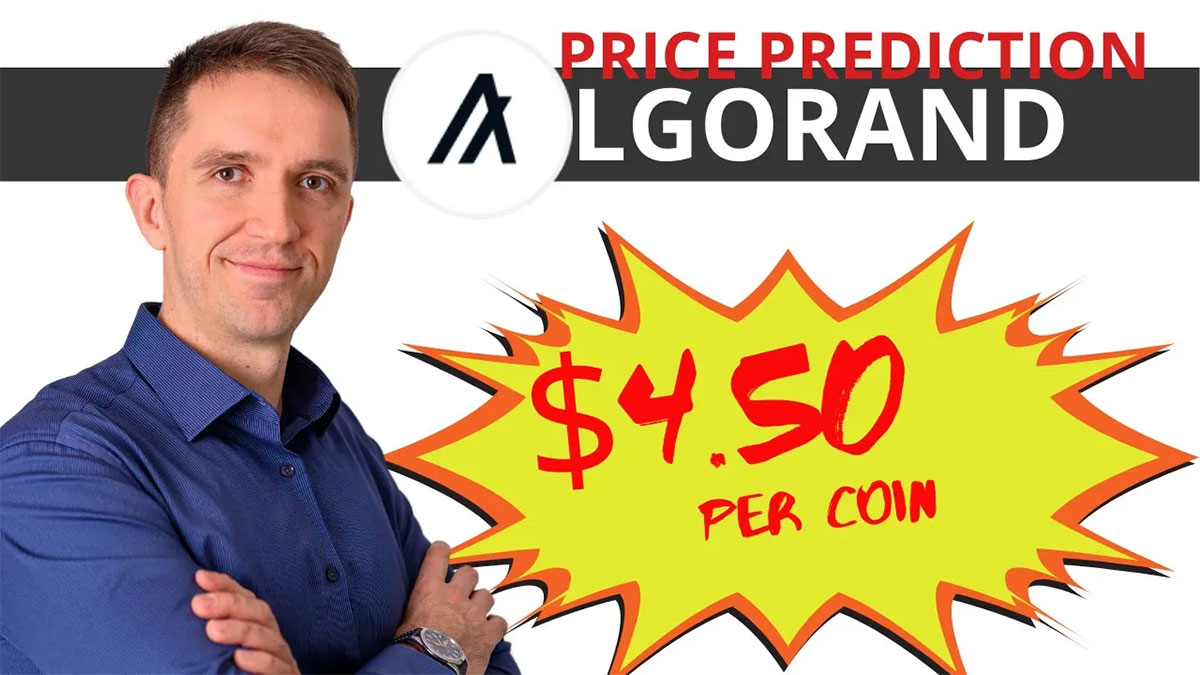 ALGO Coin Price Prediction
In today's lecture, I'll give you a brief idea about Algo coin or Algorand and I will point out the realistic price prediction that I'm targeting at the moment. Moreover, I will share what are the price levels that I'm looking at where I want to buy some more Algo for my cryptocurrency portfolio.
Today I'll be talking about my investments in Algo, why I like it a lot, and what is the realistic price prediction that I have for the Algo coin in the period 2021-2025.
Algo price prediction
So we you see that on my cryptocurrency spreadsheet I have bought the Algo 2 times, I have totally of 500 coins, and my average cost is at $1.23.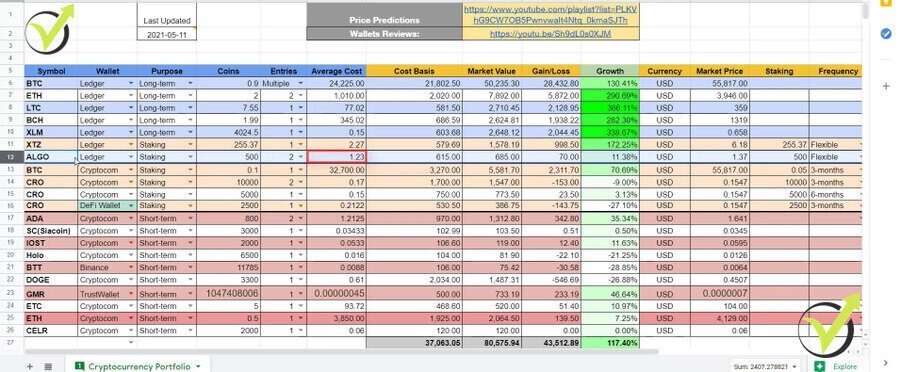 So already this asset is on a profit, right now the price sits at $1.3652. But the reason I like Algo is that it is a pure Proof-of-Stake. And as you already may know, the future will be in staking cryptocurrencies, not mining them.
And recently Bitcoin, Ethereum, dropped a lot after a few negative posts from Elon Musk about how much electricity Bitcoin uses, I'm not going to discuss that at all in this lecture.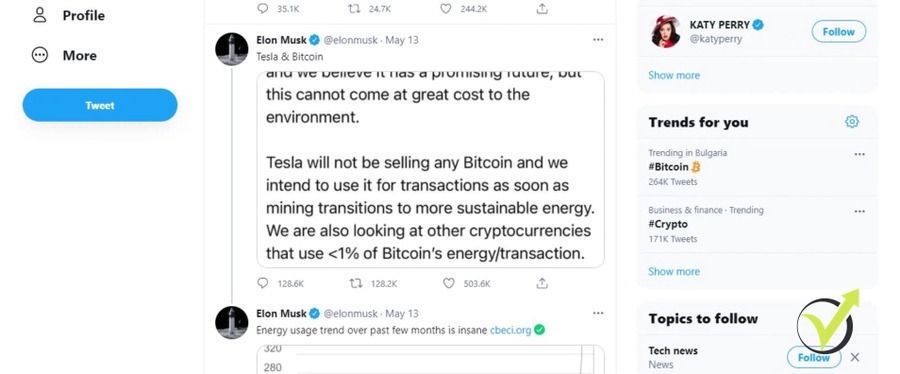 But in the times when Bitcoin and Ethereum were negative, Cardano was super positive and as well as Algo and some other Proof-of-Stake cryptocurrencies, they just remained positive.
Algo is a pure Proof-of-Stake
So Algo is a pure Proof-of-Stake. If I go to their website, right now I'm on CoinGecko which is a great website for analytics but I want to show you their official website at Algorand.com.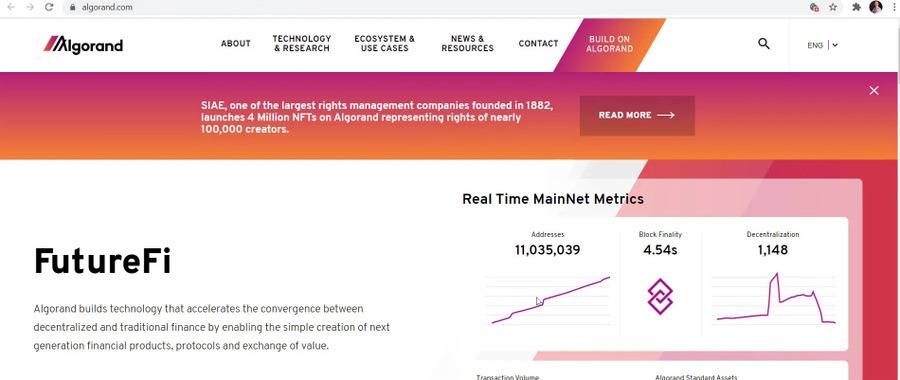 So they have some real-time MainNet Metrics and if I scroll below, you will see that it's really a professional website.
And, one more time, I like the idea of Algo because it's a pure Proof-of-Stake and I already recorded a video about how you can stake Algo.
Basically, you don't need to do anything, you just keep it in your wallet and it will bring you passive income. And you will be increasing your Algo coins just by keeping them in your wallet which is fantastic.
You don't need to delegate rights to anyone like with the Tezos and the others. All you need to do is just keep them in your wallet. And I keep it on the Ledger and as well you see it supports Ledger. If I go back to my cryptocurrency portfolio spreadsheet you will see that I keep the Algo on Ledger which is a hardware wallet where the cryptocurrencies are stored safely.
The Ledger
Make sure to buy Ledger only from the official website if you decide to. And with simple words, the Ledger is known to be one of the safest crypto wallets because it's a hardware wallet, it's not connected to the internet so it is very secure.
So I haven't checked it recently but I already have above 500 coins because I've been staking it and I'm getting rewards from staking the Algo.
So going back to the chart I want to show you what is the realistic Algo coin price prediction. Actually you can see that on Reddit and on Twitter, they have a pretty decent community. 28.2K members on Reddit and as well on Twitter they have nearly 100,000 followers which is not bad for a coin that sits at about $1.20. So this is my current setup with the Algo.
Stay with me, if you find it complicated. I will explain it very simple.
I'm on a daily chart. For the beginners, that means that each candle stick represents one day. So this small red candle stick at the end is the curreny day.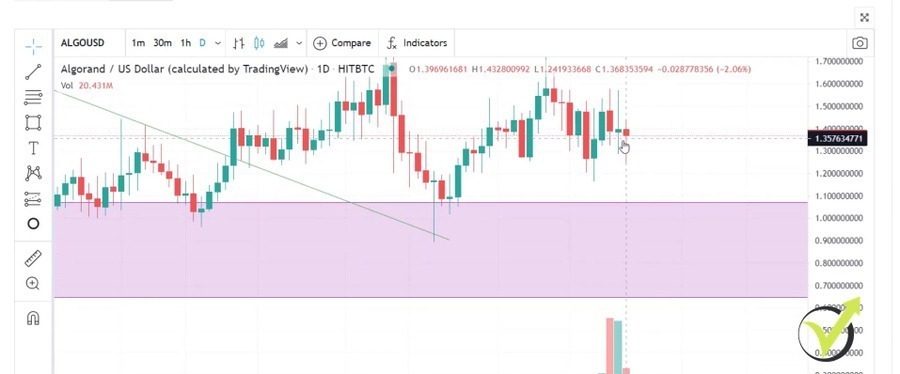 Now, what I have here is 1 counter-trendline which I have used to buy the Algo.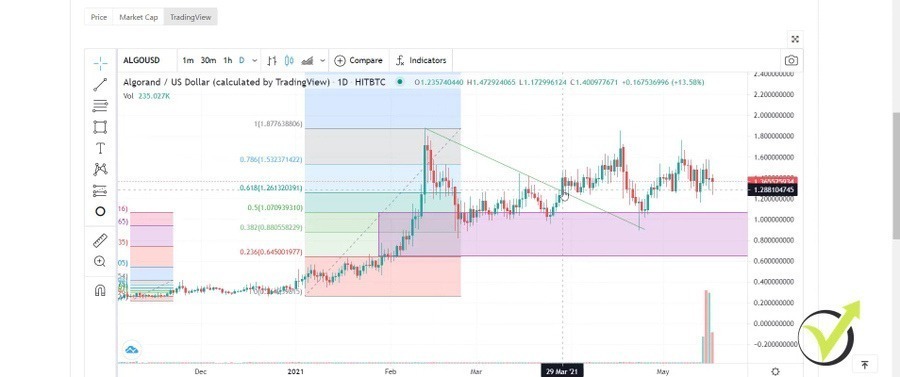 And the entry signals for me comes when the price breaks the counter-trendline.
Using the Fibonacci for Algo coin price prediction
And I explained this system in my Cryptocurrency Investment Strategy course with details. Here's a 50% discounted link if you want to learn more about my price action trading with some live examples.
And as well, what I have here is the Fibonacci. So Fibonacci is one of the best ways to determine targets and realistic price predictions when we have record highs with the coins.
So we don't have anything above $2 with the Algo and we cannot say, 'Alright, the price has reached $3 in the last 6 months, we expect it again to reach there or $4 or $5.' We can count the round numbers. But when we don't have anything above, the best thing is to use Fibonacci. I've been using it for over 2 years now and it works great.
I've shown it in many of my videos and right over here you see that this is my last movement. So I draw a Fibonacci from the top going to the lowest retracement from the previous Fibonacci or to the lowest point of the last move. This gives me retracement levels, it has 61.8, 50%, 38.2, these are the most popular ones. So I usually draw a box, this purple box that I have right over here. Which is locked between the 23.6 and the 50.
The aggressive counter-trendline
So when the Algo coin price does a retracement as it did right over here, I start to look for buying opportunities. I use counter-trendlines, I use some patterns, but at the current moment, you can see that the price is a little bit higher than this level. And as well, over here we have the $1 which is a round number because it's the $1 and it always shows support or resistance for these cheap coins.
I can just go to the settings and I will just make it precisely at $1, here it is.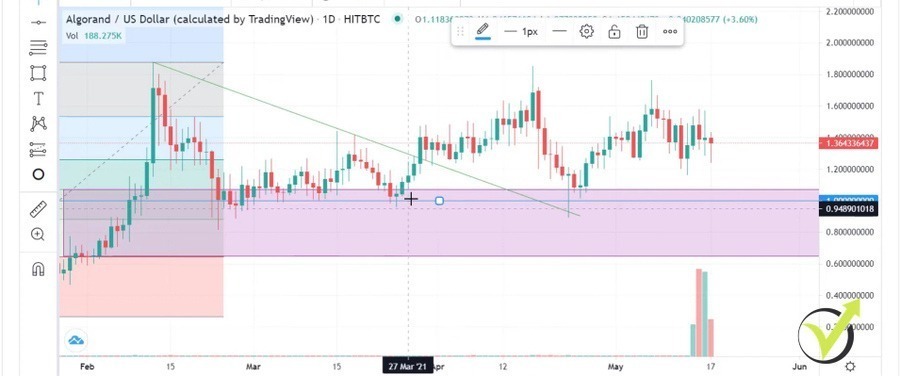 So you see that the Algo price stopped a few times, failed to close below, failed to close below on the 23rd of April 2021 as well. And if the price does another retracement down to this zone over here, I'll be happy buying it. I'll be happy buying it somewhere over here and as well I might look for a break of another counter-trendline.
In this case, it will be an aggressive counter-trendline right over here.
So when the Algo coin price does something like that in the next weeks and drops to these levels over here and then it breaks the counter-trendline again, I would be happy to add some more Algo into my portfolio. Just above the $1.
Check out my Patreon's page
If it drops below $1 then I'll be a little bit skeptical to add more because it will get below $1 and if the price breaks this low, if I put the mouse on this candle stick, you will see that the lowest point is $0.8968. So if the price gets below that level we will have a clear downtrend already on a daily chart and I'll be just waiting for the new uptrend before I buy any more Algos.
But ideally, I'll be looking for such a setup and if the Algo price breaks the counter-trendline right over here, I'll be happy to buy some more and improve my average price. If I do that, I will let you know on my Patreon's page. This is where I share my cryptocurrency investments. Simply, I give crypto buy alerts and crypto sale alerts.
Recently, we had a great profit with Ethereum where I have sold it almost on top of about the $4,000 then I have rebought it cheaper. And simply said, if you want to follow all of my cryptocurrency investments, you can check out my Patreon's page. And what is the realistic Algo coin price prediction for 2021-2025? It comes with Fibonacci.
How it has been working for me
Right over here, this is my last Fibonacci, the price didn't reach new highs until then. And what are the targets? As you can see above the Fibonacci, we have 4 levels. So the first target is $2.87, the second one is at $4.48, the third one is $6.10, and the fourth one is at $7.10. And the one I'm looking at is the second one $4.48, nearly $4.50.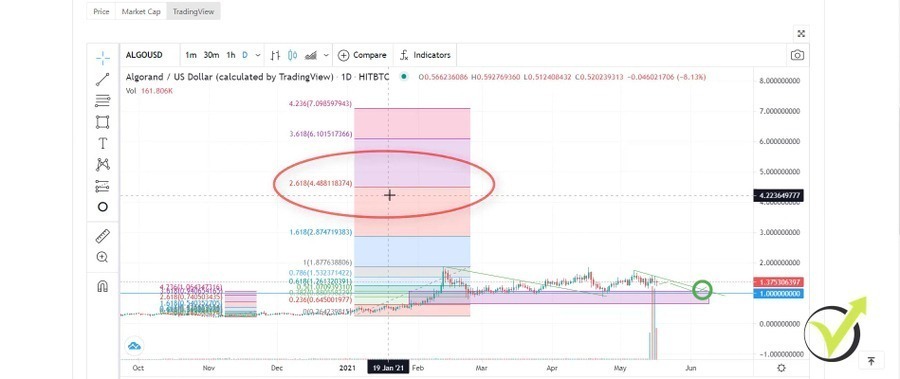 So I'll be super happy selling the Algo above the $4, somewhere between $4 and $4.50 we'll see where it will go. But if I have to give you a precise Algo coin price prediction that I'm looking at, this is $4.50. And just below the $5 which we can consider kind of a roundish number which may play the role of our resistance level, then selling it somewhere over here will not be a bad idea.
And then if the price makes another drop and we have another retracement, I'll be looking for new buying opportunities.
So one more time, ideally, if the Algo price reaches this levels I'll be happy to sell it and take the profits. Then I'll be looking for new retracements with the Fibonacci, buying it, one more time, using counter-trendlines and the Fib retracements.
This is what I've been following for quite a long time, works great.
Make use of my cryptocurrency portfolio spreadsheet
Of course, you need to be patient. And one more time, if you don't want to do that all by yourself you can follow me on Patreon and I will share with you every time I buy or sell. As well you will get access to my cryptocurrency portfolio spreadsheet which you can copy and use for yourself.
This is my realistic price prediction for the Algo coin. I don't want to say it will go to $10, $50, $100 like many other YouTubers do because this will be just a clickbait video, it will not be realistic, it will be misleading. What I use are the Fibonaccis and you can see that it worked very well with the previous Fibonaccis.
If you have watched some of my other videos and especially the Cryptocurrency Investment Strategy course where I shared live trading and life examples, you know that the second target of Fibonacci works perfectly for Bitcoin and for the other coins.
And if you have any questions, let me know in the comments below. If you have found the lecture about Algo coin price prediction useful, please share your appreciation in the comments again. I will see you, guys, in another lecture.