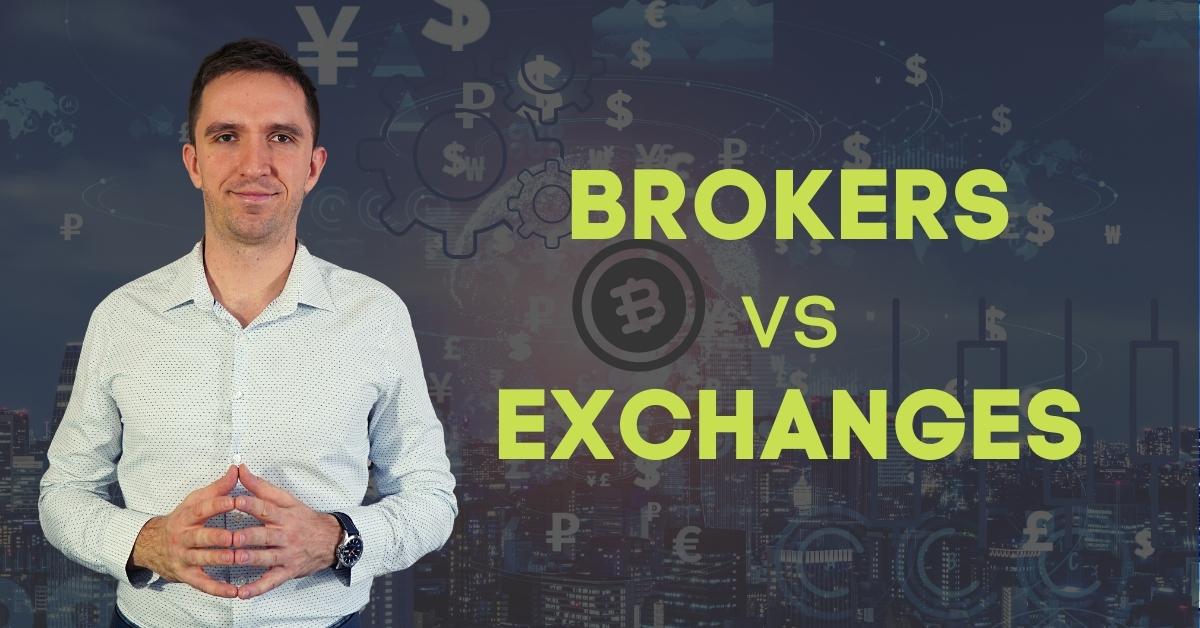 Trading Bitcoin: Forex Brokers vs Cryptocurrency Exchanges
Where to buy Bitcoin
Hello everyone. In this lecture, I will show you what is the difference between trading Bitcoin on exchanges and trading Bitcoin on brokers. And as you probably know, the most popular way to participate in the Cryptocurrency market is through Cryptocurrency exchanges.
So, for example, right now on my trading screen, I have my account on Coinbase where I have been personally buying cryptocurrencies.
It's very easy to do it. We have the Trade button. I simply click on it. I decide how much Bitcoin I want to buy, for example, for 500 EUR. And I can pay straight with my Visa card.
If I click on Preview Buy,
I will see how much exactly I will receive as Bitcoins, what is the purchase, and what is the Coinbase fee that I will be paying. If I pay with my Visa card, it's a little bit more compared to if I use my EUR wallet on Coinbase. And then I just Buy it and I get the Bitcoins.
From there, I can send them to a wallet or I can exchange them for different Cryptocurrencies.
Trading Bitcoin with Brokers
Now on the other side, we have the brokers. These are companies that offer trading platforms. For example, now I have the MetaTrader platform, which is the most popular platform for trading with brokers.
It is free for us the traders, and most of the regulated brokers are for it, which is great.
And the difference here, when we are trading Cryptocurrencies and not Forex, is that we are doing CFD trading.
So here is the Bitcoin. But if I want to Buy it, if I click on New Order,
I will be Buying with lot size. This is the term that we use in trading. So 1 lot nowadays for Bitcoin equals 1 Bitcoin, but I can Buy 0.01, for example.
Trading Bitcoin With CFD
So if I have an account of $5000. This is what I have here for the purpose of this course, I can use this money to sell Bitcoin even without buying it previously. This is what the CFD does.
The main difference for the beginner traders is that I have a Buy button and I have the Sell button. Something that I didn't have on Coinbase.
CFD trading stands for contract for difference. Every time I Buy or every time I Sell with the broker, I make a contract with the broker that if the price goes in my direction, I will benefit out of that. And if the price goes against me, I will lose because of the difference in the price.
For example, if right now I Buy Bitcoin at 18 203 and the price goes to 18 800, I will benefit from the difference of $600. At the same time, if I Sell the Bitcoin right now and the price drops to 18 000, I will lose that difference of $178 and something. This is the CFD trading.
I don't physically Buy Bitcoin. I won't be getting the actual coins in my portfolio. With the amount of money that I have in my account, I will be able to Buy and Sell.
Brokers vs Exchanges
Many of my traders and students ask me which of the two is better.
Is it better trading Bitcoin just on the exchanges where we get actual coins and we have much more assets to Buy and to exchange Cryptocurrencies? Or is it better trading Bitcoin with CFD because we can Sell without having the coins previously?
For the moment, I don't recommend one of the two. You need to understand that these are 2 different types of trading Bitcoin and participating on the market. It really depends on what you want to do exactly.
For example, if you want just to buy Bitcoin or any other crypto, you want to hold them for months or years and then sell them in the later stage when you have a better price and you can benefit from that. Or if you want to use them for actual purchasing online or you want to use the Bitcoin for any other purposes, definitely you need to go through the exchange because you're getting actual coins.
Now, the downside of the exchanges for the moment is that it doesn't allow algorithmic trading. And this is exactly what I will be showing you in this course, how to trade Bitcoin with Robots. For the moment, in 2020, the most reliable method, and that's been the most reliable for the last decade or so is the MetaTrader platform.
Trading Bitcoin Leverage
With the MetaTrader platform, we can trade with Robots using CFD trading. This is how we do algorithmic trading nowadays.
Maybe in the future, the Crypto exchanges will allow algorithmic trading. And of course, I will update you as soon as this happens. But for the moment, the most reliable way to do algorithmic trading with Robots is on the MetaTrader platform.
This is because we have backtest, because we can trade many Robots on one single account, and because the most trusted brokers and regulated brokers offer the MetaTrader platform. This is what exactly I'll be showing in this course.
For the purpose of this course, I have selected to use the HotForex broker, which is a broker that I have been using at the moment, and please don't take as a recommendation any of the brokers that I show in my courses, my courses are for educational purposes.
But as you already know, I will include some ready to use Expert Advisors. And since I'm rerecording this course completely now in 2020, it will be much better than the old version. The Robots will be better I will explain why a little bit later in the course. And I have changed many of the lectures, so it will be easier for you to start with algorithmic trading if you are a complete beginner.
Later on in the lecture, I will show you more about the MetaTrader platform and as well, I will tell you why it is super important to start with a Demo Account so you can practice on the market.
Trading With Bitcoin On MetaTrader
Now, after you install your MetaTrader platform, you are ready to go once you're logged in into your account. You can see the Market Watch where we have the Bid and the Ask price changing all the time, which means that we are connected to the server of the broker and we have access to the market.
So no matter whether we are using a Demo Account, we can participate in the market and practice. And that's the best thing, actually, with having a Demo Account because you are actually trading, of course, without having any real profits in the account or any losses. But that's the idea of practicing with a Demo Account.
Now, on the left side, you will notice the Market Watch where we have different assets. We have the currency pairs on the top with Hot Forex and then we have gold, some indexes, oil, other commodities. Then there are some stocks. And if I scroll lower, you will see the Cryptocurrencies.
The Bid and Ask price
We have Bitcoin versus the USD, which is obviously the most popular asset that everyone trades then we have Bitcoin versus the EUR, Ethereum versus the USD, Ethereum versus the EUR, LTCEUR, LTCUSD, and we have the Ripple as well. Honestly, I haven't seen much more of a difference with other brokers when it comes to the variety of assets for CFD trading.
But in this course, I'm focusing on Bitcoin and I trade personally the Bitcoin with Robots because it's the most volatile asset and this is where we can maximize the profits when we are trading volatile assets. And trading Bitcoin versus the USD is definitely one of the most volatile assets.
Now we have 2 columns. One is the Bid price and the other one is the Ask price. Keep in mind that when you Buy, you always Buy on the Ask price, which is the more expensive price. When you Sell, you Sell on the Bid price. Also, when you Buy Bitcoin and then you close the position, you will be Buying it on the Ask price. And then when you close the position since this is a Sell order, you will be closing it on the Bid price.
The spread
And if you want to see exactly how much is the difference between the Bid and the Ask price, you can right-click over the Market Watch and check spread.
This will show a 3rd column and this is exactly the spread. With most of the brokers, the spread is floating, which means it's changing whenever there is volatility. At this moment with Bitcoin, it's about 24 USD.
And something important to notice here is that HotForex has 3 digits after the decimal comma for the Bitcoin. So you can see that the Ask price is 18077.045. There are 3 digits after the decimal comma. So this means that the spread, which is displayed as 24 000 something, is actually 24 USD. So if I Buy 1 complete lot and I close the position or I Sell 1 complete lot and I close the position, I will pay about 24 USD as a spread.
It looks much more compared to the others. But keep in mind, Bitcoin is the most expensive asset right here. And at the same time, if you buy Bitcoin on Coinbase or on any other cryptocurrency exchange, you are still paying a fee. So for example, on Coinbase, with my type of account, I can Buy a maximum 7 500 of Bitcoin, which if I click on Preview Buy, you will see that the Coinbase fee for that transaction will be 287 EUR, which is much more compared to 25 USD.
The swap
And this is for 7 500 EUR, which is actually less than half Bitcoin. So if I'm Buying a complete Bitcoin on an exchange like Coinbase, I will be paying more than 560 – 570 EUR for that transaction. And after that, when I'm Selling it or exchanging it for other Cryptos, there will be more fee, obviously. Just wanted to compare it one more time with the exchanges, because many people say that it's more expensive to trade the CFD trading, but that's not actually the reality.
And it might get more expensive if you are holding your position for a long time. Because when trading with Forex brokers like Hot Forex or any other, we pay as well swap. If I go to Specification,
you will see that I have -6 000 points, which is I think 6 USD in this case of a swap because we have 3 digits.
So this is about a 6 USD fee if we hold the position overnight.
The brokers will charge us a swap when they transfer the trade for the next day. And we don't have that on the exchanges. When we buy cryptos, we don't pay a fee for holding it in the account. So only in the case when you hold the trades for a long, long time on your MetaTrader account or on your broker's account, it might get more expensive to trade the Bitcoins here because you will be paying swap every night.
HotForex broker
But, because we are trading with Robots we close the trades quickly, some of the trades will not last over the night. The Robots that I included in the course will not last through the weekend. So we have 3 days swap as well with the brokers, which means that if we have a trade opened on Friday or we have an open trade during Friday and it goes through Saturday, Sunday, and Monday, the market opens again, then we will pay swap for these 3 days.
Here it is 3-day swap that is charged on Fridays. This is how the trading works. And on the exchanges, we don't have such costs. Such a swap. But one more time, as you saw, the fee is much more expensive compared to the spread that we have with Hot Forex in this example.
And back in time in 2017, 2018, when everybody was crazy about the Bitcoin and the brokers just placed the Bitcoin on their platforms, the spread was absolutely crazy. It was reaching about 200, 300 USD. At that moment, I didn't use Hot Forex. I found it later as a reliable broker. So I don't know what was their spread during this time.
Trading in Cryptocurrency Exchanges
But now with most of the brokers, the spread is somewhere between 15, 20, 25, 30 USD, which is just fine compared, one more time, to what we have on the exchanges. So that's why I said that the exchanges are more suitable if you buy cryptocurrencies and you hold them for a long time for investment purposes.
This is what I'm showing in my Cryptocurrency Investment Strategy course where I analyze Bitcoin, for example, on TradingView which is another platform for trading, very popular, especially for technical analysis like what you see below.
But in that course, I teach the investors how to Buy Cryptocurrencies and when exactly to Buy, when exactly to Take Profits and to Sell the Cryptocurrencies. But that's different. That's investment.
And this is why there I demonstrated over the Coinbase and personally I use for this system Coinbase. But when it comes to algorithmic trading, trading with Robots, MetaTrader is much more suitable with the broker as Hot Forex because there we have much lower fees or in trading this is called spread. And if we are closing the trades within the same day or within a few days, we don't pay huge swap, which is just fine.
Bitcoin Trading Hours Limitations At Brokers
Why did I say that the trades don't last over the weekend with the Robots that I include in the course? This is because with the Forex brokers, usually, we don't have trading on the weekend. You can see the gaps below. There is no price between these levels.
So if I go to Properties and I go to Common and I uncheck show grid, but I check show period separators and I click on OK,
you will see that this is exactly between Friday and Monday. Let me go to the current price. I can go as well with the End button on my keyboard. Or if I press this button on top that says scroll the chart to the end of the thinking coming and zoom it.
It shows me that today it is the 10th of December, which is Thursday. We have Wednesday, Tuesday, Monday. It was the 7th of December 2020. Then the next day is 4th of December, which was Friday. And then we have Thursday, Wednesday, Tuesday, Monday, which was the 30th of November 2020. And the next day is the 27th of November 2020. This is the weekend.
This is Friday and here starts Monday. So we don't have trading on the weekend with most of the Forex brokers for Cryptocurrencies.
What's more to come
And this is why the Expert Advisors that I included in this course will not hold positions over the weekend. Everything will be closed until Friday. And this way, you don't worry if there are such gaps.
This is one of the things that I have improved compared to the EAs from the previous course. Because before, there were brokers offering trading during the weekend and these were the type of EAs I was using. And then when I shared the EAs in my course, some of the students complained that their broker doesn't have Cryptocurrency trading during the weekend.
So no worries about that anymore. You will not see trades opened during the weekend.
In the next lecture, I will give you more details about the MetaTrader platform, and you will learn more about the chart and the different windows that we have on that popular platform. Thanks for reading.