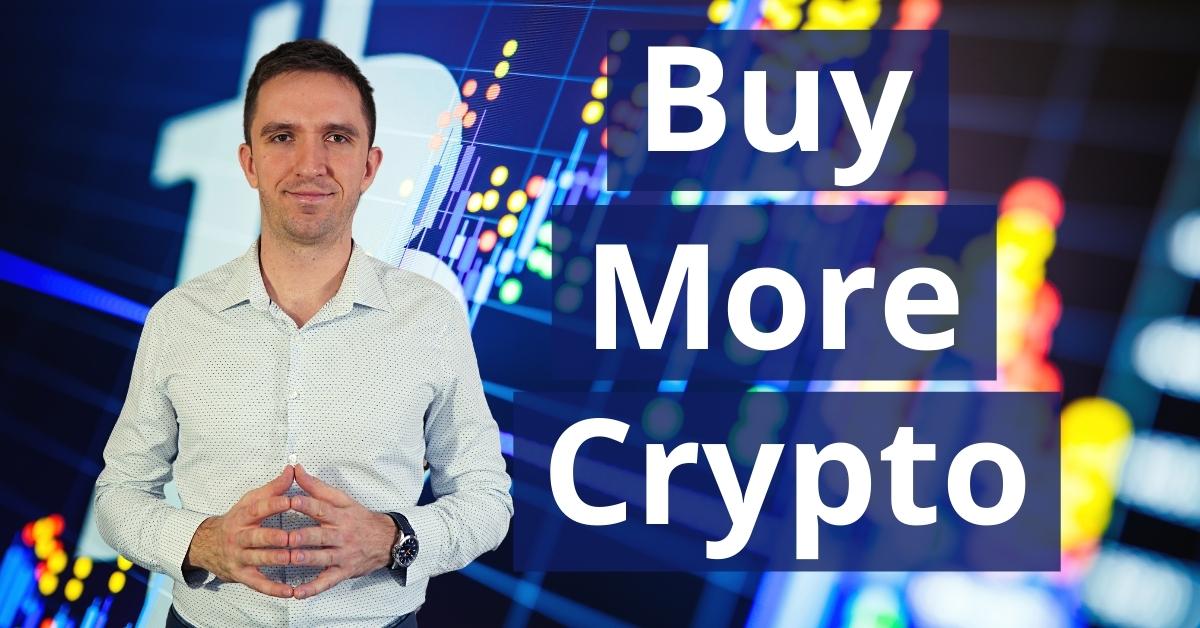 When to Buy Cryptocurrency With Bigger Volume
Hello, investors, in this article, I will show you how I decide when to buy cryptocurrency. Moreover, I will show you some more examples of investment opportunities that I have on the market at the current moment.
What happened since the last lecture? The target was reached, the 12 168, and I have sold all the Cryptos that I had on a profit. And then the market pulled back, which was very expected and it gave me a new opportunity, ОК, a new buying opportunity after a nice aggressive Counter Trendline.
So first of all, this is the new Fibonacci that I have from the levels of 12 486 down to 9 802.
It is a huge Fibonacci. But let me show you why I have this Fib. The previous one was at the top of 10 152. And then I start the Fibonacci from the lowest point, which, if I zoom, you will see, is at this level at $9 802. So here it is. And I have the new top, which is after the break. So it's from this level 12 486 down to 9 802.
It's a huge Fibonacci and the targets are pretty high, very high. 14 146, 16 830 is the second one. So I guess this time I will be looking to sell at the 14 146. Or in other words, if the price reaches this level, I will just check what I have in the portfolio. If I have good profits with some of the Cryptos, I would sell them at that first target and I expect further retracement form the Bitcoin.
I wanted to increase the entry
It can reach these levels of the Fibonacci easily, according to me, 11 460, which is the 61.8 level, and the 11 150. And if it drops below 10 000, then I guess it will be really bearish market for Bitcoin and we can expect further drop and we might have new lower lows and lower highs which will form the downtrend, and at this moment I will pause the investing. And when the new uptrend is formed, then I will be looking to buy cryptocurrency and draw new Fibonacci.
This is what I already showed in the Cryptocurrency Investment Strategy Without Losses course. But for the moment we are still in an uptrend. And I had these Counter Trendlines. So one Counter Trendline coming up from the top and then a second one aggressive Counter Trendline from these candlesticks through these lower highs.
And yesterday, the price broke it, we have a failure of the recent low. So until this moment, there were lower highs and lower lows.
And then there was this higher low which failed to take this low and the price broke it. Not very aggressively, but there was a break then retested and continues higher. So I took 500 EUR of Chainlink. And something I forgot last night when I was buying Chainlink is that I wanted to increase the entry. Because what I shared with you in this course is that I divide all the investments into 10 pieces.
Please don't take my advice for a recommendation
And so far I was buying cryptocurrency with 500 EUR, but now my wallet has over 6 000 EUR. Actually, I took one piece with 500 EUR for the Chainlink, so it was 6 500. Anyway, it's above 6 000. I can increase the single investment to 600 EUR. But I just missed doing it last night because I took the Chainlink from my phone and I will tell you a little bit later how you can do it from the phone easier, you don't really need to be in front of the computer.
So one more time until the moment I was buying 500 EUR each time I invest. But now, because my EUR wallet got bigger because of the profits that I did, I can increase it to 600 EUR for one investment. Or if you are planning to invest, let's say, totally 2 000 EUR. Then you divide it by 10, you will have each time 200 EUR. Now, after you have profits, if your EUR wallets get to 3 000 and you complete a cycle, you can increase it to 300 EUR for one investment. It's up to you. You can withdraw the 1 000 that you did profit and you can continue 10 times with 200 EUR.
These are not recommendations, guys, but just tips.
And if you are planning to trade 2 000 EUR, you really don't need to put all 2 000 in your wallet for the first time and then start buying cryptocurrency. As I showed you, the first time when I bought the first Cryptocurrency in this course, I have bought them from my Visa, they were not in my EUR wallet, so I didn't put straightaway 4 000 to 5 000 EUR in my wallet.
How I decided when to buy cryptocurrency
I bought them piece by piece and that what I sold everything, everything goes into the EUR wallet.
But you really don't need to put all the money you are planning to invest in your wallet and then start buying the Cryptos. You can go one by one. But now after I have the 6 000, I can increase the single investment to 600 EUR instead of 500 EUR. And last night I bought Chainlink for 500 EUR.
So simply what I will do right now, because even the Chainlink got a little bit cheaper since last night. If I click on overview, you will see that there was more decline from the Chainlink.
So I will just buy crypto from the EUR Wallet for another 100 EUR and I will consider this to be my first entry, the total will be 600 EUR. I preview the order and I buy cryptocurrency.
It will take just a couple of seconds and I will have the cryptocurrency in my portfolio. So I consider this to be the first investment in crypto from the next cycle.
Following the Counter Trendline When Buying Crypto
And something that I want to add, and I think I forgot to share with you during the course, is that you can have the Coinbase app on your phone and as well you can have the TradingView on your phone.
And actually, the chart there is very nice, they have improved it a lot. You can draw the Counter Trendline and you can see where the price of Bitcoin is at that moment.
But usually, I don't do any drawings on the phone. I just follow the market. And if I'm outside and I see that there is a break of the Counter Trendline, I can easily buy cryptocurrency from the Coinbase app. This is what I did last night. But what's interesting is that in TradingView on the top-right corner we have this clock, which is an alert.
How the alert notified me when to buy cryptocurrency
So you see what alert I had last night and that it was triggered. If I click on it, you will see that I had the alert if the Bitcoin is crossing up, you have different conditions. The value of 11 830, will notify me on the app. It will show a pop-up. It will send me an email.
Simply, I was outside, I saw the notification I opened up TradingView. I saw that the Bitcoin was breaking here and I took the Chainlink from my phone. And just this morning I figured out that I can increase it to 600 EUR per one investment because I have 6 000 EUR now in my EUR wallet.
My Future Cryptocurrency Investment Plan
I don't really need to withdraw any cash at the moment, so I will just keep it. And my future investments will be at 6 000 EUR. And I keep it for the purpose of this course, with this amount. As I explained in the beginning, I don't want to invest too much money in cryptocurrency because I really don't want to stimulate anybody trading with a lot of money. You should be trading with the amount you feel comfortable with.
Even if you trade with just 200 EUR, that is fine. You're still divided by 10 and each time you will invest 20 EUR. No problem, do that as long as you are strict with the strategy, you are fine. It really doesn't matter how much money you are trading. Obviously I am doing this for a long time and in my other accounts I'm trading with bigger volume. But for the purpose of this course, I have decided to use this amount of money and one more time, don't take it as a recommendation, I want to teach you the strategy, the system, the money management, which is very important.
So I will keep recording more examples which will be useful to you to compare your chart with mine. Where are my Fibs? Where are my Counter Trendlines and Aggressive Counter Trendlines? And I will be happy to hear your feedback, share your results with me and I will help you. And I will give you tips always to help you improve your trading.
Thank you, guys, for reading, and I will see you in the next lecture. If you have any questions, don't hesitate to write a comment below, and if you haven't subscribed to our YouTube channel it's a great time to do it now.
Bye!