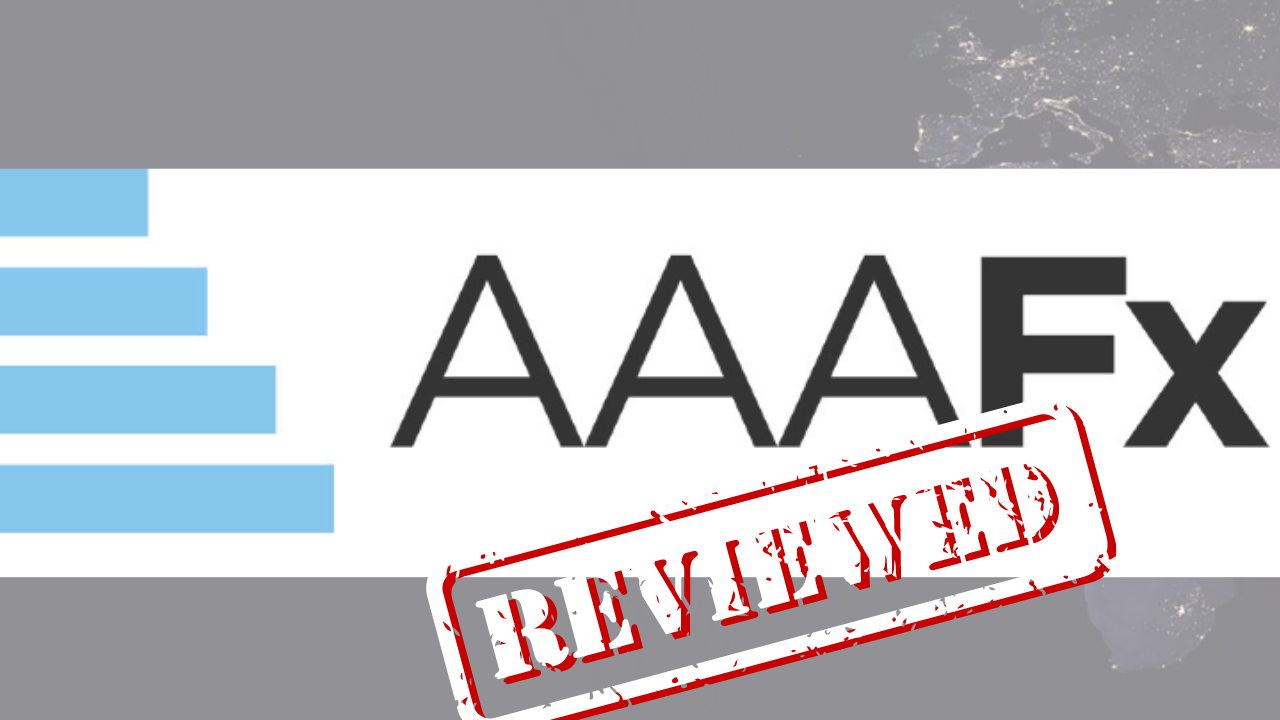 AAAFx Review – PROs and CONs
This AAAFx review will discuss the benefits of using this broker to trade on the Forex market. This international company is open to traders from almost every country. In this AAAFx review, you'll also learn about the drawbacks of trading Forex on this platform.
Introduction to AAAFx
AAAFx have their headquarters in Athens, Greece. They've been offering Forex services to traders around the world for several years.
This is an award-winning broker. In fact, they have a very good reputation. In 2022, the Ultimate Fintech Awards recognized them as the Most Transparent Broker.
You can trade Forex easily with this affordable broker. You can also trade other products, such as crypto, commodities and stock indexes.
In this AAAFx review you'll learn more about what global traders can expect from them. You'll also learn about the provisions that they have for Islamic traders and clients who have to meet trading laws in Europe.
AAAFx Regulators
AAAFx were founded in 2008 and traders generally think that they're trustworthy. They're regulated by both the HCMC and FSCA.
The HCMC is the Hellenic Capital Market Commission. This organization regulates brokers that are based in Greece. The FSCA is the Financial Sector Conduct Authority. It regulates brokers in South Africa.
When you invest with AAAFx, you will be protected by the Greek Guarantee Fund. So, you'll be reimbursed with up to €30,000 if the broker goes bankrupt.

If you're an Islamic trader, you can get an Islamic account with this broker. So, this account will be swap free.
AAAFx don't just offer accounts to individual traders. They also have institutional accounts.
AAAFx has thousands of accounts — for customers around the world. However, their services are not available everywhere. For example, if you live in Quebec, you can't use this broker.
In fact, they have clients in 176 countries. They offer adequate customer support to all of their traders. So, their customer care team can help clients with answers to their trading questions in 10 languages.
You can speak with customer care via live chat. There's a chat button that you can click on. You can find it on the bottom right corner of your screen. Traders can also email them for support. You can even call them.
AAAFx Review – 100% Deposit Bonus
AAAFx gives a deposit bonus to their clients. All global clients can benefit. This AAAFx review will explain more about how global traders can benefit. However, if you're based in Europe you can't get this bonus.
You can get up to 100% extra with this match bonus. New clients can qualify. However, you must deposit at least $300 into your account. You won't qualify for the bonus if money is transferred into a new account from an existing account.
You won't be able to withdraw the bonus from your account until you meet specific conditions. For example, you need to complete a specific number of trades before you can withdraw any of the bonus. If you don't use your bonus within 90 days after receiving it, you'll lose it.
There is a cap of $3,000 on this bonus. So, for example, if you deposit $5,000 when you open an account you'll only get a bonus of $3,000 to use for trading. You must verify your account to receive this bonus. So, you'll have to upload documents that verify your identity.
AAAFx Review – Currency Pairs and Tradable Assets
Fortunately for traders, AAAFx offers over 30 Forex pairs for currency trading.
Several Forex traders also like to trade other assets. They don't limit their trading to fiat currencies. AAAFx has many other tradable assets. For example, you can trade cryptocurrency CFDs there. You can also trade stock CFDs and commodity CFDs.
This broker has nine stock indexes. They don't offer services to US traders. However, global traders can buy stock in US companies. You can trade 170 US shares with this broker.
They offer six commodities. You can trade crude oil, gold and natural gas, among others. They also offer cryptocurrency trading. So, you can trade all the popular options such as Bitcoin and Ethereum, as well as new cryptos.
AAAFx Platforms
Many traders prefer to use a platform that they're comfortable with. They want a platform that's easy to use. If they're a beginner, they want to learn how to use it quickly.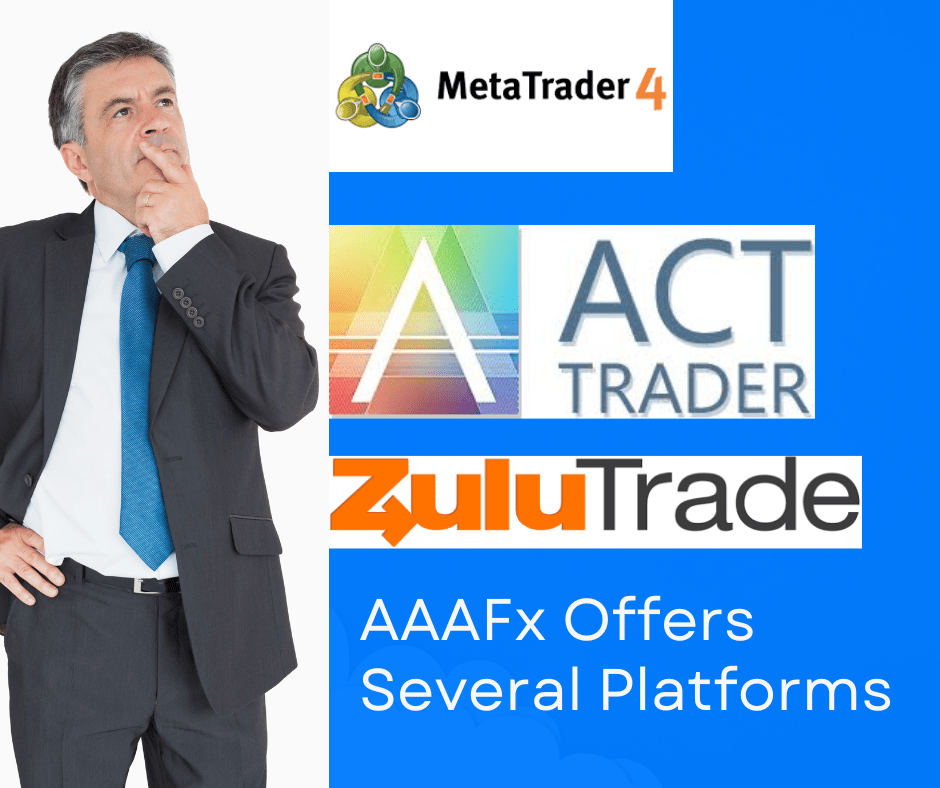 MetaTrader or MT4 is popular among many Forex traders. This AAAFx review will explain why that is so. It lets them backtest their strategies. It also has a number of other features.
So, traders will be glad to know AAAFx has MT4. This broker also has other platforms. You can use MT5 and ActTrader.
MetaTrader has a multilingual interface. You can learn how to use it quickly since it has built-in guides. This platform is suitable for technical traders. It has lots of charting tools and indicators. You can also customize the indicators.
Traders who use MT4 can make a decision by using more than 30 technical analysis tools. You can customize 50 indicators on this platform to suit your needs. Additionally, MT4 has 9 timeline choices.
You need to have at least $300 in your account to use MetaTrader with this broker. One of the best features of MT4 is automated trading.
If you want to use MT4 on your mobile device you can do that. You'll just need to download the Android or iPhone version of the app from the respective store.
ZuluTrade and ActTrader
Some traders might not be as familiar with ZuluTrade. However, several traders like this platform because it has auto trading.
ZuluTrade also has social trading. You can learn what other traders are doing. So, you can do the same trades and gain profits whenever their trades are successful. However, you should do your due diligence because you can also lose if they lose from a trade.
Since the interfaces are connected you can easily do all the trading with your AAAFx account. You won't have to spend time installing ZuluTrade. As soon as you open your AAAFx account, you can start looking at what other traders are doing. This gives you access to information on what traders in 190 countries are buying or selling.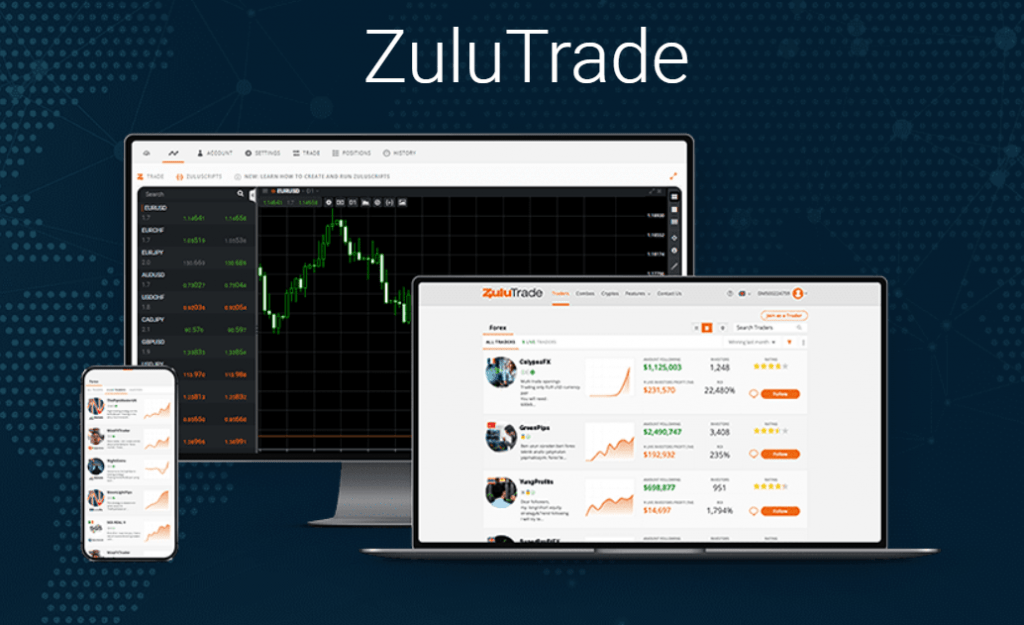 ZuluScripts gives you an algorithmic trading option. So, if you wish, you can write code for your trades.
If you have a ZuluTrade account, it's protected by ZuluGuard. You'll also get additional protection with Margin Call-o-Meter. So, you'll limit your losses.
Some traders aren't used to ActTrader. However, ActTrader is a user-friendly package. Beginners can easily learn how to trade on this platform.
ActTrader has been around for a while. It was launched in 2000. It's easy to navigate. When you're trading with real cash you'll benefit from trading volumes of $5 million a month. You can download this platform. You can also use it from your browser.
AAAFx Review – Demo Account
Several traders try their strategies on demo accounts. AAAFx has a demo account. So, you can get used to the platform.
In this video, you will learn how to Open a Demo account with AAAFx and get a Free Bitcoin Robot for M1 TimeFrame:
In fact, even if you've traded Forex before, it's usually best to try their demo account before trading with real capital. This allows you to become accustomed to the platform.
After you register, you'll use the demo for the platform that you like. For example, if you like ZuluTrade, that demo account will let you practice as if you were using real cash in the real trading environment. You will be able to see how the traders that you like are trading. You could start practicing right away without real cash.
AAAFx Mobile Trading
In this AAAFx review, you've learned that the broker has several platforms. You can use these on mobile. For example, if you like to use MT4, you can use the mobile version on your device.
The apps offer you many of the features of the desktop. However, You can't customize them as much. You'll also won't be able to use some analysis tools.
If you're trading on your iPhone or another mobile device, you'll save time with one touch trading. Although the broker has limited information, they present it visually on mobile. So, it's easy to follow.
When you're using your mobile device for trading, you can also do analysis. You can make several types of orders from your mobile device. With their mobile apps, you won't miss any opportunities.
AAAFx Review – Corporate Accounts
Many traders immediately think of trading for themselves. However, there are many people who are interested in the Forex market but wants to trade at the corporate level. This broker has institutional accounts. However, more documentation is required if you want to open an institutional account.
For example, you'll need a proof of residence document, the annual report of the company, and a signed statement from the person who is authorized to do transactions on behalf of the company. Any deposits that you make must be made under the company's name.
So, for example, you'll need to do deposits by using the company's bank account or credit card. If you want to open an institutional account you'll need to make a deposit of at least $100,000.
AAAFx Account Types and Trading Fees
AAAFx has low trading fees. The fees depend on the type of account that you have with them. They have three different ECN accounts plus an Islamic account.
Many beginners choose an ECN account. That account has low commission charges. You'll pay $0.99 per $100,000.
However, you can also avoid commission charges by opening an ECN Plus account. Their ECN Zulu account connects directly to the Zulu platform but it's very expensive. Commissions are $10 per $100,000.
Spreads on Accounts
Spreads on all ECN accounts are low, ranging from 0.0 pips to 0.8 pips on major pairs. So, if you're trading the EURUSD the spread is usually 0.3 pips. If you're trading the GBPUSD dollar the spread is 0.7 pips. For EURGBP pound, the spread is 0.5 pips.
Each Islamic account comes with thin spreads. If you open on Islamic account, and you're an institutional client, you'll also pay low commissions.

In some situations, AAAFx may charge for positions that you hold overnight. So, if you hold a position open past 17:00 EST, you'll be changed an overnight swap or rollover rate. This broker has a calendar with details on those charges. However, overall their fees are competitive.
If you're trading major currency pairs throughout the week or even through the day, you'll save money with this broker. It usually takes 24 hours to activate an account.
AAAFx Low Minimum Deposit
AAAFx has a low minimum deposit. You only need $10 to fund your account and start trading with real currencies. This is why some beginners like to use the platform.
AAAFx Deposit Options
There are multiple deposit options. You can fund your account by using a bank wire. For example, you can use EuroBank and DixiPay, among others.
You can also fund your account by using your international bank card. So, you can fund your account with your Visa debit or Visa credit card. You can also use your MasterCard.

You can use e-wallets such as Skrill and VirtualPay to make your deposit. This broker has a welcome bonus to new clients. As explained in this AAAFx review, you can use your bank card to get the bonus.
Traders can use cryptocurrency to fund their accounts. For example, you can fund your account with Bitcoin or Ethereum.
Choose Your Currency
You can do your deposits and withdrawals in other currencies. The three main currencies that you can use for your account are the Euro, British pound and US dollar.
Your transaction will be converted to US dollars. So, always ensure that the sum meets the US dollar deposit limit.
If you make your deposit by using Bitcoin or your bank card it will be processed instantly. However, if you use Skrill or your e-wallet it could take 24 hours to be processed.
A wire transfer take up to three business days. Deposit fees aren't applied by the broker.
However, conversion fees are sometimes applied if your deposit is made in a currency other than the US dollar and has to be converted to US.
AAAFx Withdrawal Options
The withdrawal options are similar to those for deposits. So, you can do wire transfers via FairPay, PayRetailers and other providers.
You can also withdraw money from your account by using an e-wallet. Generally, traders can use wallets like VirtualPay and Skrill.
If you don't want to use a wire transfer or e-wallet to make your withdrawal, you have options. So, you can use crypto. Additionally, AAAFx accepts Match2Pay.
You won't have to meet a minimum for withdrawals. You also won't have a maximum for withdrawals. However, before you can withdraw money from your account, you must be verified.
Additionally, if you used a particular method to make your deposit, you must use the same method to make your withdrawal. For example if your deposit was made via a wire transfer, you must withdraw funds via a wire transfer.
Your withdrawals might sometimes be delayed. That's one of the complaints that traders have. Additionally, some clients say that their withdrawals are sometimes split into two sums.
Islamic Forex Trading Accounts

AAAFx offers trading accounts that let you trade Forex in accordance with Sharia law. If you're interested in an Islamic trading accounts, you can contact customers service for details.
How Much Leverage Can You Get With AAAFx?
This Forex broker has good leverage. However, the amount of leverage that you can get is based on your location. AAAFx is a regulated broker. So, they have to meet ESMA standards.
European traders can only get a leverage ratio of 1 to 30. This is to protect traders in Europe. Whenever you use the leverage it magnifies your potential profit. However, it also increases the amount of money that you could lose.
Be Cautious With AAAFx Leverage
Global traders aren't subjected to the same restrictions but they should still be cautious. Leverage gives you larger exposure to the market even with a small deposit for a trade. So, it can be tempting to use the maximum. However, ignoring risk management rules could wipe out your capital.
Even for European traders, 1:30 is the maximum leverage on AAAFx. That's offered for major currency pairs. If you are a European trader your leverage for other currency pairs will be 1:20.
Leverage Depends on Asset Type
Similarly, leverage varies according to the type of asset that you're trading. So commodities and indexes have leverage of 1:10. US company stocks have leverage of 1:5. These limits apply to European traders.
As stated earlier in this AAAFx review, global traders have more leverage. That applies to all instruments. However, if you're a global trader and your equity is greater than $50,000 you'll have maximum leverage of 1:200.
Similarly, if you're a new client, your account will have a standard leverage of 1:100. You can contact the customer care team to increase your leverage.
AAAFx offers a maximum leverage of 1:500. However, using this type of leverage can make your trades more risky. So, it's important to do your due diligence with AAAFx. Generally, be cautious with all of the transactions that you do on this and other platforms.
AAAFx Research
AAAFx does not have good research. You'll have to use third-party sources for information. This can be time-consuming.
As stated before in this AAAFx review, the broker lets you trade on the go. So, you can open a trade in minutes. However you can't do so quickly if information isn't really available on the platform.
When you sign up, you can access your demo account. You'll get an email with tips on using the demo account. However, even as a beginner, you would need to search for news and other information elsewhere to help you trade.
AAAFx Client Protection
As explained earlier in this AAAFx review, the platform that you choose will often have inbuilt features that protect you. However, the broker also has additional safety features. These include SSL encryption for their website traffic. They also use firewalls and authentication systems. Several access control mechanisms work together to protect your data while you're trading.
AAAFx Review – Cons of Using this platform
AAAFx doesn't offer good educational resources. That's not the only drawback of using this broker. They don't offer Peer-to-Peer trading and they don't offer spot trading. However, they have negative balance protection which is quite important nowadays.
Good Forex trading strategies can help you to avoid unnecessary losses. These include risk management strategies.
In this AAAFx review, you've learned that traders in several countries can open accounts with this broker. However, due to regulatory requirements, AAAFx doesn't offer their services everywhere. For example, if you live in the United States or China, you won't be able to trade with this broker.
AAAFx say that they don't charge fees on deposit and withdrawals. However, you might sometimes receive less money than you expect from a withdrawal. That's because there may be third-party charges.
Final Thoughts on AAAFx
So, in conclusion, AAAFx is generally a low risk trading platform. You can trade on the go by using your iPad, iPhone, or any Android device.
It's easy to fund your account by using your bank card, e-wallet, or cryptocurrency balance. You can trade with a platform that makes you comfortable, with options including the popular MT4 platform.
The minimum to start your own account is very low. You can even trade with leverage of up to 1:500, although your money is safer with less leverage.
If you want to trade Forex and are just starting out, you can check out this broker for yourself. Many new and experienced Forex brokers think that they're reliable.