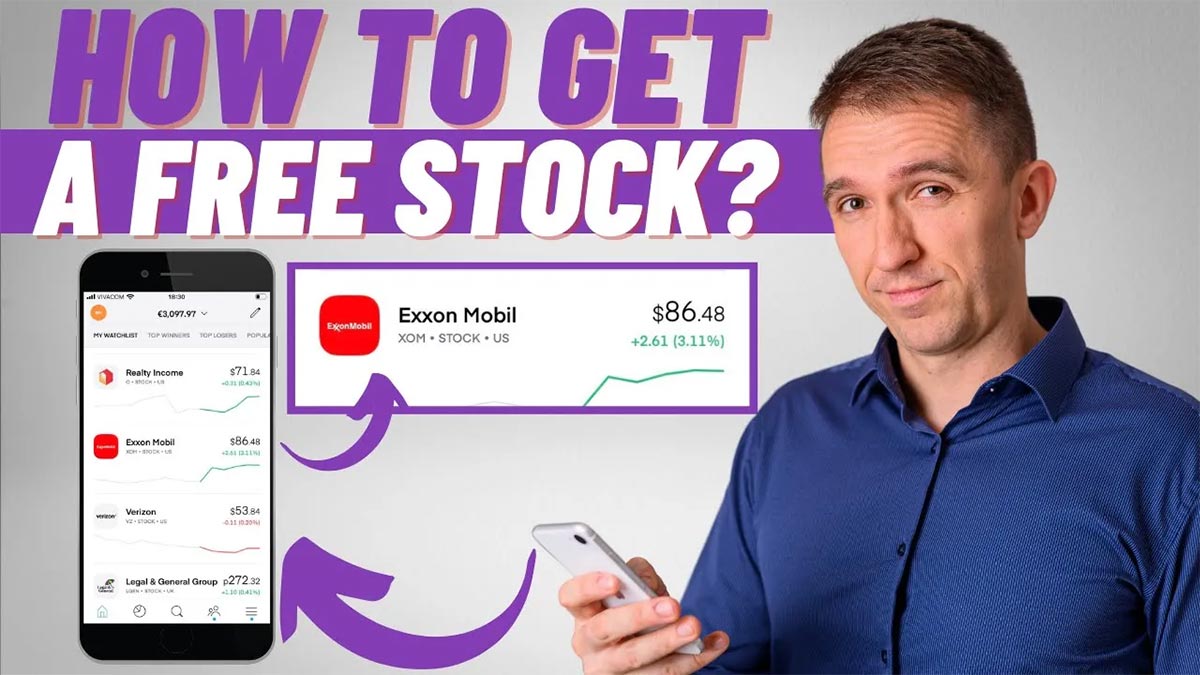 How to Get a Free Stock in Trading 212
Lots of investors are looking for free stocks, and there are several legitimate companies that are giving stocks away for free. In the US, there are many free stock trading brokers. These include TD Ameritrade and Interactive Brokers.
In India, Zerodha offers free stocks. In Europe, there are numerous alternatives for free stocks too. For example, Trading 212 gives stocks away for free, and in this article, you'll learn how you can get some of those free shares.
What's Trading 212?
Trading 212 is a stock broker that also lets you trade ETFs and CFDs. You can open an account there for free. They're currently based in Europe but they may eventually expand to the United States and Asia.
Trading 212 will also give you free stocks when you open a new account. The free stock bonus that you'll get is worth €100. Plus, all you have to do to get your free stock is open a new account, verify your identity, fund your account and apply the promo code PETKOA within 7 days.
Adjusting to Trading Stocks on Mobile
For many traders, it's easy to trade on a desktop computer because they have access to software like MetaTrader and a large screen. It's easy to view charts and other information. It can be difficult to adjust to the smaller screen of a smartphone. 
However, some traders have gotten used to trading on their smartphones because of the convenience. They can benefit from trading opportunities while they're on the go.
After a while, those traders hardly ever use their laptops or desktop for trading. They do almost everything on their mobile device because using an app to trade is easy. That's especially true if they use robots to trade crypto and stocks. When traders use Expert Advisors, they spend less time looking at charts.
Free Stock Trading Broker vs Broker with Free Stocks
Trading 212 is both a free stock trading broker and a broker that offers free stocks. Trading 212 app simplifies the process of trading crypto, stocks, ETFs, and other instruments for traders.
So, as a free stock trading broker, they don't charge commissions on trades. As a broker that gives free stocks, you can get free stocks with them when you fulfill certain requirements during special promotions.
Trading 212 pays the commissions for you whenever you buy or sell instruments. They do this in order to be competitive. Traders nowadays have lots of choices. So, many choose Trading 212 because they don't have to pay any commissions.
Several brokers also offer free stocks like Trading 212. All of them have requirements that you have to meet. For example, you might need to make a minimum deposit of €10.
Sometimes traders can't benefit from free stock promotions because of where they live. For example, if you live in Bulgaria, you won't be able to benefit from a promotion offered by Webull. However, traders in the United States can get five stocks for free from Webull.
Trading 212 Fractional Shares
Trading 212 offers fractional trading. So, if you want to buy an expensive stock such as Google or Apple, you can buy a fraction of it instead of spending a lot of your capital on one company.
For example, if you buy $10 worth of Apple stock at Trading 212, it doesn't mean that you're buying one share for $10. You'll actually buy a fraction of one Apple share for $10. You just buy a piece of Apple stock. The rest will be sold to other clients.
Some stocks like Amazon and Google cost thousands of dollars each. But, when you buy fractional shares of these stocks, you can own a portion for $10 or $100. It depends on how much you want to own.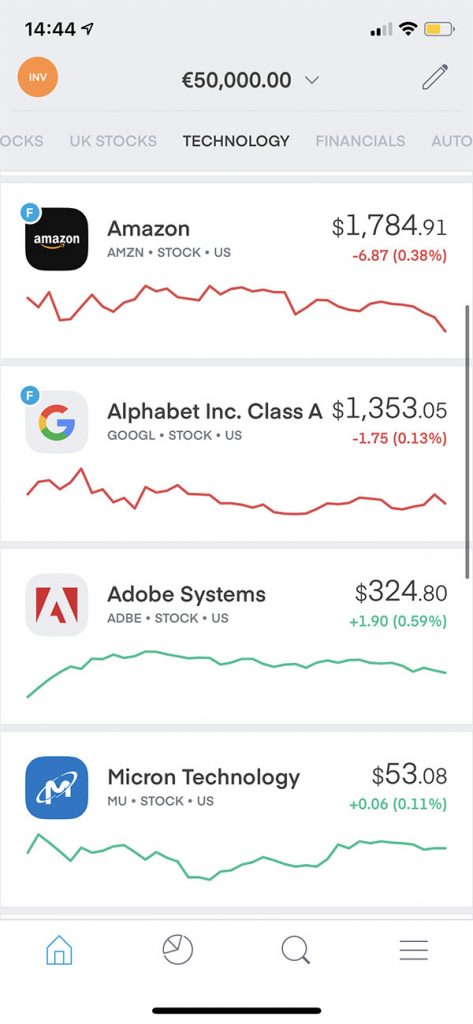 Buying Stocks with the Trading 212 App
The Trading 212 app is very easy to use. You can easily search for stocks to buy by category. For example, they have a popular stocks category. That shows you which stocks are frequently traded.
You should always check the performance of any stock that you're interested in from the frequently-traded category. Even if a stock is popular, that doesn't mean that its value is increasing over time.
The Trading 212 app gives you a little information on the performance of each stock. For example, if you want to buy Tesla stock, you can click on it and below it, you'll see a small chart that shows you the performance of Tesla stock over time. You can do the same with your free stock.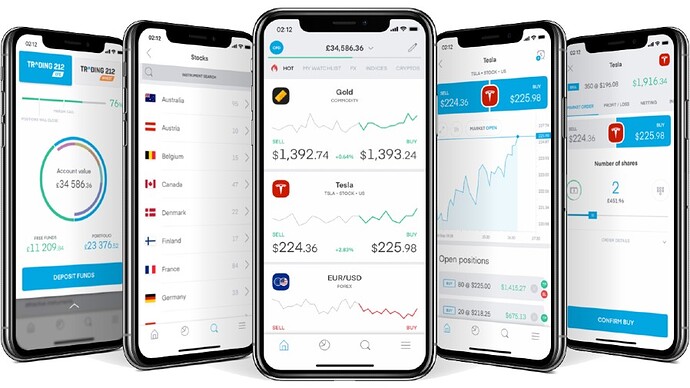 Traders who like fundamental trading can also get information on any companies that they're looking at. For example, for Elon Musk's company – Tesla, you can find out how many employees they have and other details just by clicking. You can get income and balance sheet information along with the performance charts, right in the app.
Trading 212 Free Stock Categories
You can get free stock from several categories at Trading 212. Some traders like to focus on stocks from the United States. You can find a category just for that on the Trading 212 app. You can also use the app to find UK stocks.
If you want to search for newly listed stocks, the app can also help you to do that. Some investors like to look for new listed assets, such as newly listed cryptos. That's because they want to catch the momentum.
Some traders also like to look for stocks that give good dividends. When you choose a dividend strategy, look for stocks that give you 4%, 5%, or even 6% per year. So, if you invest $100,000 in a company, you would get dividends of $5,000.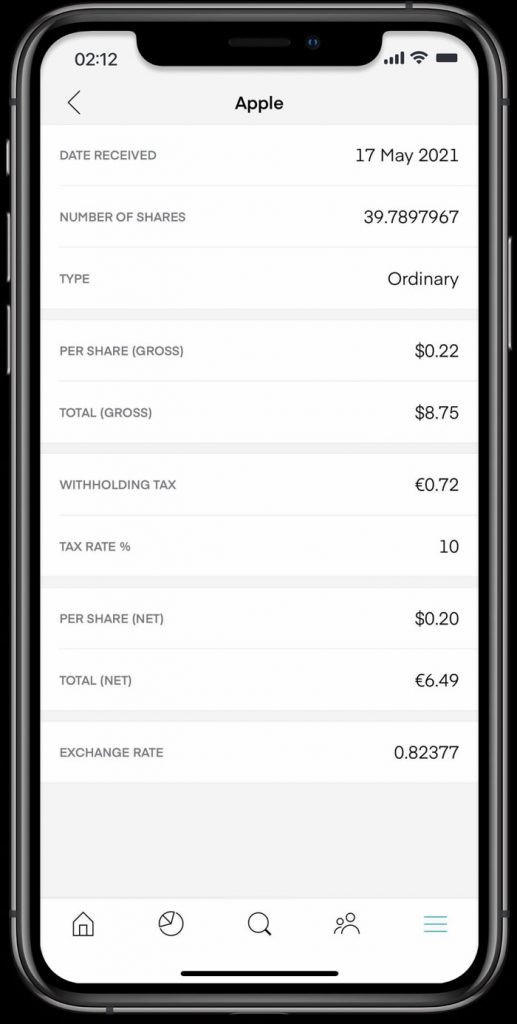 If your free stock also increases in value over time you would benefit from that as well. Traders look forward to these capital gains. However, sometimes they experience losses. The Trading 212 app helps you to keep things balanced. You can create a portfolio of stocks.
Building a portfolio with stocks and other assets helps you to reduce your risk. Diversification should always be an important part of your strategy. So, even if the value of some of your assets goes down, if the value of the others goes up you'll still make an overall profit.
When you're purchasing apps by using different currencies, you'll need to keep in mind fluctuations in your purchase currency. For example, you may see a slight dip in value in terms of the US dollar but you'll simultaneously be making a profit in Euro.
View Your Buying History for Trading 212 Free Stock and Paid Stock
The Trading 212 app keeps records of all the transactions that you've done with each stock. For example, you could see all the transactions that you've done with Apple stock. You could also view the dividends that have been paid out for the stock.
The good thing about the Trading 212 app is that you can keep consistently purchasing as much as you can afford. That's because they offer fractional shares.
Every time you buy a portion of the stock, you're likely to get it at a different price. This means it can be hard to keep track of the different prices at that you've bought the same stock. The Trading 212 app helps you to stay on track. The app calculates an average price automatically when you steadily invest in a particular stock.
You can use the app to view a chart that has your average price line. This average price line helps you to compare the current price of the asset to your average position. You can quickly see where you experienced a loss and when the market recovered. You can also easily tell whether you're making an overall profit or an overall loss.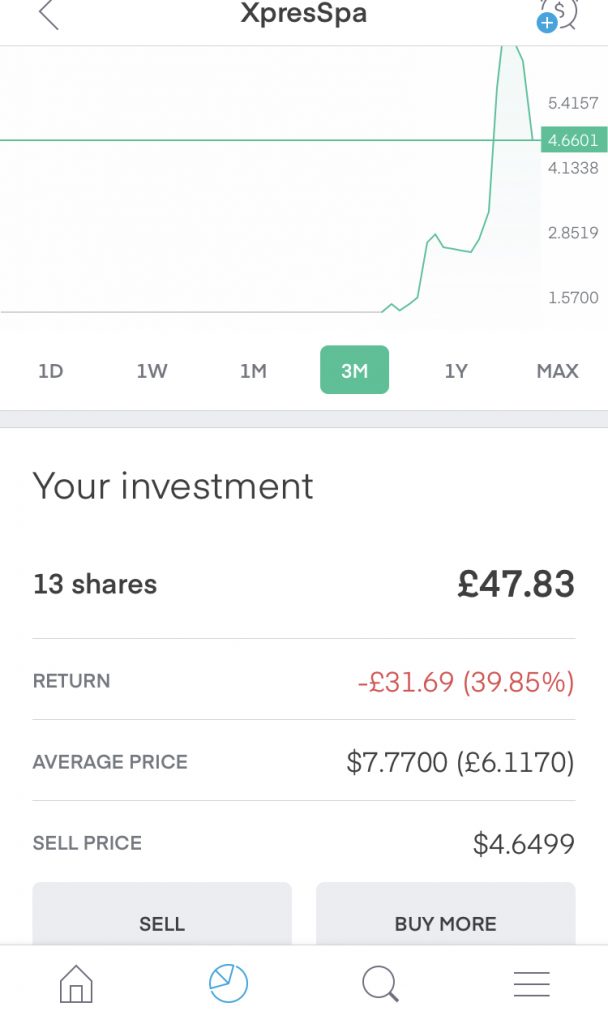 For example, if you have invested in Apple stock and you notice that Apple is forming a double top, it may be time to consider selling since you would be making a loss. If you sell and make a profit, you can wait for a better opportunity to invest in Apple again when the price is lower.
Always Stick to Your Free Stock Trading Strategy
Sometimes traders regret it when they sell stock and then the price goes higher. However, you should never regret selling a stock at a profit. There will always be another opportunity to invest again and make more profit.
The Trading 212 app makes it easy to enter and exit the market while you're on the go. It's easy to use for free stock trading and you can trade other assets as well, such as cryptos. Useful trading information is provided within the app, so you don't need to leave and go to a third-party source.
If you aren't already using this app, it could be a useful part of your strategy and you'll get free stock if you sign up with the code PETKOA. However, the final decision is always up to you. Everything presented in this article is just for educational purposes and it's not financial advice. Thanks for reading!