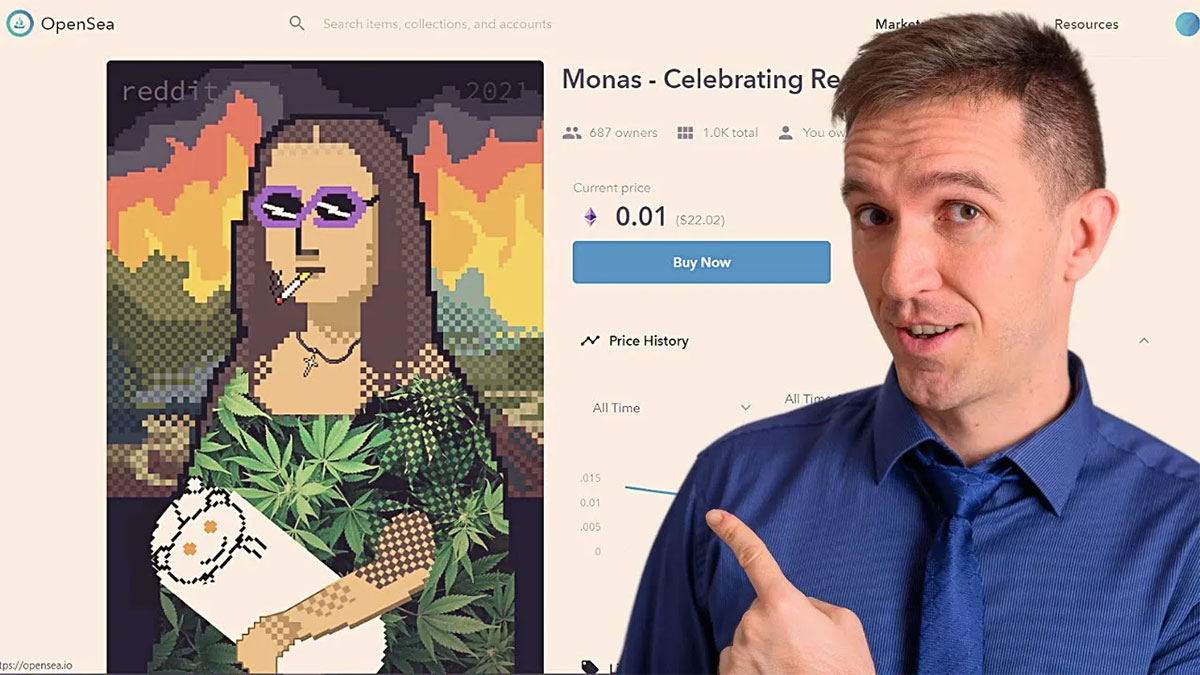 How to Buy NFT on OpenSea – Tutorial
In this lecture, I will share with you how exactly to choose and buy an NFT on the OpenSea marketplace. The NFT market is really huge with so many platforms out there. I have already shared a few tips on how to choose valuable NFTs across the different platforms. But the methods are pretty similar. So I will demonstrate it on the OpenSea platform. But it doesn't really mean that you have to buy from that platform. You can choose any platform you like.
How to purchase NFT on OpenSea
For the purpose of the NFT masterclass, I selected the most trusted platforms and the most popular by the time I'm writing this lecture. Probably in the future, there will be more. Of course, I will be improving the course along with the time.
However, I want to give you a few more tips when choosing the right NFT, and I will show it step by step. But it's very similar if you are doing it on the other platforms as well.
So right now I am on opensea.io. And if I click on Marketplace, we will see all of the NFTs that are available and there are many, we have over 60 million NFTs.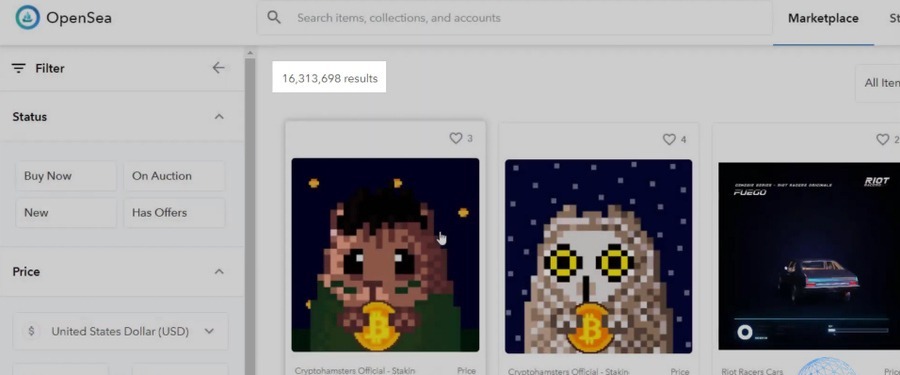 As you know, some are cheap, others are expensive. So it really depends on how much you can afford to spend for an NFT.
You should decide what your budget is rather than just go around and like an NFT, which is much more than what you are planning initially to spend.
So don't take it as financial advice. But what I would usually do, when I am planning to purchase an NFT, for example, I decided I will be buying an NFT for $500, I'm looking for NFT that is within this price range.
And now my wallet is funded with 0.0194 of Ethereum. For the purpose of this lecture, I will be using that amount and this is approximately $41.58. But in May and June 2021, Ethereum and all the crypto lost more than 50% of their values.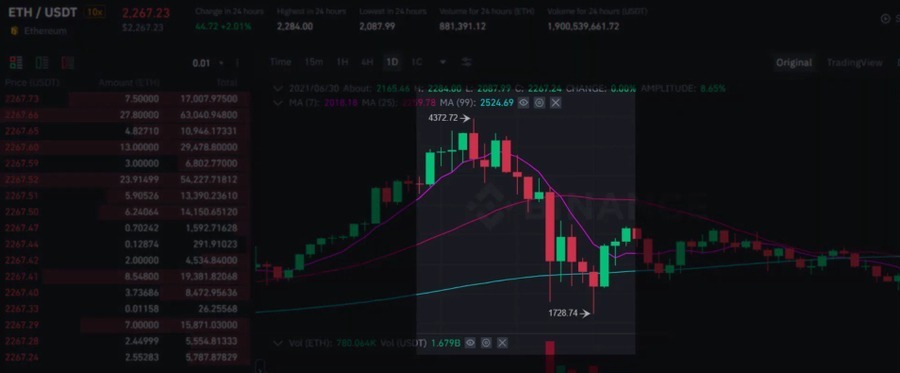 Anyway, that's the amount that I'll be spending. But this is, one more time, for the purpose of this lecture. Don't take it as a recommendation.
Filter NFTs by price range
I just wanted to pick a small amount, which I will be using for demonstrational purposes. This is my budget, 0.0194 ETH. So what can I do? I can set a price range on OpenSea, it could be in dollars or it could be in Ethereum. And I will switch to Ethereum. I will go for 0.0194 ETH because this is how much I have currently in my wallet and I want to look for NFTs that are within this price range.
So this is my maximum and if I apply, I see all the results.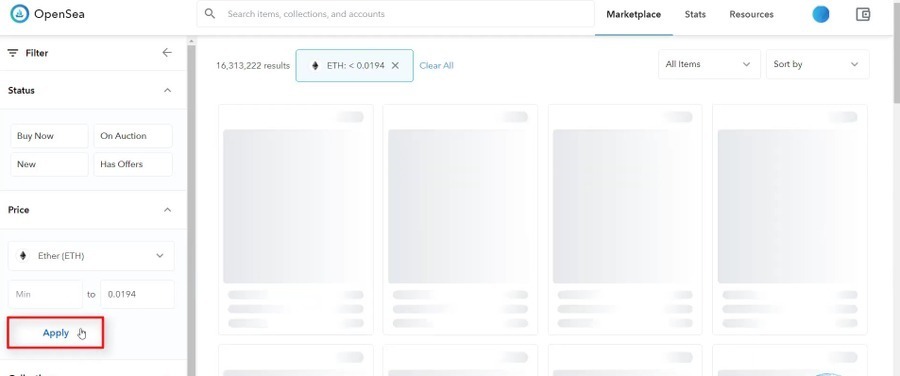 And these are actually 124,946 results if I have to be precise. So all of these NFTs are within this range. So one more time, if you are planning to spend $100.05 Ethereum or 0.1 Ethereum, then you can just put it in the filter and look for all the NFTs that are in this price range.
Sorting NFTs on OpenSea
The next thing I like to do when filtering NFTs is to use the Sort by option and we have plenty of options here.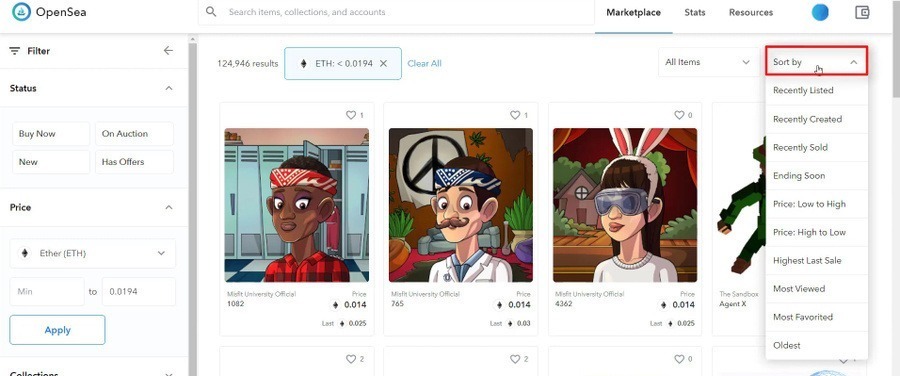 We can see NFTs that were recently listed, recently created, or recently sold, and we have a few more options. But what I like to use is Most favorited, which means that they will have more likes or kind of hearts.
But on the top, you can see that we have this heart icon, which if I tap on, I will increase the number with 1. I just need to confirm this. And then I can unfavorite it.
But my point of view is that I want to look for NFTs that people like. Because if it's the other way around and you buy an NFT that no one liked, you will probably have hard times reselling it after that.
So let's look at some of the first results. We have those 'Oops!' which is from Clucoin. Actually, the first 2 results are from the same seller, and then we have a few more. Actually, three is a Monas NFT which is quite interesting honestly, celebrating Reddit. You see a smoking model with glasses and then she's holding a kind of baby with the Reddit icon, an interesting dress as well. But let's have a look at the others as well.
Preview the NFT details
I will just click randomly on any of them, let's click on the first one that has the most favorites. So you can see that we have 26,700 pieces in total, which is a huge number. We have a lot of views, a lot of favorites, and the average price goes just sideways.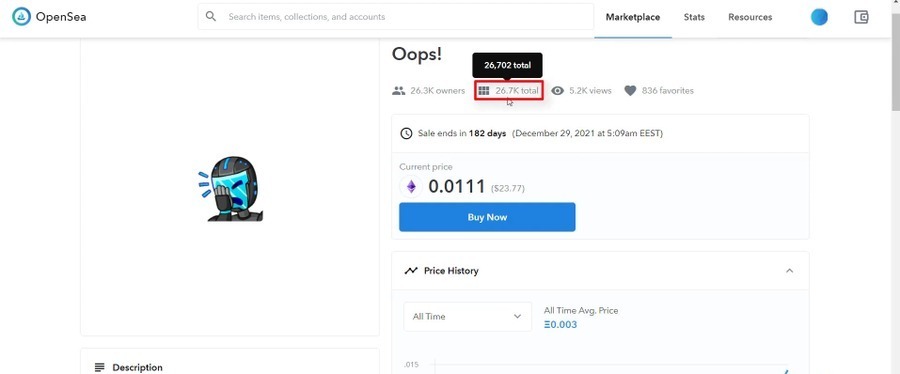 And recently we have had an increment, which is great, but it is based on a small number of sales. You can see a number of sales, 3. And if I scroll down, here are the listings of all the NFTs from this collection. And you can see that the price was more expensive. But the recent listings were at about $40 to $20. And if I scroll lower, you will see the trading history.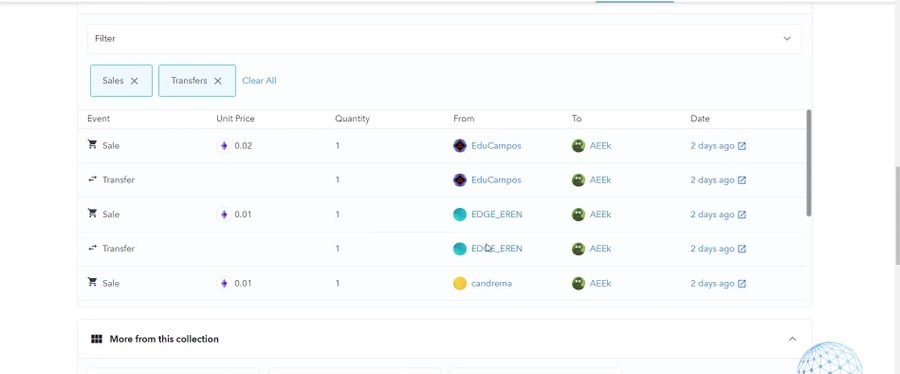 It was listed about 2 days ago.
What I see, and this was the concern here with me, is that this recent increment in the sales is based on just 3 sales. And for me, honestly, I'm not really impressed with this NFT, I personally prefer to like the idea of NFT.
How to choose what NFT to buy on OpenSea
Let me click on the NFT with a Monas, which caught my attention because of so many different things in one simple picture. And it's about Reddit, which is a huge form for NFTs and for crypto especially.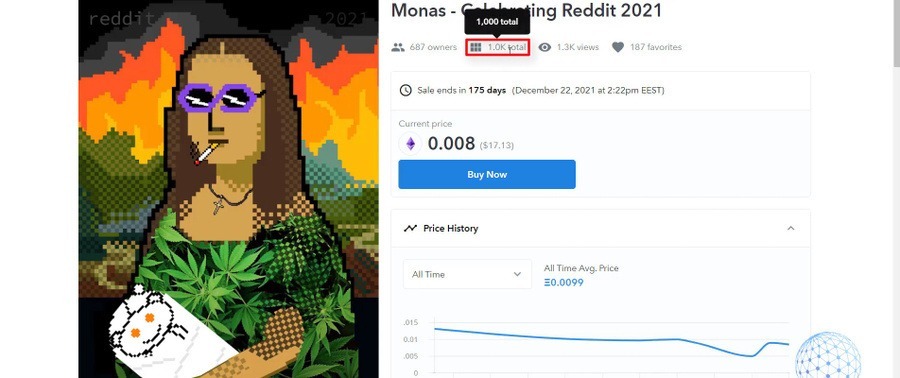 So what we have here are 1,000 total NFTs, which is much better. We have already 687 owners. We have views and favorites, which is great. This is the average price which decreases and here it increases again. Again, it has recently increased a little bit based on a few sales again.
But you see that All Time Average Price is 0.0099 ETH, while I can buy it for 0.008 ETH. And if I scroll down, you will see the listings. And here is the trading history. So let's see what we have in the trading history.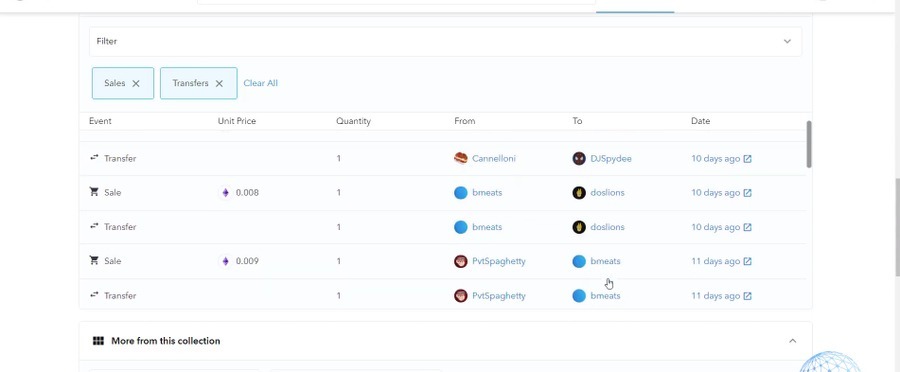 It starts about 16 days ago. Already many people bought and it looks pretty decent. Not really the best NFT I could look for.
Buy NFT on OpenSea
I don't want to make the lecture too long where I'll be scrolling around different NFTs, I just wanted to give you the idea that we want to have the NFT collection, which recently increases in price. And it's better if it has more sales. At the same time, you want to see that people are buying it. So I will just buy this NFT for the purpose of this lecture as a demonstration.
And then one last thing, you should have a look at the creator, created by Monas and we can see the main collection when clicking on the creator name.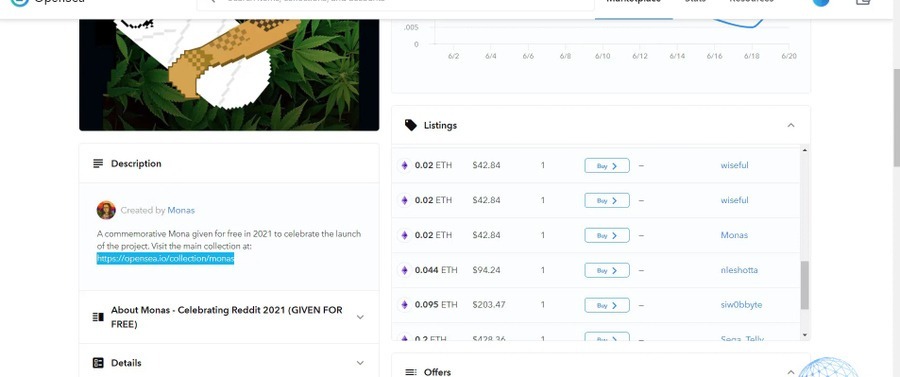 Let me just quickly open it so we can see what exactly we have in there. Probably, we'll see similar NFTs with Monas that represent different things. We have over 1,000 items. We have an average price of 0.03 ETH and already 14.9 Ethereum volume traded. So yes. Different Monas, very similar to the one we saw.
So I can look for something more interesting or something that will grab my attention more. Or if you find more value in any of those or if you're a fan of Tesla, for example, or if you want to have a Monas with Dogecoin or with Kitty, you see a lot of things combined into one.
Opensea Gas Price
But what's interesting here is that actually people are buying these NFTs on OpenSea and I would be just buying the first Mona that I have noticed for the purpose of the lecture. And I will just demonstrate how it works. I will click on Buy. Now, I have some summary. I have reviewed this information and this is the correct collection. I will tap on Continue.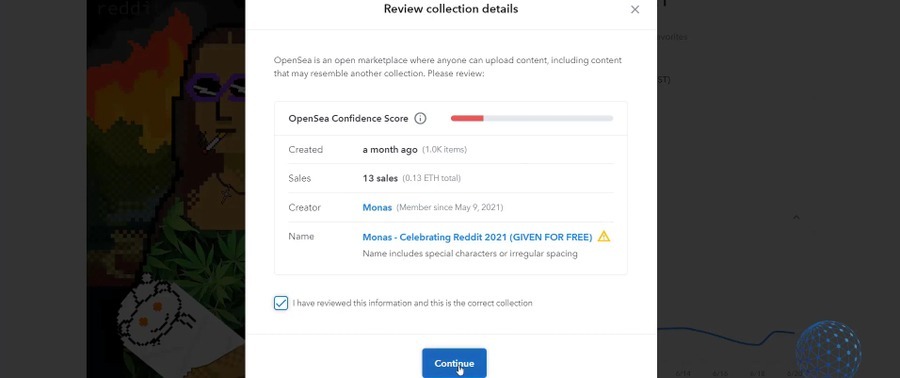 And then what I have, it's about $16.75 or 0.008 of Ethereum. I will just check out, and then I will click on Convert, which opens the MetaMask notification bar.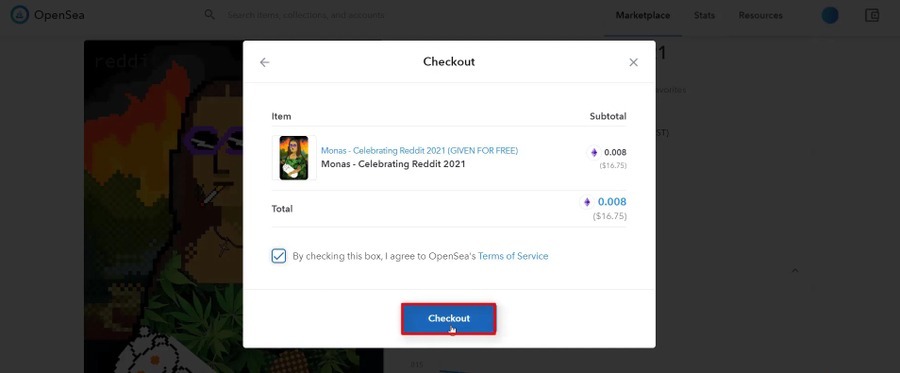 And you can see that I will be paying an OpenSea gas price of 0.001751 ETH, which is approximately $3.78. So this example gives you an idea of how much gas fee I will be paying for such an NFT.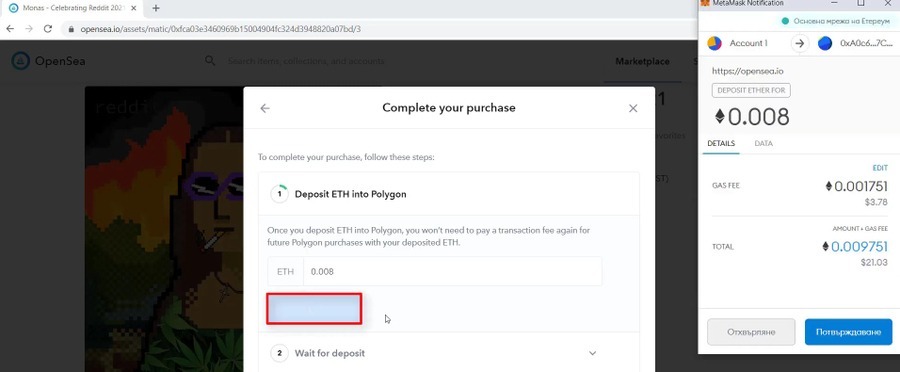 I will click on Confirm and then it will take a few seconds for the deposit to go through into Polygon. And then I will show you the next steps. So bear in mind that we always have guest fees, some people predict and there are some plans for updates on the Ethereum network that the guest fees will be removed.
Unlocking the currency
Personally, I'm a bit skeptical because of many reasons. If it happens, of course, it will be great. It will be very bad for the Monas because they will be getting less. But this is for the future, we don't know if this will happen or not. In a few minutes' time, I see the message that says 'Wait for deposit'.
Your deposit is pending and may take about 10 minutes. You may leave this page or keep this model open and check back later. So give it another 10 minutes. In a few minutes' time, I need to unlock currency or the message says 'Submit a transaction with your wallet to trade with this currency. This only needs to be done once.'
And I click on unlock and again I forward it to the MetaMask wallet and I will just sign it.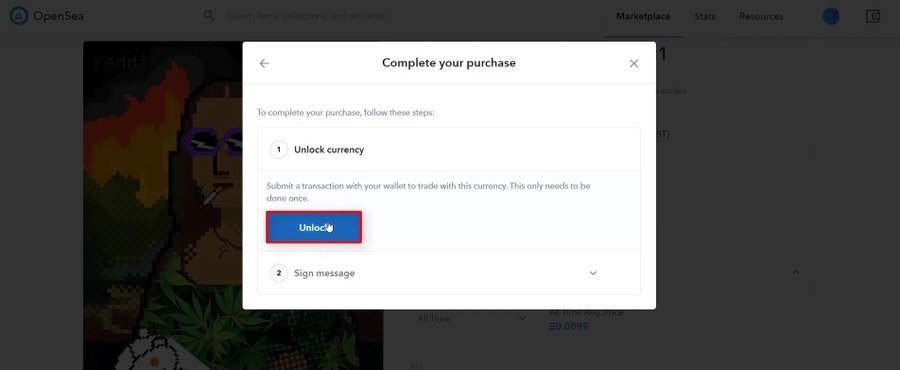 And it's loading, unlock currency transaction successful, and then sign message. Sign a message using your wallet to continue. I will click on sign again and one more time, I will just click on Sign, and here we go. It's processing.
Just follow the easy steps
It says, 'Woot! You just purchased Monas – Celebrating Reddit 2021. It's been confirmed on the blockchain.' And here is the Transaction Hash, and here we go.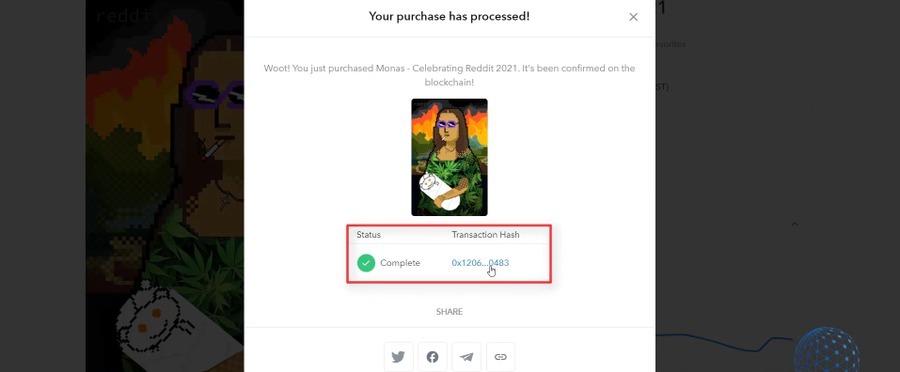 And now if I scroll lower in the trading history, here it is, from gsmo57 there was the transfer and the sale, for 0.008 Ethereum 2 minutes ago, to you or to me.

So the transfer is ready, if I click on my profile, it's still unnamed.
I have created it for the purpose of the lecture. So here it is, it is inside my wallet and I am already the owner of this quite interesting NFT. One more time, I have selected it quickly and bought this Mona to demonstrate how to buy NFT on OpenSea. Really easy by the way, you just follow the steps and here it is. The NFT is right into my wallet. I can give it another favorite. And pretty much that's all.
This is how you can buy easily NFT on OpenSea. And it is very similar on the other platforms.