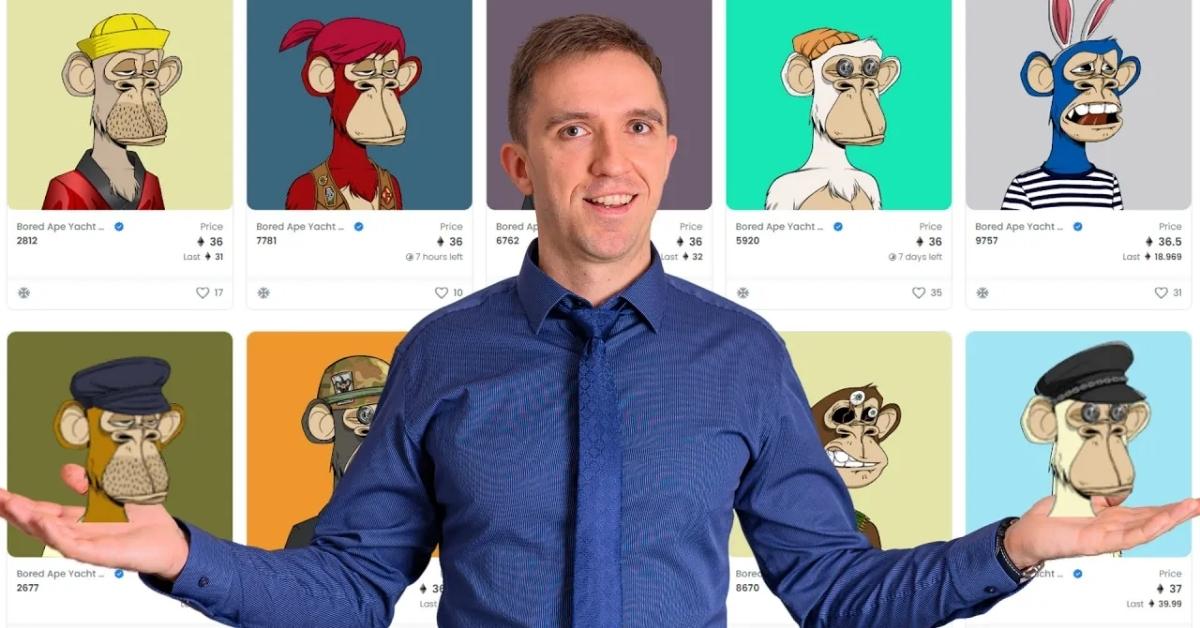 How to Create 10000 NFTs Collection
In today's lecture, I will share with you how to design and create 10000 NFTs with any program that you are comfortable with.
Recently I recorded a video where I shared the whole process, how to build up the idea of 10000 NFTs, how to design them, how to generate them with a ready-to-use code and how to upload on a platform like OpenSea.
I'm super happy that this video was useful, a lot of interest, a lot of likes, thank you for that. I promised that I will share in separate videos each of the steps so today I will share with you guys how I designed 10000 NFTs that are already on OpenSea.
I created this collection for educational and demonstrational purposes and of course for entertainment because the NFTs are so cool and you can really enjoy them when you are doing it.
And in the following lectures, I will share with you how to generate 10000 NFTs and as well how to upload them on OpenSea but with a super cool solution. Not the one you may have already seen on YouTube where we record the movement of the mouse. I'm not happy with that method so I found a really great solution but that I will show it in the following lectures.
How to design 10000 NFTs
Now if you're ready I will show you how to design 10000 NFTs. The 10000 NFTs that I have designed and generated and uploaded to OpenSea use this really really simple design that is suitable even if you are a complete beginner. I have selected the Shiba Inu puppy which is super popular nowadays in the crypto space because many became millionaires but others missed the chance.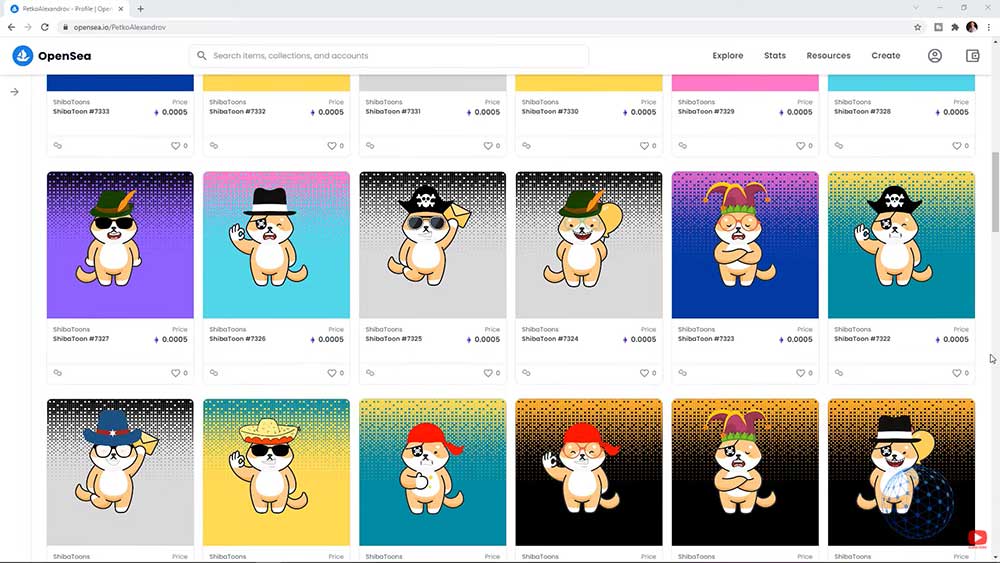 So one thing I've mentioned in the previous lecture and probably already know is that such NFTs as the Bored Ape Yacht Club or the Crypto Punks or many that you see in the rankings on OpenSea are built by layers. Usually, you will find 10000 unique NFTs but they are quite similar because of the layers.
You can see that with the Bored Ape Yacht Club. We have the body which in this case is the head of the monkey. Then we have the mouth – smiling, sad, showing teeth. Right there we have a smiling ape but you will see that we have these different impressions because we have different layers and by creating different layers and generating combinations between them we are actually getting those 10000 NFTs.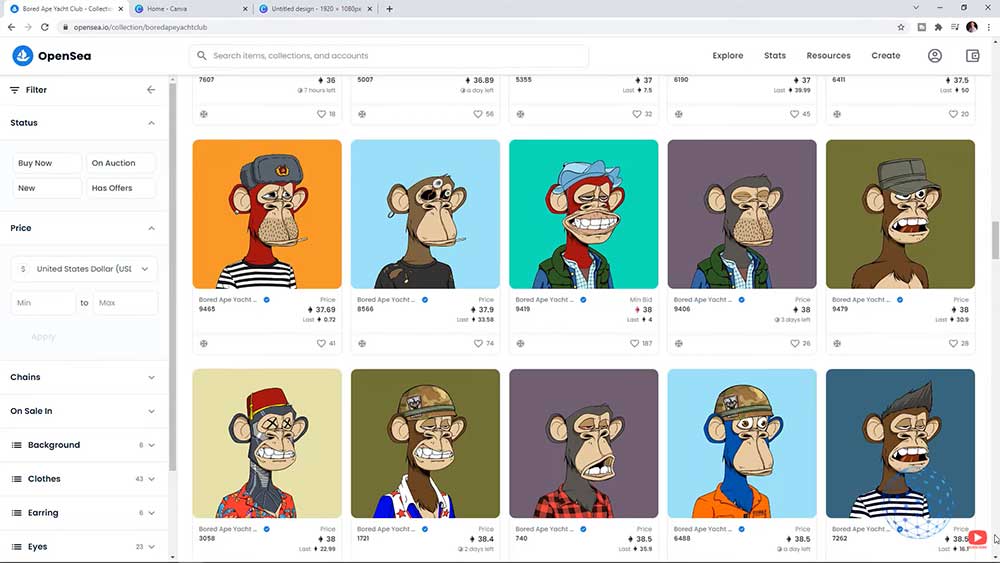 I'm sure there are some artists that are drawing all of them but this obviously will take a huge amount of time and I personally don't find it reasonable when we can do it automatically.
How to create the 10000 NFTs
You can use any program you want to design the NFTs. I have spent a few hours going from the basic My Paint to the more advanced Photoshop and in the end, I've decided to use Canva because I am familiar with it as I create my thumbnails for the YouTube videos and there are some ready stock images and elements that I'll be using when creating my NFTs.
The background layer
So the first layer I have created is the background and you can use your imagination here to put any color or combine different colors. For example, I selected to use two different colors and I use different combinations to make them in contrast or two colors to match each other so it will just look nice. Usually, I create 10 different layers for the background and for the other elements.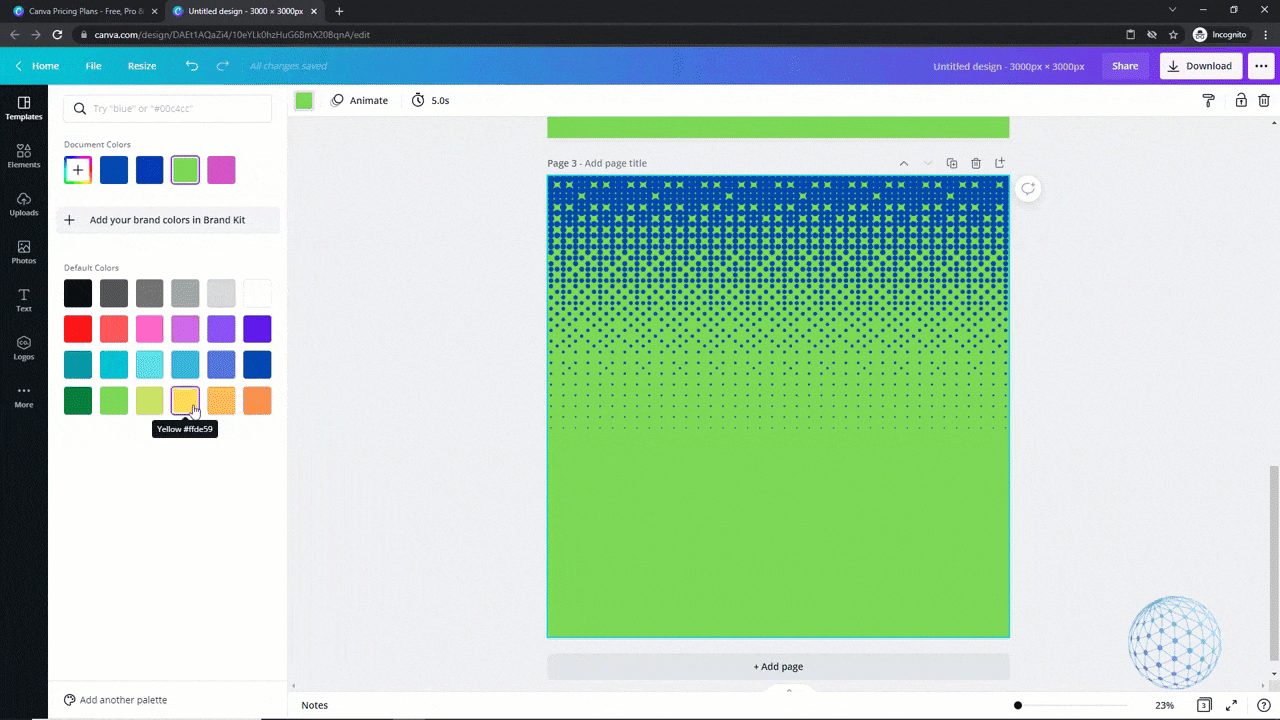 The body layer
The second element I have created is the body of the Shiba Inu puppy. This will be the main object or figure for our 10000 NFTs. It depends what your NFTs are about but in my case, it was a puppy because the Shiba Inu dog is quite popular and I found it interesting and relevant to the current crypto conditions to create such an NFT collection.
I have selected similar bodies but they are all different with different positions of the hands, the legs as well some of them hold envelope or balloon, could be anything as long as you download these layers with a transparent background, this is very important because after that you will place them one over another and they should be transparent.
The hat layer
The third layer I created was the hat and probably it would have been a good idea if I had a few hats to change right now but you will see how the NFTs look like so I have used around 10 different hat combinations. Always make sure they fit well to the body that you have selected and then all you need to do is remove the body and leave just the hat, download it as a transparent picture and it's a ready layer.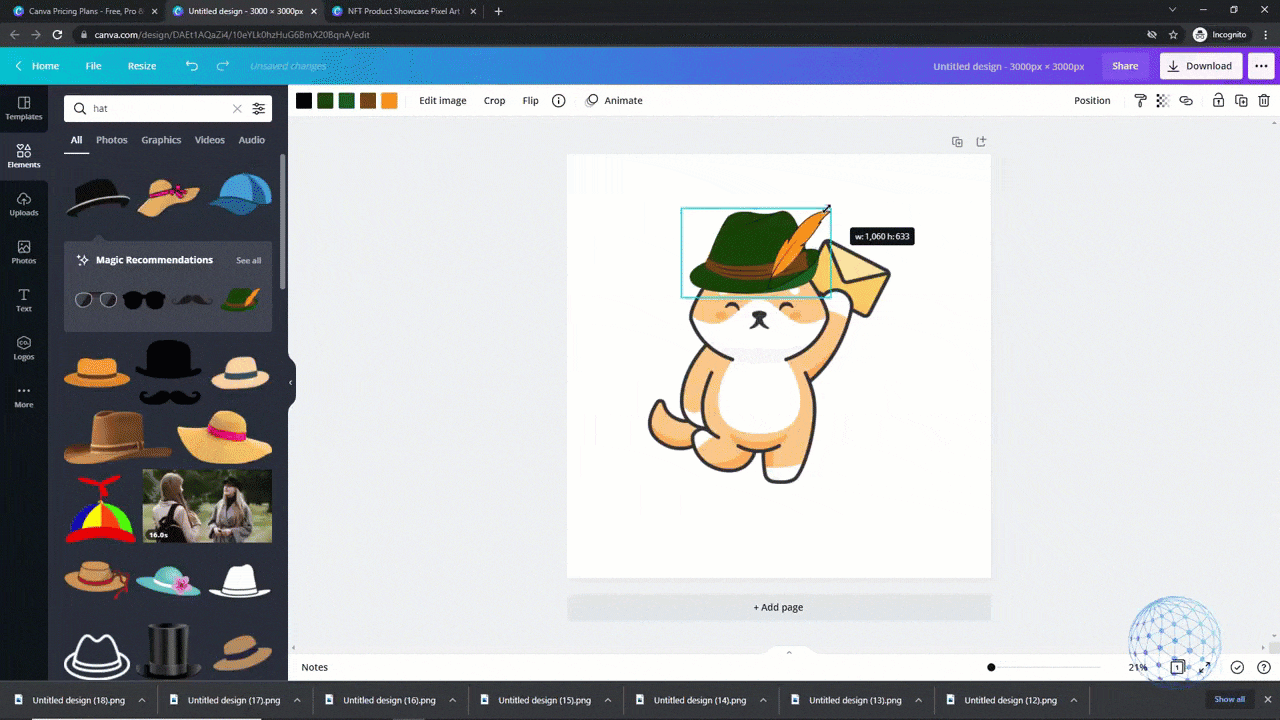 The mouth layer
The fourth element I selected to use is the mouth and the mouth gives you probably the biggest impression. It could be a smile, it could be sad, it could be just showing teeth, it could be a mouth with a cigarette. It could be anything that comes to your mind or what you can find over the internet or if you are actually designing and painting them by yourself that's even better so they will be really really unique and remember that with the NFT the more unique and rare they are the more precious they will be for your audience.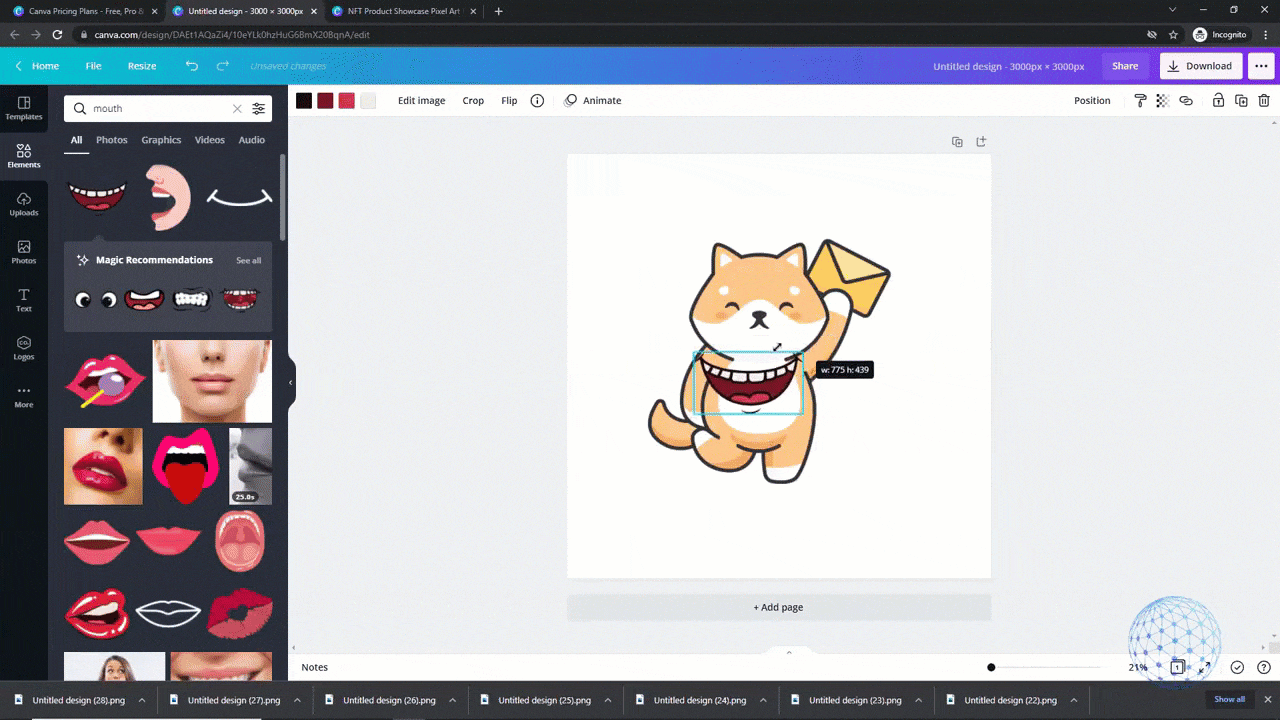 The glasses layer
The fifth layer that I have created is the glasses and again I have selected different glasses. I made sure they fit the body. I have removed the body, downloaded it as a transparent background. Pretty much I have downloaded the body, I had the mouth, the glasses and the hat, NFTs, and pretty much this is about the design.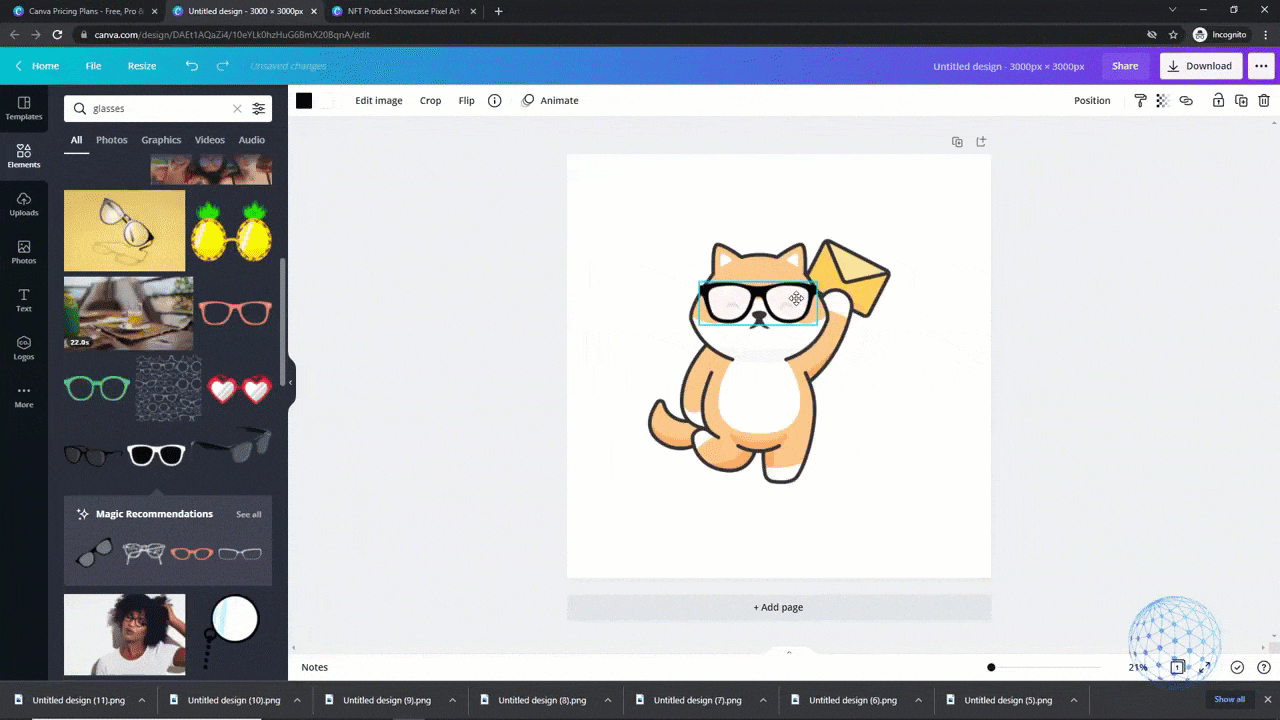 This is all you need to do when it comes to designing. After that, we can actually generate the unique 10000 NFTs with a ready-to-use code or with a program software but without programming skills.
And at the beginning, it might sound really complicated but it's not and in the following lectures I will show you how to generate those NFTs using the layers that I have created, and then I will show you how I uploaded them on OpenSea super easily with a code again and not using any mouse recording software or stuff like that which I really didn't enjoy when I found it first on YouTube.
If you want to get into the details of creating 10000 NFTs make sure to check out our NFT course. Thank you very much for reading and make sure to drop your questions in the comments below.