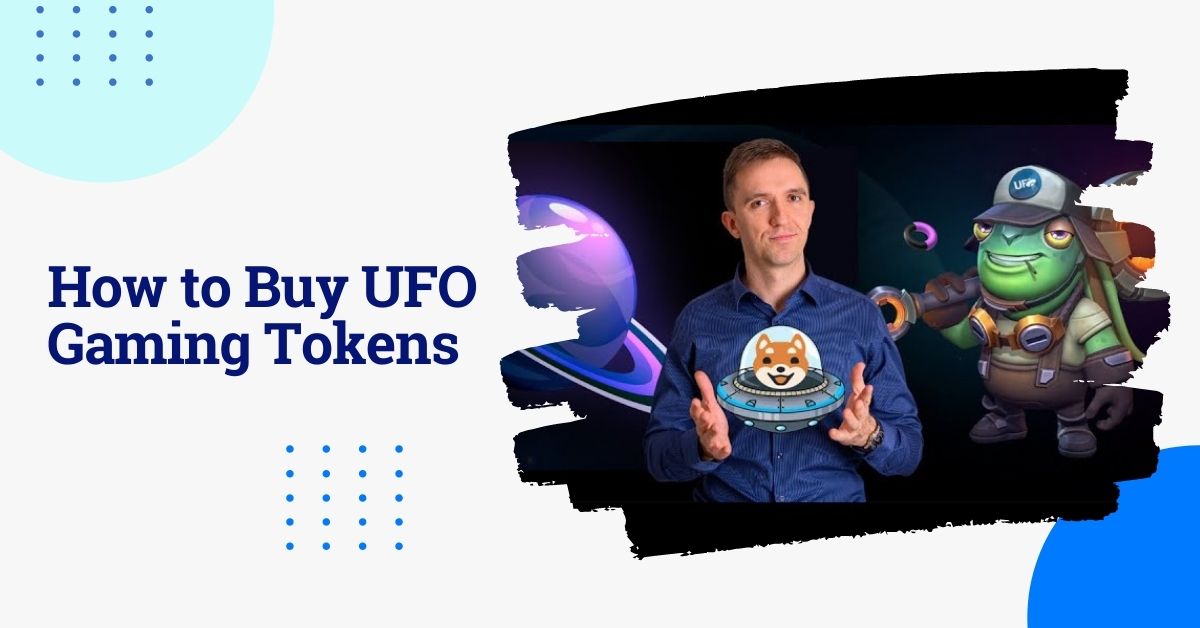 How to Buy UFO Gaming Tokens
In today's lecture, I will talk about the UFO Gaming token and I will show you how many UFO tokens to buy to become a millionaire. I will buy UFO tokens for $500 and I will tell you how far the UFO token needs to go in order to become a USD millionaire, as well I will share with you how to buy UFO tokens if you decide to invest in the game. Before I start, I'd like to say, that I'm not sponsored by the game or the company behind it.
What is UFO Gaming token
Let's visit CoinGecko.com and if I click on NFT and I go to NFT Related Coins you will notice that among the popular ones the UFO Gaming is getting closer to the top 10 NFT coins, currently at spot #111 and you can notice the current price in December 2021 of $0.00004648.
In last 24 hours UFO coin gained 15% and in the last 7 days almost a100%. It's impossible to not notice this UFO Gaming token. This is how I recently recognized GALA, Sandbox (SAND), and as well the Enjin coin (ENJ) and I have invested in those. UFO Gaming token is another promising NFT token that I'm focusing on.
Every time I buy a token I announce it on my Patreon page. Make sure to check the link and you will get notified whenever I buy or sell something such as an NFT token and at the same time, you will get access to my Cryptocurrency Portfolio spreadsheet which is super useful if you want to track all of your investments.
The UFO Gaming token is getting more and more popular because of its low price and constant growth. You can see that in the last 7 days if you compare it with the others, just the Sandbox is quite similar but it's steadily growing.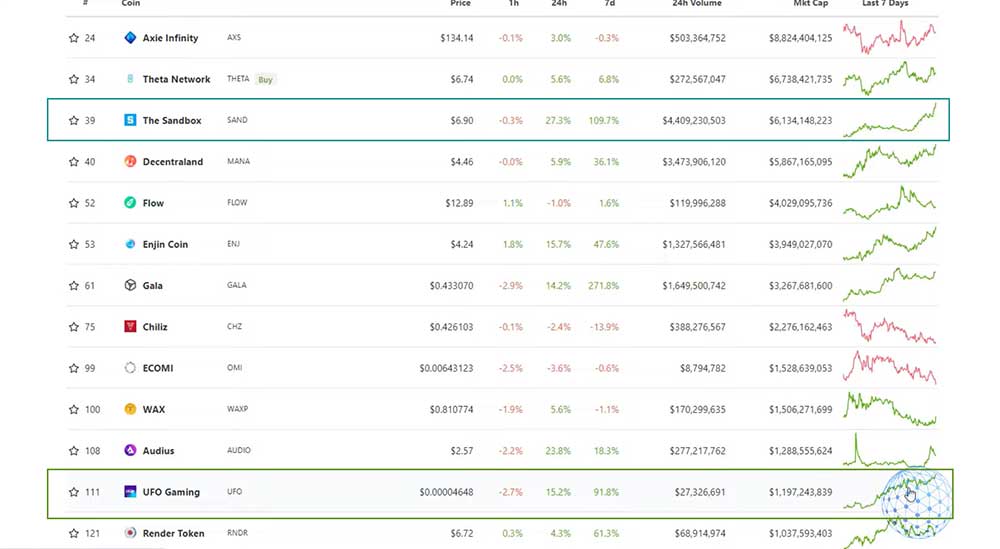 This is the coins we want to invest in, not the ones that have a peak and then they decrease and then another peak and decrease. I am looking at those stable growing coins and at the same time, the UFO Gaming token is super cheap $0.00046. So I will share with you straight away how many UFO Gaming tokens to buy to become a millionaire.
The current price is $0.000046, so if I buy 10 million UFO tokens I will spend just $460. And if the price reaches just 10 cents and I will have 1 million American dollars.
How to buy UFO tokens
So how to buy UFO tokens? I will click on the UFO coin itself it's a lot of information right here you can see the charts steadily growing in the last 90 days you can see how the price went upwards and it keeps on going so definitely I want to "join the train" as we used to say in the old days.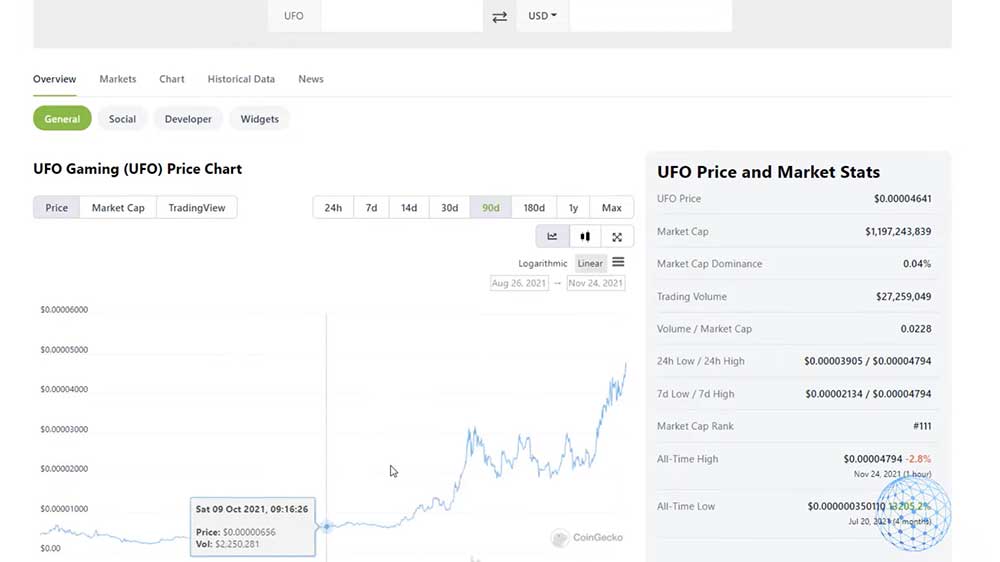 On CoinGecko you can see a lot of information – circulating supply, the total supply, and etc. So all the tokens are already in the supply and if you are investing into UFO Gaming tokens I would suggest you to join their social media so you can follow along.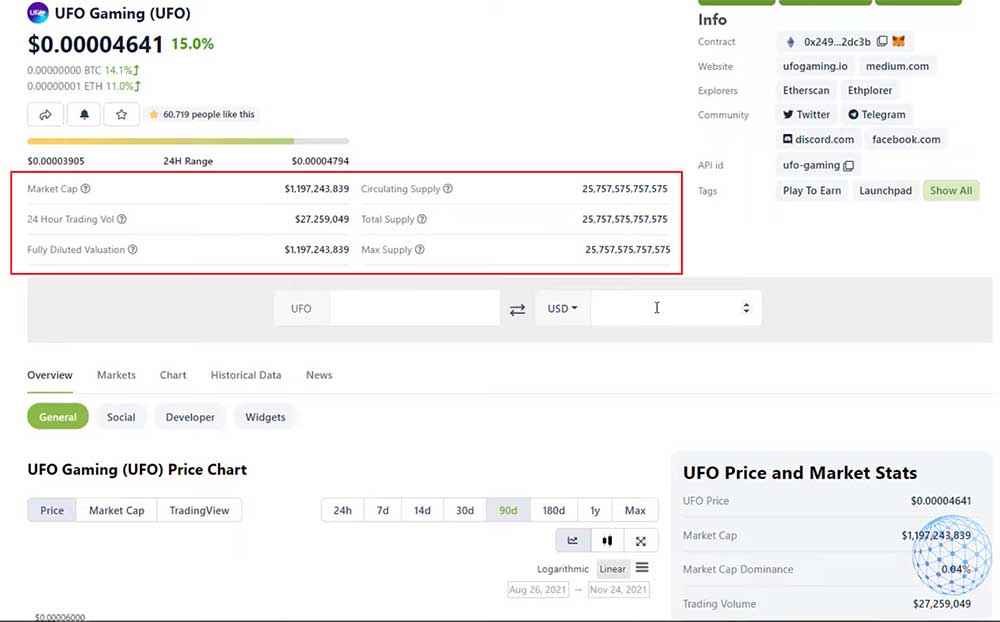 From where to buy UFO coins
But what's interesting to notice is that below we have the UFO Gaming Markets and CoinGecko tells you where you can buy UFO. Now I have USDT, so I'll select any of the exchanges where I can trade UFO token against USDT.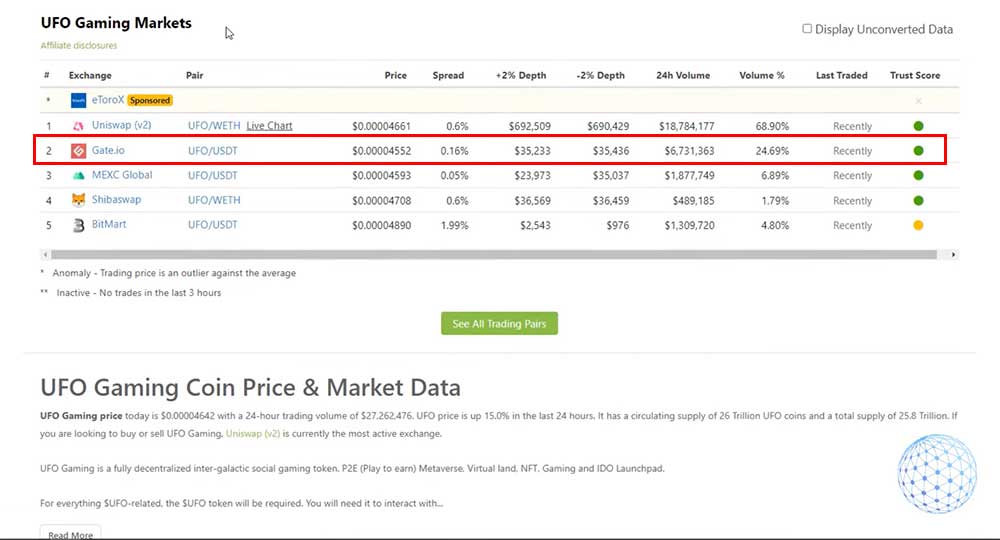 For the newbies USDT is a stable coin that equals to $1. So Gate.io as a decent crypto exchange. I will click on it and keep in mind that if you click on start trading on Gate.io you will use an affiliate link from CoinGecko. I don't mind using that, I use the website all the time. I'm not promoting it again but now I will show you how to buy UFO Gaming tokens.
I need to create an account at the Gate.io, I will need to fund it with some USDT, and then I will purchase the UFO token. So let's go for it.
I will sign up first. To be able to proceed I will need to complete the KYC registration and to enable one-time password. So if you're signing up for first time I'll strongly suggest you to go through all of the KYC verification, ID, and all the things they request from you because this is how usually the people get their accounts blocked and they complain that they were scammed but actually they missed to go through the verification process.
How to transfer USDT and trade UFO tokens
After you are ready make sure you click on Markets, and here we will look for UFOUSDT to see what the current price is. We will need to spend $455 or USDT if we wanna buy 10 million UFO tokens. One more time if the price reaches just 10 cents I will have 1 million dollars, it's kind of worth it to give it a try right.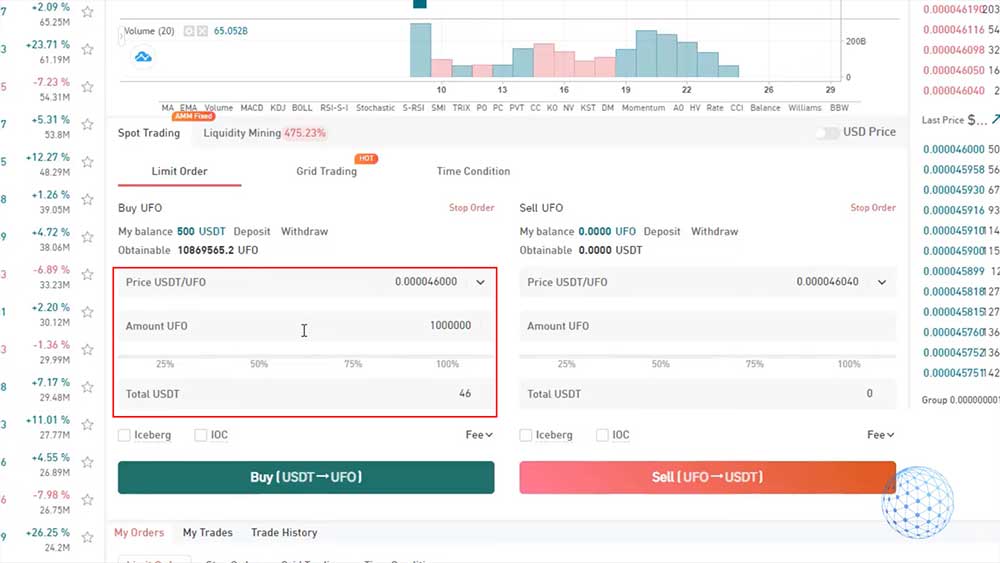 So pretty cool thing with the Gate.io is that you can see chart from Trading View and even I'm a paid user on Trading View I'm paying the membership there, the UFO is still not available so it is great that they have integrated Trading View right here. So first things
first, I will go to Wallet and I will need to deposit okay I will need to deposit some USDT
so I will be able actually to buy the UFO.
Now I will open my Binance app and if I go to Wallets you will see that I have some USDT here, 3597. So I said I will need about 500 USDT. This is how much I'm about to send to Gate.io. So now I will need to withdraw, okay and I will scan the QR code. I'm doing it right at the moment guys. Here it is it was scanned. However, I always confirm the first few letters and the last few. At right the network is Tron or TRC20, I will confirm and I will
select amount of 500 and you will see that I will receive 499 so if you want to receive 500 you just need to send 501 and you will see that I will receive an amount of 500 USDT.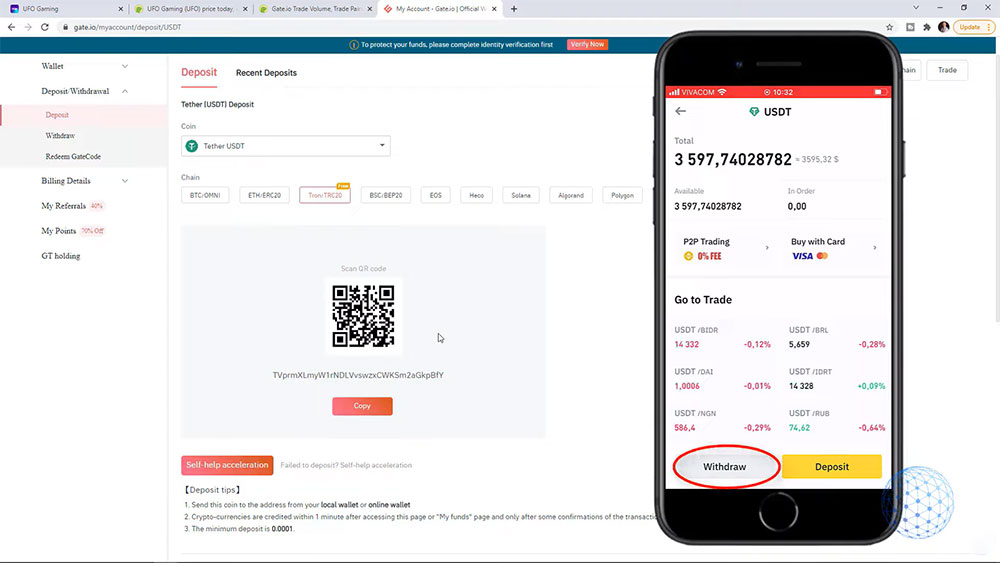 So I will just withdraw it one more time I confirm the address that I have, it's on the Tron TRC20 network. It's from my Spot Wallet amount and now I will need to do the verification and here we go, the withdrawal request was submitted and it should take about a minute so we'll continue the lecture just in a second. And exactly in a minute, I got the 500 USDT.
Now I can go to trade Spot Trading and here I will look for the UFO coin against the USD or against USDT. Here it is and I see the chart but below you can find the Spot Trading where we have the current price. So let's say I will spend $46 at the current price I will have a million UFO tokens, I will be a millionaire in UFO tokens. You have to keep in mind that the UFO gaming token has a huge circulating supply and a total supply and all the tokens are already into circulation, so the chance to become a USDT millionaire by having 1 million UFO tokens is really small because it will need to reach to $1 as a value and having such a supply makes it nearly impossible.
So I want to increase my chance of becoming USDT millionaire so I will spend $460 or I will actually spend the whole amount and you can see that for 500 USDT, I can have 10,800,000+ UFO Gaming coins.
So it's really a personal choice how much you want to spend but if you ask the question how many UFO tokens to become a millionaire, USDT millionaire, you better have a bigger quantity obviously. Now below we have a few options one is to hide the quantity, the other is to have the order immediate or closed and we can see the fee as well, which is fixed to 0.3%. I'll just leave it the way it is and I will click on the buy button. And once you do that, don't worry, it's not the final touch. You will still have to confirm the order before the trade is executed and you will have to put your phone password.
Alright, so now if I go to Wallet and I click on Spot Accounts, you will see that I succeeded to buy. recording the video explaining the orders the price increased a little bit as well I had to pay some fees obviously but I succeeded to buy for the whole amount of $500 left with 73 cents. So let's see if the UFO Gaming token will make me a millionaire.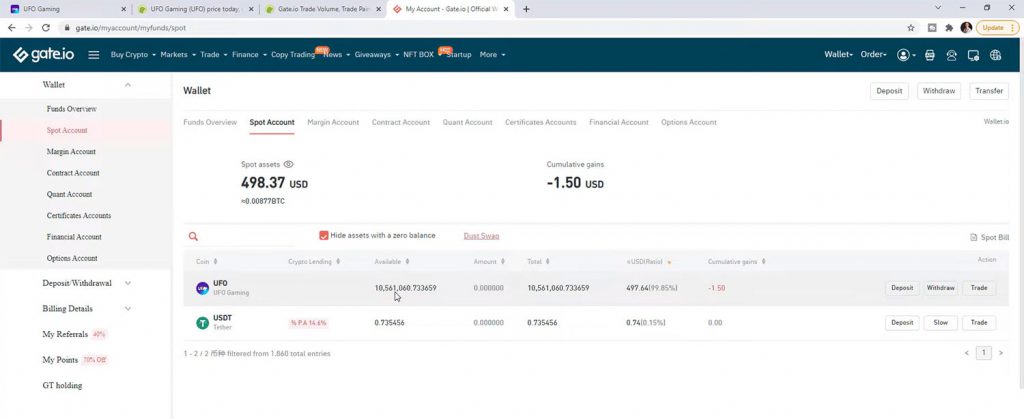 I'm quite realistic as I have a huge experience in trading. I know that the chance is really small because of the huge supply for the token but if they decide to burn some if the game becomes more and more popular the demand will increase. It's nice to have one more time I'm saying the Trading View chart over here so you can follow the price
in details. Another place you can follow it is on CoinGecko where we have all the statistics, all time high, lows. 7 days, 24 hours, low, high and you can keep an eye on the UFO Gaming token. I'm not recommending Gate.io, there are more exchanges from where you can buy but one more time always make sure to verify your account and go through all of that KYC so you will be able to withdraw the profits at one moment.
Chances for the price to reach $0.10
Okay guys so quite challenging. I will see now how far the UFO Gaming token will reach. I wanted to show you how to buy the UFO Gaming token and as well how many UFO coins you need to become a millionaire if you decide to take that challenge. Personally, I bought 10 million because for me it is more realistic that the price will reach the 10 cent instead of the $1 but actually you can see that many of the NFT tokens are already way above the $1.
Of course, they have a lower circulating supply which makes the token more precious but the UFO Gaming is just pushing it higher and I think it is worth it to risk those $500 to see how much that NFT token will bring me as profit.
Thank you guys for reading, I really hope you have found the lecture useful, if you did, make share your appreciation in the comments below. I will see you in the next lecture.