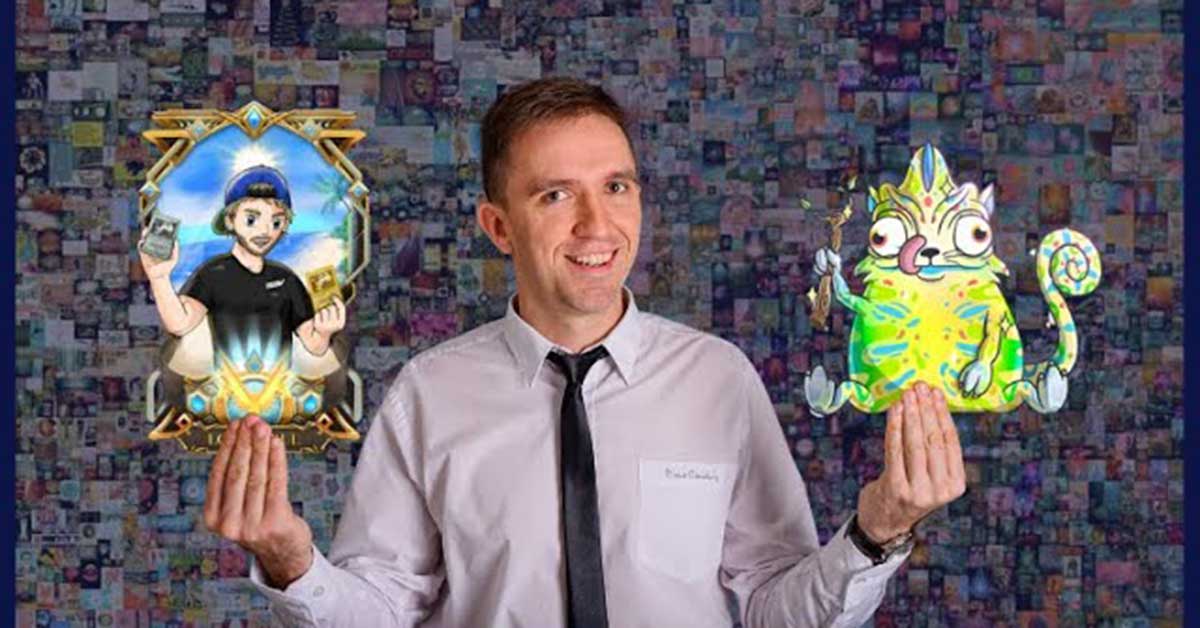 How to Buy a Valuable NFT Art
In this lecture, I will be talking about buying NFTs. And as you already saw, it's a huge market and if you're new to this and you jump from platform to platform, you might get frustrated and have a hard time selecting your first NFTs.
So now I'll be giving you some tips on how you should be selecting your NFTs and why it's important to look at popular artists.
How to Choose an NFT Art
So I'm on the Rarible right now and you can see the top sellers on the front page. And this is the reason, these are the sellers that have sold the most NFTs for 1 day in value.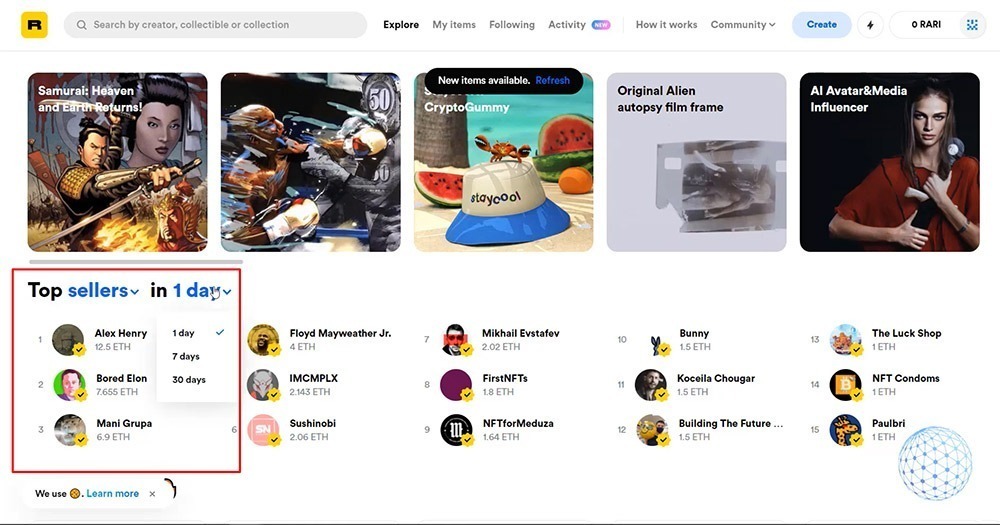 For example, Alex Henry has sold NFTs for 12.5 Ethereums in 1 day. Now, if I switch to 7 days, you will see that Alex Henry has sold NFTs for 16.83.
So for 1 day, he sold for 12, which means that the last 24 hours were great for him. And in the past 1 week, he has sold NFT for 4.3. And if I switch to 30 days, let's see if Alex Henry is in here. No, he's not.
Why buy NFT from the top sellers
So this is the first step I want to give you. If you are choosing your artist by this filter, you want to buy NFT from one of the top sellers, make sure to switch through the different time periods. Because it might happen that some of the guys had a great day and sold an NFT for a lot of money.
But it could be just luck or it could be speculation as well. So it could be an artist that listed an NFT on the high price, bought it from a different wallet just to get on the first page. So make sure to switch through the different time periods.
For example, if I look at Mani Grupa, you will see that if I switch to 7 days, it is still here with 21.4 and if I switch to 30 days, you will see it's still in here with 92.4.

So this gives me an idea that this artist is selling NFTs constantly in the last 30 days, in the last 7 days and in the last 24 hours. If I scroll below, you will see some of his art.
Look for unique NFT tokens to buy
The next thing I want you to pay attention to is the number of pieces. So, for example, this Gold Mani Token starts from 2.7 Ethereum, and this is 12 out of 25. As well, the Exclusive Mani Token is 21 of 25.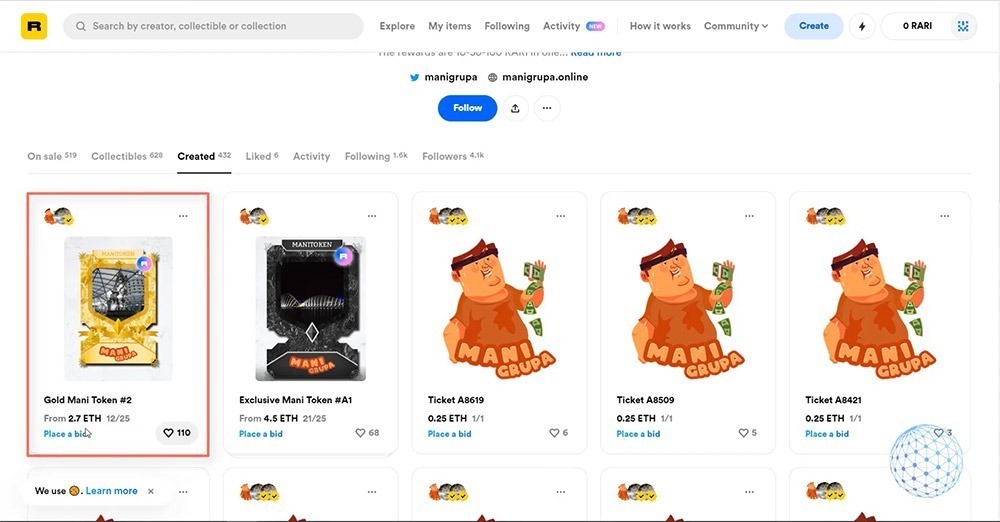 Now, some artists prefer to create many additions for their NFTs while others create unique NFTs.
If I click on Bunny, which is another NFT artist, you will see that this artist creates a bigger number of NFTs in one edition. For example, this is 91 of 100. And then we have 89 of 100 or 417 out of 420.

If I click on "Bunny POP SMOKING THE DIP" for example, you will see that it costs 0.1 RARI or this is about $117 for 5 editions. And RARI is the token for the Rarible platform.
Going back to the first page, I will click on Alex Henry and you will see that his NFTs are 1 out of 1, which means that he is creating unique NFTs. And personally, I think unique NFTs have more value.

So my second tip before you buy an NFT is to look at how many additions the NFT has or if you're looking for unique NFTs, because this is what NFTs are, they are non-fungible tokens.
You should be looking for artists like Alex Henry. I am not promoting him, I don't know the guy. But I know that he is creating unique NFTs that are 1 out of 1 and if you buy one, it will be super unique. No one else will have it.
Now, it's another question if you will be able to sell this NFT. But this is what I will be talking about in another lecture about creating and selling NFT art.
Look for artists that you actually know
And my third tip when selecting the artist is to be someone that you actually know. Let's look at the top-selling NFT creators in 2021, or we can say that this is for the first quarter of 2021.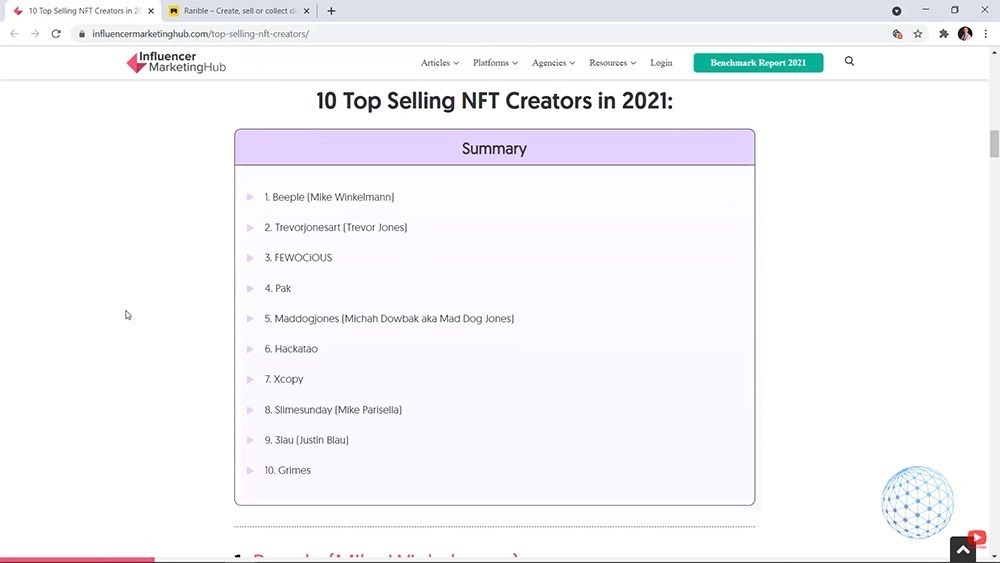 Obviously, number 1 is Beeple. You can see that he had sold 845 artworks for over $100 million. Obviously, $70 million came from 'The First 5000 Days' NFT. But you can see that he keeps on selling. So he's not someone that created a one-time NFT and is now taking a break on Hawaii.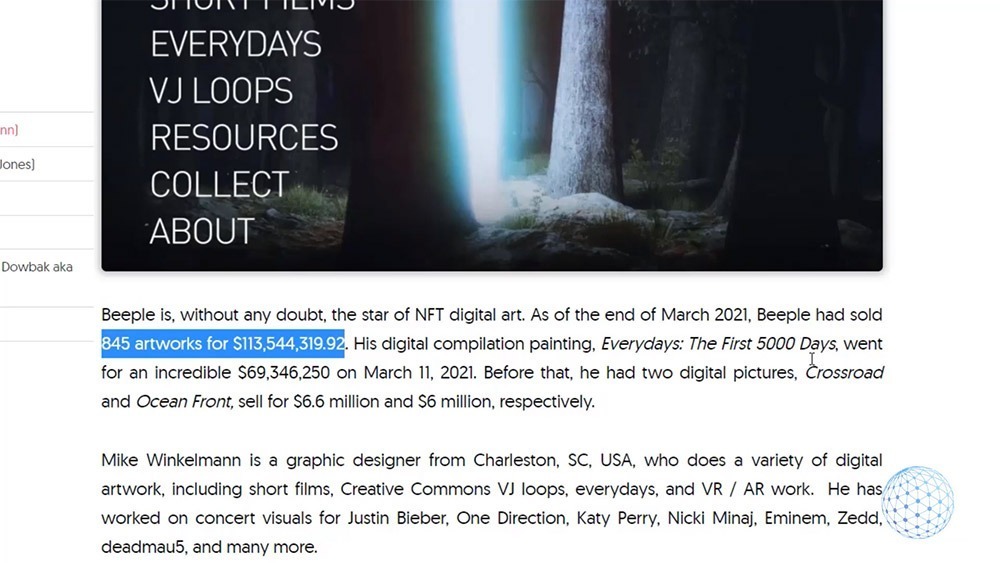 Actually, he could be. But my point of view is that he is the artist who sold this NFT art for a record price and he keeps on creating new NFTs and selling them. And obviously, his name is already quite popular.
Then we have Trevor Jones, who has sold NFTs for over $18 million. But you can have a look at the number, 5,284 artworks. Much bigger number compared to what Beeple did with 845 and he got less in revenue. Still obviously awesome revenue.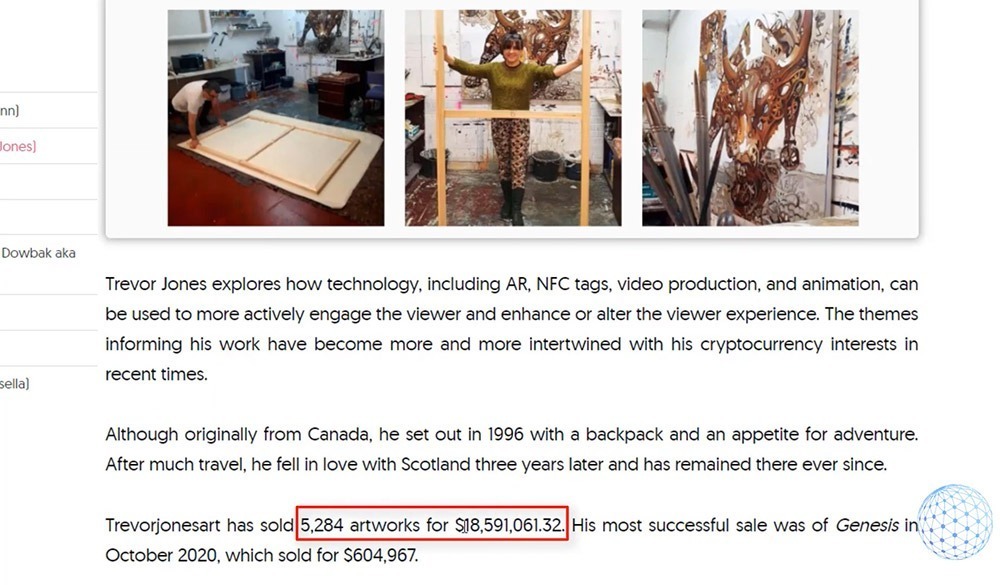 Then we have the 18-year-old crypto art surrealist Fewocious. And he made over $370,000 from an NFT drop on their birthday this year. Or in total over $18 million as well.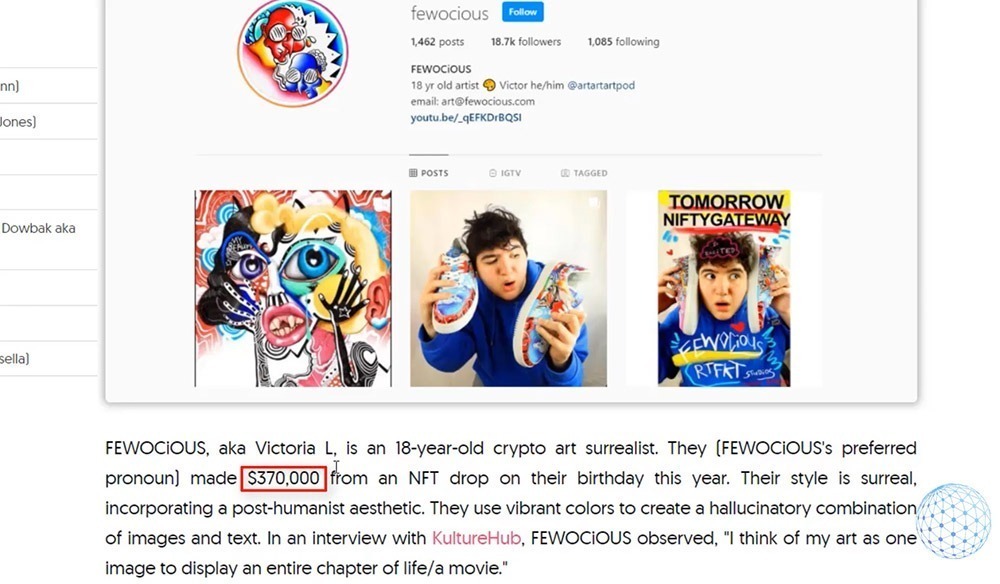 Then we have the Pak with over $16 million with over 1,681 pieces of art. And the list goes on.
But what I want you to take out from this lecture is that there are already popular artists. And you might know these guys from social media, you might know them from blog articles like that one, or you might know them from the different NFT platforms.
But it's a fact that when popular artists list new NFTs, they have much more value compared to the NFTs that come from newbie sellers. And some might say it's not fair for the new guys, but it is what it is.
When you are a new YouTuber you really have to work hard until you get subscribers, so you will have more views on your videos.
It's the very same thing here. You need to become popular. If you want to become popular, you need to work hard. You need to create something unique. You need to stand in front of the crowd.
And if we are looking from the bank perspective, as someone who wants to buy an NFT, definitely looking into the popular sellers or the popular creators is the thing you need to consider.
How to find valuable NFT tokens to buy
Now, I will share with you what I am looking at when I want to buy NFT, because honestly, it's hard, especially if you want to buy NFT in order to resell it later. It's really hard to estimate if you will be able to resell this NFT on a profit or not.
So on OpenSea if I click on any of the NFTs randomly, I am picking randomly this CryptoModel. We see that this CryptoModel is on sale and I can buy it for 0.0259, but it's a new one.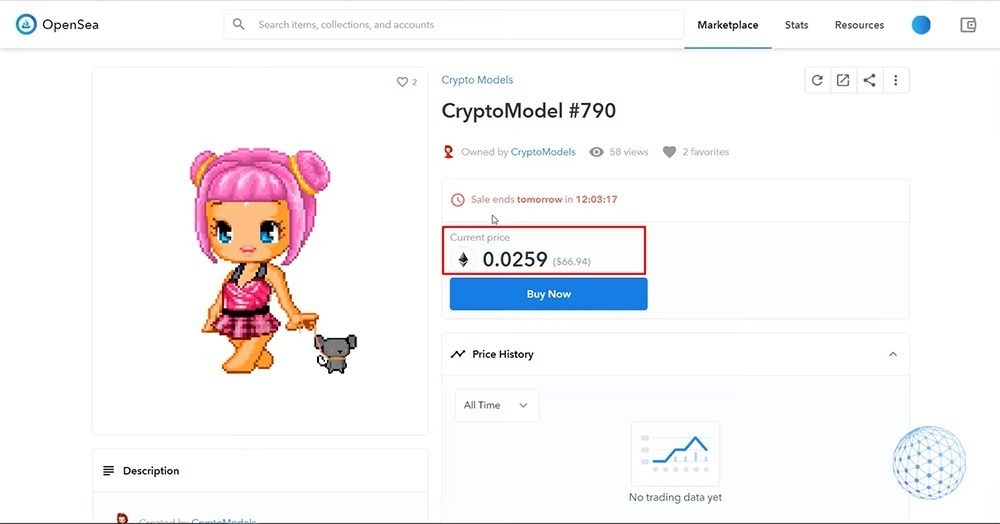 It's a new one, there is no history and it was just created. So I really don't know if I'll be able to resell it at a profit. Maybe not because I don't have any data.
So when you're looking to buy NFT tokens you want to see some data for that NFT.
So for example, if I click on the CryptoPunks collection, which we said are quite popular, you'll see that some are on sale, others not, but one says Last 40 Ethereum. CryptoPunk number 486. Let me click on it and you will see something interesting here.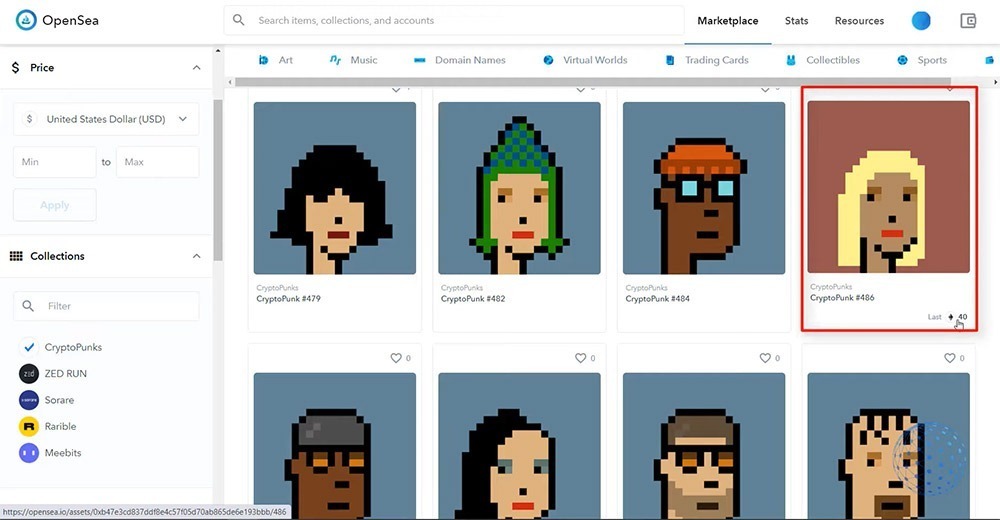 There is an increase in the price. So this is January 29, 2021. Then we have a sale on the 14th of February, then on the 24th of February.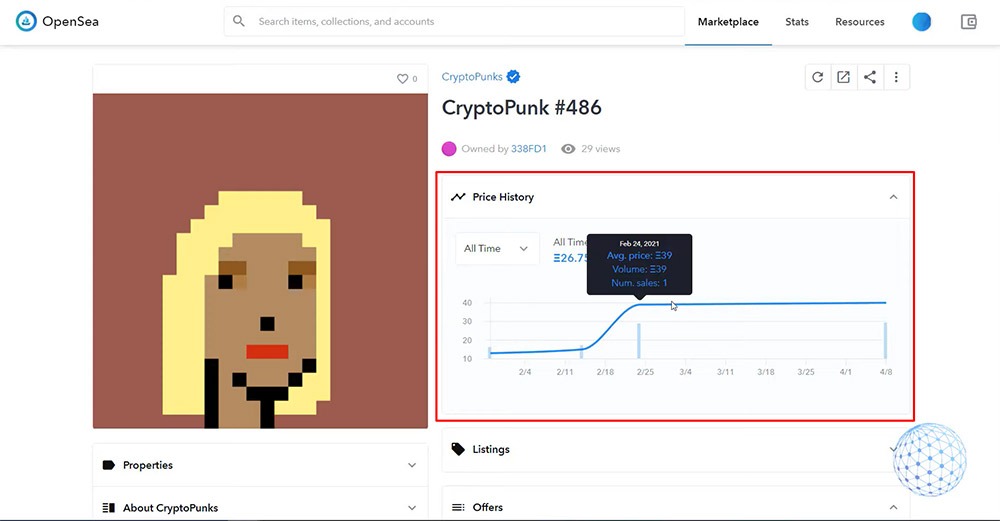 And below in the Trading History, what you can notice is that the price increased. The first sale was for 13 Ethereums, then for 15 and then for 39 and then for 40. And you see that all of these are different owners.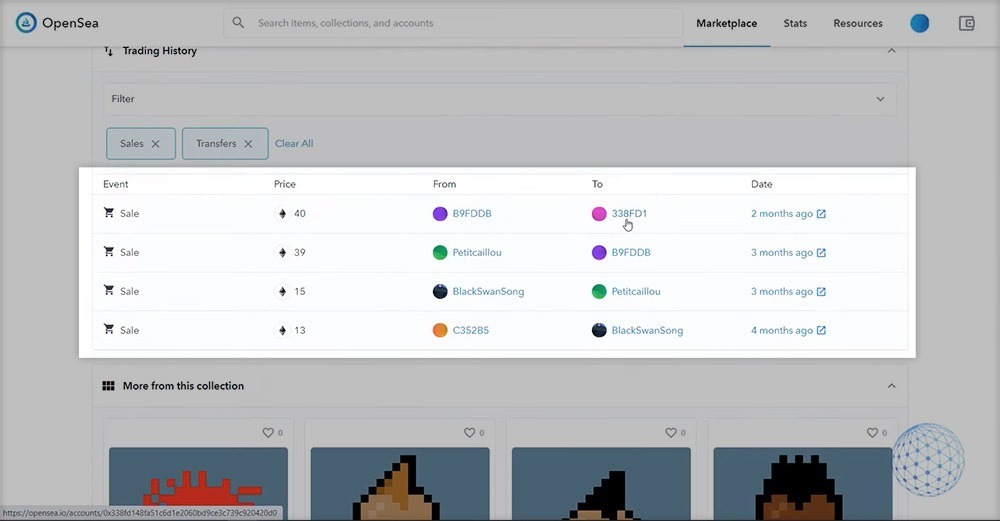 So simply said, this shows me that there is an interest in that specific NFT token for some reason.
One person sold it to another one, then the BlackSwanSong sold it to Petitcaillou. Then this guy sold it to the B9FDDB and then this guy sold it to the other one and the price increased from 13 up to 40 Ethereums. And this is just in 2 months and I'll bet. So this is the next important thing I want to see.
Now 2 concerns here, one is that the price jumped significantly from 15 to 39, which says to me that probably it is too late to buy this NFT. And the second thing is that nobody has bought this NFT for 2 months now.
So one more time, when I'm choosing an NFT, I want to see an increase in the price, which means that I have a higher probability of reselling it at a more expensive price.
But ideally, I'm looking to buy NFT tokens that increase in price consistently, and at the same time, this increment in value happened recently.
If it's in the last few days, awesome. If it's in the last few weeks, it's OK. But 2-3 months ago, not really.
So if I look for some other CryptoPunks, I will just pick any randomly. Let me go back to one, which is a little bit cheaper compared to the rest. I will click on it and you will see that we have a steady increment in the price. But this is because probably we had just 2 sells.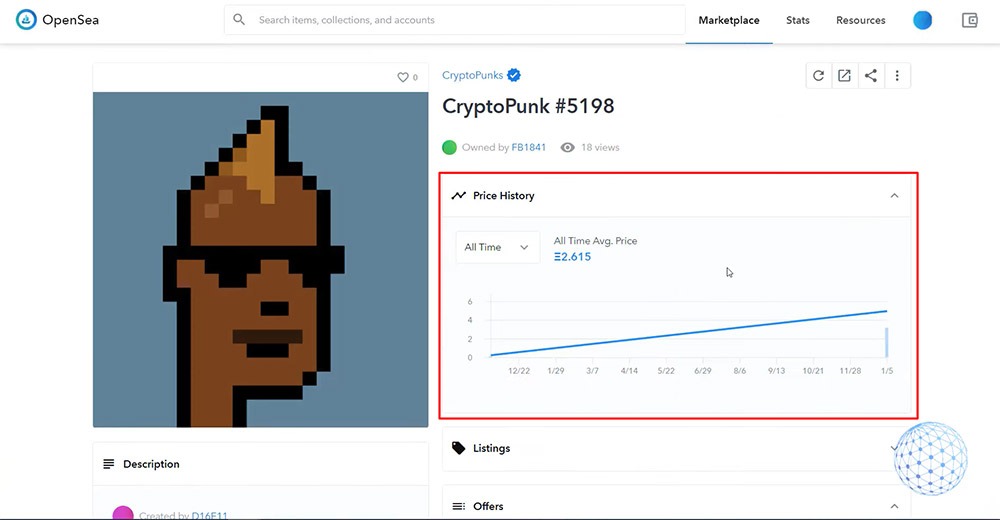 So the first one was at 0.25 on the 23rd of November 2019 and then 2021 on January the 5th.
So let me click on another one and let's see what data it shows.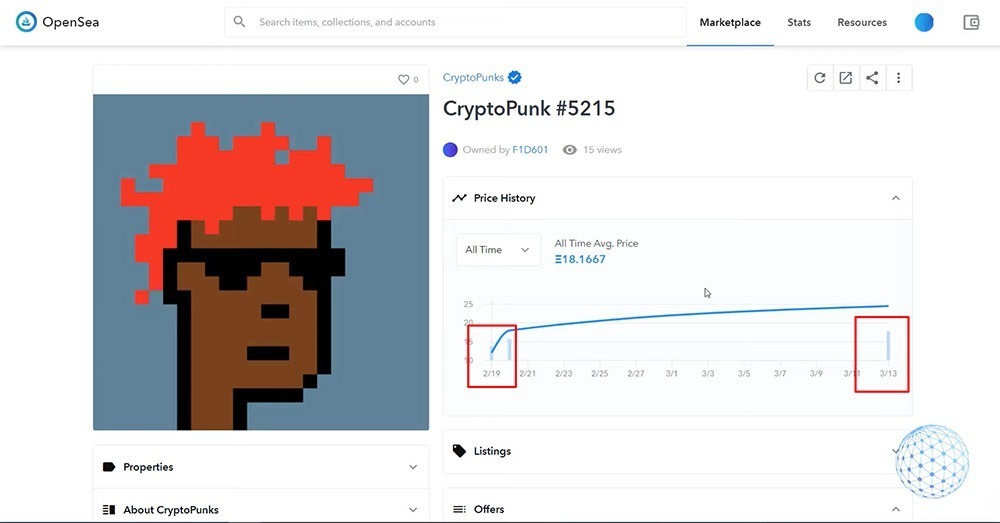 It shows 'All Time Average Price', but if there were 2-3 transactions only, not really an average price. Exactly 3. But you can see 12, 18, 24. 5, 3 months, 2 months ago.
So pretty similar, just the price increased a little bit more steadily. But again, there is a huge period when nobody wanted to buy this NFT token.
Choose a nice NFT that was interesting for the people
So this is the risk that you are always taking when purchasing NFTs. You might choose a nice NFT that was interesting for the people. The price was increasing, but it could happen that nobody will buy your NFT for a few months, even years.
So 3 things I'm looking for:
NFTs that were bought and sold a few times, at least 3. If I could be the 4th or the 5th person, that would be best and ideally.
I'm looking for steady growth in the price.
And at the same time, I want to see the NFT selling in the last few days or weeks and not months.
So this is what I'm looking for when purchasing NFTs, this is my personal experience. And if you have some other criteria, I'll be happy to know it. But when an asset is unique, it is non-fungible.
It is really a hard task selecting the NFT you want to buy because the data that we see from the platforms allows us to see if this NFT was sold a few times, what was the price.
Unfortunately, it's not data similar to what we see with the regular cryptocurrencies, Bitcoin, Ethereum. So right here you see one that actually decreased in value. So such an NFT won't work for me and it doesn't necessarily mean that it will further decrease.
But it's not only me who sees the stats, it's everyone else. And if the next person sells it for 15, everyone else will know that this NFT actually loses its value instead of increasing it.
Thank you for reading this lecture and I will see you in the next one with more tips about creating, selling and buying NFTs.