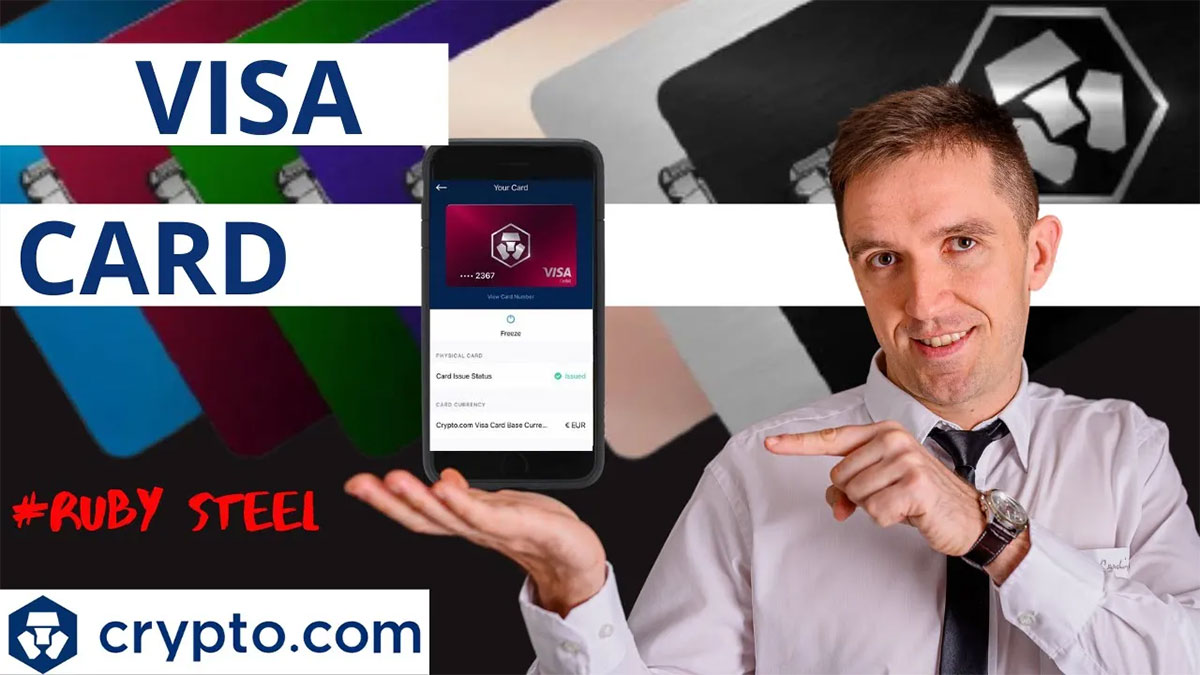 Crypto.com Visa Card Review
Crypto.com Visa Card
Today I'll be talking about the metal Visa card from Crypto.com and actually, it is really metal which surprised me. However, that doesn't really matter. What matters are the benefits that we get from using such card. And actually, the best thing for me is the cashback. So every time I make a purchase with the Crypto.com Visa card I get cashback.
My Crypto.com Visa card has recently arrived and I'm already using it. So in this lecture, I'll be showing you what are the benefits, I will show you how you can top up or fund money into your card and I'll be unpacking it. And all of that I will do just in a second.
The Crypto.com Visa card arrived in a relatively nice package, to be honest with you. Inside I had a letter from the co-founder and CEO, Chris. But what I liked the most was the pack where the card was. It's very nice. Not like how we get the cards usually from the banks. Anyway, that's not important.
The Crypto.com Visa card cashback
So now what are the benefits of using such a card? I guess that's the most important thing in this lecture, so you can easily decide if you wish to have a Crypto.com Visa card or not. Now, I have opened here the Crypto.com app and I will show you where is the Visa card, it's right over there in the bottom right corner.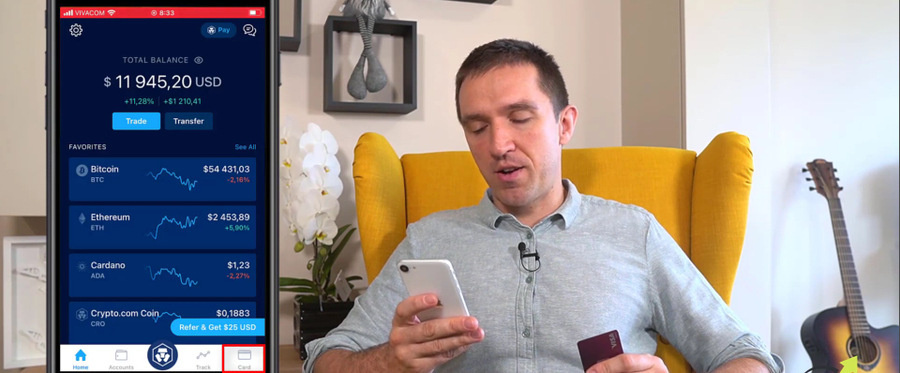 I have available nearly €1,000 and then below I can see all the transactions I did yesterday. And I see most of them in the local currency which is Bulgarian Levs.
So for all of these payments that I did on POS terminals, I got cashback. And with the Ruby Visa card, the one I have at the moment, we get 2% cashback.
So for every $1,000 or €1,000 I spend, I'm getting back €20 in CRO coins. One more time, I'm getting them in CRO coins, not in Fiat currency. I'm spending Fiat currency but I'm getting back the cashback in CRO coins which is the native token on Crypto.com.
And if I go back to Accounts now, and I tap on Crypto Wallet, and I tap on Crypto.com, CRO, and I scroll. You will see that for all the transactions from yesterday I got CROs. And I had one payment of nearly €1,000, actually, it was about exactly €1,000, I have received 118 CRO coins.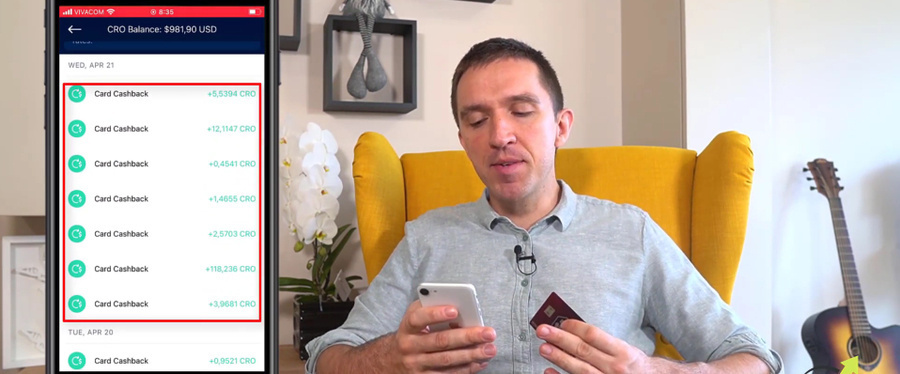 Best way to use the Crypto.com Visa card
So it depends on how much the CRO coin currently is and simply I'll be getting 2% of the amount I have spent converted into CRO coins.
So the best-case scenario obviously is to use the card for a long time when the CRO coin is still cheap. Then when the CRO coin rises in value, we will be having a lot of CRO coins into the account and make more money.
However, we don't know if this will happen for certainty but I am spending this money anyway. So why not getting cashback in cryptocurrencies? I love the idea, I think many people love the idea as well because it's much better to have a debit card with a cashback rather than a credit card with a cashback.
I've been using this card for a couple of days. And if I tap on the card in the right-hand upper corner, you will see that from here I have the option to freeze it, that's good if you lose it.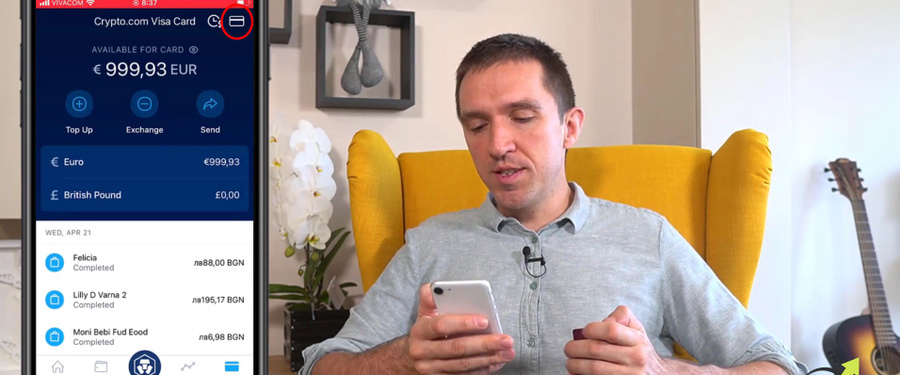 Then I have the option to view the PIN but I have to confirm my date of birth every time I want to see the PIN code. And then I have the option to view the card number, which requires me to identify, one more time, with a fingerprint.
And if I go back and tap on Crypto.com, you see that I have 209 CRO coins which are about $40.
So these are already all the CRO coins that I have as cashback using the Crypto.com Visa card for a couple of days. And then below is the amount I'm staking to have that card. So for the Ruby card you need 5,000 CRO coins to stake. It was that much actually when I was ordering, by the time you're reading it could be different.
And because the value of CRO coins changes, now it is about a certain amount of money that you should be locking and staking instead of a precise number of CRO coins.
And if you decide to stake for a Visa card, you can get a bonus by using my Crypto.com referral link. You will be supporting the Academy and you will see what are the current conditions by the time you are reading this lecture.
Card variations
And I have the option to upgrade and I'm planning to upgrade the Crypto.com Ruby Visa card to the next one. So that's the one I have at the moment is getting 100% cashback on Spotify as well.
But I will be upgrading to the €3,500 card which actually will bring me as well some additional benefits but what's most important is, it will bring me a 10% CRO reward from staking the CRO coins. So while I'll be using this card for purchasing and getting cashback, at the same time I'll be getting a 10% annual CRO stake reward. So for all of the CRO that I will keep as a deposit, for having such a card I'll be getting as well annual reports.
And if I scroll to the right, I see the other Crypto.com Visa cards which are more expensive but that's a personal choice which one you would like to use.
Card funding
And the last thing I want to show you is how you can top up the card because I saw many videos on YouTube, comments that people have hard times funding this card.
And many people ask if there is an IBAN, no there is no IBAN. That's just a card that you connect with the app so you cannot send money with a wire transfer to a bank account to use for the Crypto.com Visa card. It doesn't work this way, you connect the card with the app on your phone, and from the app, you fund the card super easily. If I tap on Card again and I tap on the + button which says Top Up, I have a few options available here.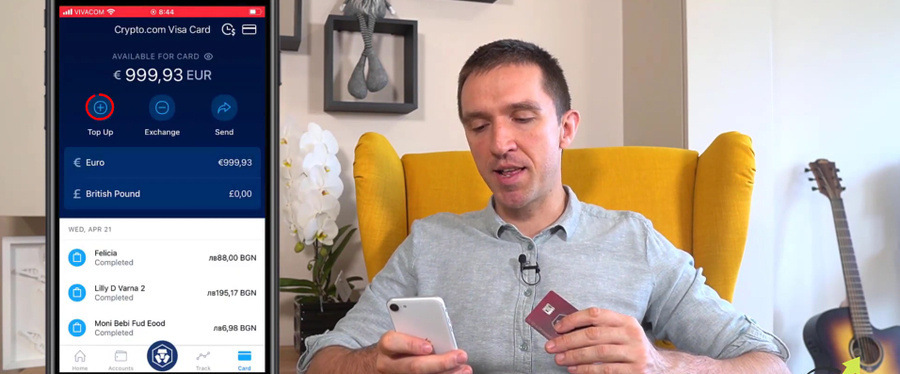 "Crypto wallet" means that I can fund the account with any of the cryptocurrencies I have in the wallet. Then I have "Fiat wallet", so if I have Fiat currency in my account I can use it but I usually don't keep Fiat currencies in my app. I buy cryptocurrencies, I trade, I stake. Personally, I prefer to use my money to work for me instead of keeping them as a Fiat currency.
And then I have the option to fund the Crypto.com app with a credit card which I have used until the moment which in the first month is with 0 fees. I'm not sure after the first month if there will be a fee or not. But if there is a fee after the first month, the best way then will be to fund your Crypto.com app with a wire transfer so the money will go to the Fiat wallet.
And from the Fiat wallet, you can easily fund your card. I use the term "fund" because we are actually funding from the app to the Crypto.com Visa card and from there we pay. And from each payment, we get cashback to the app in CRO coins. So pretty much that's all you need to know about the Crypto.com metal Visa cards and I personally plan to upgrade it because, the next one, the 3,500 one, will bring me 3% of cashback instead of 2% which is a percent higher.
Conclusion
If you have any questions about this Crypto.com Visa card review, let me know. And don't forget to check out this link if you decide to get such a card and benefit when you are paying every time. 
Thanks for reading, I will see you in the next lecture. Let me know in the comments below what is your experience with these cards so it will be more useful for everyone reading this lecture.