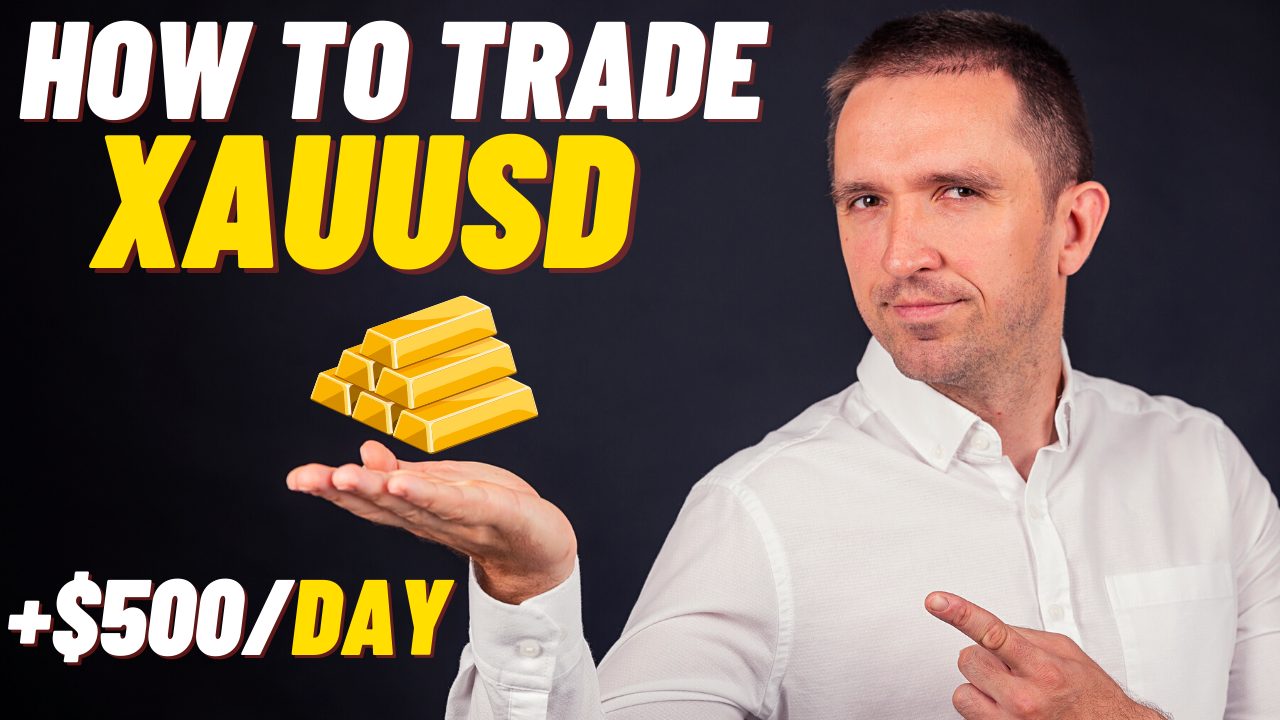 Traders who want to use a XAUUSD scalping strategy will benefit from today's post. You'll learn about a strategy that works with the M5 chart. You'll also learn about the indicators behind this gold trading robot.
Traders will understand the strategy used at EA Trading Academy and how it works. They'll also learn why the robot enters and exits the market at specific points. 
You won't have to do any manual gold trading with this robot. The robot will buy and sell on its own.
Always Test the Robot Yourself
By the end of this article, you'll know which indicators are used in the XAUUSD scalping strategy. So, you'll feel more confident about using it.
However, it would be best if you always tried the robot on a demo account first. Don't risk your capital without testing the strategy for yourself and making your own decisions.
Everything that we say in this article is not financial advice. This post is only for educational purposes.
XAUUSD Scalping Strategy Entry and Exit Rules
This XAUUSD scalping strategy uses the ADX indicator for its entry rule. This indicator is very popular. So, you can find it easily on the MetaTrader platform. You can go to Insert, Indicators to select it.
The ADX indicator is also known as the average directional movement index. This trend indicator works best with a specific period for this XAUUSD scalping strategy.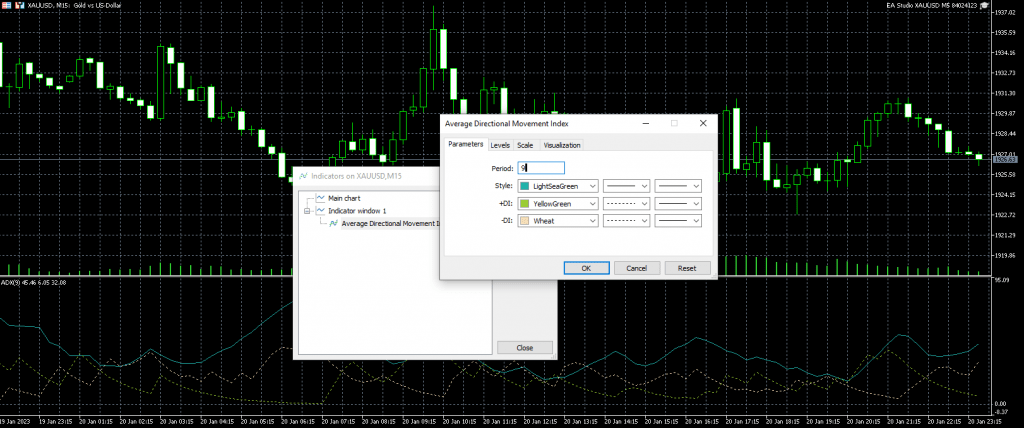 XAUUSD Scalping Strategy – Settings for the ADX Indicator
For this strategy, you can stick to a period of 9. The indicator will be displayed below the chart, and you'll see that there are three lines. The main line is the blue line, which is the ADX line.
However, we also have two more lines. They're called directional indicators (DIs). These are the positive DI and negative DI. The ADX indicator is in the middle of these lines and tells us when there is a trend.
So if we're in an uptrend, you'll see that the ADX rises. Similarly, if we're in a downtrend, the ADX will still rise.
This happens because the ADX always rises whenever there's a trend. However, it won't tell us the direction of the trend. That's why we need to use the other two lines that are displayed below the chart.
These are the negative DI and the positive DI. So, we'll buy whenever the positive DI crosses the negative DI upwards.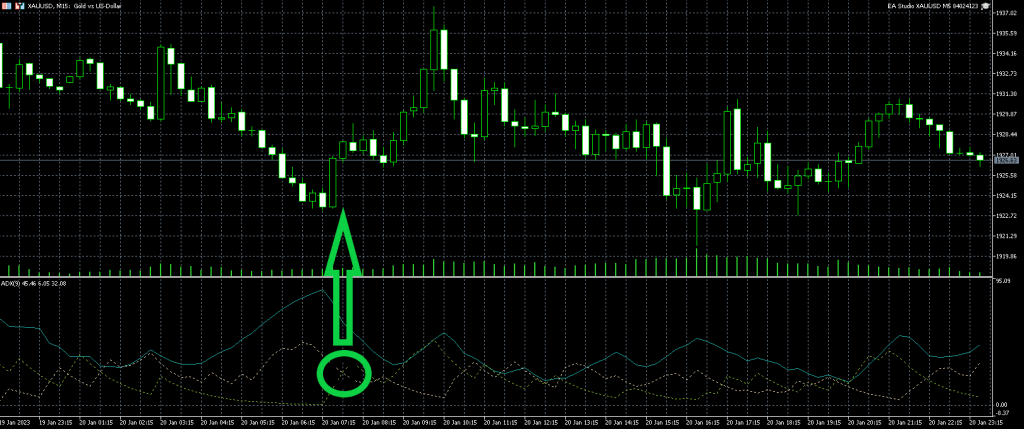 The opposite is also true. So, we should sell if a positive ADX crosses a negative downward.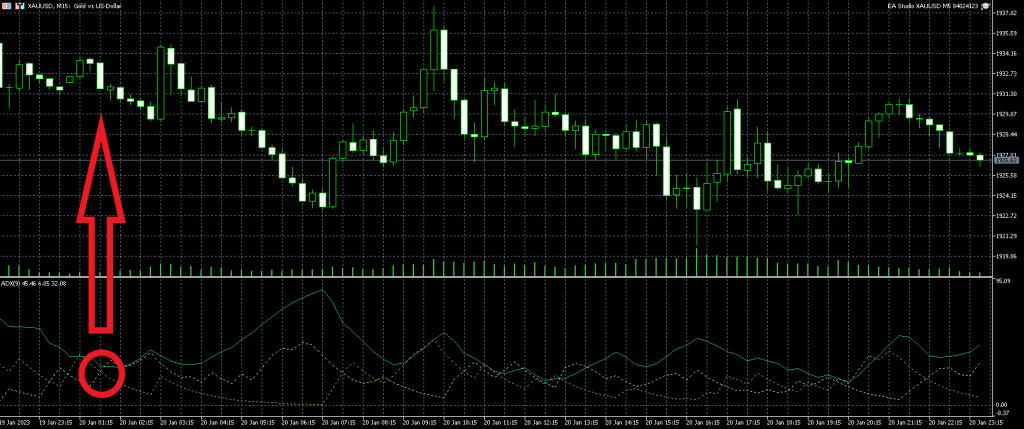 XAUUSD Scalping Strategy – Settings for the %R Indicator
After we open a trade, we'll consider another indicator that's called the Williams Percent Range (%R). This ranges between 0 and -100. It tells traders whether a stock is overbought or oversold.
With this XAUUSD scalping strategy, we should also consider a Stop Loss and a Take Profit. The %R is an oscillator. So, in MetaTrader, you'll go to Insert Indicators and Oscillators and select the Williams Percent Range.
For this strategy, you'll use a period of 50. The %R has levels of negative 20 and negative 80 by default. For this strategy, you should ensure that you change it to negative 70 and negative 30. In other words, they should always sum to negative 100.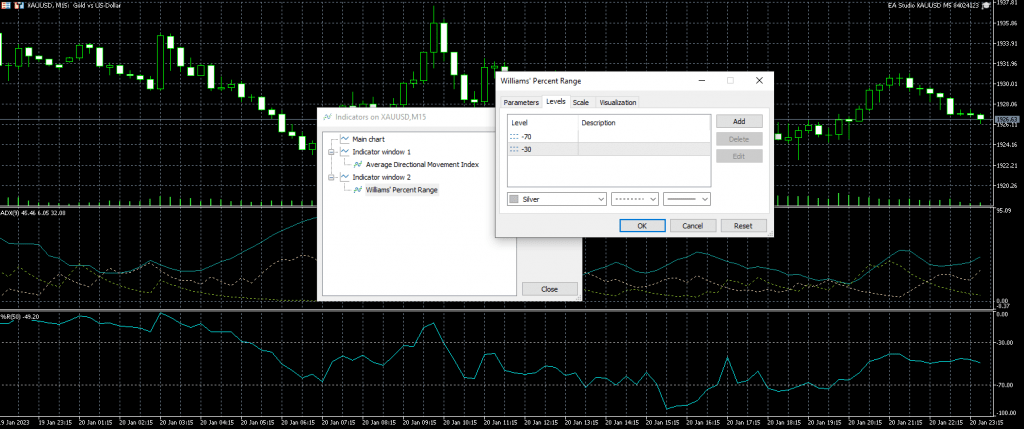 When you select the indicator, set your parameters and click "okay". You'll see the indicator below the chart.
Use %R as the Exit Signal
We'll use the %R as our exit signal. So, when the %R crosses the level line upwards, we should exit the trade. Again, when the %R crosses negative 70 upwards, we should exit the trade.
This is a very active strategy on MT4, so you'll find lots of examples with it. For example, we will have a sell signal if a negative DI crosses a positive DI upwards. We should sell at the opening of the next bar.
We can always use the %R to find the exit point. So, we always look for the point at which the %R crosses the negative 30 line downwards.
You can identify sell signals below. The %R went above negative 30 and then when it crosses downwards, we should close the trade on the opening of the next bar.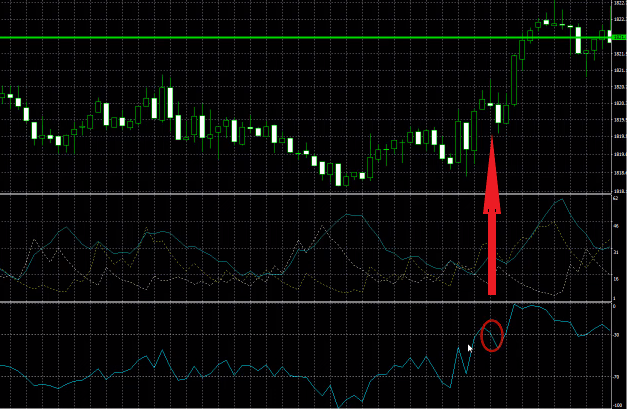 We entered that trade at $1821.90 and exited at $1820.30, so the profit was about $1.50. If we traded a 0.1 lot, our profit would be $15. If we traded a complete lot that profit would be $150 with this XAUUSD scalping strategy.
Be Cautious With Leverage
You should always use leverage carefully. Remember, leverage is how much you're borrowing from your broker.
Although leverage helps you to open more significant positions than you would if you only used what you have in your account, using a lot of leverage is risky. You could blow all of the funds in your account.
It's best to use 1:30 or even a maximum of 1:50. Traders who exceed that will put their funds at risk.
The XAUUSD scalping strategy has a Stop Loss and Take Profit. So, when you enter a short trade and sell, you have to put a Stop Loss $30 above your entry point and a Take Profit of $25 below the entry. You can enter these values by going to Expert Advisors Properties.

Final Thoughts – XAUUSD Scalping Strategy
This XAUUSD scalping strategy is relatively simple. It uses one indicator to enter. It uses another indicator to exit. We also have a Stop Loss and Take Profit.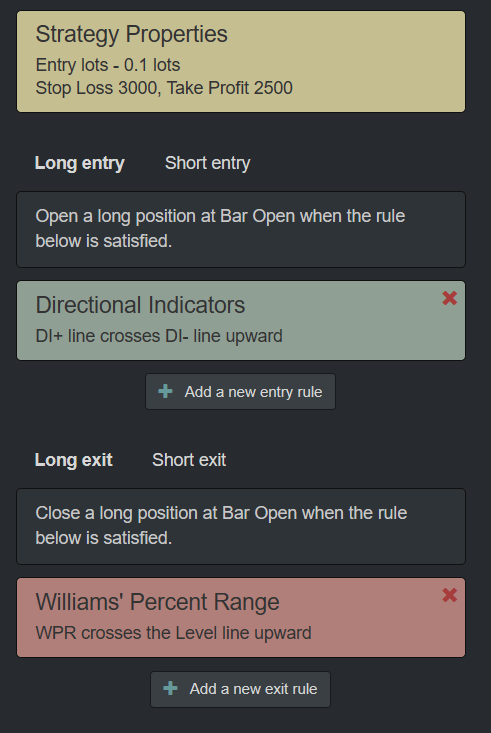 We used EA Studio to find the best parameters for the indicators. Over the last four months, we've made about $520 by using this strategy. We used EA Studio to analyze our strategies and create new robots.
With EA Studio, we can easily find the effect of changing the value of a parameter. You can also export a strategy as a robot with just one click.
You can test this XAUUSD scalping strategy for yourself. So, you can install MetaTrader, put the robot on it and backtest it. Since the ADX and %R are popular indicators, you can use it on almost any platform.
However, always use it on a demo account until you're comfortable with the strategy and satisfied with the results. If this is not the right strategy for you, check out another one that we've shared recently for the US dollar and Japanese yen. Please check out our videos on YouTube to learn more about our trading strategies.
Thanks for reading this article on our XAUUSD scalping strategy. We hope it was helpful. If you have any questions or ideas, please share them in the comments below. Until next time, take care!