In the dynamic world of trading, staying stagnant isn't an option. The same goes for trading robots. Let's explore the continuous evolution of the Prop Firm Robot and its impressive features.
The Never-Ending Journey of Improvement
Building a robot isn't the final step. It's merely the beginning. The market is ever-changing, demanding constant updates. The Prop Firm Robot is a testament to this. We don't just set it and forget it. We refine, adapt, and improve.
What's New with the Prop Firm Robot?
The Prop Firm Robot is now more versatile than ever. It boasts a range of features, from spread protection to account safety. The recent version even introduced a break-even and trailing stop feature. But the highlight? It now trades across seven currency pairs. While some may know it as the FTMO robot, its capabilities extend beyond just one platform.
FTMO vs. FX2Funding: A Cost Comparison
While on the topic of platforms, I recently discovered FX2Funding. It stands out, especially when you compare its pricing to FTMO. For a $10,000 account, FX2Funding charges a mere $95. In contrast, FTMO asks for €155. That's a noticeable difference. But it's not just about cost. FX2Funding offers flexibility with no time constraints. Some might argue that FTMO offers the same. However, a closer look reveals otherwise. My 200k account verification with FTMO, for instance, has a set end date. So, what does "unlimited" truly mean in their context?
Prop Firm Robot: The Simplicity of a One-Step Evaluation
FX2Funding simplifies the process with a one-step evaluation. This is a boon, especially for those using expert advisors. For this review, I chose a $10,000 account with FX2Funding. The terms are enticing: up to 85% profit share, a 10% profit target, a 4% daily loss limit, and a 6% max drawdown. Plus, the fee is refundable.
A Special Offer for My Readers
Before sealing the deal, I used an invite code: PETKO10. This code granted me an extra $10 off. It's a small gesture of appreciation for my readers. If you're keen, the link is shared below. Use the code and enjoy the benefits.
A Smooth Purchasing Experience
Finalizing my purchase was a breeze. I secured a $9.50 discount using my card. Promptly after, I received a confirmation email. This allowed me to swiftly download the Metatrader platform and access my account.
Prop Firm Robot: Diving into the Challenge
Upon logging into the challenge, I noticed the active market watch. This indicated a successful connection to the challenge's server, which operates via Eightcap. Now, the real task began: deciding which of my robots to deploy for this challenge.
Evaluating the Best Robots for the Challenge
On a separate platform, I've set up seven FTMO robots I recently crafted. Each robot, while using the same core strategy, is fine-tuned for different currency pairs. The list includes pairs like Aussie/New Zealand, Euro/Aussie, and Pound/Canadian, to name a few. I grouped these seven under one account, making it easier to monitor their performance and identify the top performer under current market conditions.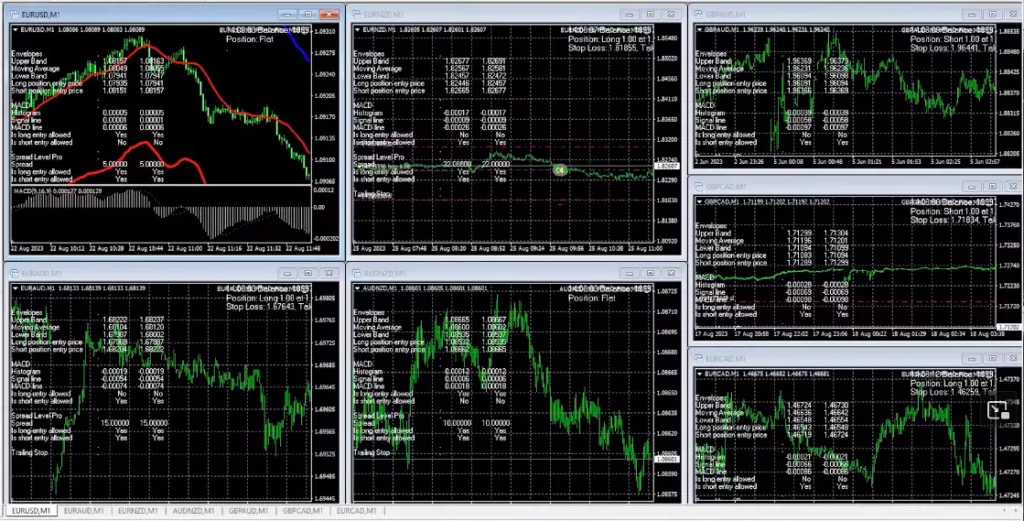 Prop Firm Robot: Tracking Performance with FXBlue
With numerous trades executed, it's essential to have a clear overview. I connected the account to FXBlue, a tool that offers a detailed performance analysis. By sorting the expert advisors based on net profit, I could quickly identify which robots were thriving and which were lagging. Interestingly, while some robots showcased profits, others hovered around the break-even point, and a few recorded losses. However, the New Zealand Yen robot, which was only tested for a few days, has already been excluded from my EA pack.
Identifying the Top Performer
The standout? The expert advisor with the magic number 2154100. A quick cross-reference revealed that this was the robot optimized for the Euro/New Zealand pair. This discovery meant that, currently, the Prop Firm Robot is performing best with the Euro/New Zealand currency pair.
Prop Firm Robot: Implementing the Best Robot into the Challenge
Knowing which robot is currently on top of its game is half the battle. The next step? Integrating it into the new challenge. I began by copying the Euro/New Zealand expert advisor from its original platform. Then, I pasted it into the FX2Funding account. A few default options appeared, but my focus was on the newly added robot. To ensure everything was set up correctly, I opened the MetaEditor, clicked on 'compile', and voila! The expert advisor was ready for action.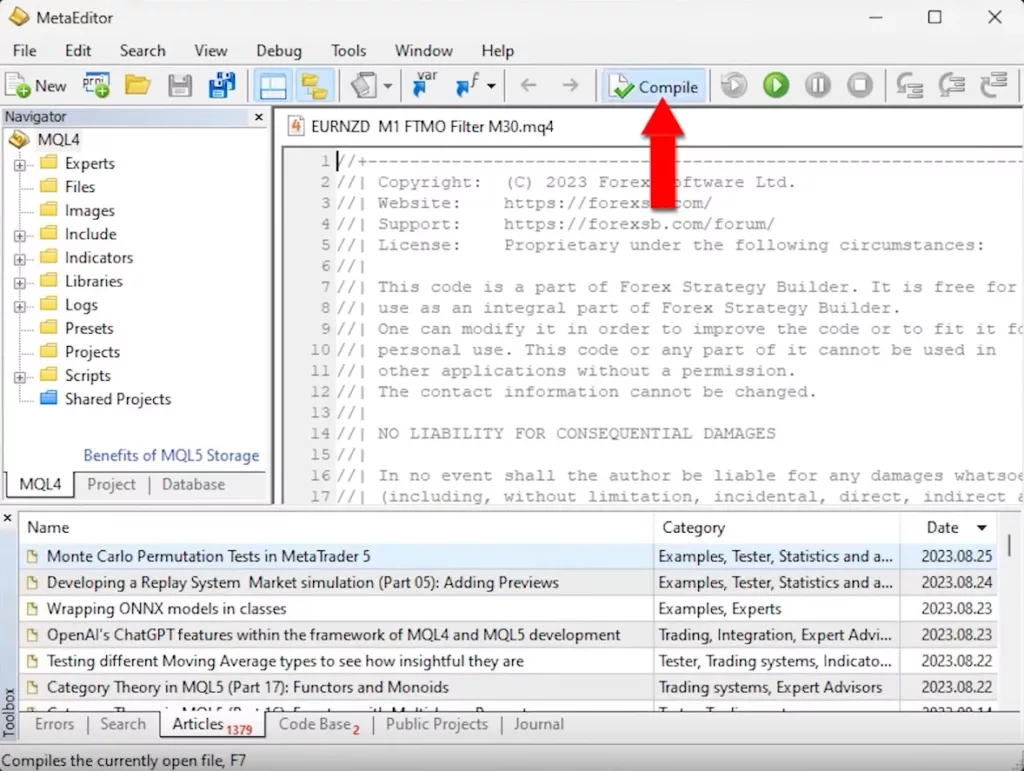 Setting Up the EURNZD Chart
In the intricate world of trading, every detail matters. For me, the focus was clear: the Euro New Zealand pair. Instead of juggling multiple charts, I streamlined my approach. By expanding the market watch, I quickly located the Euro New Zealand pair. With a simple drag and drop, it was on my chart. It's essential to note the significance of setting it to M30. This isn't just a random choice; it's a higher time frame filter that the robot relies on for optimal performance. To ensure the Expert Advisor (EA) operates without hitches, I zoomed out and loaded as many bars as possible, repeating the process on the M1 chart. While M1 is the primary time frame, the M30 acts as a crucial filter, enhancing the robot's efficiency.
Prop Firm Robot: Configuring the Expert Advisor
Trading is as much about strategy as it is about precision. With auto trading activated, I meticulously configured the expert advisor on the chart. Under the 'inputs' section, I made a strategic decision to adjust the lots to 0.3, keeping in mind the 10K account I'm trading on. The Prop Firm Robot is feature-rich, offering everything from a stop loss mechanism to a break-even feature. One of the standout features is the spread level setting. By setting it at 30 points or 3 pips, I can ensure the robot steers clear of trading during volatile news events, minimizing risks. The trailing stop was another crucial setting, fixed at 85 pips. The magic number, a seemingly simple feature, plays a pivotal role, especially when you're operating multiple robots on a single account. It's these nuances that can make or break a trading strategy.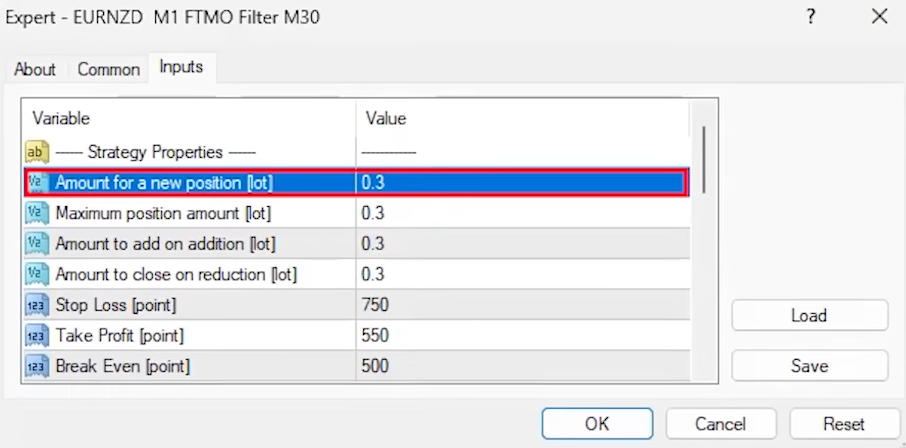 The Versatility of FTMO Robots
The world of trading is vast, and having versatile tools is a game-changer. The FTMO robots pack is a testament to this adaptability. Contrary to what the name might suggest, these robots aren't just for FTMO. They're designed to be compatible with any prop firm. One such firm that has recently caught my attention is FX2Funding. Their competitive edge? An incredibly attractive pricing model for one-stage evaluations. To put things into perspective, their 200k challenge comes with a price tag of $925. In contrast, FTMO charges a heftier 1080 Euros and adds an extra layer of verification. The allure of a straightforward one-stage evaluation is hard to resist, especially for seasoned traders who value efficiency.
Prop Firm Robot: Tracking and Improving Robot Performance
A trader's work is never done. My daily routine is a blend of innovation and evaluation. I'm constantly on the drawing board, crafting new robots, testing their mettle on demo accounts, or putting them through the rigors of trial prop firm challenges. But creation is just one part of the equation. Monitoring their performance is equally, if not more, vital. Typically, I rely on FXBlue for this. This platform offers a granular view of each robot's performance, ensuring I'm always in the know. But the future looks even brighter. We're in the advanced stages of developing an online app, soon to be a flagship feature on the Academy's website. This tool, available for free, promises to revolutionize how users track their robots' performance. It eliminates the dependency on third-party sites and offers a more integrated experience.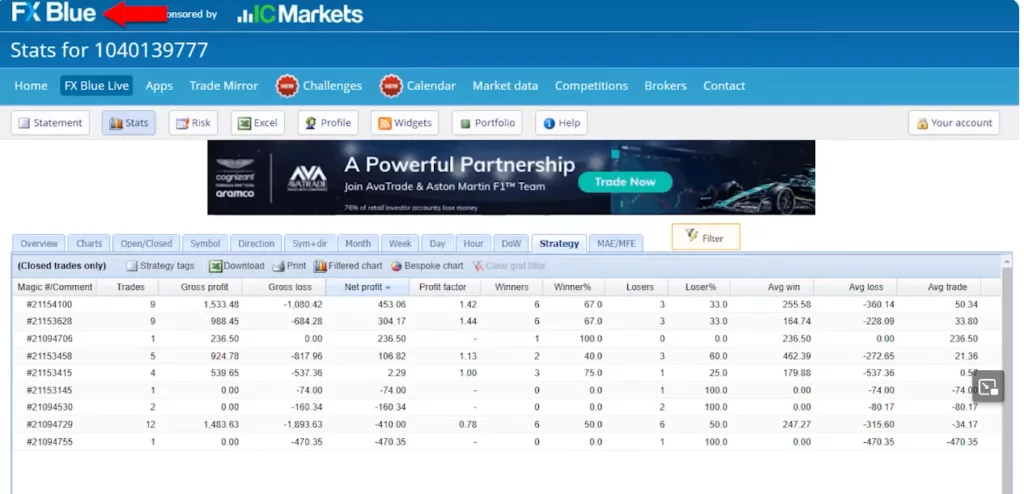 Exciting Updates and Offerings
In our quest to offer unparalleled value, we've recently rolled out the 21-Day Ultra Algo Program. This isn't just another program; it's a comprehensive learning experience. Completely free of charge, it offers a curated selection of courses, state-of-the-art robots, and deep insights into the world of strategy builders. It's tailor-made for anyone with a keen interest in algorithmic trading. And there's more! The FTMO robot, despite its name, is a master of adaptability. It's not confined to FTMO but is a perfect fit for a range of prop firm challenges. FX2Funding, with its competitive edge, stands out as one of the best in the business.
Prop Firm Robot: Conclusion
Trading is a journey, one that demands both skill and the right tools. The Prop Firm Robot, with its unparalleled adaptability and cutting-edge features, ensures traders are always equipped for success. Whether you're navigating the waters of FTMO, venturing into FX2Funding, or exploring other prop firms, the right robot can amplify your success. Embrace the world of algorithmic trading, leverage the wealth of resources at your disposal, and chart a course to trading excellence.