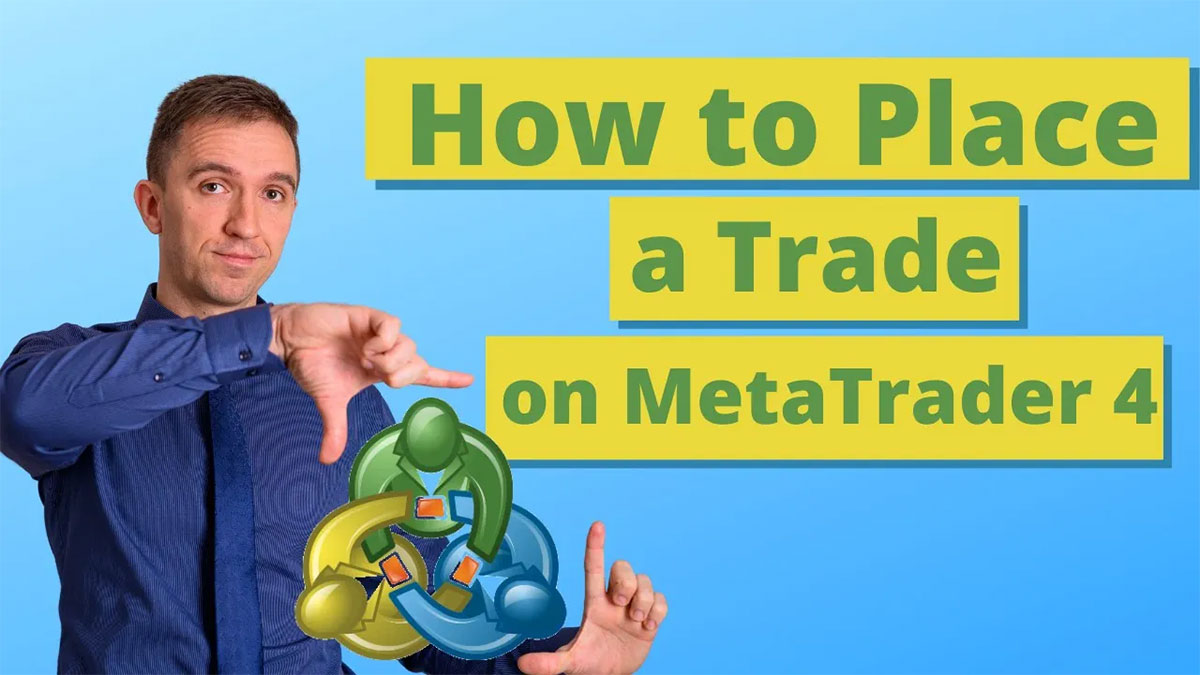 How to Place a Trade in MetaTrader 4
In this lecture, I will share with you how you can place a trade in the MetaTrader 4 platform and what are the different options. I have the MetaTrader 4 platform opened in front of me with an account from BlackBull Markets, so let's go for it.
For the purpose of this lecture, I have selected to use the BlackBull Markets that I have been using, and actually, if you have hard times finding a broker you can check out our trusted brokers' page which we have created to help our students and the beginner traders to choose their broker. I have written personally a few tips and suggestions there and we have the recommended brokers' tab, we have the cryptocurrency exchanges and wallets and we have some more regulated brokers that we've been using.
How to place a trade in MetaTrader 4 with One Click Trading
One more time for the purpose of this lecture I'll be using BlackBull Markets which is a regulated broker I've been using for quite a long time. Now if you really don't know from where to start and how to install the MetaTrader 4, you are missing the first steps. I have already prepared a lecture about installing MetaTrader 4 and once you have the MT4 installed, you are ready for trading.
Now the easiest way to place a trade in MetaTrader 4 is to use this One Click Trading boxes. It is called One Click Trading box because if I right-click over the chart you see that I have the option to uncheck One Click Trading and this will make the box disappear.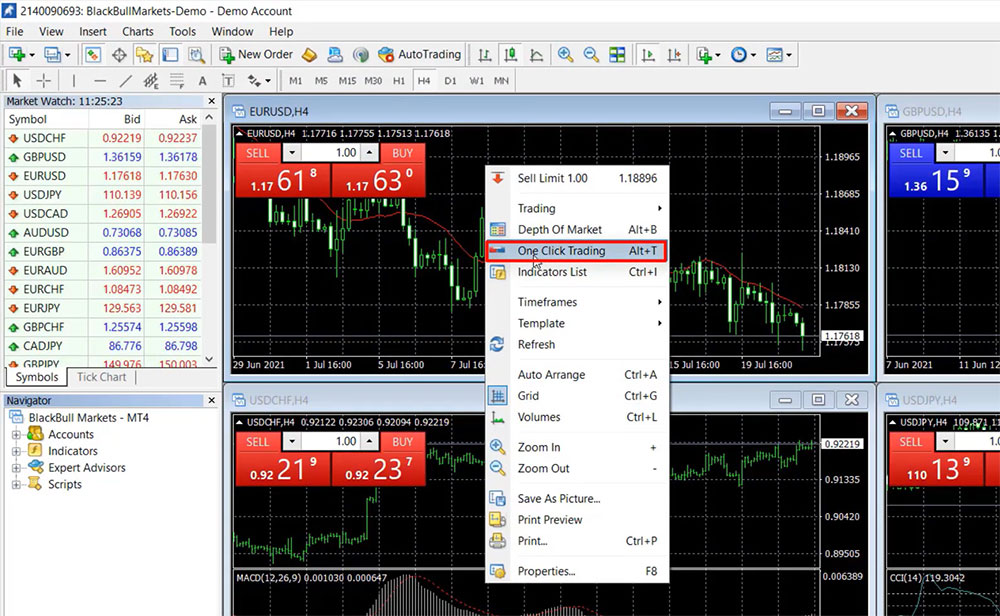 If I right-click again and I go to One Click Trading you will see that the box appears so with this box we see two things – we see the price at which we can sell and the price at which we can buy. As you can notice the prices are different. This is because we have a Bid price and an Ask price, the Bid price is the cheaper one at which we are selling and the Ask price is the more expensive price at which we are buying.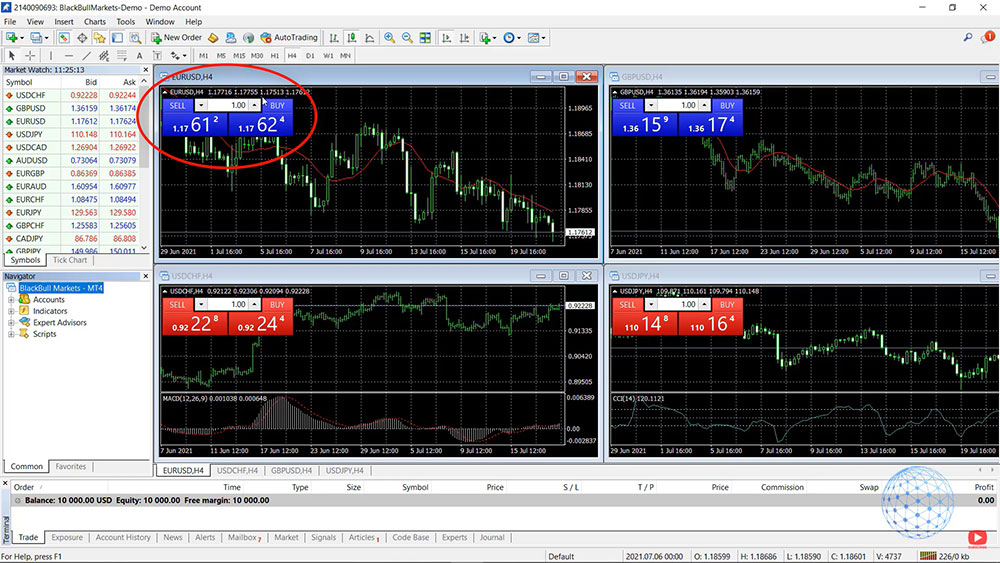 The difference between these two is called spread and this is how the broker benefits from our trading. Just like the exchange bureaus or the banks. Before you go on a vacation or to a foreign country and you want to exchange one currency for another, you can buy it from the bank or the exchange bureau and there is a difference between the Bid and the Ask price as well. This is how usually those brokers and exchanges make money.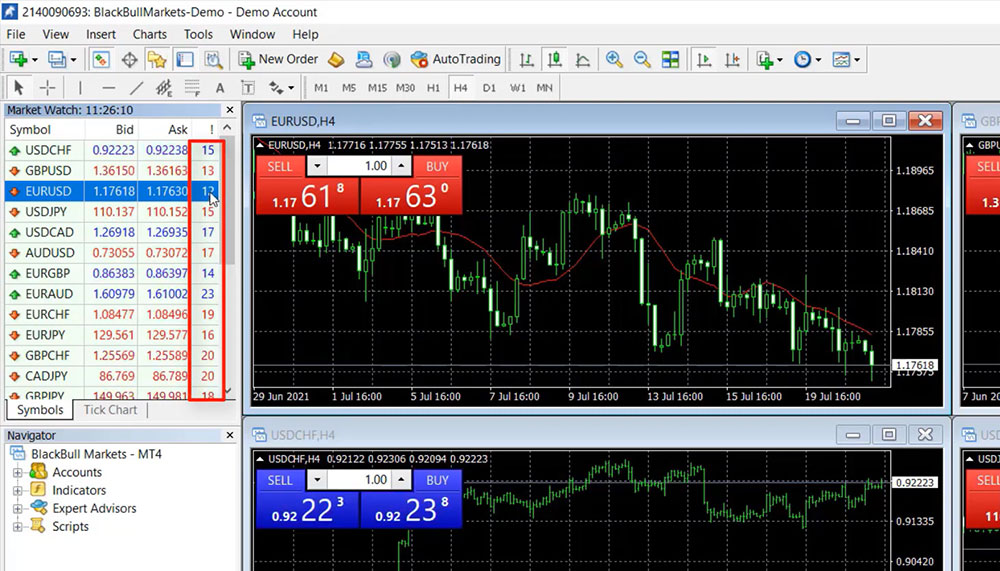 Now in the middle, we have the Lot, the Lot is the quantity we want to trade. 1 Lot in the Forex trading equals a hundred thousand units, so if I wanna buy 1 Lot of EURUSD, I'll be actually purchasing 100. If you want to trade a smaller amount you can decrease the lots to 0.05 or which will equal 10,000 EUR versus the USD.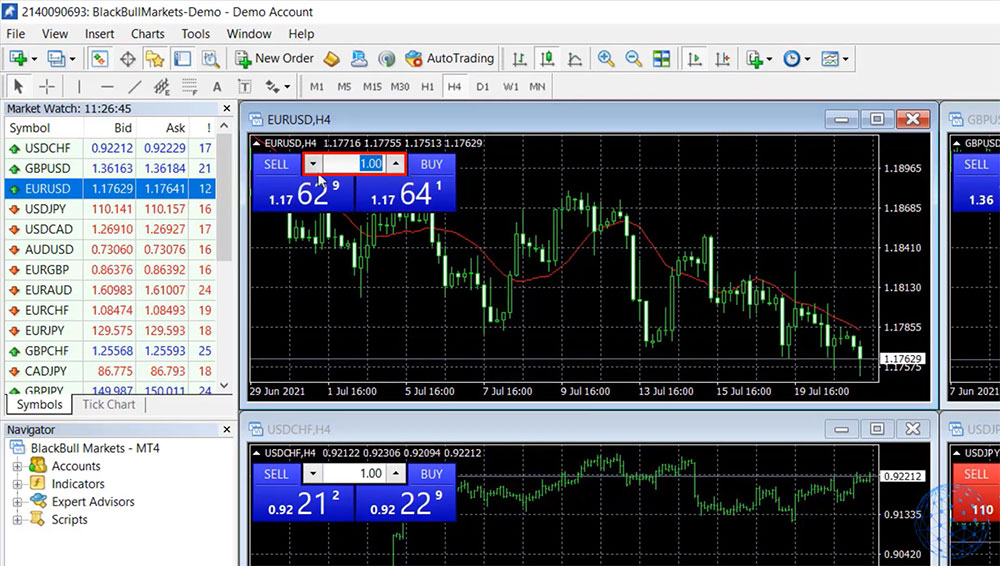 Let me demonstrate it to you. Let's say I'm following some trading strategy that shows me that currently, the trend is going down, EURUSD is going down. So I decide to sell it I will click on Sell and here is a warning with the disclaimer which appears just one time right after you install the platform.
If I click on "I accept these terms and conditions" and I click on "Okay", I won't see this disclaimer anymore. So now if I click on Sell, the trade is executed immediately. I can see it below in the terminal. So you saw that I actually executed this trade or I placed this trade with one click and this is why it is called One Click Trading – because we can sell or buy with a click of a mouse.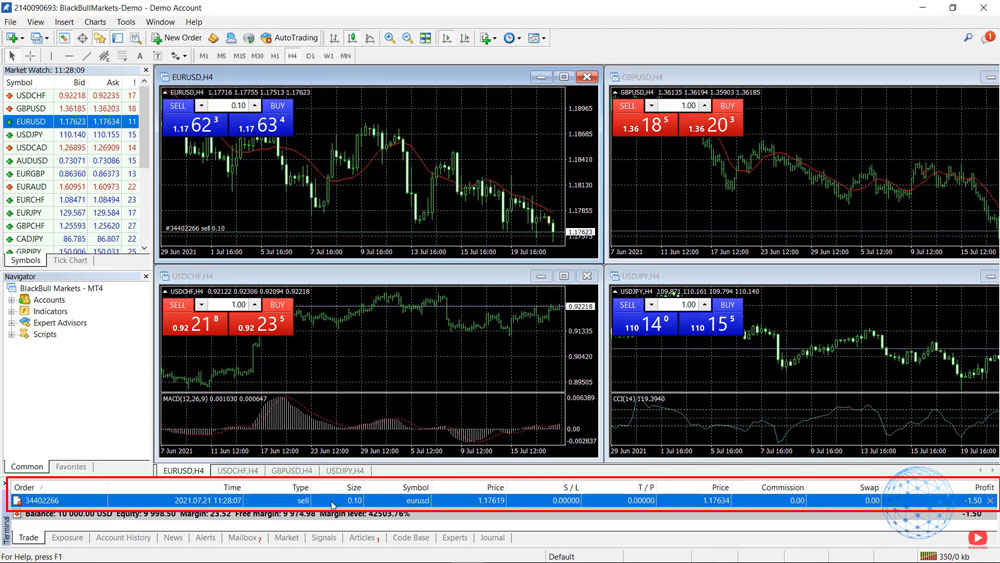 How to place a trade in MetaTrader 4 with New Order
Alright, so what are the other options to open trade or to place a trade in MetaTrader 4? You can right-click over the chart and you can go to Trading, and here you have the option for a New Order.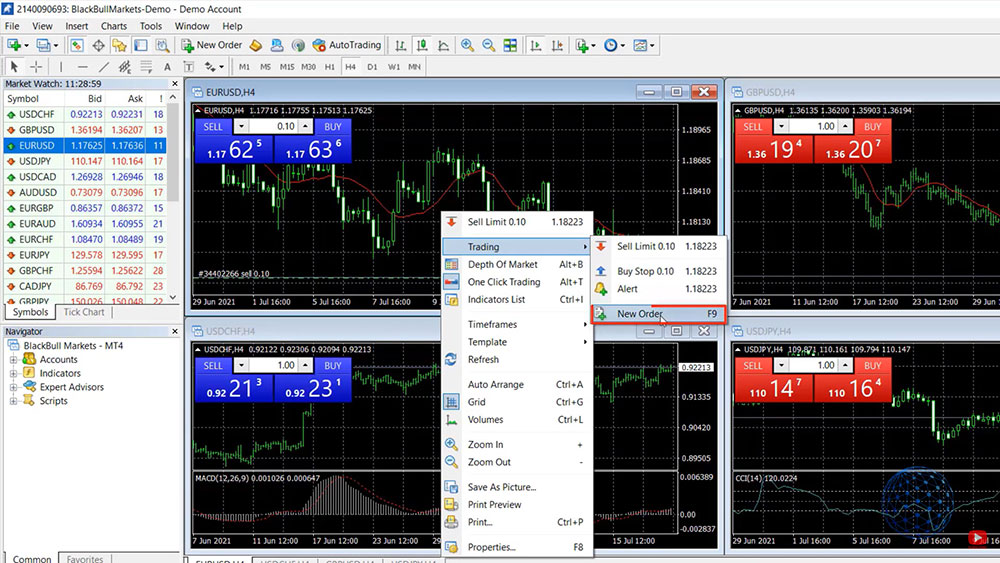 Now here comes a box with more details about what type of order you want to have, is it Market Execution. One Click Trading is a Market Execution because I click sell and the broker executes the trade at the market price or this is the current price we have in the market.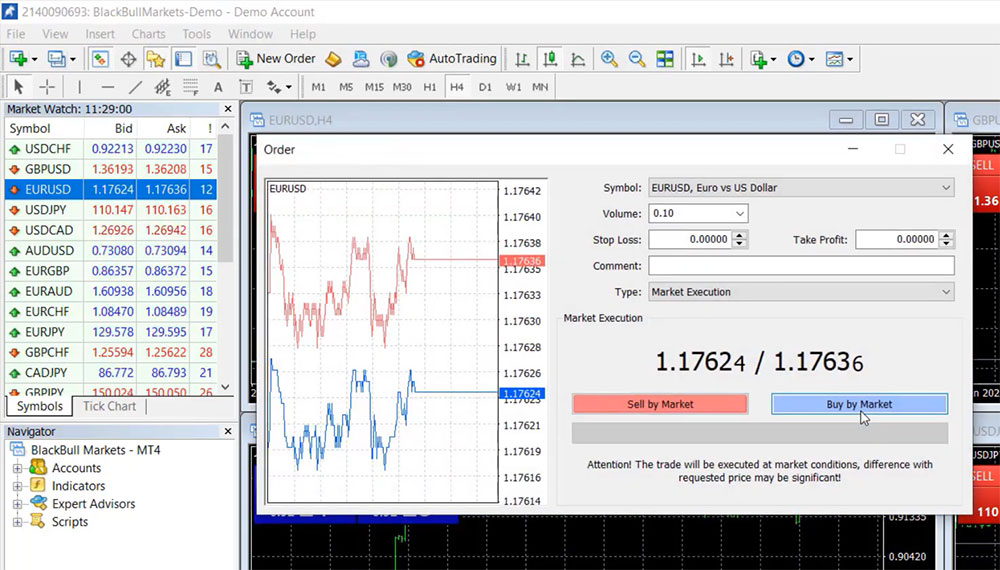 So if I click on the order type I have a second option which says "Pending order". If I select it you will see that a new box opens below and now I have four different types of pending orders.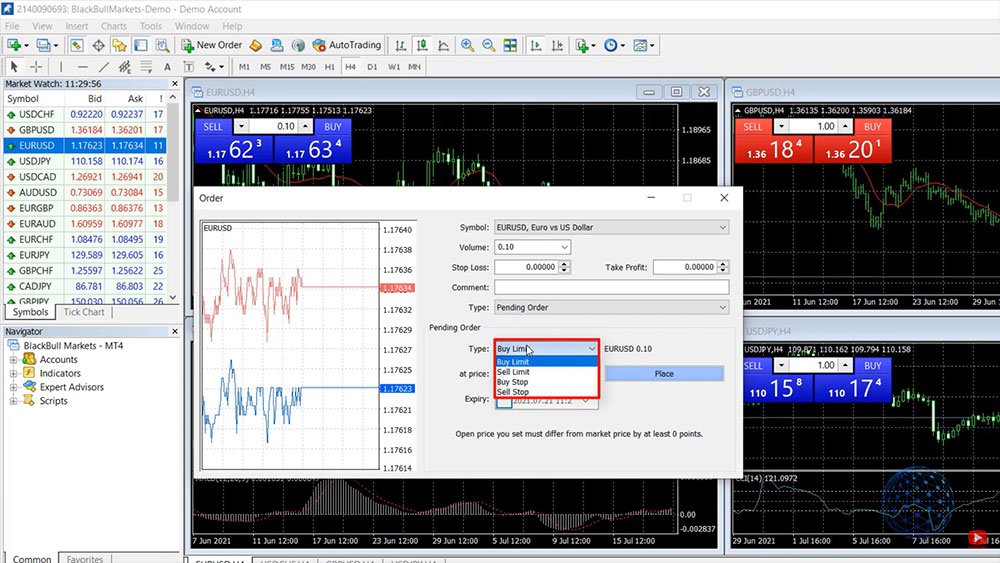 Place a trade with Buy Limit
One is called "Buy Limit" which means that I can set a price lower than the current one and if the price reaches this level a buy position will be executed. For example, currently, we have the price at 1.1766 so if I select 1.760 I will click on "Place" and you will see that this pending order is below at price drops.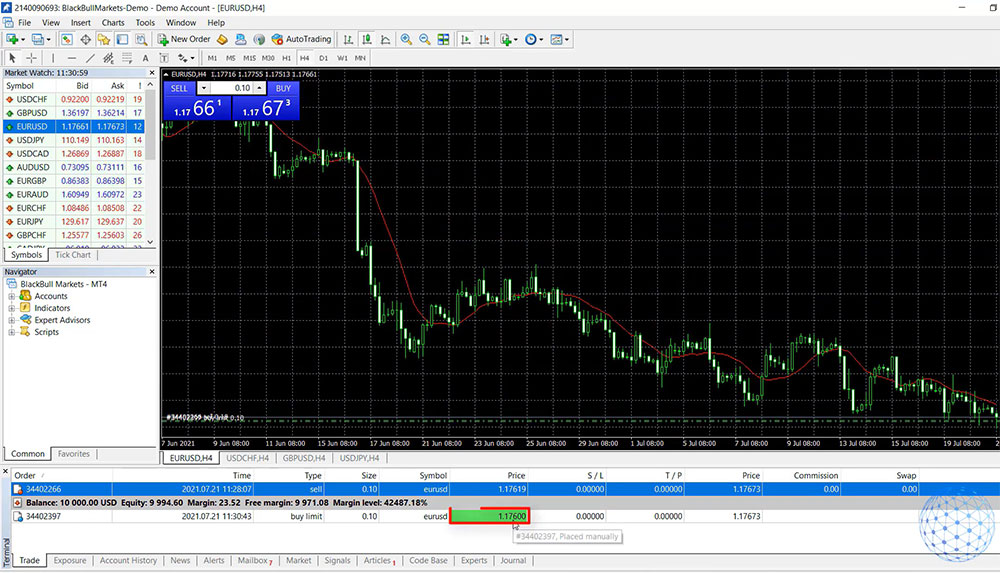 Let me close this open position. I just wanted to demonstrate how this One Click Trading works. It's on a loss really doesn't matter because this is a demo account that I have open for the purpose of this lecture.
So now I have left with the "Buy Limit" order which one more time will execute a buy position if the price reaches the level. For the price to reach the level while I'm recording this lecture and let's see if this will happen or not and during this time I will explain the other types of pending orders.
So "Buy Limit" one more time means that we set a level lower than the current price at which we want to buy and as well we have the option for expiry so if you want this to happen by the end of the day but you don't want to leave such an order for tomorrow you can just set expiry by the end of the trading day.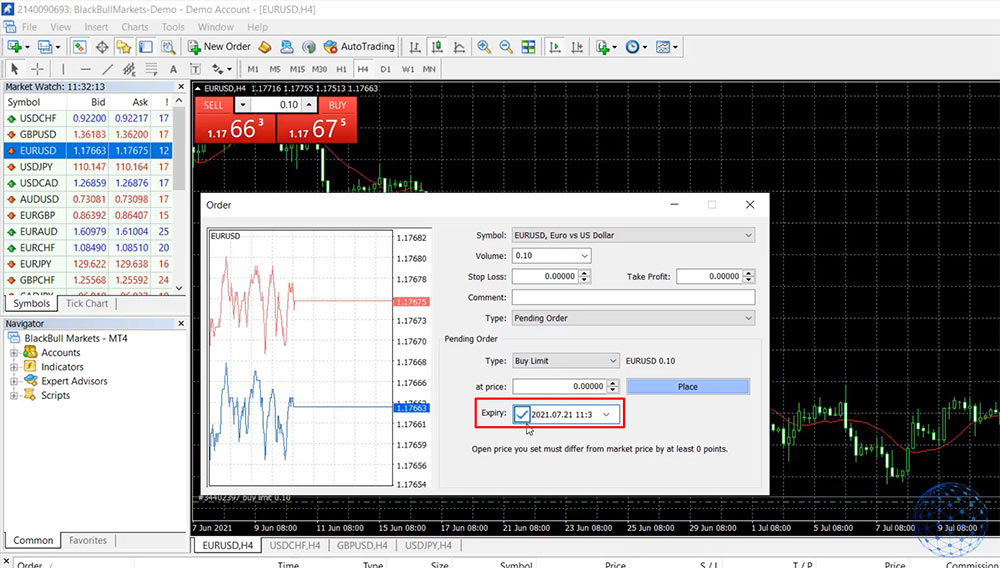 Place a trade with Sale Limit
The next option is "Sale Limits" which obviously is the very opposite thing, we can set an order that will execute, for example, let's squeeze the price right here, I will put it at 1.1770 okay, I will click on Place and you will see that now I will switch to M15 so we can see better we have a Sell Limit on the top, a higher level which will execute a Sell trade or a short position if the price reaches this level of 1.1770.
This is not a trading strategy that I'm showing at the current moment. I'm just explaining how to place a trade in MetaTrader 4 and what are the different options you have.
Okay so let's see which one of the two the price will reach first.
Place a trade with Buy Stop
Again I will go to Trading, New Order, and the other two options are Buy Stop and Sell Stop. The Buy Stop is the option to place a level on the market higher than the current price where we want to buy.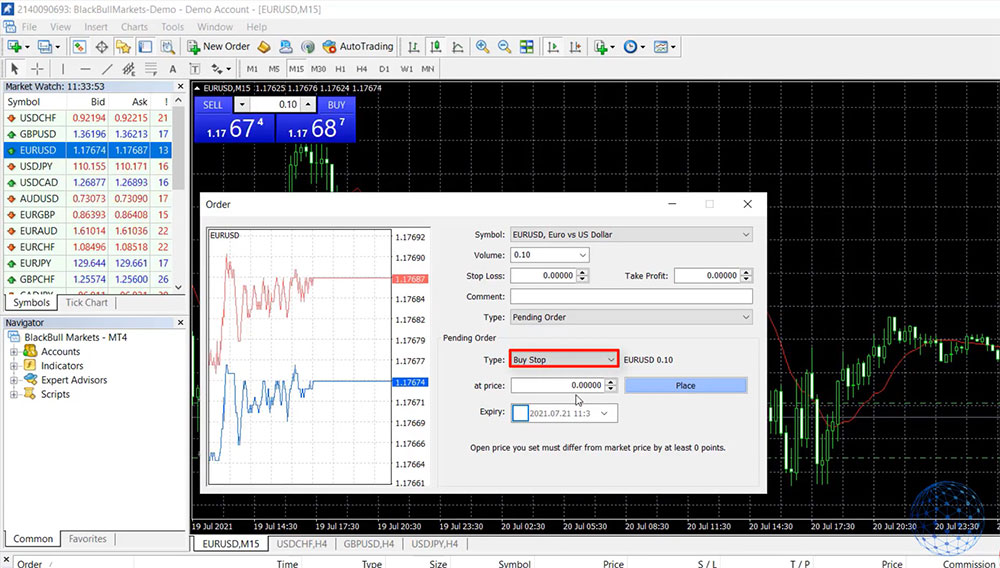 For example, if I set it to 1.1780 and I click on Place, we will see the order here but this is a Buy Stop or if the price reaches this level it will open a buy position. It's kind of opposite to the Buy Limit because with the Buy Limit it will still open a buy position but on a lower level than the current price okay.
Place a trade with Sale Stop
The fourth option as you may guess already is the Sale Stop. That's a level where we can place lower than the current price. So let me place it on 1.1750 and we will see the order. This means that we will sell EURUSD at this level which is lower than the current price. Now the price is going very close and it executed this Sell Limit and you see that once the price reached the level of 1.1770 it opened the short trade automatically.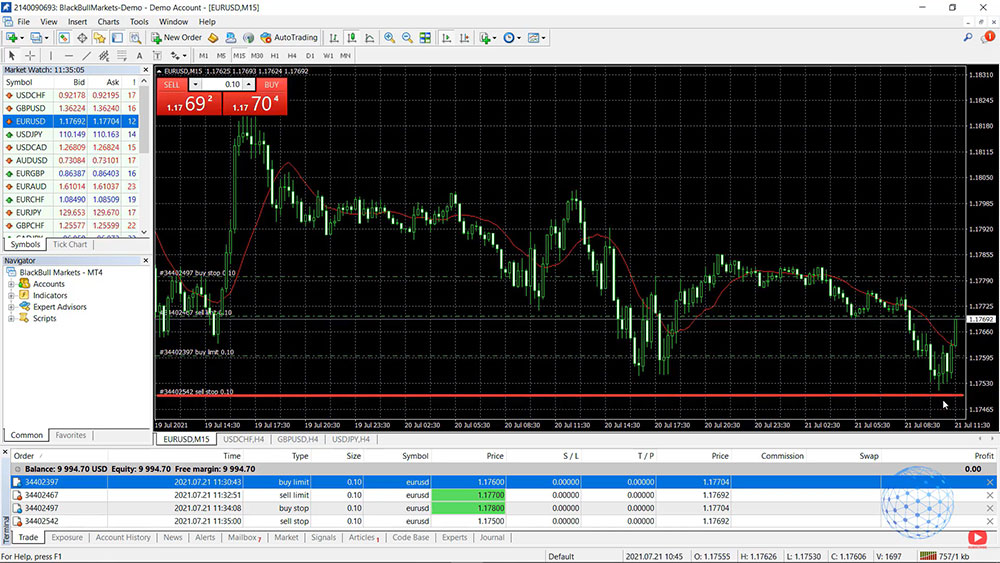 So I didn't wait with my mouse on the Sell button for the 1.1770 to be reached and to sell it manually but it happened automatically by using those pending orders. Why those are useful? First of all, I don't need to sit in front of the computer and wait to tremble with my finger on the mouse to execute at the right price. You see that if you want a certain price you can set it up with a Pending order and it will execute at that price.
And this is actually a good sign of a decent broker if it executes the Pending orders exactly at the price you want. If you notice that your broker doesn't execute Pending orders on the prices you want to have then there is something wrong with that broker and you better look for a new broker.
Alright, so these are the different options that MetaTrader 4 offers to place a trade. Of course, you can use Expert Advisors or the so-called Robots that we show in our courses and we use for our trading in the Academy because they execute trades based on different strategies fully automatically but this I'll be talking about in another lecture. For the moment, I wanted to show you how you can use the One Click Trading on MetaTrader 4 or how you can place Pending orders.
Conclusion
One more time, four different options for Pending orders – the Buy Limit, Sell Limit, Buy Stop and Sell Stop and pretty much discovers all possibilities of placing a trade in MetaTrader 4.
If you want to buy at a higher price then you need to use the Buy Stop
To sell at a lower price, you need to use the Sell Stop
if you want to sell at a higher price you need to use the Sell Limit
To buy at a cheaper price than the current level you can use the Buy Limit
Alright, so these are the different options for placing a trade on MetaTrader 4. If you have any questions let me know in the comments below. I'll be super happy to answer you. Enjoy trading and I will see you guys in another lecture, take care and enjoy trading.