Want to know whether BlackBull Markets is a legit broker or yet another scam? We have compiled this BlackBull Markets review only for you!
In this honest BlackBull Markets review, our research team has uncovered some of the most important points you should consider before selecting your broker. At the end of this article, you'll be able to decide whether or not to use BlackBull Markets for your online trading needs.
BlackBull Markets: Overview
BlackBull Markets is a trading broker that was founded by trading experts with a strong background in fintech development, Forex, and data security, in the year 2014. Within a short span, they have become one of the most popular trading brokers for Forex, Indices, Commodities, Energies, Metal, and CFDs.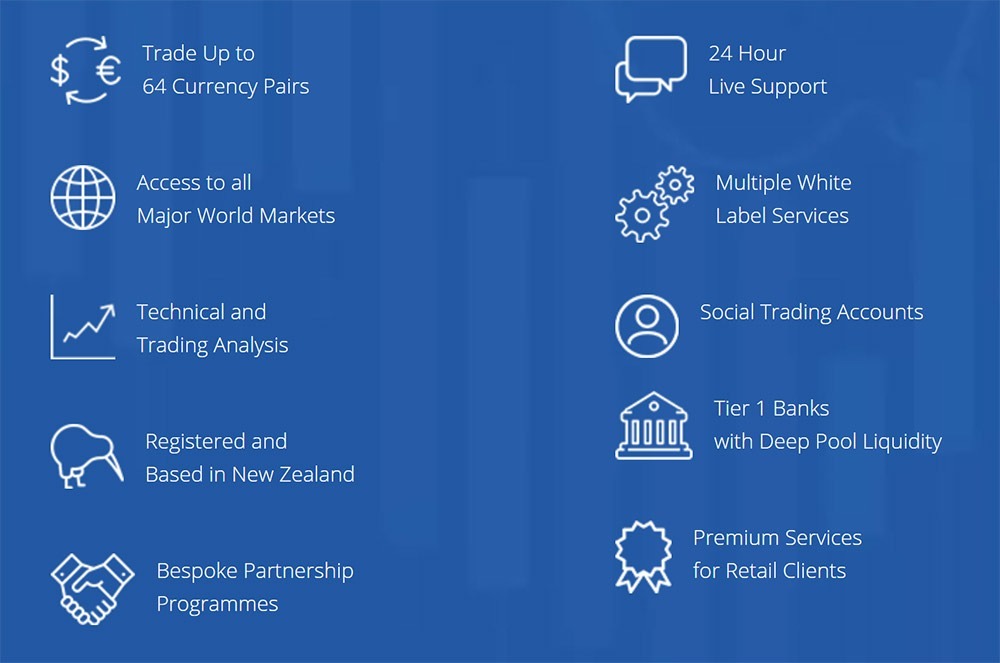 The company is based out of Auckland, New Zealand, the country which hosts a rapidly thriving Fintech industry with the likes of the government.
However, the reputation and popularity gained by BlackBull Markets compelled them to expand their operations to New York, London, Jakarta, and Kuala Lumpur. They claim to operate with full honesty and integrity.
BlackBull Markets is an ECN (Electronic Certified Network) broker with No-Dealing Desk (NDD) and Straight Through Processing (STP). The global partners of the company include Liquidity Providers for a great depth of market and a huge pool of liquidity. In short, this offers likable trading conditions to traders all across the world with lighting trading speeds, reliable customer support, security, and firm BlackBull Markets spreads as low as 0.1 pips.
Further, liquidity comes from the reputed international financial institutions including JP Morgan, Goldman Sachs, Merrill Lynch, Credit Suisse, SMBC, RBS, Bank of America, Commerzbank, and BNP Paribas.
BlackBull Markets Regulation
Talking about BlackBull Markets regulation, the company is registered with the Financial Service Provider Registry (FSPR) of New Zealand. It is also a reputed member of the Financial Services Complaints Limited (FSCL) dispute resolution program. The main goals of FSPR include providing the company information, increasing transparency, and helping in meeting the CFT or AML obligations across the globe.
Further, the organizations that are registered with FSPR should also be a member of an independent dispute resolution program. This is to make sure that the complaints are addressed independently and Impartially with full honesty.
BlackBull Markets Is Certified Financial Services Provider
BlackBull Markets group is a certified Financial Services Provider under the registration number: FSp403326. It also owns a Derivative Issuer License passed by FMA ( Financial Markets Authority). Latter is the government organization that regulates all the financial markets of the country.
Apart from all this, BlackBull also have Counter Financing of Terrorism (CFT) and Anti Money Laundering (AML) strict policies. These policies make sure that all the business operations are ethical and safe.
The company is striving to have the highest level of operational standard and conduct along with a well-maintained supervisory that protects the traders from security threats.
Furthermore, the funds deposited by the clients are safely held in separate accounts. This is for speedy processing and to make sure that they are not used for any unsafe purposes. In this way, clients get peace of mind that their money is in a safe place. Their banking partner is ANZ Bank which is a financial institution with a strong reputation in Australasia and is also well-known globally.
BlackBull Markets group has developed strong relationships with both FSPR and ANZ Bank to make sure that they offer the highest level of security to their clients. Further, the company submits files and audits every year. The best part is, that a majority of this legal information is available in the public domain.
BlackBull Markets Review: Service Quality
The services and top-end trading tools they provide have won numerous awards for innovation and technology. BlackBull Markets is one of the rapidly growing companies in the industry. In fact, back in 2018, they have won the prestigious Deloitte Fast 50 award for being the fastest growing companies in New Zealand. They have earned a global reputation and presence by developing highly advanced fintech solutions including their own aggregation software.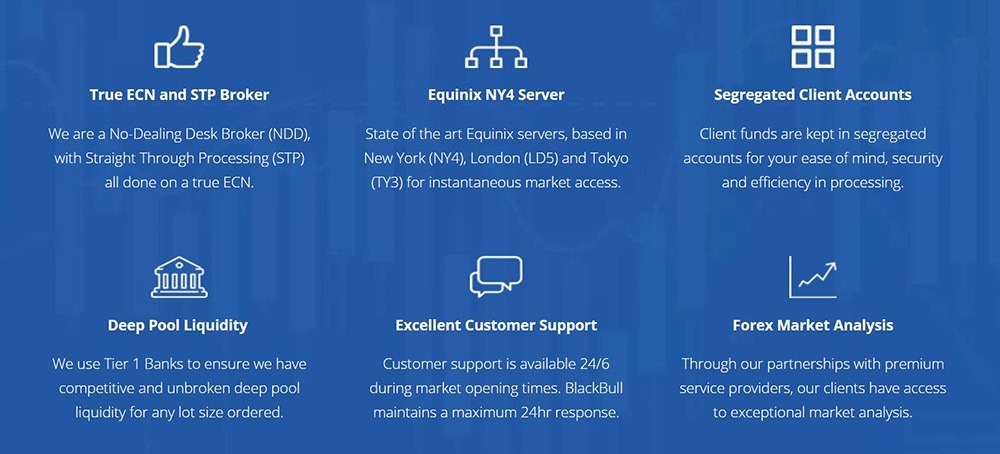 BlackBull Markets Review: Countries
BlackBull Markets operates globally. They accept clients from all across the world excluding countries such as Russia, USA and Spain. Furthermore, some features of BlackBull Markets may not be available for the clients from some particular nations because of legal restrictions.
BlackBull Markets Review: Trading Platforms
BlackBull Markets use one of the most popular and renowned trading platforms, MetaTrader 4 or simply BlackBull Markets MT4. This platform is founded by MetaQuotes. Besides, platforms like FIX API Trading and Virtual Private Servers are also available.
Blackbull Markets also offer TradvingView. If you open an account with Blackbull Markets you will enjoy a free TradingView Pro subscribtion. That would save you a lot of money if you are are using TradingView in the longterm.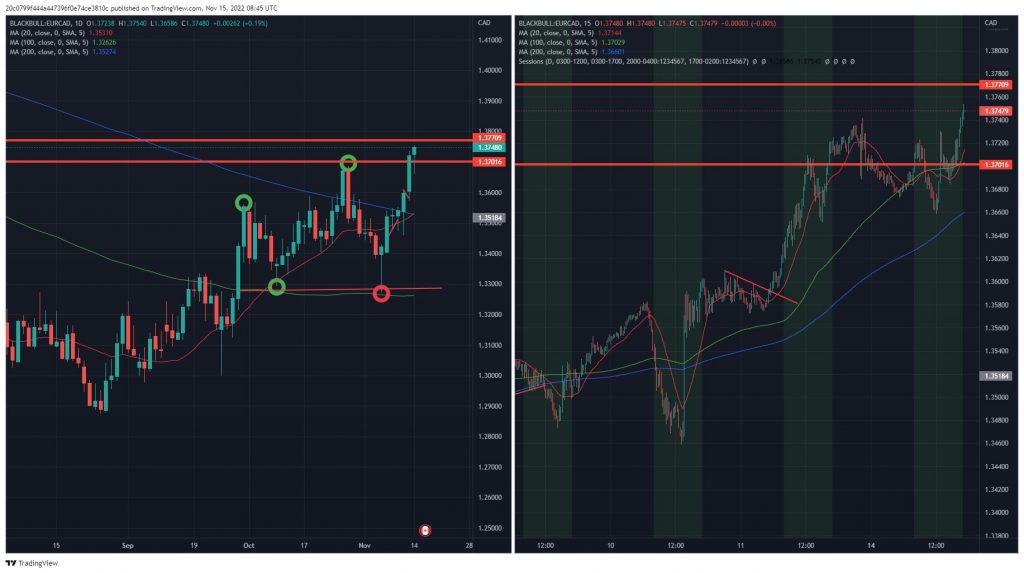 MetaTrader 4
MetaTrader 4 is the first choice of many traders. It is suitable for both newcomers and industry experts.
This platform is popular for its ease of use, user-friendly interface, advanced features, customizability, and simple learning curve.
Moreover, the key features of MetaTrader 4 include around 85 inbuilt technical indicators, real-time market quotes, multiple order types and timeframes, chart analysis tools, templates for trading strategy, automated trading, etc.
Do you want to learn more about MetaTrader 4? Check out our MetaTrader 4 Tutorial for Beginners.
This BlackBull Markets' platform is linked to the NY4 Equinix server situated on Wall Street, which offers high-speed execution in just 2 to 4 milliseconds. In other words, this is a reliable server that enables you to trade directly with a full range of trusted liquidity providers allotting the best ask prices and bids with tight spreads and low slippage.
In addition, MetaTrader 4 is available for almost all platforms including mobile (Android and iPhone), desktop(Windows, Mac) and web. If you're looking for an easy to use and convenient way then the mobile option will be best for you. You can enter/exit positions, manage orders and perform other options from a simple click.
FIX API Trading Option
BlackBull Markets also offer a reliable FIX API trading option for the traders who want to use their personal FIX application. In other words, this enables the clients to avoid the MetaTrader 4 app and use Direct Market Access (DMA) by connecting it to the ECN grid.
Direct Market Access improves the transaction speeds and minimizes the latency. However, FIX API options are only available for clients with institutional accounts.
BlackBull Markets Review: Trading Tools
Although they offer the most reliable MT4 platform that offers a great collection of built-in tools, BlackBull Markets doesn't offer other separate trading tools. Instead, the platform focuses on providing additional functionalities through partnerships with free access for eligible clients.
Virtual Private Servers (VPS Hosting)
BlackBull offers Virtual Private Servers or simply the VPS hosting which is directly connected to the Equinix Servers via optic cables, using it you can keep your trading platform running on a remote basis without having to turn on your computers.
Further, you have the opportunity to customize the server according to your needs and preferences and minimize latency as high as 30%. These servers are the most suitable for expert traders who need a higher uptime of no less than 99.99% and use the trading platform 24/7.
Moreover, the BlackBull Markets users can get a free VPS if they own a prime account, maintain at least 20 lots, and have at least a $2000 deposit.
Multi-Account Manager (MAM) / Percentage Allocation Management Module (PAMM)
BlackBull Markets provides PAMM and MAM solutions for fund managers who need to process bulk orders from one main account to multiple accounts.
Talking about the MAM software, its auto trade function is highly advanced and can be customized according to your trading requirements. Further, it is designed to work with the BlackBull Markets MT4 platform. Coming to the PAMM system is also customizable with a centralized liquidity pool for supplying profits and a high-water mark clause which ensures that you don't have to pay any additional fees if the value goes down below your initial investment.
SwipeStox
SwipeStox is a well-known social trading platform where traders from all across the world share their trading related knowledge with each other to make better trading decisions. Moreover, you can follow the effective and lucrative actions of your fellow traders to improve your own trading portfolio.
In addition, it offers a highly intuitive interface using which you can access, accept or deny the trades in real-time. If you're a registered client of BlackBull Markets, you can sign up for SwipeStox for absolutely free and connect your trading account to the SwipeStox account.
PsyQuation
PsyQuation is a useful trading management tool that allows you to monitor your trading performance. In addition, it helps you to analyze your actions and shows your weak areas that need to be improved. You can manage your trading, set your goals, set notifications via an easy to use interface. If you're a BlackBull Markets client, you can create your PsyQuation account for free and connect it to your MT4 account.
Economic Calendar
On the website of BlackBull Markets, you'll find an economic calendar widget that is powered by MetaQuotes. This calendar shows all the news events related to trading and stock marketing. You can find the news event, relevant currency, and stock forecasts.
BlackBull Markets Review: Education
The learning curve of BlackBull Markets is very simple and quick. This means you can easily learn trading with the broker on MT4 or other platforms. They offer a video tutorial section that includes useful videos on the topics such as how to set up and use your trading account, how to get started, how to perform chart analysis etc. The broker also offers some useful and easy to understand trading guides and review articles to help the clients make informed decisions.
BlackBull Markets Review: Trading Markets
BlackBull Markets allow its clients to enter a wide array of markets including over 64 minor, major as well as exotic currency pairs, precious metals like gold and silver, indices from leading markets, and commodities including gas, oil, and energy.
Forex
BlackBull Forex needs no introduction as it is the most popular financial market which most traders across the globe use. Its daily trading volume on average goes as high as $5 trillion per day.
BlackBull Markets allow its clients to enter a wide array of markets including over 64 minor, major as well as exotic currency pairs that are available 24/7 for trading, with tight BlackBull Markets spreads ranging from just 0.1 pips and flexible leverage of around 1:500.
Index CFDs (Contract for Difference)
BlackBull Markets traders can enter the global equity markets and diversify their trading portfolio using a wide array of indices including US30, AUS200, SPX500, GER30, JPN225, and UK100.
For those who don't know, Indices are the value of particular markets based on the value of companies in the market. They are normally traded as CFDs and grouped according to similar categories.
The broker does not charge any amount on CFDs. Further, there are no hidden charges, re-quotes, and mark-ups you need to worry about.
Commodities
Traders get the opportunity to diversify their portfolio using a wide array of commodities such as oil, gas, and energy. Further, there is flexible leverage and minimum prices.
Commodities are usually classified into two categories: hard (silver, gold, and crude oil), soft (livestock, sugar, and cocoa). However, a thing to keep in mind is, commodities can be impacted by environmental and political scenarios.
Precious Metals
BlackBull Markets allows the clients to trade valuable metals like silver and gold with flexible leverage and minimum trade rates. This feature helps the client to build and enhance their portfolio in a safe manner.
Energies
The broker offers energies including oil, natural gas with flexible leverage and a cost-effective pricing model.
BlackBull Markets Review: Trading Accounts & Fees
BlackBull Markets offer a set of trading accounts you can choose according to your trading experience and requirements. In addition, each account offers flexible leverage of about 1:500 and a lot size of 0.01, and free access to the trading markets.
The best part is, there are demo accounts that you can use to test the trading platforms and other things before opening your actual account. This is a great facility because you can stay assured that your money is in a safe place.
Further, all the accounts offer deep liquidity from a number of reputed banks along with raw interbank spreads starting from zero pips. All the accounts are compatible with the MT4 platform and offer easy deposit and withdrawal mechanisms.
To sum up, here are the different types of accounts that BlackBull Markets offers.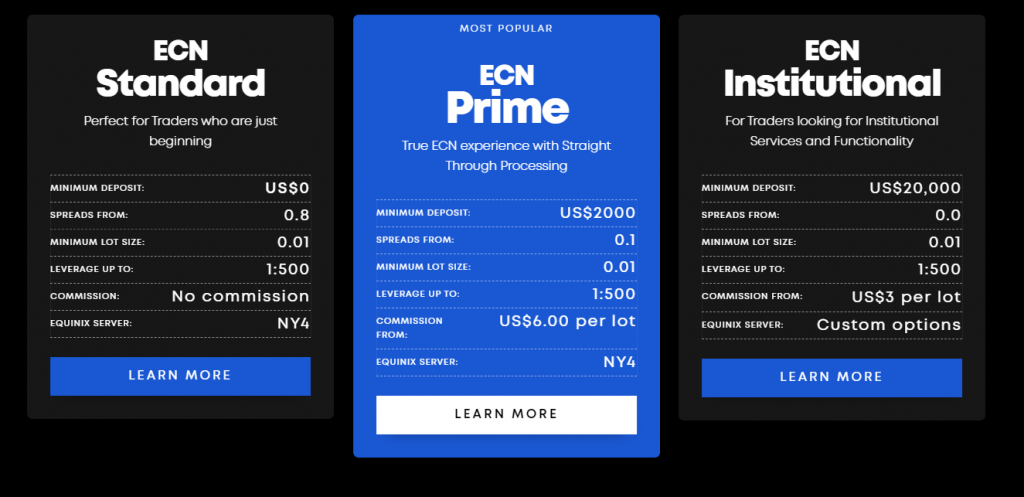 ECN Standard
This is the standard account recommended for beginners. BlackBull Markets does not require minimum deposit. It uses the Equinix NY4 server for speedy trading. Moreover, this account is free from commissions and offers spread as low as 0.8 pips.
ECN Prime
For opening a Prime account, you need to deposit an amount of $2,000. It runs on Equinix NY4, TY3, or LD4 servers that offer high-speed operations. The commission fee with this account is $3 and spreads are as low as 0.1 pips.
ECN Institutional
This one is the biggest account recommended for trading experts. It needs BlackBull Markets minimum deposit of $20,000 and allows you to customize the server according to your requirements. In addition, the commission charge is negotiable and spreads are as good as 0 pips.
BlackBull Markets Minimum Deposit & Withdrawal
BlackBull Markets offer a very convenient deposit and withdrawal mechanism. You can select your own deposit and withdrawal methods from available options such as credit /debit card, banking and via online payment processors such as Neteller and Skrill. However, not all the BlackBull Markets withdrawal methods are equal. Just like any other thing, some methods are better than others.
Note that you may have to pay additional fees for using particular methods. Also, bank transfers may take some time before reflecting in your accounts. Moreover, there are multiple currency options including USD, AUD, EUR, CHF, GBP, CAD, HKD, SGD etc.
BlackBull Markets Review: Customer Service
BlackBull Markets offer a great customer support that is available 24*6 via email, phone and online chat. The broker aims at providing 24 hour response time at maximum. Further, they have offices in major countries and representatives in leading markets that offer quick support and address the queries of the traders.
BlackBull Markets Review: Pros & Cons
Pros
Offers global Equinix servers for fast execution
Offers FIX API trading solutions
Registered as Electronic Communication Network
Partners with leading liquidity providers
No Dealing Desk for fair transactions
Cons
Don't accept US clients
Lack of educational materials
Limited trading tools
Lack fixed spread accounts
BlackBull Markets Review: Our Verdict
BlackBull Markets is not a very old financial institution as compared to some of the other leading brokers. However, the company has gained a massive reputation in a short time and is growing at a rapid rate. It has made its global presence and received many awards for its advanced features and functionalities. Moreover, the group strives for delivering the best possible trading conditions for its clients with affordable fees, the right spreads, and speedy execution.
Although the trading tools and educational support is limited, you can expect them to add these facilities in the upcoming time. Overall, BlackBull Markets is a reliable broker you can consider for your trading journey. You can certainly rely on BlackBull Markets.