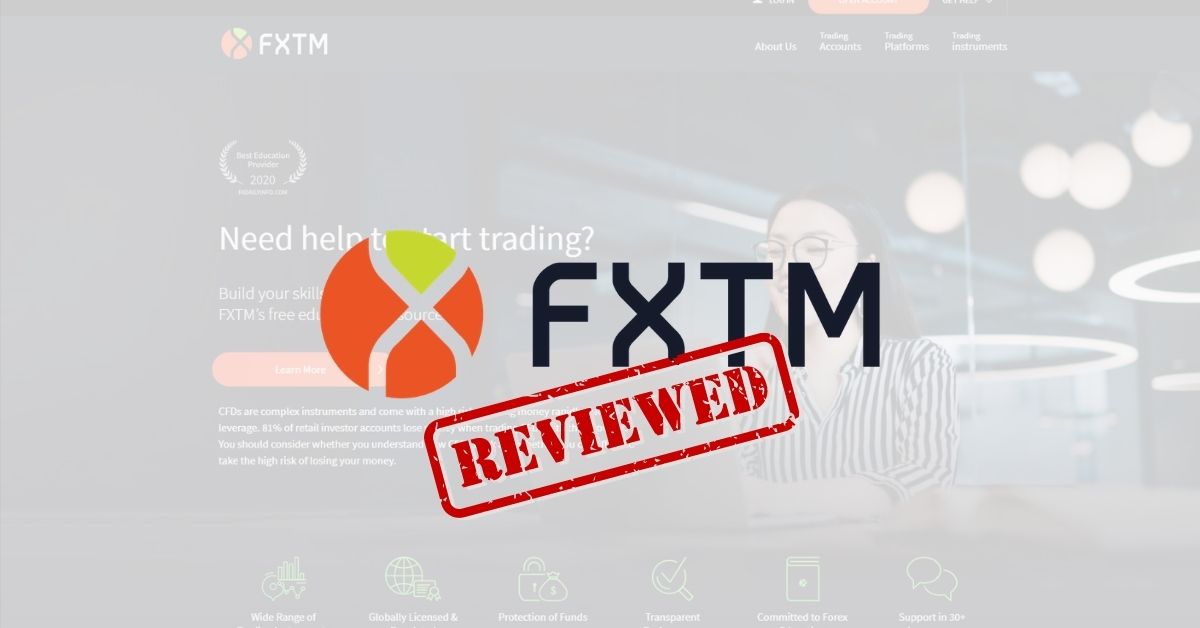 FXTM Review – How Reliable Is The Broker?
Posted by

Date

March 4, 2021
In this FXTM review, we will examine different aspects of the broker functioning – min deposit, account types, spread, the MT4 platform offered by FXTM, regulations, withdrawal, and customer support.
FXTM, also known as ForexTime, is a global FX and CFD broker having been founded in 2011. It is considered a safe, reputed, and reliable brand among FX and CFD brokers. Much of this is due to its sound business ethics and strict adherence to regulations.
It offers a wide range of markets and products for trading through 5 different types of accounts. Traders of all kinds of experience and skill levels can trade on this platform.
Licenses & Regulations
FXTM review has found that FXTM is licensed and regulated by the Financial Conduct Authority (FCA), Cyprus Securities and Exchange Commission (CySEC), and FSC, Mauritius.
Review Key FXTM Features

FXTM has been a recipient of many industry awards including Best ECN Broker 2020. It offers a joining bonus of 30% capped at $100 through a group company, Exinity Ltd. It offers trading facilities primarily in CFD, Forex, Stocks, and Crypto instruments.
You can start trading with a minimum deposit of $10 and a minimum trade of 0.01 lots. Its trading platform can be integrated into MetaTrader 4 and MetaTrader 5. You can trade on FXTA via any of the devices that run Windows, iOS, and Android. It also offers auto-trading and Islamic Account.
FXTM Pros Review
Let's have an FXTM review and look at what makes FXTA a good Forex broker.
Its customer service is quick and reliable
It offers plenty of educational opportunities
Account opening is digital and fast
FXTM review has found that ForexTime runs customer support in many languages and the executives are knowledgeable as they come up with relevant and reliable answers. They offer a demo account for you to do the necessary practice before entering the live trading sessions.
ForexTime also offers plenty of educational tools and webinars so that you can equip yourself with the required knowledge and skills to do better in your trading. The account opening is quick and an entirely online process.
FXTM Cons Review
However, there are some not-so-great aspects of FXTA such as it charges withdrawal and inactivity fees. It does not offer trading facilities in bonds, ETFs, and mutual Funds. In this sense, it has a limited product portfolio.
Trading Platforms
FXTM broker offers some of the most popular trading platforms such as MetaTrader 4 (MT4) and MetaTrader 5 (MT5). If you are using a Desktop or Laptop for your trading, you can download FXTM MT5 but it is not available on smartphones yet.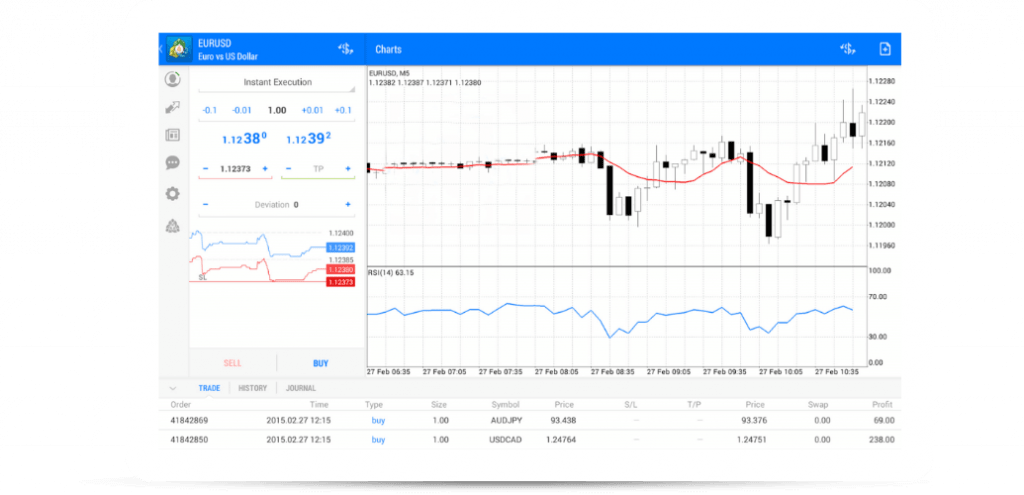 However, the FXTM broker review finds that you can use FXTM MT4 on smartphones. Both FXTM MT4 and MT5 are excellent platforms for Forex trading. These platforms are highly optimized for fast, easy, and straight-forward opening and closing of trades. They boast easy navigation, too.
Assets & Markets
In this review, we found that FXTA's range of instruments available for trading depends on the legal framework of a particular country. However, its complete portfolio of products and markets includes the following:
Currencies trading: Forex
Spot metals: Gold and Silver
CFDs: For Commodities and Indices at FTSE, Nasdaq, DAX, and more
Shares CFDs: Google, Apple, BP, and more
Review FXTM Commission & Spreads
For Forex trading, the commission charged by FXTA broker is relatively low while for CFDs it's close to the industry average. However, if you choose to work with an ECN account, the FXTM spread can be 0.1 points at the lowest. And ECN account levies low spreads but it attracts a commission. The commission tends to be lower if you maintain a higher account balance or trade more.
However, the FXTM broker review finds that ForxTime has several account types and each has a different fee structure. For Standard Account, the FXTM broker spread is quite competitive, though it is higher than the ECN accounts.
**Note: When you trade on the FXTM broker, spreads are never fixed but always floating and it may increase as per the market conditions during specific periods of trading.
ForexTime Broker Fees
There are quite a few additional charges applicable that may make it more expensive to trade on FXTM broker. For example, there is an inactivity fee. If your account remains inactive for more than 6 months, you will be charged $5 for every month after the first 6 months. At the prevailing rate, the inactivity fee is quite low and it seems to prompt you to remain active.
However, for withdrawal, you are charged a fee and it depends on the country of your residence, the currency, and the method you use. The bank transfer seems to be the most costly option while cryptocurrencies seem to be the least expensive for withdrawal in some countries. However, you have been spared from any FXTM account maintenance or deposit fees.
Feel free to compare the Fees with the Recommended Brokers we have on the brokers' page.
FXTM Account Opening
FXTM offers its trading platform to clients from all over the globe with a few exceptions such as residents from the USA and Japan, among some other countries. The process to open the FXTM account is completely digital and online, and it's quick and easy. You can expect your account to operate within a maximum of 2 working days. There are quite a few FXTM account types to choose from and we will review them further.
FXTM Min Deposit & Account Types
FXTM min deposit varies as per the account type you want to maintain. For a Cent Account, the minimum deposit requirement is $10. For a Standard Account, the FXTM min deposit is $100.
FXTM Account Types
FXTM offers different types of accounts. Some of these accounts or their features are not available to the residents of some countries. The min deposit, available trading platforms, and products differ as per FXTM account types.
Cent Account
Cent Account is available to people of all countries. It attracts a higher spread and the FXTM min deposit requirement is $10. It offers FXTM MT4 for Forex trading while the markets available to this type of account are Forex, and commodity CFD. There is no commission to be paid for this type of account.
Standard Account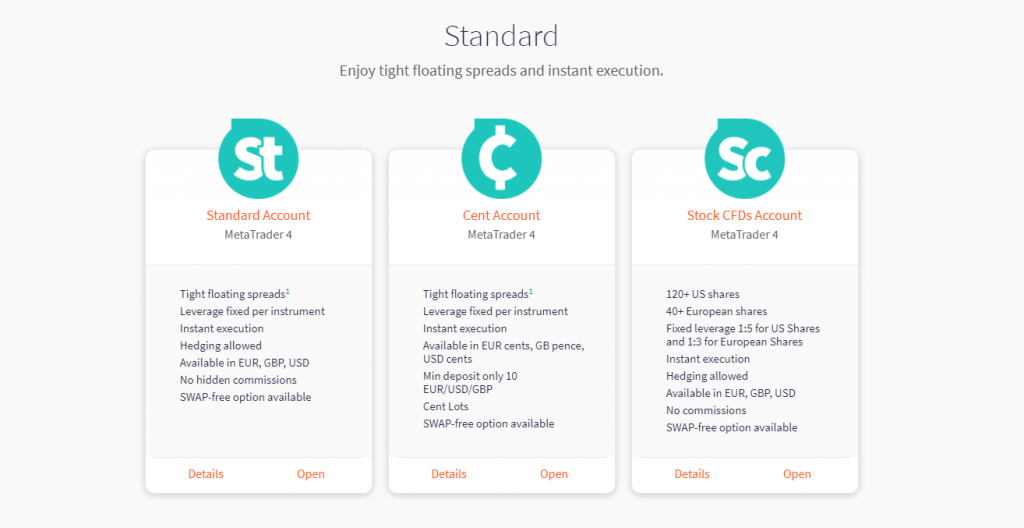 FXTM Standard Account is available to all people of countries and a min deposit of 100 USD/EUR/GBP is required. It attracts a higher spread and offers an FXTM MT4 platform for Forex trading. Among the markets, Forex, commodity, or stock index CFD are available to this type of account. There is no commission to be paid for this type of FXTM account.
Stock CFDs Account
Stock CFDs Account is available to people in the European Union and the UK. It attracts a higher FXTM spread but charges no commission. The FXTM min deposit requirement is 100 EUR/GBP. It allows the use of FXTM MT4 for Forex trading while the market available to this account type is stock CFD.
ECN Account
ECN Account is available to people of all countries. It attracts a lower spread but FXTM charges a commission. The minimum deposit requirement is 500 EUR/GBP. It offers both FXTM MT4 and MT5 for Forex trading. The markets available under this account type are Forex, commodity, and stock index CFD.
ECN Zero Account
ECN Zero Account is available to people in the European Union including the UK. It attracts a higher spread, but FXTM charges no commission. The min deposit requirement is 200 EUR/GBP. It offers MT4 and MT5 for Forex trading and the markets available for trading include Forex, commodity, and stock index CFD.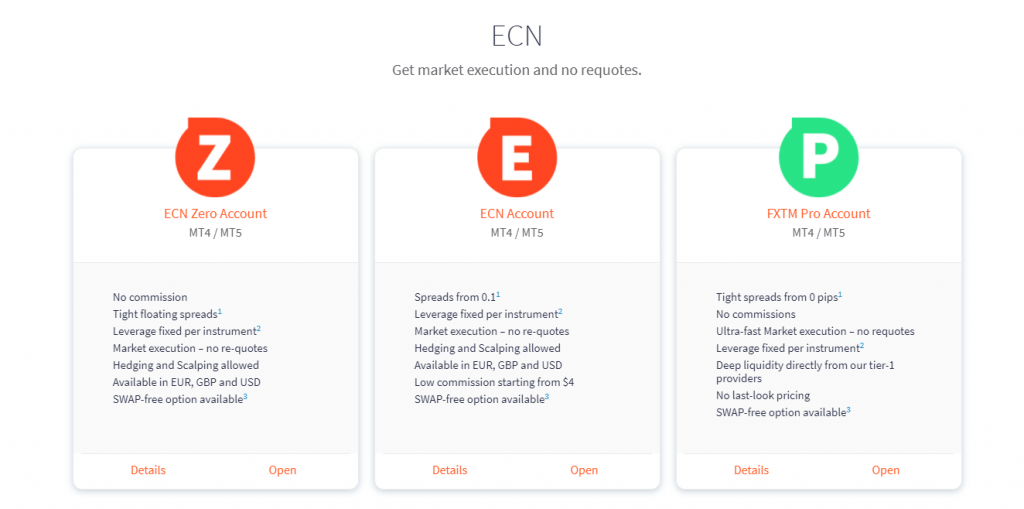 FXTM Pro Account
FXTM Pro Account is available to people all over the world, attracts a lower spread, and charges no commission. The min deposit requirement is 25,000 EUR/GBP and offers both MT4 and MT5 for Forex trading at FXTM. The available markets include Forex, commodity, and stock index CFD.
Trading in spot metals or real stock is available only to non-EU clients
Each of these FXTM account types can be converted into swap-free or Islamic accounts.
You can open a corporate account with FXTM. For this, you should write an email to FXTM.
How to open an FXTM account
Opening an account with FXTM is super easy. It's a routine sign-up or registration process that you have to complete to open an account on any website. Plus, it's a little more because your FXTM account type would involve financial transactions. The entire process is online and it will take a maximum of 30 minutes. Your account would be approved within a maximum of two working days, one working day in most cases. It's mostly profile-related information that you need to fill in.
Here is how it happens:
There is a sign-up form on the home page. Fill in your name, address, email address, country of residence, and mobile phone number. You will also create your password on this page. You will receive a PIN on your phone that need to fill in to be able to go to the next page in the sign-up process.
After you click on 'Register Now', you will be taken to another page where you need to fill in some personal information such as your level of education and date of birth.
You need to update your current address.
It will ask you some basic questions about your experience and financial background.
You need to answer a questionnaire seeking to analyze your knowledge about financial matters.
Now, is the time to choose the FXTM type of account you want.
The last requirement is to verify yourself and your address by uploading a copy of your ID or passport or driving license. You also need to upload a copy of your utility bill or bank statement to verify your address.
FXTM Deposit & Withdrawal Review
When it comes to deposit and withdrawal, the FXTM broker seems to have all possible options. You can use bank transfers, credit cards, and digital wallets. The process of deposit and withdrawal at FXTM is quick, it does not take more than 3 days in most cases.
The only downside is it charges a fee for most methods of withdrawal. For withdrawal, credit cards, electronic wallets, and bank transfers can be used. The withdrawal fees depend on the country of residence and method of withdrawal. You can withdraw money to an account in your name only.
For deposit, no fee is charged. You can make deposits with a bank account in your name only.
Base Currencies
There are 4 base currencies through which you can complete your FXTM deposit and withdrawal. These currencies are USD, EUR, GBP, and NGN (only Nigerian residents can use NGN).
The base currencies are important because if the currencies do not match between your bank account and the FXTM account type you are operating, you will have to pay a currency conversion fee for both deposits and withdrawals.
However, you can open a multi-currency bank account and get attractive rates for currency conversion. There are quite a few digital banks such as Revolut and TransferWise that offer this kind of service. They also offer international bank transfers at extremely attractive rates.
How to withdraw funds from FXTM
To withdraw money from your FXTM account, you need to follow a few simple steps. Here, they are:
Open MyFXTM and log in to it
Select 'My Money'
Go to 'Withdraw Funds'
Choose the withdrawal method
Fill in the amount you want to withdraw
State the reason why you want to withdraw
Initiate the withdrawal process
Verify with the 4-digit code you receive on your phone
That's all. Your FXTM withdrawal will be processed and your money will be transferred to your chosen account.
Review The FXTM Trading Platforms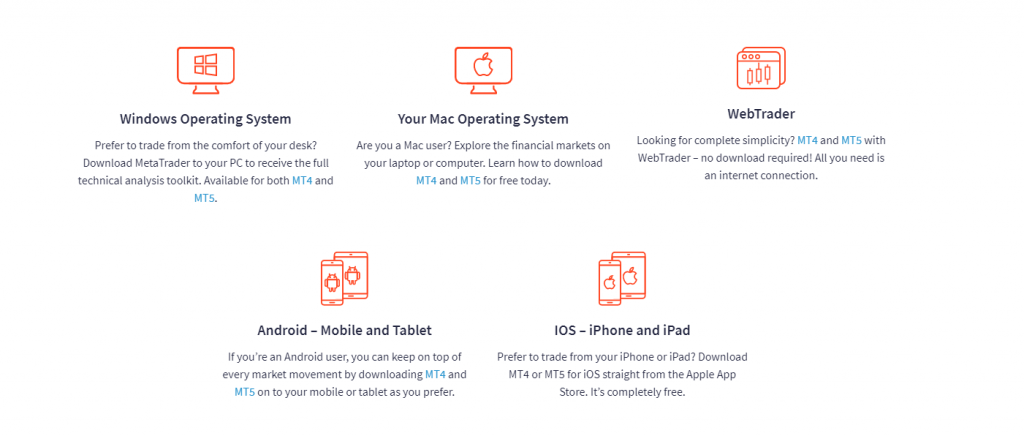 Web Trading Platform
In this FXTM review, we found that the broker uses the third-party trading platform of MetaTrader. It does not have a trading platform of its own.
MetaTrader has MetaTrader 4 (MT4) and MetaTrader 5 (MT5) trading platforms which are very similar to each other both in design and functions. These platforms are highly customizable and available in many languages. It maintains clear fee statements. Both of these platforms have satisfactory search functions. The assets are easily traced in their categories.
On the downside, these platforms do not send price alerts, and some features are very hard to find. They also lack a two-step log-in.
Placing Orders
You can place the orders by choosing the basic order types such as Market, Limit, and Stop. However, you may not find sophisticated order types. You can use order time limits such as Good 'til time (GTT) and Good 'til canceled (GTC).
Notifications
On the desktop trading platform, you can set notifications and alerts.
Fee and Portfolio
FXTM trading platforms maintain clear and up-to-date fee and portfolio reports. You can find the profit-loss balance and also the commissions you have paid in the 'History' tab.
FXTM Mobile Platform
FXTM offers a very efficient mobile MT4 trading platform. It is immensely user-friendly and well-designed. However, you may find the log-in is not as safe as you would wish for a leading trading platform.
FXTM MT4 is available both in Android and iOS versions. To get FXTM on your MT4, download MT4 and then connect it to the FXTM server. You can choose from a large selection of languages but for that, you need to change the default language of your mobile phone number.
Overall, the mobile trading platform for FXTM is very efficient and user-friendly. You are going to like it. However, the log-in feature is similar to its web format. It uses a one-step login, which is not strong enough for a trading platform of FXTM's size and stature. As of now, it does not use fingerprint or face recognition technology for authentication and login.
Search functions
The mobile version of the FXTM trading platform has an efficient search function that makes it easy to find a product by typing its name or searching through the category folders.
Placing Orders
The mobile format has the same order types available as on the web format.
Alerts
This facility is not available on the mobile platform.
Desktop Trading Platform
You should visit FXTM to try out the desktop format of its trading platform. The desktop trading platform is similar in design and functions to its web trading platform. The only major difference is that here it is possible to set price alerts.
You can use either MT4 or MT5 desktop trading platforms with FXTM. Most of the features are the same as in the web trading platforms. These features include design, languages, order types, search functions, and fee and portfolio reports.
The desktop trading platform gives you the facility to set notifications and alerts that it will send you to your email and mobile phone. You need to add your email id and mobile MetaQuotes ID. To add these details, you need to select 'Tools' and go to 'Options'. To find a mobile MetaQuotes ID, you need to visit the settings of the MT4 app.
Customer Service
You can find the contact details of the customer service at the FXTM website. Keep in mind that the FXTM customer service is available only on weekdays. You can connect customer support in many ways and they impress you with quick and relevant information. You can contact them through phone, live chat, and email. They give you a quick response.
The best part of customer service is that they can take calls and help you in multiple languages including Arabic, English, Farsi, Czech, Chinese, French, Hindi, Korean, Malaysian, Indonesian, Italian, Polish, Russian, Vietnamese, Spanish, and Urdu.
You can chat with customer support through its live chat as well as through WhatsApp, Facebook Messenger, Viber, and Telegram.
Even their phone support is quick and reliable and you are able to connect with a well-informed executive within a few seconds.
The support team even responds to email queries within hours.
Final Thoughts
During this review, we found that FXTM is a large Forex broker with a global reach and operations. It has licenses from the UK, Cyprus, and Mauritian governments.
It has been in operation since 2011 and has clients in nearly 150 countries. FXTM offers its services through highly advanced MT4 and MT5 Forex trading platforms. It is available on the web, mobile, and desktop platforms.
The operations of FXTM broker are adequately supported by an efficient customer care department that resolves problems faced by its large number of customers globally at the earliest.