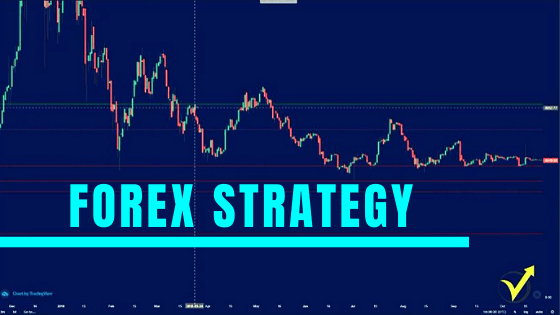 Forex Strategy: Prepare for Real Trading with a FREE Strategy
Forex strategy
Forex strategy is the most important thing when it comes to trading on the market. If you don't follow a precise strategy, you have a 99% chance to lose. I am Petko Aleksandrov, a professional Forex trader. And I became successful when I started to use not just one Forex strategy but many.
Today I will teach you everything you need to know about choosing the best Forex strategy – how I use a Forex strategy builder to automate the strategies as Robots and how I create new strategies for different assets and timeframes.
I will share with you some of my Forex strategy secrets that made me profits. And this article will be a bit longer but if you stay with me until the end because Forex trading is a serious thing and you need to be prepared for it.
Below is one of my accounts where I have 5 different Expert Advisors. For the beginers the Expert Advisor is a Forex strategy which is autoamted.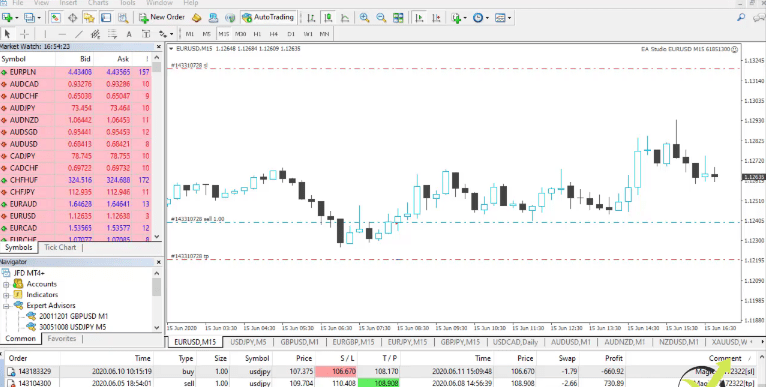 They are from my Top 5 EAs course and there I update the EAs every month
I don't execute any of the Forex strategies manually. I use Expert Advisors or so-called Robots. These 5 strategies are part of my Forex Trading Strategies from Professional Trader course + Top 5 EAs.
So in this course, I put together basically the best strategies that I have at the moment. I update the course every month and I update the Expert Advisors for every single Forex strategy. I will show you some of the strategies and I will start with a very simple Forex strategy for EURUSD that you see on the chart below.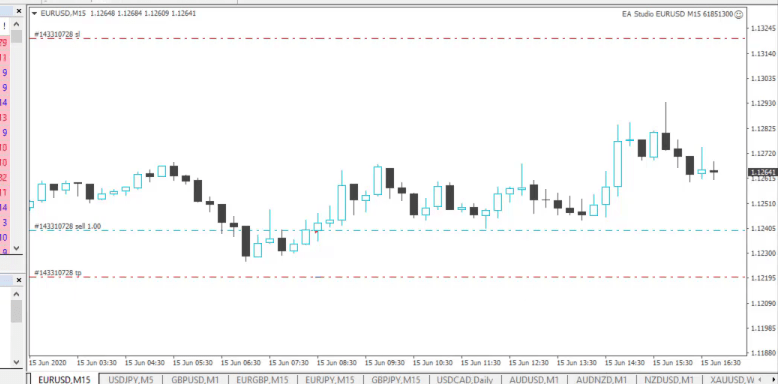 It has one open trade at -$248 but the account history is at $4,116 of a profit. And if I just get a detailed report, you will see that I have some great results with this strategy. So basically this is $4,000 and this is for the last week and a half, I think.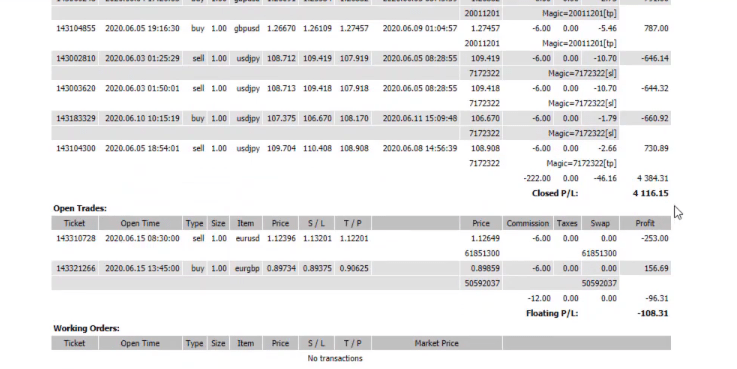 Yeah, the first trades were opened on the 7th of June and today is 15th of June, so about 8 days. I have a Floating P/L of -108 but my closed profit is at 4,116. And you can see all of the trades that were opened and closed. Some for EURUSD, some for EURJPY, I have GBPUSD as well as a currency pair, I have EURGBP, and I have as well USDJPY.
Risk diversification whn trading not just one Forex Strategy
So 5 different strategies to diversify the risk and you can see a very stable balance line running in my account at the moment.

Now, I will show you one of the Top Forex strategies that I have at the moment for EURUSD. It is an extremely simple Forex strategy but it brings really nice results.
Even if at the moment I have an open trade, you can see that it's sold, Take Profit is very close, just 20 pips lower and my Stop Loss is 80 pips higher.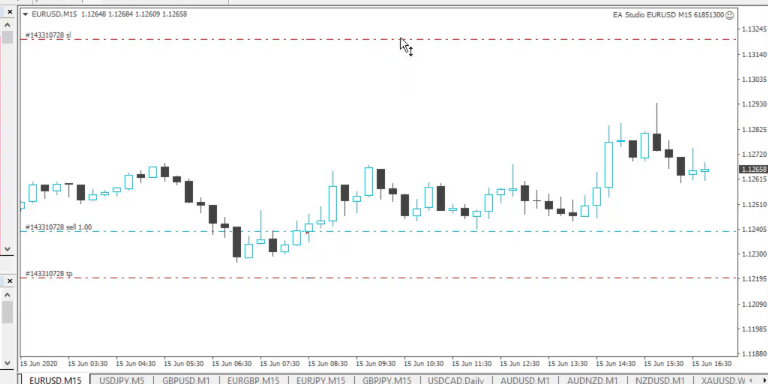 Now, many of you might think that it's wrong to have a bigger Stop Loss than the Take Profit.
But I will tell you some Forex strategy secrets in this lecture. And the first one is that it is wrong that the Take Profit should be 3 times bigger or 2 times bigger than the Stop Loss. This is old, there is no proof of that.
And I can tell you that with my experience of testing so many strategies and Robots, when the Take Profit is closer to your entry, obviously there is a bigger chance that the price will hit the Take Profit first instead of hitting the Stop Loss.
EA Studio software
And I'm not taking chances here, this I will show you with the EA Studio. This is professional software that we use at Forex Academy. If you go to our website at eaforexacademy.com and you click on Expert Advisor Studio, you will come to the Home page where you can find a free course on how to use the software.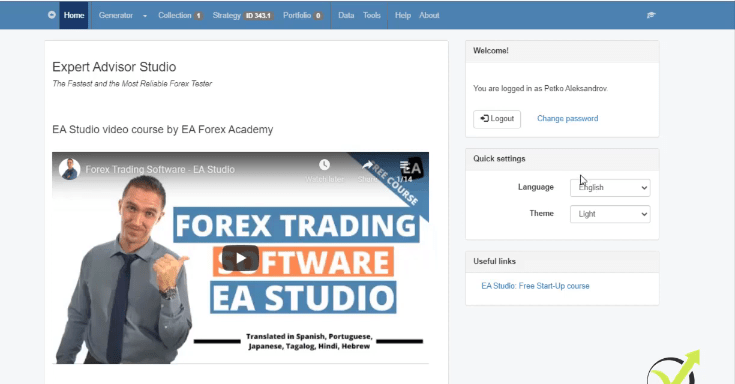 There is a 15 days free trial that you can use to test different strategies, to generate new Forex Robots, and at the same time you can find your best Forex strategy by testing many like what I do. I follow the results and I see which one performs the best.
So this is how you should be selecting your profitable Forex strategy. If I click on Strategy, you will see the very same strategy that I have on the Meta Trader. But here I have exactly the Take Profit, the Stop Loss, I have the entry and the exit rule which I will explain in a minute.
But below you can see a very stable balance chart even though there was a period of stagnation with this Forex strategy.

However, we have over 900 count of trades for the last 3 years and something. So this is a huge statistic that I have as a Forex strategy resource or I can say as a proof that this strategy worked well for that period of time.
You are taking chances without a Forex strategy
And it keeps trading well right now because after having 939 trades executed in the last 3 years, this gives me the signal that this Forex strategy is going to profit in the future as well. If you don't have such a statistic, you're playing chances, you will lose a lot of time on a Demo account, and you cannot see the precise entries as we see them right here in the EA Studio.
On the chart below I see every single trade – where it was opened and where it was closed.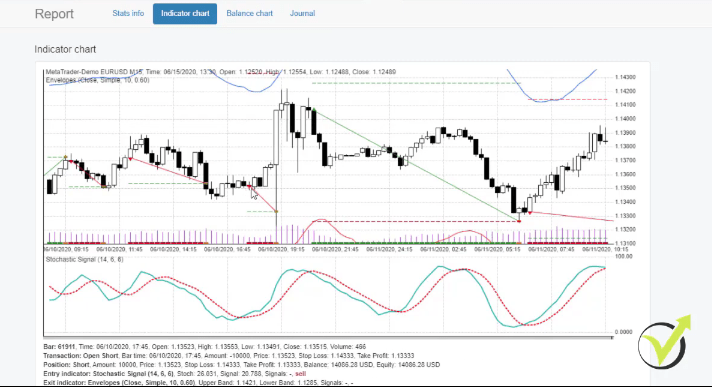 We have a short trade executed and the Take Profit was reached. Another long trade, the Stop Loss was reached. Then we have a short trade, Take Profit was reached. Short trade, Take Profit was reached, and again, and again.
And if you follow all of the Forex strategy resources that we have, you will notice that the Take Profit is hit much more often than the Stop Loss. This is why this Forex strategy is profitable. And if any of you are skeptical about having a smaller Take Profit than the Stop Loss, I will prove that to you.
When we have the green line under, this means that the long trade hits the Take Profit if it hits the green line. If it is a short trade, you will see it's red and if it hits this horizontal red line, it means that it hits the Stop Loss.
The envelopes in that Simple Forex strategy
So what is the Forex strategy for EURUSD in this case? We have the stochastic signal line crosses the signal line downwards. Stochastic signal for that strategy, K Period of 14, D Period of 6, and Slowing of 6. So the rule here is that the stochastic line crosses the signal line downward.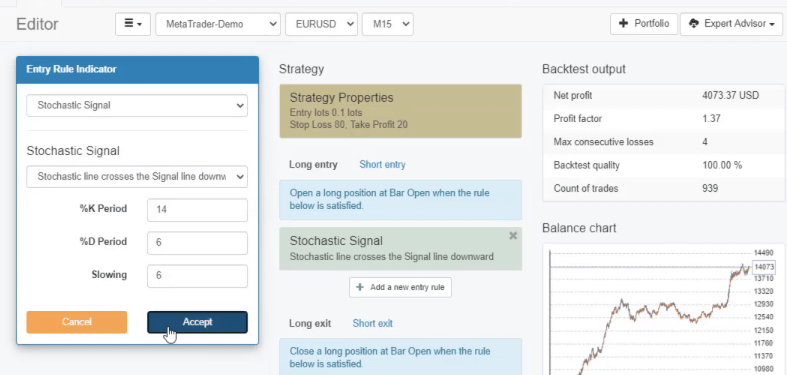 If I click over the chart, I can see where are the stochastic signal line and our entry for a long or when we want to buy with this Forex strategy is that cross the happens between the 2 lines.
You can see below the blue line crosses the red line downwards and this is a buy signal. The opposite thing, when the blue line crosses the red signal upwards, this is a sell signal.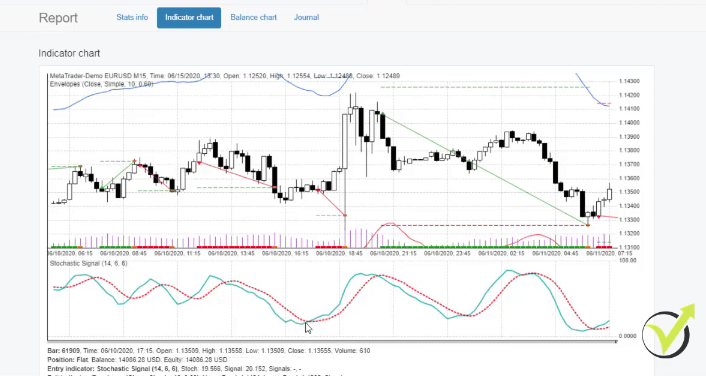 So this easy Forex strategy is for the sideways market. We are buying when the price is cheap and we're selling when the price is more expensive. The exit rule of this strategy is with the envelopes. The bar opens above the lower band after opening below it.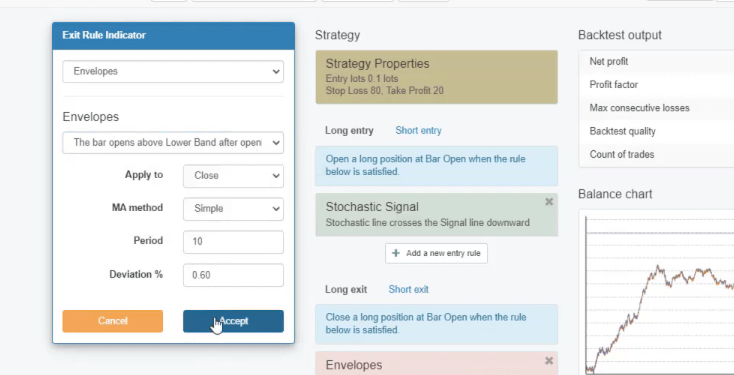 We have the envelopes. And for the people that are not familiar with the envelopes, when there is volatility, they open. And when the market goes sideways, they come together.
The entry rule and the exit rule
The price goes above the envelopes and if you go around the chart on such a Forex strategy, you will find out where the exits are. So, one more time, to summarize this simple Forex strategy, as Stop Loss we have 80 pips, and as Take Profit we have 20 pips.
And then as an exit rule we have the envelopes, as an entry rule we have the stochastic signal. Just one entry condition and one exit condition. With Expert Advisor Studio we have a lot of statistics. If we go to the report we can see the statistical information about that strategy.
We have average position length, we have bars in trade, count of trades which I said is very important, how many months were there on profit, in percentage, the Profit factor which is the gross profits divided by the gross losses and in this case it is 1.32 which is great.
We have the balance chart on the side, count of entries by weekdays so you can see that this Forex strategy trades the most on Thursdays. Then we have profit and loss in currency by weekdays.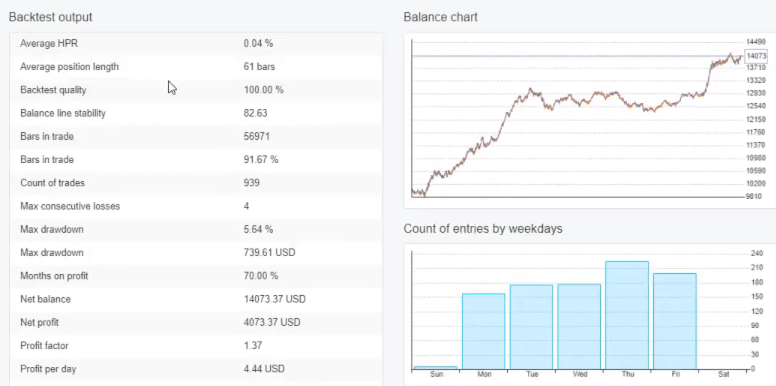 And if I scroll lower, you will notice that we have profit and loss in currency by entry hour, profit and loss in currency by exit hour, count of the entries, profits, and losses by entry hour,
position profit by position holding time.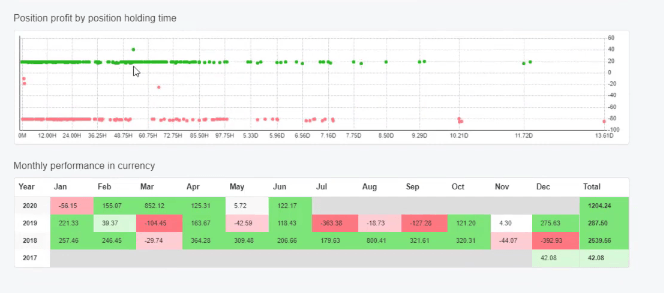 The market changes
With this strategy, most often exit is with the Take Profit than with the Stop Loss and we have a couple of points with the exit condition of the envelopes. And below we can see which months during which year that the Forex strategy was profitable and when it was a losing one.
So it's absolutely normal to have losing month with any trading strategy. Even a profitable Forex strategy loses sometimes. And this is quite normal because the market changes all the time. The most important thing is to end up the year on profit.
In 2020, so far I have a great profit. In 2019 my profit is not that big but it's a profit, and in 2018 it was a fantastic result. This is trading just with 0.1 lot. If I switch to one complete lot, I have much bigger profits so it really depends on what is your money management about the Forex strategy and how you are managing your account.
I will show you how that strategy looks on Meta Trader so I will insert the stochastic indicator which you can find in Oscillators.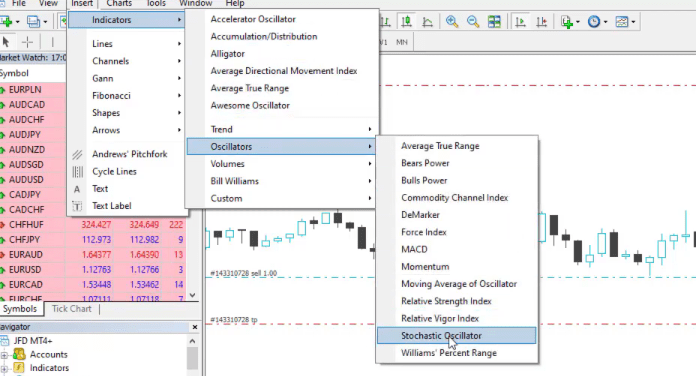 Just click on Stochastic Oscillator and then you go with K Period of 14 and D Period of 6. And Slowing, we have 6. So keep in mind that if you use the default parameters for any Forex strategy, you are very likely to lose.
I use EA Studio to know the best indicator parameters
The default parameters were invented by the brokers just because they want people to lose money. This is why with EA Studio I see which are the best parameters for the indicators. If I do any change, for example, I go with K Period of 12 and I click on Accept, I immediately see what is the difference on the balance chart.
So this way I can notice and I can find out easily which are the best parameters. And actually, EA Studio gives these best parameters automatically because it has the generator which allows you to find a profitable Forex strategy at any moment just by generating it.
But you can see that in the free course, I will not talk about that. I want to concentrate on how to use the Forex strategy properly and how to benefit from it. I will include, one more time, the indicator stochastic oscillator. So we have K Period of 14, D Period of 6, and Slowing of 6, and I click on OK.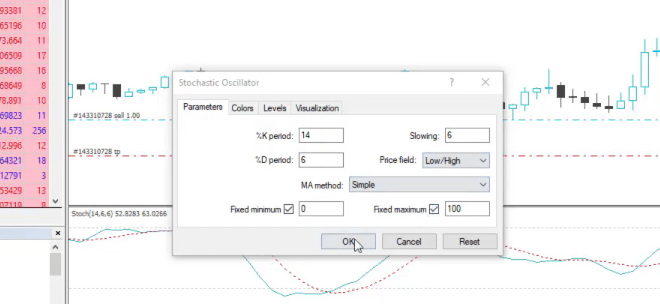 So I have already the stochastic oscillator and then I will add as well the envelopes. Insert, Indicators, click on Trend, and go to Envelopes.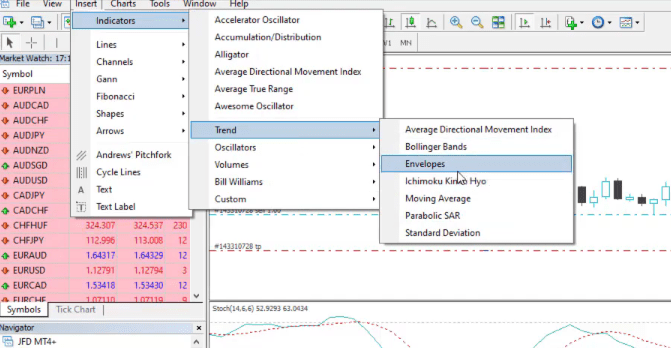 And here I will use Period of 10 and I will use Deviation of 60 as the default. So as we said, the envelopes are 2 lines that go over and below the price.
I don't have to trade this simple Forex Strategy manually
So these are the indicators and when I zoom, I see that my entry, my short trade came just after the 2 lines of the stochastic oscillator crossed.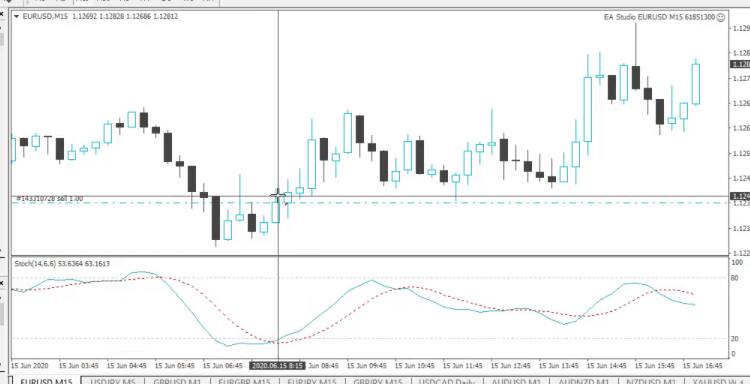 After that, the Robot or the automated Forex strategy places the Stop Loss and Take Profit automatically.
I don't need to do it manually. Now, the price is going towards the Stop Loss but we will see what happened. If you want to backtest an Expert Advisor from Meta Trader, you can right-click over the chart, go to Expert Advisor and click on Strategy Tester.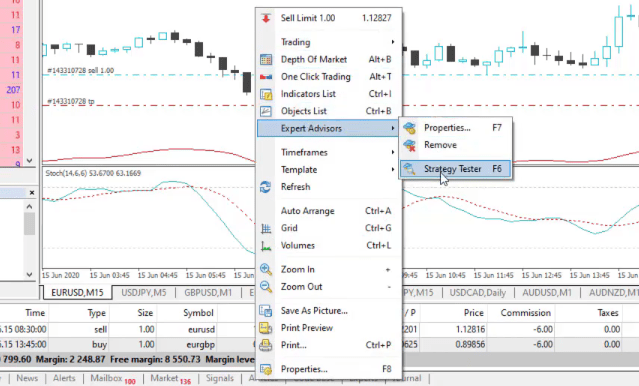 For a model, I'll suggest you use Open prices only. The spread, you can leave it at the current or you can leave it a little bit higher so you will have a more skeptical result. And then you can use any data range or if I uncheck it, I will use the complete period I have.

And if I click on Start, the Expert Advisors with EA Studio work really fast. Here is the graph.

It is the very same backtest that we have in EA Studio which means that each Forex strategy which is created by EA Studio has the very accurate backtest on Meta Trader.
You can import historical data from your broker with EA Studio
And if you go to results, you can compare each individual trade. I have done it many times and I can assure you that the report is the very same one. Of course, if in EA Studio, you're using the same historical data. So in EA Studio you have the option to import historical data from your broker. This is possible from the data tab.
There are 2 scripts, drop them in Meta Trader and then export the files and drop them in EA Studio.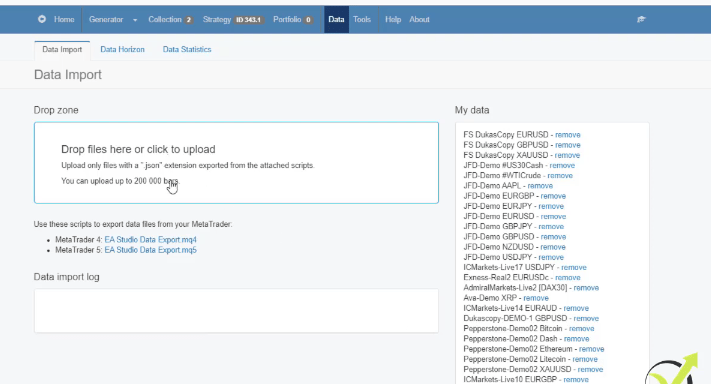 I have a video in the free course about the same so I'm not going to talk about that. It's very easy to do in just a couple of steps. So the backtests are very similar and this is the only way that you can check if a Forex strategy was profitable or not.
Everything else is an illusion. If you go back over the chart and look for the entries and exits, you will mess it up.
You are guaranteed not to miss any trade
That's the other benefit of using automated trading and Expert Advisors to execute your best Forex strategy for constant profits because you will not miss a single trade.
That's one of my Forex strategy secrets I want to share with you, don't go back over the chart to look for the trades and to figure out if one Forex strategy was profitable or not.
The only way you can do that is with EA Studio because it shows you exactly where the trades happened and what was the outcome, what I have shown you with the indicator chart. This is the only way you can recognize when the trades happened and when they were closed.
It's very detailed, I can recognize when the trade was open, where the Take Profit and Stop Loss were hit. So this is about the Forex strategies when you are trading with Expert Advisors. If you're not a fan of Expert Advisors and Robots and you want to combine, for example, fundamental analysis with any Forex strategy, even such a strategy, that is just fine.
When manual trading with this easy Forex strategy, you don't need to look at the chart all the time.
You need to be accurate and you need to stay in front of the computer but not all the time. So if your Forex strategy is on M15, you will have a new bar opening every 15 minutes. This means you don't need to stare at the screen all the time, you can have a look at it just every 15 minutes. If your strategy is on H1, then you better have a look at it every round hour.
And for sure, you can have a profitable Forex strategy if you are trading manually. I have many courses about manual trading, I have recorded 2 fantastic courses about manual trading. On our website, go to Online Trading Courses, here you will see all of our trading courses. But it's easier with the categories.
So if I click on Manual Trading, you will see 4 different courses we have at the moment.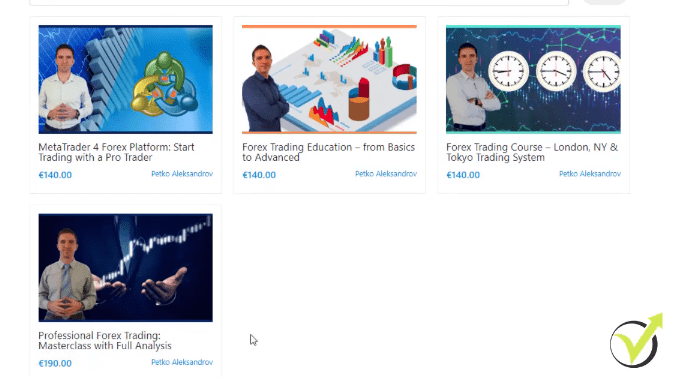 So the Professional Forex Trading will teach you a fantastic profitable Forex strategy where you will be doing full analysis over the charts and you will execute the trades by diversifying the risk on 3 different entries.
The Forex Trading Education will teach you a great scalping strategy where I show how to enter and exit from the market very quickly. And the Forex Trading Course – London, New York, and Tokyo Trading System will show you a system where I'm trading just after the opening of the London or the New York or the Tokyo trading sessions.
I test the strategies before sharing them
So I'm catching the volatility at that moment and I want to be on the market exactly at that time. These 3 courses are very suitable if you want to trade manually during different hours of the day. And in each one, I show a relatively easy Forex strategy and for me, that's obviously the best Forex strategy.
In each course I try to put my best of experience and I have tested so many strategies along the years. Before placing any of the strategies in my courses, I test it for a long time and I make sure that this is a robust Forex strategy.
Because at the moment, I have over 22,000 students enrolled in my courses and I cannot take the risk to provide a bad Forex strategy which will hurt, of course, my image and my reputation that I have already among the students and the traders, and I really cannot afford to do that.
So everything I'm saying in this lecture is not just because I want to convince you into doing something. It is because I want to share my experience with you and I want to prove to you how important it is to follow a Forex strategy. Otherwise, you will be overwhelmed by emotions and you will be buying somewhere for no reason.
Beginner traders follow trading news which is difficult
This is how the people lose money. So what usually most of the beginners do, they open websites like Forex Factory and they start to follow all the news which is not an easy thing.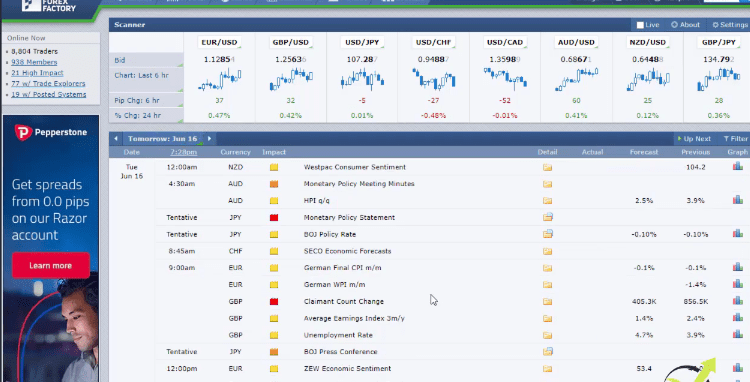 It's very difficult to follow the economic calendar and to depend on fundamental analysis. This is how a lot of people really lose money.
Because if you have a simple Forex strategy that is based on the economic calendar and you have some forecasts and you expect, for example, that the retail sales in the United States will become positive and that they were previously negative, there is no guarantee about it.
It depends on what is the expectation which is actually much stronger than the result itself and quite often the result is different which reflects differently every time. We cannot backtest all of that. You cannot backtest how that performed because I have tried that very hard and I was very stubborn to try doing that.
There are some websites that will show you the outcome of the market on the different news and you can monitor, for example, how the market behaved when the retail sales in the United States appeared. And if you have a simple Forex strategy where you will buy before the news if the forecast is positive, and if the outcome is even better value, you will close quickly your trade. That's hard.
The backtest is the key to find the best Forex strategy for consistent profits
As well the brokers have slippage during the important news so there is no guarantee that your trade will be executed. I would suggest you even stay away from the market when there are important news because it's really tricky.
People want to get on the market when there are important news but they fail because they put emotions, they want to make quick profits. It doesn't work like that.
The brokers will not allow you to execute quickly trades just on the news no matter what forex strategy you are using – with pending orders or one-click trading, it will be nearly impossible.
And as I said, you will spend a lot of time testing a strategy before you decide if this is a profitable strategy or a losing strategy. You will be testing on a Demo account for months or even years before you make the conclusion whether it's a profitable Forex strategy or not.
With EA Studio, the software that I'm using, I see that before I start testing the strategy. Because there is the backtest and I can see if that strategy was profitable according to many things.
I have robustness tests like Monte Carlo which proves if the strategy is profitable with randomized indicator parameters, for example, and that saves a lot of time.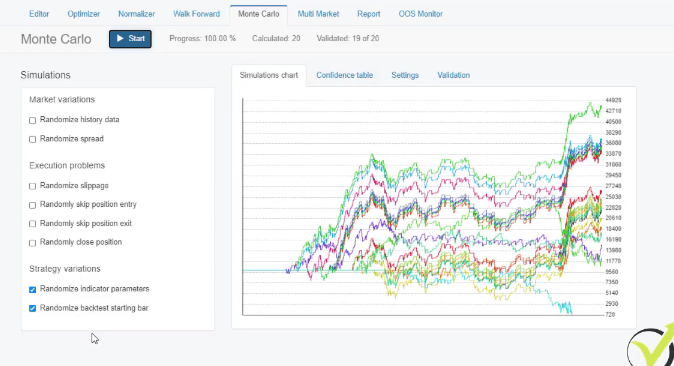 Refrain from copying other traders' strategies if you want to learn
And for me, this is the only way I can recognize if this is a profitable Forex strategy, if it's an easy Forex strategy to follow, and if this is the best Forex strategy I want to use. The other thing people are doing is to follow other traders. There are many websites to do that.
These are websites like Myfxbook where you can follow different traders and you can be part of any community. You can copy trades, another service for many of the brokers.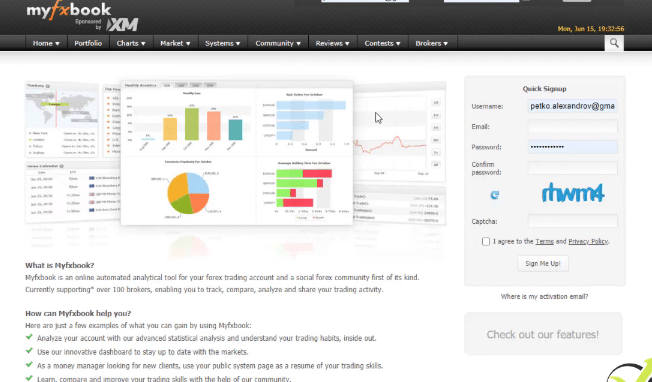 But guys, at the end of the day, if you are copying somebody you will not learn anything. You will just depend on their performance.
Keep in mind this is a scam. There are so many people showing fake results. If I go to PAMM Brokers as shown below, I think this is where you can follow different trades with different brokers or Signal Providers so they will just give you signals and you will execute.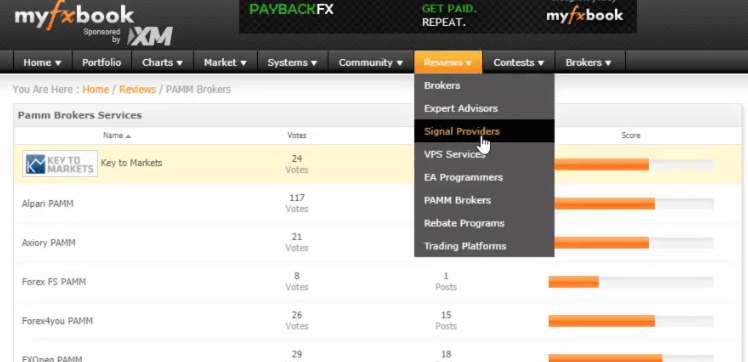 There are a lot of scammers. These companies are basically taking the commissions, the fees to give you the signals.
The outcome is not what you expect, it's not definitely what they have promised you. I'm not sure what type of Forex strategy they follow. And you will not be sure as well if they follow any Forex strategy at all or they just give random signals.
We teach how to create Expert Advisors without programming skills
And if by luck you hit the Take Profit 1-2 times, you will say yeah this is great. Put more money and you will lose it all after that. The best thing is to stick to a Forex strategy that is suitable for your trading, for your trading style, and for your trading attitude. And, of course, it depends on the time.
If you can trade for a couple of hours per day, if you can invest all of your time, or if you are not able to spend time in front of the computer, if you don't want to stare at the charts all the time, I'll definitely suggest you look for algorithmic trading.
And in our Academy, we teach people how to do Expert Advisors and Robots based on a real Forex strategy without programming skills. This is what you can do with EA Studio and the Forex Strategy Builder Professional which are 2 great software to automate your trading, and most of all, to generate new Forex strategies for you.
What I mean is if I go back to the EA Studio and I click on the generator, you have the chance here to build a new Forex strategy from scratch.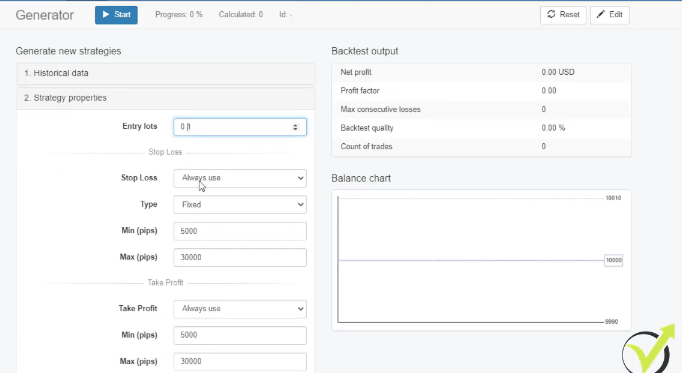 For example, I will use EURUSD on H1 and then for strategy properties, I will select 0.1 as an entry and then I will have a range for Stop Loss and Take Profit from 10 to 100 which means that all the Forex strategies inside will have the Stop Loss and Take Profit in this range.
The generator
And in generator settings, I can select how long I want the generator to be working, for example, 30 minutes, and what Acceptance criteria I would like to have. If I go to Acceptance criteria I can choose to have a minimum of 300 count of trades which I said is very important. Profit factor, at least 1.2.
And if I run this generator and I click on Start, I see the speed of the generator and it is fascinating. I don't know the Forex strategy secrets that are behind the EA Studio software, I don't know how it works. But it generates new strategies.
I can see in the balance chart that I already have calculated strategies. And in the collection, I see the results of all the generation for the 30 minutes and you can see below that already I have a lot of strategies.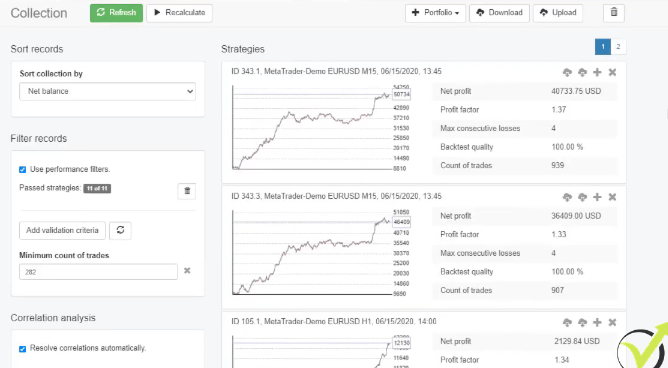 If I click on any of them, I will see the entry rules and exit rules, and what is the balance chart.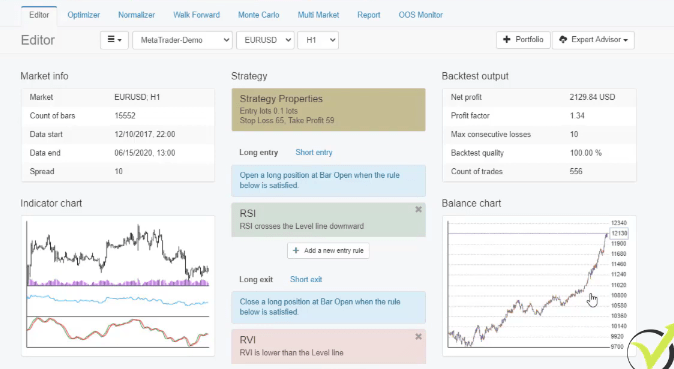 This profitable Forex strategy has a very good balance chart, a stable one and it's going higher. I will definitely look into this strategy in detail and maybe use it for my trading. As you saw, I have generated this Forex strategy just for a couple of seconds with a couple of clicks. And I have the RSI as an entry rule and RVI as an exit rule.
EA Studio free trial allows you to create many strategies and EAs
Stop Loss of 65, Take Profit of 59 pips. Profit factor above 1.34. This is a fantastic strategy for EURUSD on H1 chart. This is how I create my best Forex strategy. I generate many, I analyze them, and I see which one I want to use for my trading. But first, I always test on a Demo account. So all the strategies that are in the generator after 30 minutes, I put them on a Demo account in Meta Trader to find my best Forex strategy for consistent profits.
I have proof that each individual Forex strategy was profitable for that period of time. In this case, this is from 2017 until 2020 or the last 3 years. Don't go too far back to backtest and generate strategies over 10 years because obviously you don't want to base your trading on data that is from 10 years ago.
But I would suggest you stick to the most recent period, the last 1-2-3, a maximum of 5 years. So this is a very easy Forex strategy method that you can do even with the trial period. Sign up for it and there are no obligations with it.
Generate an unlimited number of Forex strategies and you can apply them manually if you want. Very easily, you will learn how to apply each Forex strategy by looking at the indicator chart or you can export it with one click for Meta Trader as an Expert Advisor for Meta Trader 4 and Meta Trader 5, or this is the Trading Robot.

Practice on a Demo account
After that, you just install the Expert Advisors on Meta Trader and you follow the results. This is how I do it. I place many Expert Advisors on Meta Trader, I follow the results, and I see which one brings the most profits to me.
So, one more time, if I save it as a detailed report and I open it, what you will see is that I have a lot of trades open and closed for the last 7 days and I can easily see which strategy brought me profit and which brought me losses. On the bottom I have the USDJPY trades which brought me more losses.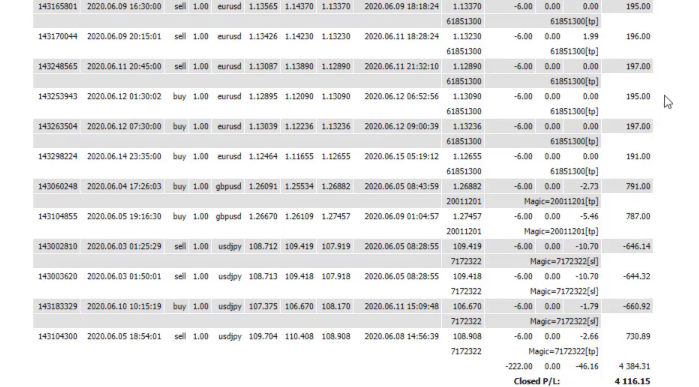 I have 3 losing and 1 profit. Then I have the GBPUSD which brought me only profits. And then you can see so many profits with the EURUSD strategy, the one that I have shown you. So as a bonus for everyone who stayed with me until the end, I will include this strategy just below and you can download it.
You can download this Expert Advisor but I'll suggest you test this Forex strategy first on a virtual account, on a Demo account so you will not risk real money. And yeah, give me feedback on how it goes. I really hope that it will keep performing well.
Here is the free Expert Advisor for this Forex Strategy
Enter your e-mail and we will send you the download link:
There is no guarantee that it will keep performing well in the future as it does at the moment but now it makes profits and it is great – you will have a Forex strategy for free. You will have the Robot which you can use for your trading.
If you have any questions let me know in our Forum. and don't hesitate to test this strategy, it's free. You don't risk anything testing it on a virtual account.
Enjoy!