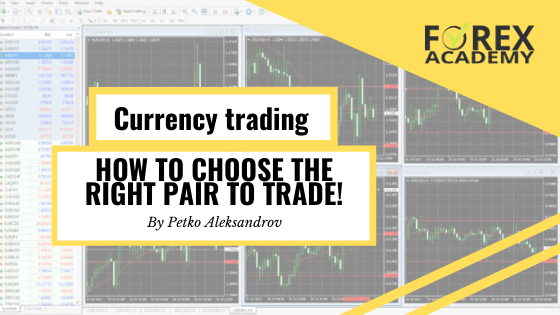 Currency trading – how to choose the right pair to trade!
Currency trading could be easier! In this lecture, I will teach you how to choose the pair to trade.
Currency trading gets much easier when you learn to follow which pairs are going up and which are going down. This is very, very important and if you learn this and I'm sure you will. You will be on the profitable side when you're trading manually. This is very important, it's very easy, but actually few people know to do that. And I can promise you actually that.
The whole point is that we have the 6 major currency trading pairs.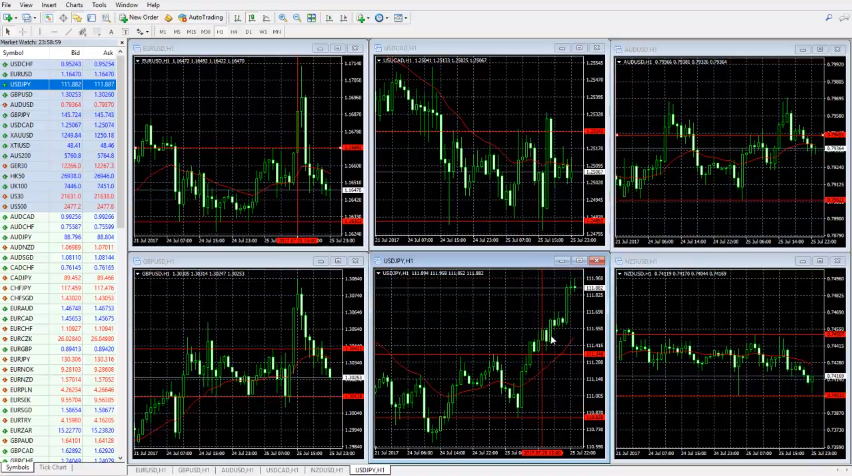 For example, when London opens, what do we trade, which pair we choose a trade, all right? These lines, as we said already in the previous video from the Forex trading course – London, NY & Tokyo trading system are the overnight range before London is opened.
So, let's say EUR is going out of the currency trading range as you see over here.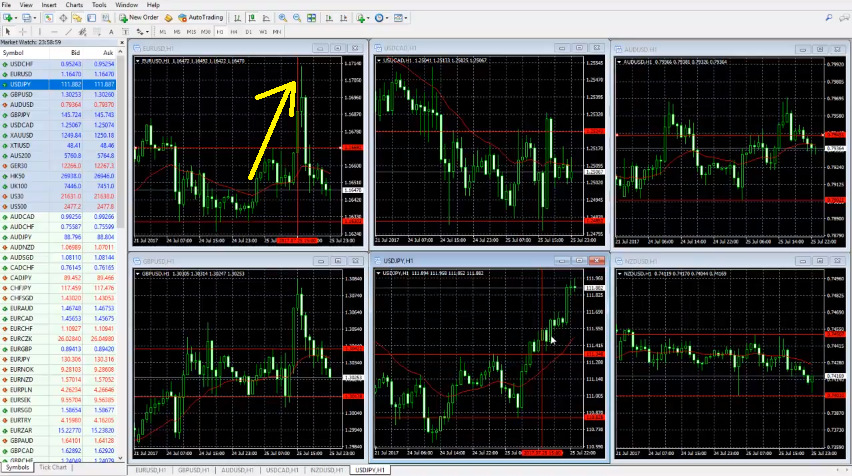 It's much stronger than the USD and the EUR are going up. It means EUR currency trading is going up, and USD currency trading is going down. At the same time, we see that USDJPY is going up. Let's have some lines to help us out. EUR is going up at what moment it's breaking at 15:00, so that's 3:00 p.m. with our time, and I will place that a line also on USDJPY. Let's say we are over here: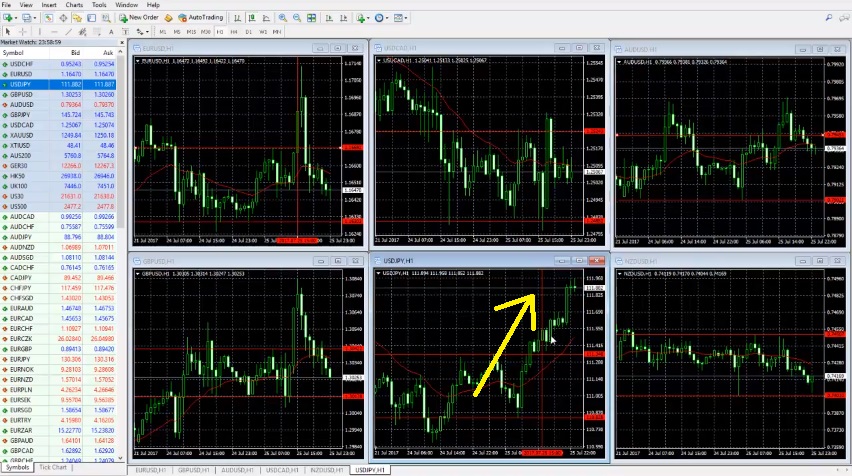 We see EUR is breaking up, and we see USDJPY is out already of the currency trading range, and it's going up. We see that the two 21 EMAs are confirming the move up and I will ask you now
Which currency trading pair will you choose?
Let's ignore the movement after that. If we are right here and you have USDJPY, and at the same time, you have EURUSD, which one would you choose as the best currency trading asset? I want you to think for a second and choose one for yourself.
Probably, some of you would say I would choose EUR because not too much it's going sideways then it's a very impulsive breakup
Some of you probably will say I will choose EUR because USDJPY before that is going very aggressively down, and I mean there are so many reasons that you can find that you would choose USDJPY or you would choose EURUSD.
Probably some of you would say I will go with the EUR because the recent days the EUR is solid, the trend on the daily chart is going up and I will confirm, that's true and it's excellent to follow the trend. Let's have it to look quickly, yes on daily, we have a strong uptrend. Let's have a look at the USDJPY. What is the movement there on a daily chart as you can see USDJPY is going down, so I would say as you know I prefer the trend as well that most of you will choose the EUR because it's an uptrend on the daily chart and USDJPY is strong down movement the recent a week or two?
But the right answer, guys, is not EURUSD and it's not USDJPY. The correct answer is EURJPY!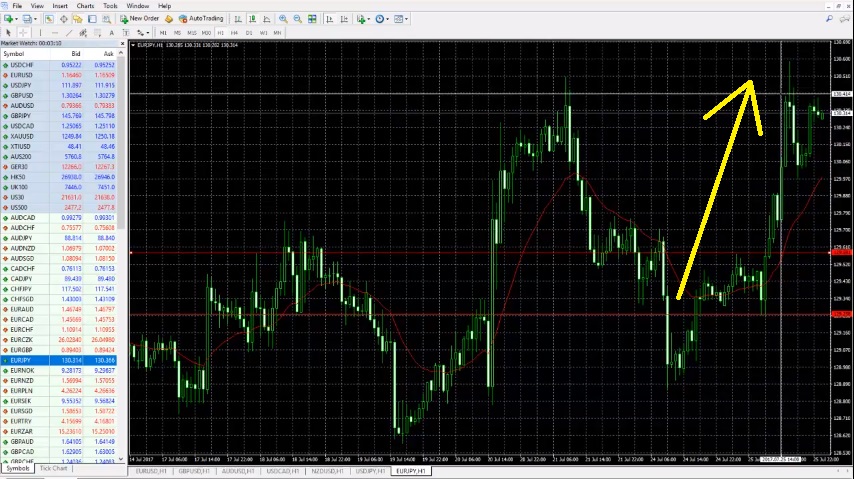 Why?
Simple EURUSD is going up at this moment. This means that EUR is stronger against the USD. And at the same time the USD is stronger than the JPY. Because USDJPY is going up. We have EUR stronger than the USD and the USD stronger than the JPY. So obviously, the best currency trading choice at this moment would be EURJPY.
EUR is stronger than the USD, USD stronger than the JPY. So, EUR much stronger than the JPY.
I just choose these two currencies with the time you will be able to do with all of the 6 major currencies if you practice it. It's very easy but you just need to understand when one pretty stronger than the other. And if you find at the same moment this other that is stronger than the third one, then you should go to the first and to the third one.
Does trading with EA Currency choice matter?
when trading with EA we choose the pair before creating the EA
ea currency trading is possible but we do not change the asset every day
More about trading with EA you can learn in our algorithmic trading section
So, what I will do now?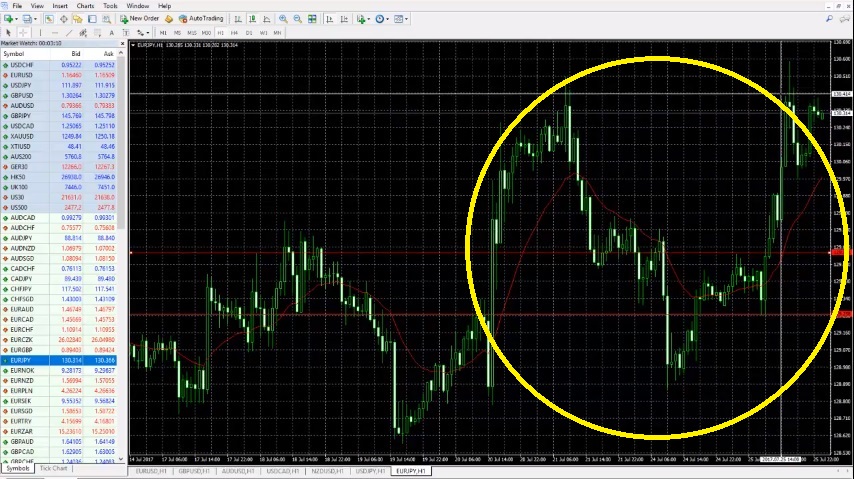 I will have a look at EURJPY
open a new chart window
place it back
put the template that we are using for this course
and I will do as well the overnight range there.
You will see what I'm talking about. Let's see where is the London opening today. It's right here at 10 o'clock. So, break would be from this point over here. And the lower line from the range would be just over here, I believe. That's 3:00 midnight, and then that's 9:00 our time. So 10:00 is our time when London is opening and as you can see, guys, what a movement in EURJPY we have over here.
From 129.60 to 130.60, Simple 100 pips.
Let's have a look now what happened with the EUR trading currency, how many pips we are having on the EUR?
Basically, we are having from 1.1670 to 1.1710, so this is 40 pips. USDJPY, we are having let's say at this moment if we entered at this moment when we're just choosing which one to trade. If we choose this moment we're having from 111.50 to 111.95. So, this is less than 50 pips, guys. Even if you entered from the overnight range this is again less than 60 or just about 60 pips.
You see the difference right here at this movement this was just before the New York was opened we had a strong volatility on the EUR, and at the same time USDJPY was going up and the best currency trading choice to trade at this moment is not EURUSD, it's not USDJPY, but it's EURJPY, guys, with a massive movement of 100 pips over there. I hope it's clear.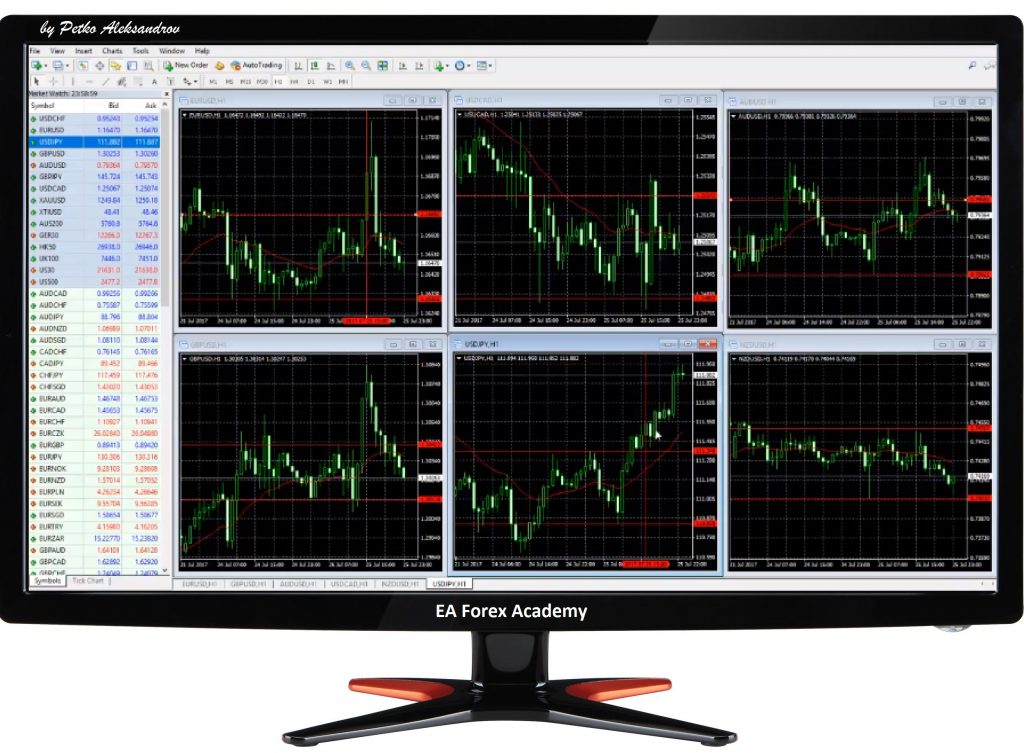 At every moment when you look at your screen, as I told you, I have one of my screens always with these pairs in front of me, and at every moment, I know which is the best currency trading pair to trade. If you learn this, guys, it will be so much easier from now on from you. And you will always be on the right spot, always on the right currency trading pair. Because there are so many and you really need, really to learn which one is the proper one to trade at the moment.
There is a more natural way than mine! Use the FPSM, and your currency trading will become fluent!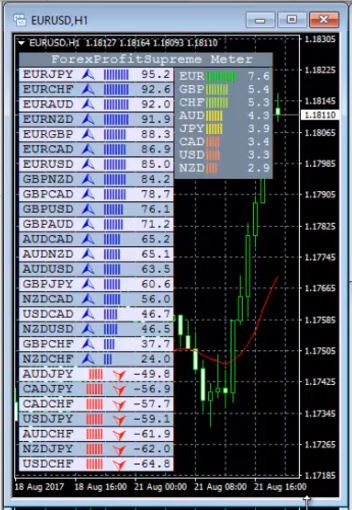 With this indicator, you will know at every moment which currency trading pair is on the top and which is on the bottom. This means you will know the strongest and the weakest. The indicator is included in the course, so all you will need to do is to download it and place it in the folder with the other indicators.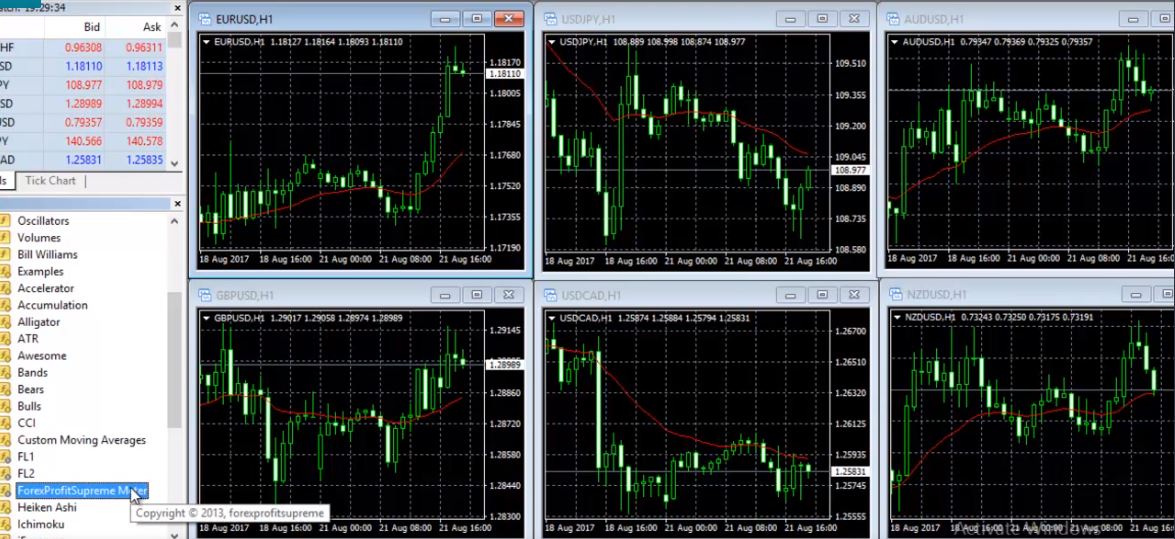 What you need to do after that is to drag it over the chart, and you will be surprised. At every moment when you sit in front of the screen to do currency trading, you will know which currency to focus on. Actually, you will be able to choose now just one. Because most of the times, you will see that one currency pair is much stronger than 2-3 currencies. This way, you can trade it against them.
Let's have an example from the picture above:
EUR is on the top and as you can see, it has a green color. That means it is powerful at the moment and it is going up.
What we have bellow is the NZD. This means that the Kiwi is very week. So, the best currency pair to trade at that particular moment (different from the pictures you saw so far with the EURJPY example) is the EURNZD, and we need to go long. This means that we need to buy EURNZD. EUR is strong, and NZD is weak.
The next one you see above the NZD is the USD. Another weak currency trading asset at this moment.
Again this means that EUR is strong, and USD is weak. We need to buy EURUSD. We need to go long.
The third currency trading asset in red is the CAD.
Another long position for EURCAD.
What is the conclusion?
When we use this unique indicator for currency trading, we can easily understand which pairs to trade, and as said already, not only one. Very quickly, you can understand which is the strongest and vs. which currencies to trade it.
Many times you will see that not only one will be in green on the top. There could be 2 currencies. If you see 2 currencies trading on the TOP and you see 3 down in red. This means that you will have 6 combinations of different currency trading pairs. And with all of them, you will be in the right direction.
That is the unique thing trading together with this indicator.
Now the next thing we will focus on is the table on the left side of the indicator: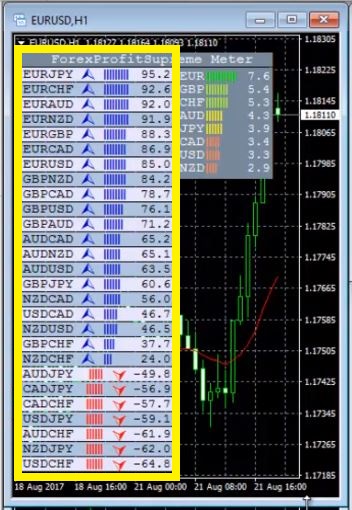 There you will see all possible currency trading combinations. And more! You will see which currency pair is going the fastest up and which is going fastest down!
That is really the quick thing a beginner trader needs to see before start trading with any system.
As well, you will see the values for the pairs. When one reaches a level above 95, this means that at this moment, this currency trading pair is going up quickly.
But here is something very important!
Make sure that this currency trading is not already gone. Many times you will see that a currency is on the top of the FPSM, but the move could be already gone.
What do I mean? With this system of the course, I teach that we need to enter at the London opening so that we can catch the volatility. What that means is that we need to be into the trade somewhere after 8 AM UK time. If you sit down to trade at 11:30 AM, there is a high possibility that the currency pair you will see on the top of the indicator has stayed there for these two and a half hours. This means that the move could be already gone.
Any currency trading asset has an average pips movement.
Let's say, in our case, the EURCAD has average movement per day 90 pips for the last 2 months. If you sit down to trade it two and a half hours after the market is opened, and it moved already 80 pips, there is a high possibility that the price will reverse.
So make sure always to check the asset and to analyze it with your currency trading system that you are following before you jump it.
It is very likely that you are at the end of the move, and just when you get it, the price could go against you.
The indicator shows the current strength for the currency trading! It is not predicting it!
That is very important for everyone to understand and to learn to use it properly. It will take you some time to get used to the indicator, but ones you are, you will not be able to trade without it!
Currency trading is not an easy thing, and we need the best tools such as indicators, scripts, expert advisors, strategy builders, etc.
If you want to be profitable, you need to have the best trading tools! Trading with professional tools will give you self-confidence and energy that a professional trader needs to have. Trading course be easier if you organize your work and prepare good trading tools with a stable, profitable system!
All right, guys, thank you very much for reading, let me know in the Forum. I will explain it further on in the Forex trading currency course – London, NY & Tokyo trading system.
Don't worry, you will get used to it, and you will make some money out of it.
Trade always safe!
For more Manual Forex currency trading courses you can visit https://eatradingacademy.com/courses/manual-trading/