Introducing SabioTrade
Entering the year 2023, SabioTrade has garnered the interest of traders globally. Indeed, as a prop trading firm, it's revolutionizing the industry by providing significant pre-funded accounts. Consequently, this SabioTrade Review will delve into the details of what they provide.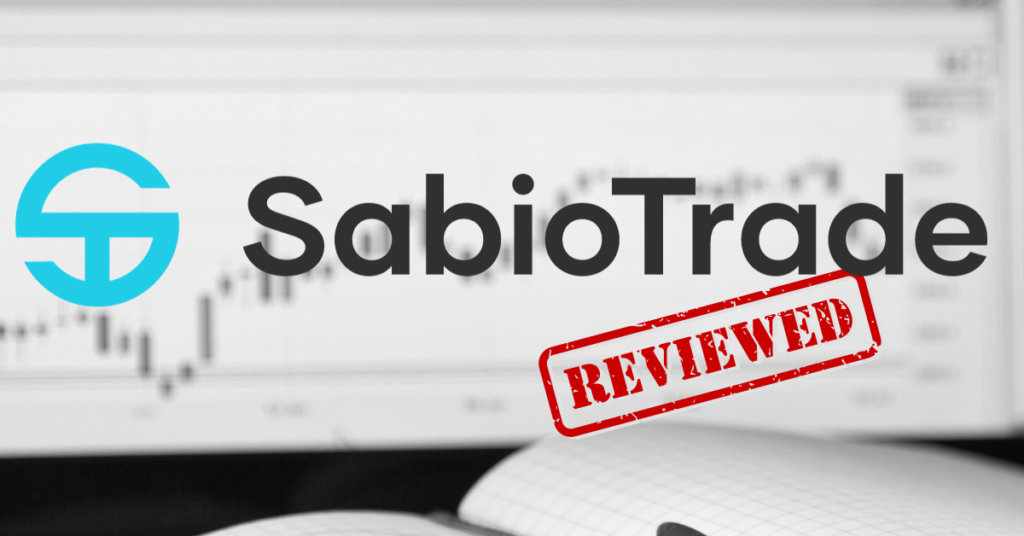 SabioTrade Review: Understanding Proprietary Trading
Imagine a company giving you money to trade and then sharing the profits. That's proprietary trading. It's a deal where you get to trade with more money than you have, without borrowing or risking your own cash. SabioTrade offers deals where you can keep 70% to 90% of the profit.
What Sets SabioTrade Apart
SabioTrade may be the new kid on the block in prop trading, but it's already distinguishing itself. Its ace card? A bespoke trading platform that's part of your dashboard, simplifying your trading activities by keeping everything in one place.
SabioTrade's Standout Features
SabioTrade is not just about the unique platform. It's also about the ease of getting started with a simple trial or one-step assessment and the promise of up to 90% profit sharing. They've made it easy for traders to get their feet wet without heavy investments, starting with packages as low as $50.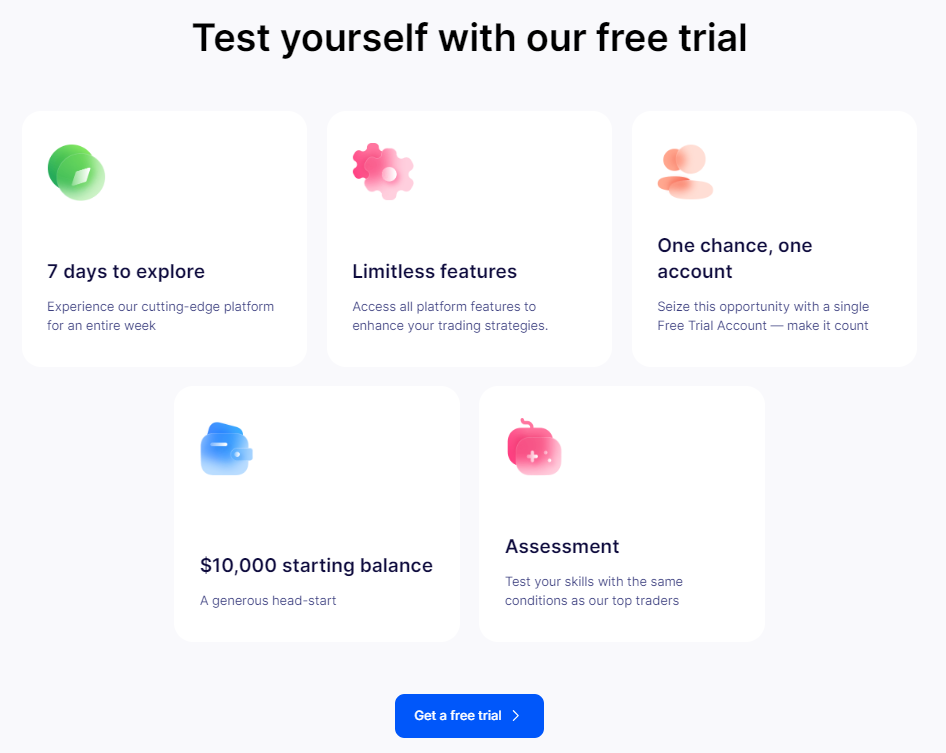 Rules of the Game
SabioTrade has some rules:
Don't exceed the 3% daily drawdown limit per day.
Keep your overall loss under 6%.
Aim for a 10% profit.
The Pros and Cons of Trading with SabioTrade
Pros:
Entry-level pricing is highly competitive, making it accessible to many.
The trading room is integrated into the dashboard for a seamless experience.
The proprietary platform is designed for ease, featuring a smart user interface.
Payouts are swift, with no need to wait for a set number of trading days.
Profit targets are realistic, set at a 10% gain.
Leverage options are generous, offering a range to suit different trading styles.
Educational resources are provided for free, helping traders improve their skills.
A trial account is available for seven days, giving you a taste of the platform with virtual funds.
Traders can benefit from a wealth of technical indicators and tools.
Trading signals are provided at no extra cost, straight from the SabioDashboard.
Cons:
The platform does not support high-risk investments or cryptocurrency trading.
Withdrawal methods are limited strictly to bank cards.
Trading Opportunities with SabioTrade
SabioTrade welcomes traders from all over the world, providing an opportunity to trade using the firm's funds. Consequently, this method enables traders to manage substantial amounts without tapping into their personal savings or taking on debt.
Diverse Account Options
SabioTrade caters to a range of traders with three distinct account types:
Trial Account: Get a feel for the platform with a free, 7-day trial loaded with virtual currency.
Assessment Account: Show your trading skills with a demo account when you sign up for a plan.
Real Funded Account: Pass the assessment to unlock a live account filled with trading capital.
Choose Your Account
They have four account types:
Standard: $10,000 to trade with, 70% profit for you.
Premium: $50,000 to trade with, 80% profit for you.
Gold: $100,000 to trade with, 80% profit for you.
Platinum: $200,000 to trade with, 90% profit for you.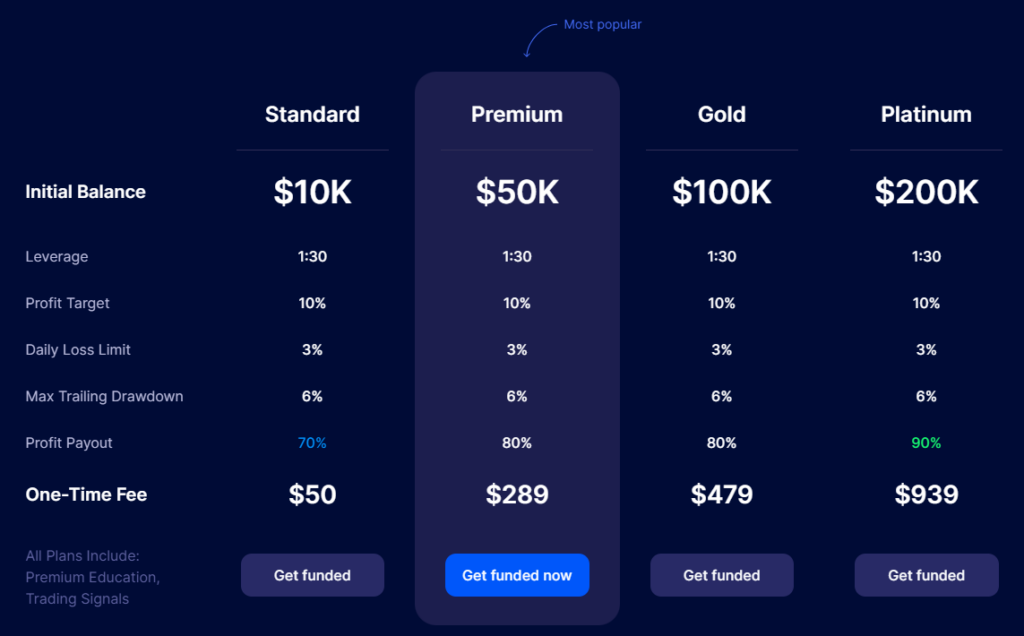 Navigating the Trading World with SabioTrade
SabioTrade supports trading in various assets, including Forex, stocks, commodities, and more. While mobile traders may need to wait for an app, the web platform is robust and ready to use.
Diving into SabioTrade's Trading Options
SabioTrade Review: A World of Trading Possibilities
SabioTrade opens the door to a diverse world of trading with 250 different assets. You can trade in various markets such as Forex, stocks, commodities, ETFs, and indices. Let's break down what SabioTrade has to offer in each category.
Forex and Stocks: A Closer Look
Forex traders have 31 currency pairs at their disposal, including major pairs like EUR/USD and more exotic options. For stock traders, SabioTrade offers a selection of 182 stocks from leading global companies across various sectors.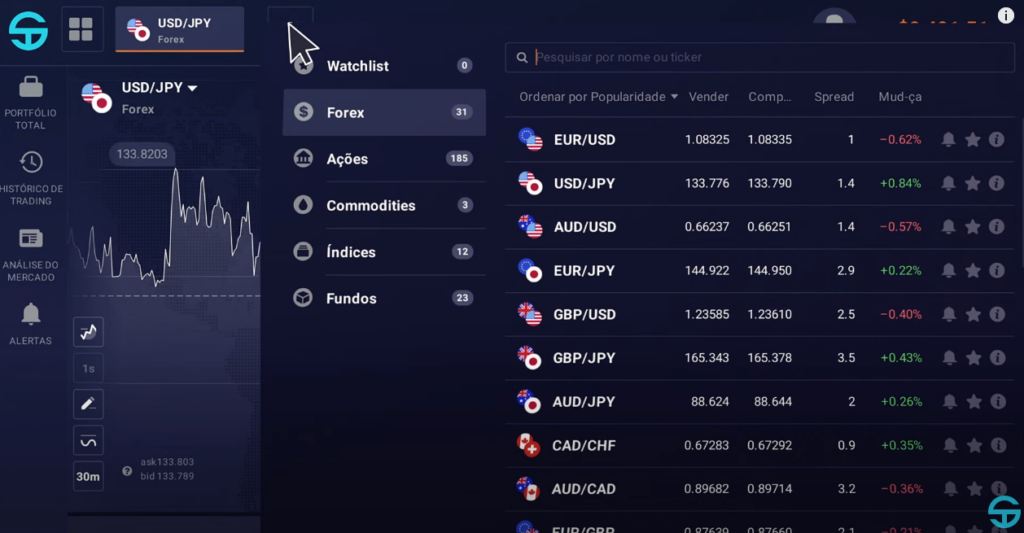 SabioTrade Review: Leverage and Spreads: Maximizing Potential
Leverage is a tool that can amplify your trading capacity. SabioTrade provides leverage options tailored to different assets, allowing for strategic trading moves. Spreads, or the cost of trading, are competitive on SabioTrade, with the EUR/USD pair having a spread as low as 1.3 pips.
Commodities and Indices: Broadening Horizons
Although the commodity options are limited to essentials like oil and metals, they cover the basics for those interested in this market. Indices traders have access to 12 major benchmarks, reflecting the health of various global economies.
SabioTrade Review: ETFs: Expanding Your Portfolio
For traders interested in broadening their investment portfolio, SabioTrade presents an attractive array of 22 Exchange-Traded Funds (ETFs). This selection includes highly sought-after ETFs that mirror the performance of significant market indices and various economic sectors, providing a comprehensive range of options for diversification. Moreover, SabioTrade ensures that the cost to trade these ETFs remains low, with spreads beginning at a mere 0.01 pip. This competitive pricing structure is designed to facilitate traders in maximizing their investment strategies while minimizing costs.
Understanding Deposits and Withdrawals
SabioTrade streamlines the monetary aspects of trading with a straightforward approach. Rather than requiring deposits, you're only tasked with a single payment for an assessment account. This fee unlocks the door to your trading journey, eliminating the need for additional financial commitments upfront. When it comes to withdrawals, the process is uncomplicated and user-friendly. You have the freedom to withdraw any amount of your earnings, as often as you like, without facing any restrictions. Moreover, these transactions are executed promptly, ensuring that your funds are available to you without delay. And notably, SabioTrade processes these withdrawals without imposing any extra charges, allowing you to enjoy the full benefits of your trading success.
Navigating Fees and Costs
SabioTrade Review: Platforms & Usability: Trading Made Simple
SabioTrade stands out for its straightforward fee structure. There are no hidden charges; you'll only encounter standard trading costs like spreads and swaps. This transparent approach to fees ensures traders can manage their costs effectively.
SabioTrade's proprietary trading platform, powered by Quadcode, is designed for ease and efficiency. Currently available on web browsers, it offers a user-friendly experience with all the necessary tools at your fingertips. While a mobile app is not yet available, the web platform ensures you can trade from anywhere at any time.
Trading with SabioTrade: A User-Friendly Experience
SabioTrade's platform is a testament to modern trading technology. It's intuitive and straightforward, making it accessible for traders of all levels. The lack of a mobile app is a minor setback, but the robust web platform more than makes up for it, ensuring you can trade effectively and efficiently.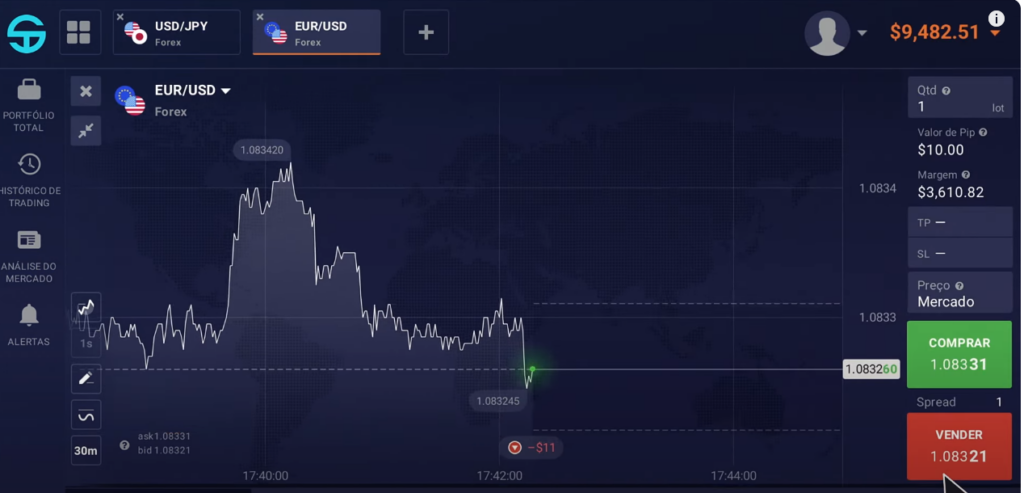 SabioTrade's Integrated Trading Environment
SabioTrade distinguishes itself by merging its trading platform with the user dashboard, creating the Sabioverse for a smooth experience. As a result, traders can effortlessly track their progress, set profit goals, and utilize educational tools in one unified location, eliminating the need to juggle multiple applications.
SabioTrade Review: Account Analysis at Your Fingertips
The SabioDashboard serves as an essential tool for traders, offering a comprehensive analysis of their account's performance. It showcases various statistics such as profit targets and account balances, and includes an in-depth view of profit sharing, complete with a history of payouts.
Safety and Trustworthiness
SabioTrade prioritizes the safety of its clients' funds and personal data. With segregated accounts and advanced security measures, the platform ensures a high level of protection. Positive customer reviews and sponsorship of reputable athletes further reinforce its credibility.
SabioTrade Review: Customer Support: Always Connected
SabioTrade offers robust customer support through live chat and email, ensuring traders can get assistance when needed. While the absence of phone support is noted, the available channels provide efficient service.
Navigating Risks with SabioTrade
Using SabioTrade comes with certain risks, such as the potential loss of your account if trading rules are breached. Leverage, while a powerful tool, also carries the risk of magnified losses. It's crucial to trade within the platform's guidelines and manage risks effectively.

Research and Analysis: Tools for Success
SabioTrade excels in providing a suite of tools for market analysis, including over 100 technical indicators and a Telegram channel for trading signals. Additionally, traders can join a Discord community for shared insights and support.
Education: Building Knowledge
SabioTrade heavily invests in trader education, offering a comprehensive guide and a free Trial account for practice. Video tutorials and walkthrough guides are also available, making it an excellent platform for both new and experienced traders.
The platform demonstrates a strong commitment to nurturing traders' growth and success, evidenced by its extensive educational resources and vibrant Discord community. Moreover, the Sabioverse streamlines the trading experience by combining the dashboard and traderoom, thus enabling a more concentrated and effective approach to trading.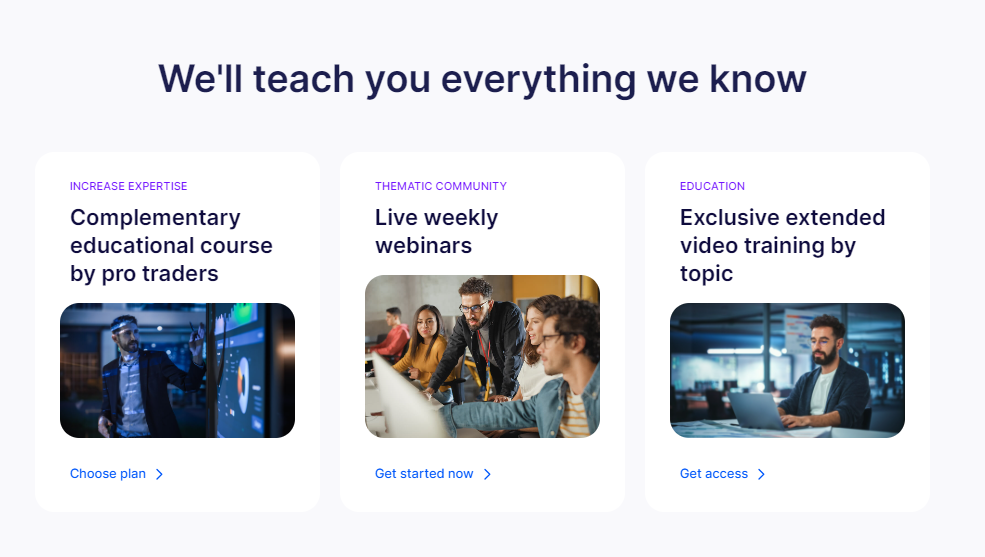 Who Should Consider SabioTrade?
SabioTrade stands out as an excellent choice for traders aiming to fully tap into their trading potential. The platform's design is clear and direct, making it particularly attractive to those new to the world of proprietary trading. However, it's important to note that while it welcomes novices, success on the platform is contingent upon having a solid foundation in trading skills. This is crucial when it comes to passing the assessment phase. For those with the requisite expertise, SabioTrade offers a golden opportunity to engage in trading activities with the promise of substantial rewards for their proficiency and market acumen.
Is SabioTrade Beginner-Friendly?
Absolutely. With a simple assessment process, affordable plans, a free Trial account, and comprehensive training resources, SabioTrade is well-suited for beginners eager to learn and grow in the world of trading.
SabioTrade Through the Eyes of Its Users
Across multiple review platforms, SabioTrade earns high praise, with users frequently awarding it top marks that underscore its dependability and their contentment. This wave of positive feedback indicates that SabioTrade is successfully meeting its clients' needs, providing a dependable and gratifying trading experience.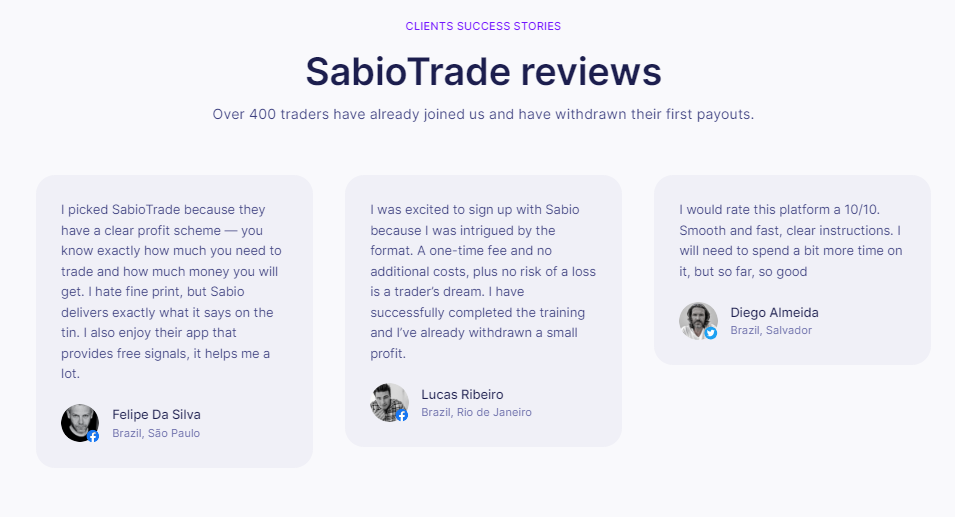 SabioTrade Review: Conclusion
SabioTrade's innovative approach to proprietary trading, combined with its user-friendly platform, competitive pricing, and transparent profit-sharing models, makes it an attractive option for both novice and experienced traders. As the prop trading landscape continues to evolve, SabioTrade is well-positioned to become a leading player, offering a reliable and rewarding trading experience to its clients.