EA Builder – How to Choose One?
EA builder – the solution in algorithmic trading
EA Builder is a software by which the traders can automate trading strategies as Expert Advisors without any programming skills. Usually, the traders start looking for EA Builder once they want to automate their trading strategy. It is also known as MT4 EA Builder because the EAs that it produces work on the MetaTrader platform.
What is the reason to look for EA Builder:
traders bought Expert Advisors, but they are losing money
they failed to automate strategies by hiring a developer
they don't have a profitable strategy and need to generate strategies with EA Builder.
it is not easy to find the best MT4 EA on the market
In this article, we will cover the most important in the two MetaTrader 4 ea Builders that we use, and each Forex EA builder has 15-days Free trial:
This is actually what we see most frequently from the people looking for our EA Builders and trading courses. And, this is very normal since in the Forex and binary business there are many scam companies. Not only from brokers but from developers who promise to update your strategy after you buy from them, or sellers are showing false results.
Three things to know when you choose MT4 EA Builder:
The EA Builder needs to have a Generator and Strategy Editor. This means that if you don't have ready strategies to automate, it will generate your available strategy. And, a strategy editor is needed in the opposite case.
Tools for robustness tests are fundamentally essential. Once you generate or automate your strategy, you need to be sure that you did not over-optimize that. And this is one of the common mistakes that beginner traders do. They optimize the strategy as much as possible because they like to see a more significant profit. And, once they put it on the live account, it starts losing. Monte Carlo and Multi-Market are excellent tools exactly for testing the robustness of a strategy. This way, the strategy is being tested before even being on the trading platform. Much better to fail on this stage on a live account.
After choosing EA Builder, you need to make sure that the results it shows are real.
Look for MetaTrader 4 EA Builder that has a free trial. This way you can test the program before purchasing it.
How can you do that?
Import data from your broker and run some of the strategies that you have created over the data on a demo account. After you have the first trades open, add the new data to the Forex EA Builder. See if it will show the same trades as they were executed in your trading platform. If they match, you can rely on that EA Builder.
Let's have an example with the Best MT4 EA Builder – Forex Strategy Builder Professional.
What you see in front of you is the Editor where I have an example strategy for USD/JPY on the M1 chart. You can see here the balance on the equity chart. This is an excellent example of a smoothing profit line: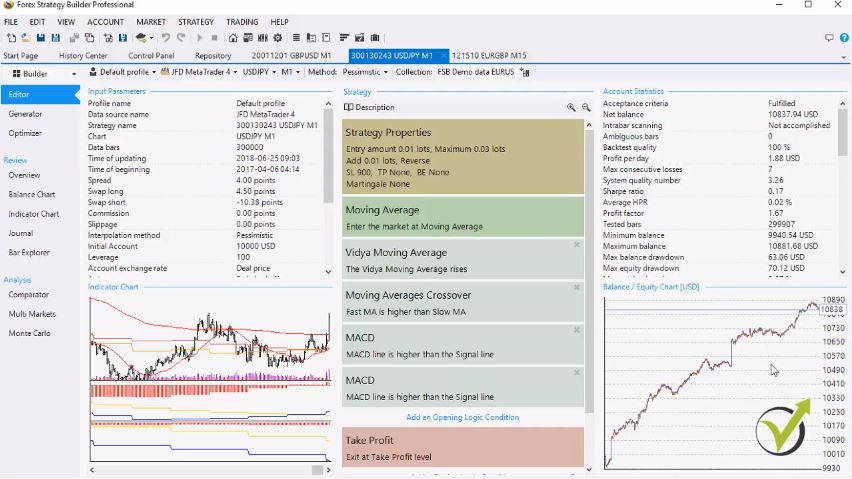 Most of the time, when you buy an Expert Advisor, you will see a straight line where it shows, this strategy didn't have any losses. And this is impossible. When you start using EA Builder, you will see that I am right.
The people who are selling this Expert Advisor, over-optimize it, to receive this perfect equity line. So they can sell their Expert Advisor to more people. Every strategy has losing trades. What we are focused on is the account statistics.
With the EA Builder, you should be able to filter the strategies according to different acceptance criteria and choose easily which ones to use. This improved the work of the trader. Also, having such acceptance criteria allows the traders to compare different strategies and decide which one is the best among many.
Usually, in trading, we do the statistics after some trading and results in the account. But when a MetaTrader 4 EA Builder is used, it is the other way around. We create strategies according to the statistics we want to see, and after that, we trade with the Expert Advisors. This way, we depend on backtesting and statistical information, which is essential in trading.
There are vital parameters as the Profit factor, Sharper ratio, System quality number.
Profit per day is something that depends a lot on the lot size. So, for example, If I use 0.01 lot size, my profit per day is $ 1.88. But if I increase it, let's say to 0.1 lot size, maximum position amount to add let's say 0.3. You will see what the difference is. My profit per day is $15.49. So this statistic profit per day depends a lot on the volume that you're going to trade with.
Many beginner traders lose money because they can not see the actual risk they take while trading. When using Metatrader 4 EA Builder one can see the difference when trading with 0.01 lot or 0.1 lot, or even with a complete 1 lot. And the traders can play around with the starting amount for the test so they will know what is their drawdown, stagnation, euqity line and so on.
Now over-optimization comes with an Optimizer. How to avoid that I explained very clearly in one of my courses – Forex Strategy Course Portfolio trading with 12 Expert Advisors. So there you will see exact methods of how I avoid over-optimization.
I will share with you now one of the methods here. When you use the optimizer, it doesn't matter which one – the EA Builder or the Metatrader, you have the option Step. So for Step, I always use round numbers. As rounded numbers, I consider 5, 10, 15, 20 and so on: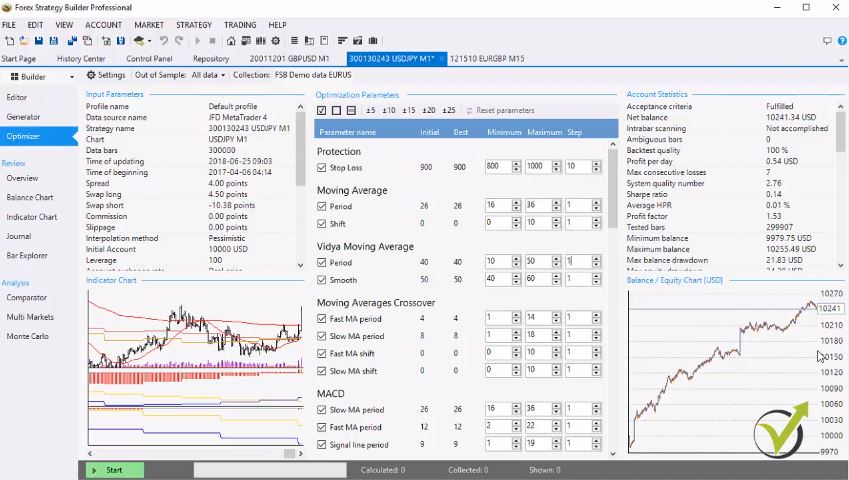 For example, if I want to optimize the Vidya Moving Average, I would place a minimum of 10, maximum of 50. The step I would choose 10. So this means that the optimizer will only decide between 10, 20, 30, 40, and 50. If I leave it one, it will start from 10, 11, 12, 13, 14 up to 50, which will allow the optimizer to create too many variations of the strategy. And, it will find the best parameters for the strategy to show you the very good or even perfect profit line.
What happens after you put that over-optimized strategy thinking this is the best MT4 EA?
When you place such a strategy that is over-optimized with the EA Builder on the Metatrader platform, it will start to lose immediately. Forex Strategy Builder Professional is an EA Builder software that we have been using in the EA Forex Academy for quite a long time.
It has many opportunities to import Forex historical data with exact details for the currency. As you can see here, I have spread, swap, and as well I have 300,000 data bars for the M1 chart. Which for me, is as I call it the Golden middle.
However, our recent tests showed that the generator in MetaTrader 4 EA Builder EA Studio and FSB Pro are so powerful that they can produce great trading strategies with just 20,000 to 50,000 bars.
We are looking to create strategies over long historical data but not that long. In this case for M1, I'm having the historical data from 2017, the 6th of April 'till now. So this is just a little bit more than one year. Many people are optimizing the strategy, or they are generating strategies over massive historical data, like 5 to 10 years.
And if you do not have Historical data from your broker to test the strategies or to backtest the Expert Advisors, you can use the Forex Historical Data App that we launched recently on our website. There are free videos that you can watch to learn how to use it.
It is very important if you use MT4 EA Builder:
Most of the time, what you will see is that your profit per day will get lower. So the more historical bars you are using, the more stable the strategy you will get, but your benefit will get smaller. And of course, markets change.
So we don't want to base our strategies, our Forex Expert Advisors on historical data 10 years ago. If I go to the Generator, you can see that I can unlock some of the indicators. This means that while generating strategies, these indicators will not change. They will stay as a constant in the strategy, and it will add just additional filters or additional indicators to make the entry stronger.
What is the thing that makes Forex Strategy Builder a professional and unique EA Builder?
It has a generator of strategies
Free 15-days trial period
Robustness tools as Monte Carlo and Multi-Market
longer time frame filters
logical groups for the strategies
trading terminal of the strategies to MetaTrader
Number one I can say when it comes to the generator is the possibility to have any of the indicators on a longer time frame. So you can see here a long time frame default, which means it is for M1. But if I click on the MACD and I scroll down, you will know that it is used on the M30 chart, and the other MACD for this strategy is used on the H1 chart. So this means that the strategy trades on the M1 chart.
On the other hand, it has these two MACD indicators to confirm the direction of the major trend on M30 and H1. When I'm generating strategies with the Forex EA builder, I can lock these indicators as well. This is one of the best methods for me to create a profitable strategy, using higher time frames.
Forex strategy builder professional is known with its custom indicators too. So there are the indicators from Metatrader, but as well, the trader can include custom indicators.
Many traders prefer to trade with custom indicators and not the ones that are in MetaTrader. So for them the best MT4 EA is when it includes their favorite indicators and FSB Pro EA Builder allows that.
Forex Strategy Builder Professional comes with a 15-days free trial.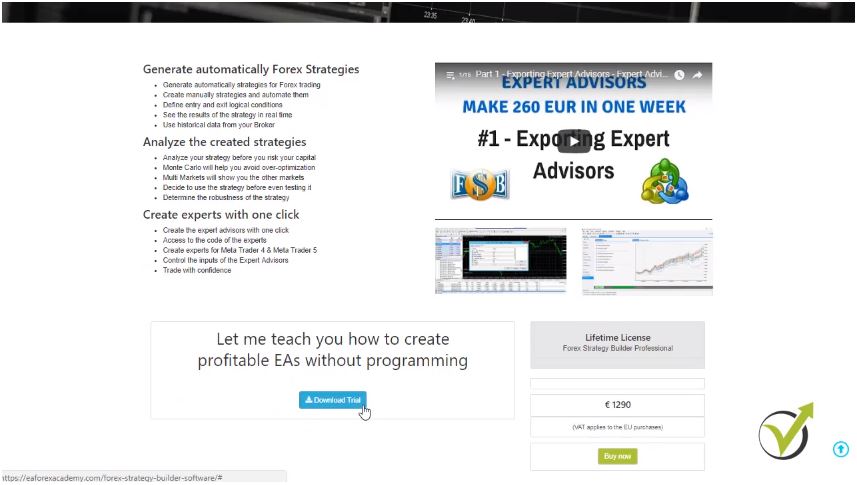 If you visit the Forex Strategy Builder page on our website, you can see the download trial button. And, you can install it on your computer and test it for 15 days. There are free videos from the developer Miroslav Popov, who explains exactly how to use each feature in the EA Builder.
With these videos, it will be much easier for you to set up your trading environment and start generating strategies. It is essential to set the Historical data from your Broker with all the information for each instrument as spread and swap, and the specifications correctly.
This way, with the EA Builder, you will create and export Expert Advisors that are suitable for your broker's server. It is a common mistake for many traders to buy Expert Advisors who were created over different Historical data.
The brokers provide different quotes for the prices daily, which forms different Historical data. That is very important in algorithmic trading.
The next EA Builder that we are currently using in the Academy is EA Studio. It is a web-based EA Builder, and you can run it simultaneously on a couple of browsers. It has a generator that works hugely faster.
We have a free course about the EA Studio MT4 EA Builder which is suitable for beginner and advanced traders who want to learn more about the strategy builder.
The speed of the generator is unbelievable and this makes it the favorite MT4 EA Builder among many traders. It works hugely faster than the Forex strategy builder professional. This is because it uses only the indicators from Metatrader, and this makes it work much more quickly.
As you can see, I already have strategies generated. When a strategy is generated, it goes to the collection, and you can see each strategy parameters when you click over. As well, there is an indicator chart in the EA Builder, which makes it very useful. So you can see precisely where the positions were open.
The Monte Carlo tool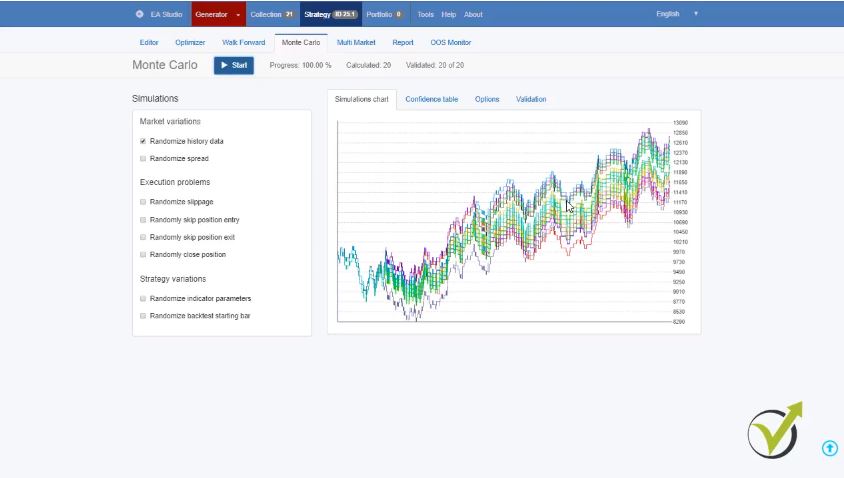 This is the so-called robustness tool, which allows the trader to test the robustness of the strategy before start trading with it. As you can see, it performs a variety of tests that you predefined for market variation, execution problems, or strategy variations. With this example strategy, you can see that all tests pass the validation for randomized history data.
Not all Metatrader 4 EA Builders have the Monte Carlo. But I woudn't imagine traidng with EA if I didn't test it with the Monte Carlo. Yes, it is a must before trading.
The Multi market tool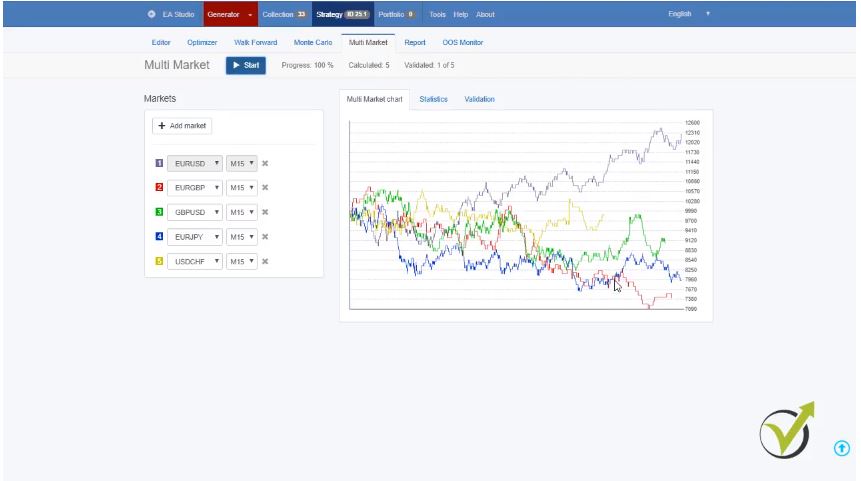 The multi market is another handy tool, which shows the results of the other markets. So if you have created with the EA Builder, EA Studio strategy for EUR/USD on the M15 chart, you can test how this strategy will perform on the other markets.
If I click on start, I will see immediately that this strategy fails in different markets. Of course, this doesn't mean that this strategy will fail on EUR/USD as well.
The Optimizer tool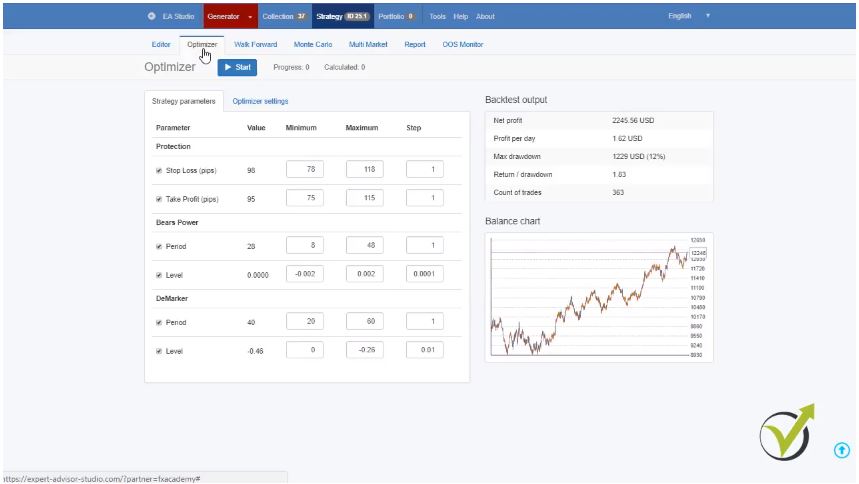 The optimizer tool in EA Studio works as well very fast, and it's very reliable.
Now the important thing, as we said, is to compare if the results in the EA Builder show the same trades as on Metatrader. So you can see in the journal there is the statistic for all trades open.
So if I run this strategy on Metatrader, after exporting it as an Expert Advisor and this happens from the Editor and, on the right, up corner, you can find the button Expert Advisor. You choose whether to download it for Metatrader 4 or Metatrader 5.
What you can do is – you can export this strategy, this Expert Advisor, test it on a demo account. Then refresh here with new historical data for the EA Builder.
Compare if you will have the very same entries and results. Of course, we have already done it for this EA Builder and the Forex strategy builder professional.
We saw that it shows precisely the same trades and the same results.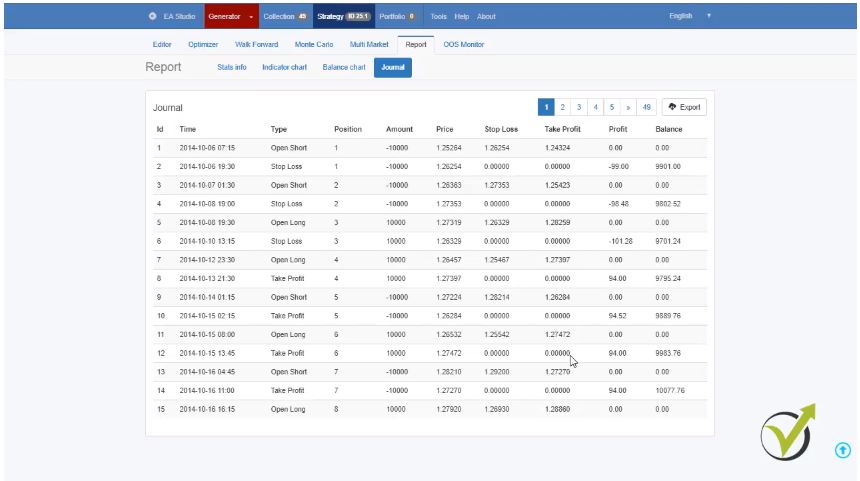 This way, we know that each strategy that we built with this EA Builder, would have shown the very same results on Metatrader.
So these are the two strategy builders that are included in our packages.
If you're interested in any of those, you can drop us an email. If you are already our student, you will receive a discount from the Forex software company.
Thank you for reading. I hope everything is evident here. If you have any questions, please write to me in our SUPPORT FORUM where I will answer you as soon as possible. Also, there you can share your experience in trading with EA Builder or Expert Advisors. This way, all the other students and traders in the forum will benefit from your knowledge.
EA Forex Academy has built a community of very polite and open-minded people
Everyone ready to share and help others. This way, the progress of all students is rising, and no unanswered questions are left. The Forum is a great place where you can ask any questions related to manual or algorithmic trading. Also, you can share your best MT4 EA if you have tested it already.
*Promoting brokers, external companies, or websites is prohibited, and such posts will be deleted immediately.
Our purpose is education, and we do our best to keep it this way.
If you are interested in a professional trading education or you want to learn more about the EA Builders, do not hesitate to take an online course that will help you improve as a trader.
What is EA Builder?
That is a program that allows the traders to automate their trading strategies into Expert Advisors without programming skills.
How does a Forex EA Builder work?
The user needs to build strategies by adding different entry and exit rules. Having a Stop Loss and a Take Profit might improve the results.
How MT4 EA Builder is different?
That is a builder that creates Expert Advisors for MetaTrader4 and these strategies are applicable only on that platform.
Can I have EA Builder for free?
Most of the builders provide free trial periods and the users can export an unlimited number of Expert Advisors during this time.