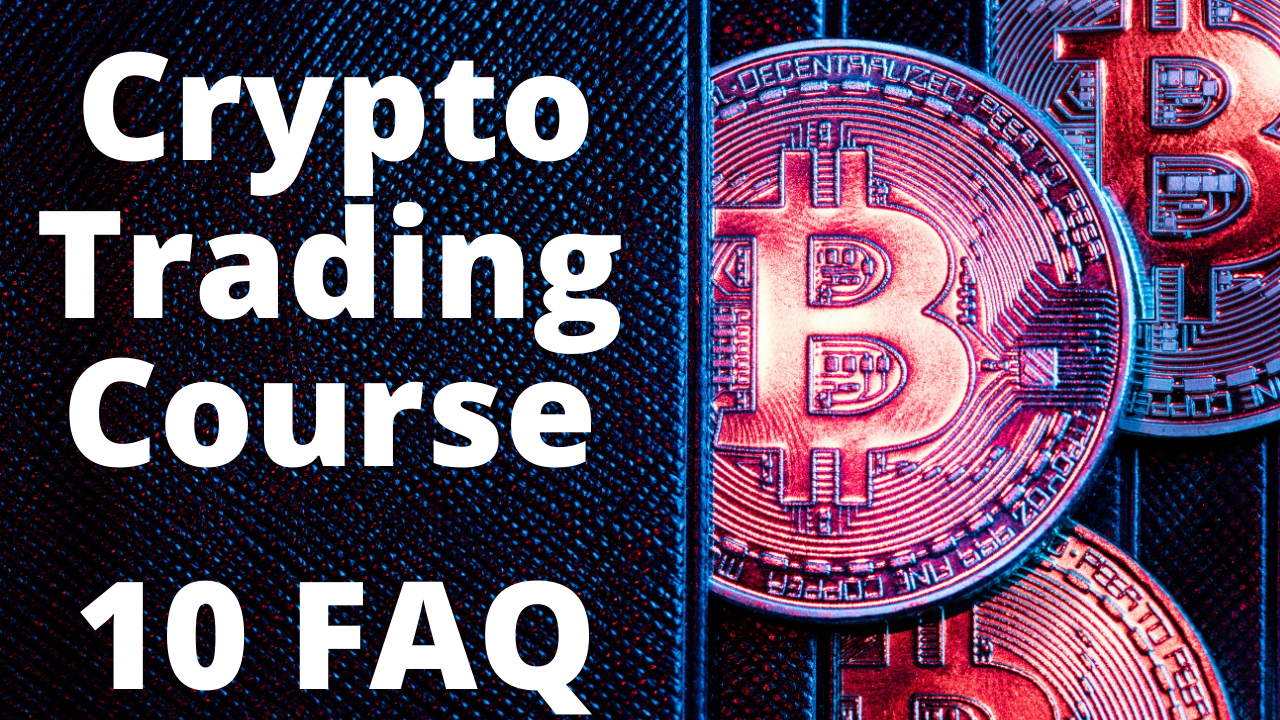 Cryptocurrency trading course: 10 FAQ
Cryptocurrency trading course – the solution in algo trading with the coins.
Hello dear traders, it's Petko Aleksandrov from EA Forex Academy. And now, I will answer the 10 most frequently asked questions that I received for the Cryptocurrency trading course – The Revolution.
1."I put the Expert Advisors from the Cryptocurrency trading course on the chart but I see a sad face?"
This is a question normally coming from the newbie traders but it will be a pleasure to answer it. So, when you drag the Expert Advisor over the chart and you see the sad face it means that you didn't enable the auto trading that you see on the top. The small Auto Trading button that you see on the top of the Meta Trader:

It needs to be green, so just click over it, make it green and then drag the Expert Advisor again on the chart. And when you click on OK you will see the smiley face. Meaning that the Expert Advisor is already trading.
2."I cannot find the script to download the historical data, can you please send it to me?"
I have already attached these scripts to the course. They are in lecture 4. So, you can just download it from there. It is for Meta Trader 4 and for Meta Trader 5. So, it depends on which one you prefer to use.
Personally, I am still using Meta Trader 4 since I recorded the cryptocurrency trading course. Probably, if they just stopped one day providing it I will switch to Meta Trader 5 but in the meantime, it works just great for me. So, you can download the scripts from the lecture.
3."What time zone are the trading hours in EA Studio?"
The trading hours depend really on the historical data that you import into EA Studio. When you export the historical data from your Meta Trader, from the server of your broker and you imported in EA Studio you will see these same trading hours that you see on your Meta Trader.
Now, if you look at the resources of EA Studio you will see by default Meta Trader demo. And this data comes from the JFD broker demo server. Don't take this broker as a recommendation. But this is just from where they take the historical data from. And you will see the trading hours of this broker.
Well, some brokers do fit the trading hours in Meta Trader to your time zone. But some don't. It really depends on your broker and you might see some difference from your Meta Trader time and your local time. So, it really, really depends on the broker here. But in EA Studio it depends on what historical data you will import.
4."Can you recommend me a broker for the EAs from this cryptocurrency trading course?"
This is probably the most frequently asked question that I receive daily. And I always, say one and the same thing that I avoid to recommend brokers to my students, for many reasons.
The one and probably the biggest one is that we are not connected to any broker. We don't promote any brokers, guys. And I really, really avoid recommending a broker.
Of course, if the student is very persistent I will say some names of regulated brokers that I have tested. But at the end of the day, it's really your choice which broker you want to use. And I don't want to recommend a broker. So, if you really have hard times ask me I will tell you some names that I recently have tested.
Because I'm following a couple of brokers, you know I'm just looking at their spreads and comparing them and of course only the regulated brokers. And I will give you some names. But you should make your choice, you should make your research and find the broker that works best for you. That is easy for you in your country if you go to live trading later on to fund account, redraw.
Make sure you do good research before choosing a broker. Because there are a lot of scam brokers around that I'm talking nearly in every course about.
And if you look at our forum there is a topic called "How to recognize the scam brokers?":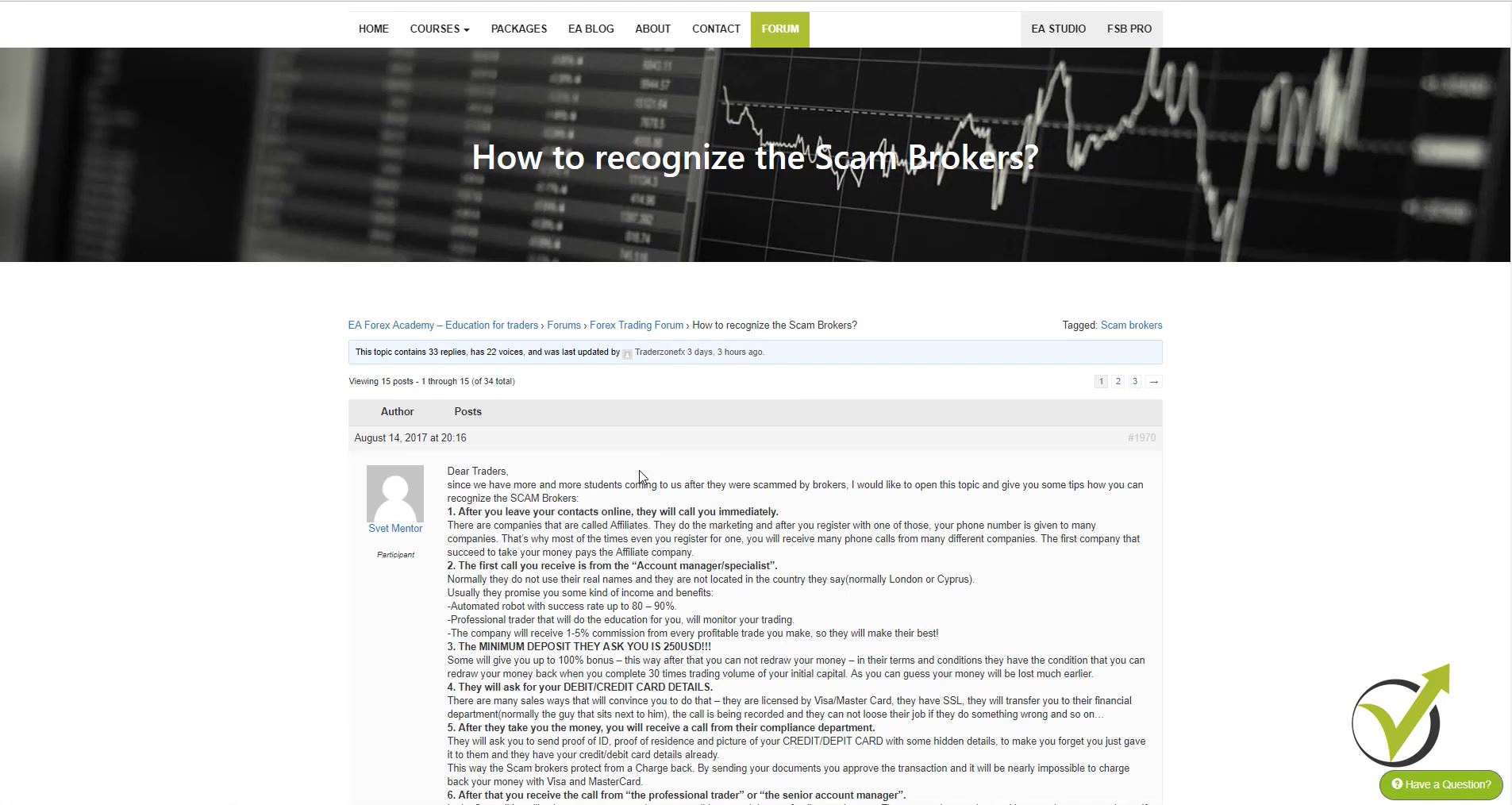 And in this article, we have described exactly how the scam brokers work. Just spend some time reading it. It is written by one of our mentors – Svet. And he describes very detailedly how they are working.
You can see unfortunately so many people below sharing their bad experience with the brokers, with the scam brokers that they had. Take it easy with the brokers, make good research. And make sure that you choose a legit broker, a regulated broker for cryptocurrency algorithmic trading. But one more time, if you have a hard time finding a broker let me know I will do my best to assist you. But don't take as a recommendation any of the names that I will tell you.
Also, we are planning to place a trusted broker page on our website that will help the beginners to avoid the scam brokers.
5."Can I use the Expert Advisors from this Cryptocurrency trading course on Mac?"
Mac is not really friendly with Meta Trader. Meta Trader is not very friendly with Mac, I don't know which one of the two. But I use a desktop because it's much easier, much cheaper, of course. And it works just great with Meta Trader. If you are a fan using a Mac you can. What I know from my students is that you need to download the Mac version of Meta Trader and use it.
And the other thing you can do as well is to use a virtual machine. Which of course is again some extra costs. So, the best way you can do is just download the Mac version of Meta Trader. It should work fine with Expert Advisors, with custom indicators. Anyway, I receive very often issues and reports from users that are using Mac. Not really friendly one more time with the Meta Trader.
6."How to calculate the Never losing formula for the Ripple?"
I show an example with the Ethereum in this cryptocurrency trading course, in some of the other courses I have with the Bitcoin. Ripple is just the same way. It's a very small price there that we are having a cheap price for the Ripple compared to the Ethereum and the Bitcoin. But what you need to keep in mind, is to keep the ratio 1-3.
The ratio between the Take Profit and the Mid Zone. So actually, if I say 1/3 it will be a mid zone to Take Profit. The Mid Zone should be 1 portion and Take Profit should be 3 portions. So, just simply said the Take Profit distance should be 3 times bigger than the mid zone distance. Make your research as well, look at the chart, place lines, horizontal lines.
And see for the Ripple, for the current moment what Take Profit do you think will be best. And what mid zone will be best. If you understand the formula you will see that it's really nothing hard. And it is something very simple that I have come up and calculated with the cryptocurrencies. And I just did huge research starting with the Bitcoin and then the other cryptos.
But I just look at the chart for a long time, I was placing lines, I was calculating and came up with the numbers. Of course, the Never losing formula is a long time ago invented, it's not something I did invent.
What did I do? I just recalculated it for the cryptocurrency algorithmic trading, because I wanted to combine it with Expert Advisors.
Once again looking at the chart and for the current market conditions what Take Profit distance and what mid zone distance works the best. And this is something you need to do for the current market conditions. Because what I do?
I do update the Expert Advisors but they are trading automatically. So, if you want to combine them with the formula you should do small research looking at the chart. And just analyze it if you have this entry at this level and then the Take Profit.
Is it the Take Profit that will be reached frequently? This is the question that you need to ask yourself every time. Don't make unrealistic Take Profit distance. Because obviously, it will not get hit too often. We want the Take Profit to be hit more frequently. And at the same time look for the distance of the mid zone that will not be hit too much frequently.
I hope you understand me here. You need to look something in the middle which will allow you to hit the Take Profit most frequently. And you will use the formula less. Because keep in mind, we don't want to use the formula. We use it to protect our capital and to exit without losses. But obviously, we want the Take Profit to get hit first.
7."If we use the Never losing formula should we monitor the market?"
Of course, when we are using the formula this is a manual system from there. So, we use the Expert Advisors to give us the entry. So, we don't sit in front of the computer to wait for the entry, we use the Expert Advisors. But once it gets hit and you are into the trade and you want to combine it with Never losing formula you need to keep an eye on it.
You will be able to place the pending orders. You don't need to stay in front of it. What I do, normally?
I look every thirty minutes or one hour to the chart. And if any of the pending orders is hit I will place the opposite direction. This is what I demonstrate in this Cryptocurrency trading course. 
But actually, there are many notifications, scripts that you can use when you have order hit or order opened to get notified that you can use if you're not staying in front of the computer. I'm staying in front of the computer the whole day, so I just monitor it. And if I'm really trading, what I mean, on a live account using the Never losing formula during the night is the thing that is a little bit harder.
You just need to watch on it every two or three hours. But that's the work of the trader when you are trading and if especially your trading live you need to take it seriously. So, just don't use the formula if you cannot monitor it overnight or all the time. Or you just put an alarm on your phone, or on a computer to remind you that you need to have a look at the chart.
It's up to you how you will manage it. But if you don't have the possibility to watch over the market better don't use the Never losing formula and look for pure cryptocurrency algorithmic trading.
8."How often do you update the Expert Advisors from the Cryptocurrency trading course?"
In this Cryptocurrency trading course, I update the Expert Advisors every month. Because they are changing so quickly, their volatility is different than the Forex market. That is why we need new and fresh Expert Advisors to trade that are generated over the recent market data.
What do I like to do? I generate new Expert Advisors and not only in this course but in general when I see that the Expert Advisor starts to lose the recent days or weeks it's not the performance that I want to see. It means that the market conditions changed and I need to create a new one.
Because it's very common that I hear and read. People saying the Expert Advisors stopped working, it's losing. The Expert Advisor doesn't stop to work. It's a code that enters into the trade with the predefined entry and exit conditions. What happens, is the market changes. And this is very normal.
It's not that the Expert Advisors stopped working, what happens is the market change. So, we need to create a new Expert Advisor that will work according to the recent market conditions.
9." How to add the Bitcoin to the chart?"
This is when you install your Meta Trader and you don't see the Bitcoin on the market watch. What you need to do, is right-click over any of the assets and click Show All.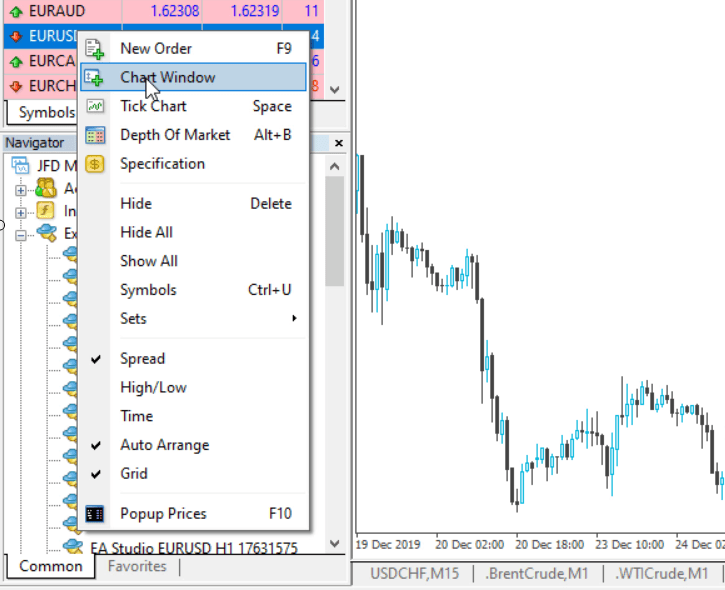 And you will see all the assets that your broker provides. If you don't see Bitcoin there this means that obviously, your broker doesn't provide Bitcoin. And you need to look for another broker if you want to trade the Bitcoin or you want to do cryptocurrency algorithmic trading.
10." How long time it takes the Expert Advisors from the Cryptocurrency trading course to open a trade?"
Again this depends really on the market. I cannot say with any of the Expert Advisor when it will open a trade, how long time it will take. It depends on when the entry conditions will be met. Inside the Expert Advisor, we have entry and exit conditions. When the entry conditions are met you will see the entry and the Expert Advisor will open a trade.
And sometimes it could be immediately once you drop it over the chart, sometimes it could take a couple of days. It really depends as well, on the time frame that you're trading on. So, if you're trading on M1 or M5 it will open obviously more frequently trades than if you're trading on H4 or daily chart, then you will need to wait probably a couple of days or even weeks.
These are the 10 frequently asked questions that I receive for the Cryptocurrency trading course. Let me know if you have any other questions in our Forum. As you know I always answer within 12 hours. It's my pleasure to answer your questions.
This way we have very quick communication and I can assist you as much as I can.
See you inside the class!