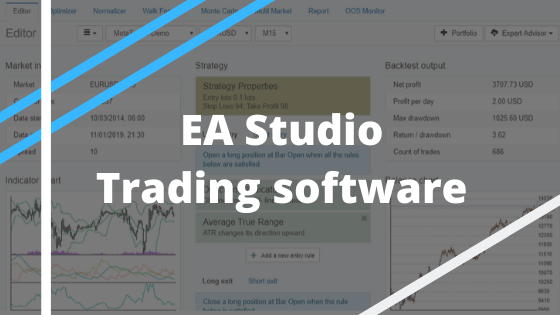 Trading Software EA Studio – the Easiest Way for Algo Trading
Posted by

Categories

EA Studio

Date

September 16, 2017
Trading Software EA Studio professional tool for every trader
Trading software or a strategy builder is what traders need nowadays in the volatile Forex and Crypto market. With these builders, the traders can automate strategies without programming skill and trading experience. The process of hiring developers to program trading strategies is time-consuming and expensive.
Also, huge mistakes are possible when a developer program an Expert Advisors, which might cost funds to the trader. That is why trading software is the better solution.
One of the latest versions of the trading software EA Studio was released with the feature Reactor. It's really awesome. The first reactions of the traders using it were: "What I will do now?", "I have to find how to spend my time" and "Great that I will do nothing now".
Simply said The Reactor does automatically everything we were doing so far manually. We have already updated our courses with lectures on how to use them. Especially more information you can find in the Forex strategy course portfolio trading with 12 Expert Advisors. You can find it in the algorithmic trading section: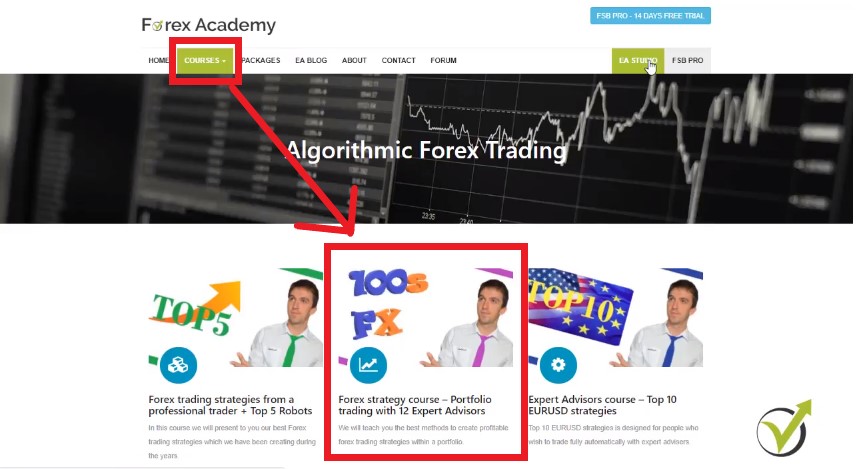 The Generator in the trading software has the power to generate automatically strategies with predefined rules
After that we were going manually to check the robustness of each strategy from the portfolio. We were testing it with the Monte Carlo and Multi Market tools. Monte Carlo tries to break the strategy using different parameters for the indicators. Much better to fail during the creation rather than trading in live account. This way we know if the strategy is over optimized or not. This is one of the coolest tools in this trading software.
Multi Market is where we see immediately the results of the strategies on the other markets. This way we know if we can use the same strategy on the other pairs as well. We have three things here for the trading software with the Multi Markets. One, creating one expert that has good results on another 5 markets so I can add a market from the plus button. And, we will end up with six experts and diversified the risk between the currency pairs.
If a strategy fails in all other markets, we consider it as over optimized for the market it was created for. If the strategy works fine on other markets, it will cost us just two clicks to export it for all of them, using the trading software. So basically I'll be just changing the currency where it shows profit and I will export it.
The Reactor now does all automatically and we can happily say that EA Studio now is professional trading software.
Basically we just set which tools would like the strategy to pass, so that we will not do anything manually. If we select to use all the tools once the strategy is generated, it will go through the optimization. And, if it passes the acceptance criteria that we predefined, it will go to the next tool Walk Forward validation. And then, if it passes, it will go to the Monte Carlo and if it passes all, we will have it on our screen just ready to use.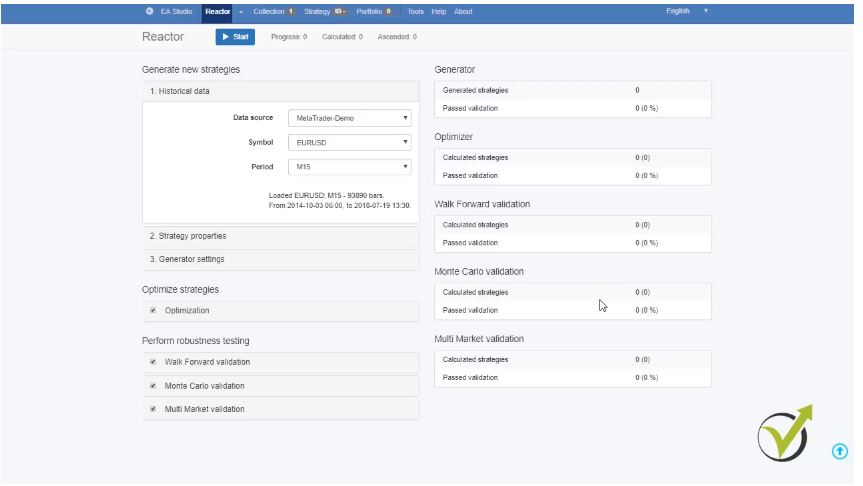 Great applause from our traders' team to the team of developers that updated EA Studio and turned it into unique trading software. And, actually, they keep updating it all the time which really worths the investment to have a license for it.
So basically if I start from the beginning, you will see that I can predefine the historical data. At this moment I have placed some data for PepperStone demo account, JFD demo account, Ava demo account. PepperStone demo 02 – this is another server from Pepper Stone and Ava. This is data source from their live account. So all of these Brokers please don't take it as a recommendation, we are not connected to any of the brokers.
The trading software comes with free script
If you go to Tools and then you go to Data Import, you can download free script to export your historical data from the broker that you have selected to use. So we can choose if you are trading with MetaTrader 4 or with MetaTrader 5. Below you will see the box where we need to drop the files that you have exported from the MetaTrader: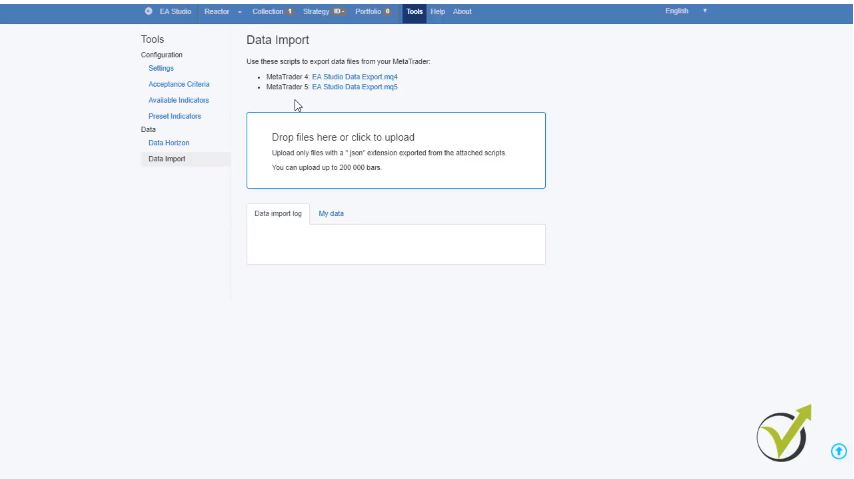 If you haven't done that you can have a look at our video on youtube.com. It is called "Forex historical data – how to export properly for EA Studio". After that, you predefine the symbol and here you will see the symbols that you have exported as historical data. As well you can trade cryptocurrencies, stocks, indexes, anything that you will see on the MetaTrader platform. Below is the trading period, so you can choose any time frame between M1 to daily chart.
After that you can set up the strategy properties
The first line is the entry lot that you would like to trade with. You can predefine if you want the trading software to set Stop Loss and Take Profit for your strategies. As a Stop Loss you can choose from Fixed, Trailing, Fixed or Trailing and you can set the minimum and maximum.
In Generator settings you will set how long time you wish the trading software to work. Normally I set it to work during the night and I set it for about 8 hours – 480 minutes. And, in the morning I have a ready collection with strategies to work on during the day. As a method you can select Net balance, Return to draw down ratio, System quality number, Win/Loss ratio, Sharpe ratio, Profit factor and Profit.
This is the way that you want to see the strategies into the collection ordered by any of these criterias. Our sample is a very well known method to analyze the strategies for a last period of time. Below is the acceptance criteria which is very important. If I click on it you can add any validation criteria for the trading software as: Minimum count of trades, Maximum stagnation in percentage and so on: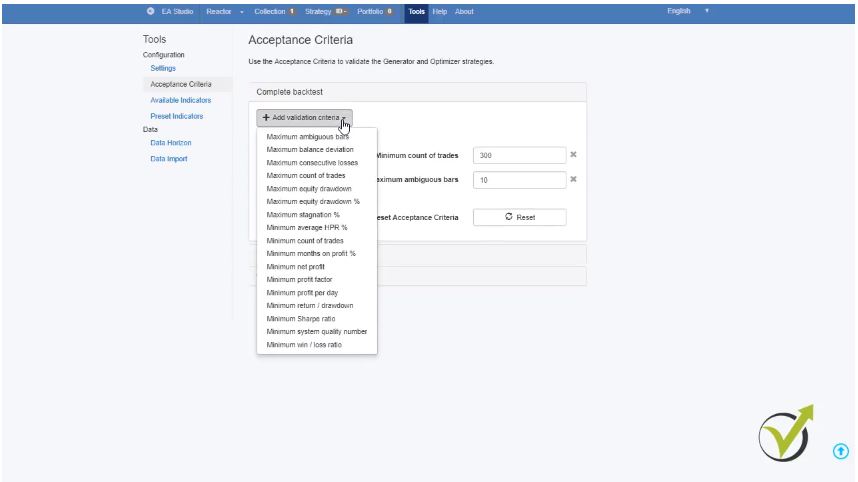 So only the strategies that pass these validation criteria will show into the collection
Below is the new tool Preset Indicators which you can find normally in tools. You can preset any indicators as a part of your strategy.
As an optimization, you can choose whether you would like to optimize the Stop Loss and Take Profit numeric values range. These are the steps that the trading software will take when it is optimizing your strategy. It is very similar to how MetaTrader works but actually, it is much more reliable and faster. Below you have also search best criteria and Out of sample and In sample, if you would like to use it or not.
And, again acceptance criteria to pass through the optimization, so when the strategy starts to generate they go through each of these features and the trading software tests them according to the acceptance criteria that you have predefined. If they pass the optimization and acceptance criteria they will go to the robustness testing.
What are the robustness tests for the trading software EA Studio?
Walk Forward validation
Monte Carlo Validation
Multi Market Validation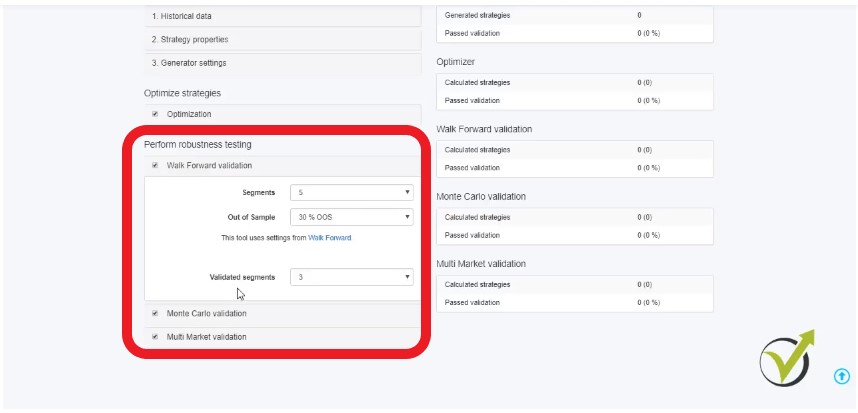 One is Walk Forward validation which is a new feature from 2018. And, actually, I don't know any other trading software with this feature. And this feature helps a lot to make our strategy more robust.
Below is the Monte Carlo which I have already explained. Here you can clarify how many counts of tests you'd like to take and below is how many of those tests to be validated. So, if I choose 10 tests and I wish 80 percent of those to be validated by the trading software, this means 8 out of the 10 should be validated. And if I select 20 obviously 16 out of the 20 should be validated.
Multi Market is below. You can set how many markets out of all tested markets should pass the validation. So if I click on start you will see the Reactor working and already strategies are generated. So those who pass the validation will go to the Optimizer and then they will go to Walk Forward validation and to Monte Carlo validation and Multi Market validation.
At the end of the day, I will have strategies into the collection that have passed all of these features
And briefly, for each strategy you will see statistics from the trading software, such as Net profit, Profit per day, Maximum drawdown, Return to drawdown ratio, Count of trades. If you have too
many strategies into the collection (the maximum is 100) you can use filters on the filtered records, which is on the left side of the trading software, and you can add some more filters that you have missed to add in the acceptance criteria. So this way you will limit your strategies of the training portfolio.
You can find The Reactor on the menu of the trading software EA Studio. And it is just below The Generator and above The Validator. The validator is a pretty similar tool where we drop ready Expert Advisors, Collections, Portfolio Experts. You can upload whole folders and recalculate them just as The Reactor does. So it will work only over ready strategies.
Basically, it will just miss The Generator but it will work on the files that you upload. This is a very useful tool if the trader saves the work from the trading software in collections or folders. And after time he can just drop them over here.
It will recalculate according to the recent market conditions. Of course with fresh historical data that it has uploaded
The last thing I'd like to mention is about the settings that you can find in Tools. From here you can predefine the trading session. From what time to what time would you like to trade? The Reactor will follow exactly the rules that you have set. Also, you can choose to close your trades on Friday. So the trading software will generate strategies that will close on Friday closed.
Below is the correlation analysis which detects balanced lines correlation. It means that The Reactor will generate strategies. And, if any of those have similar balance lines with more than 98%, it will remove it. You can select to use the tech strategies with similar trading rules, the trading software will remove it as well: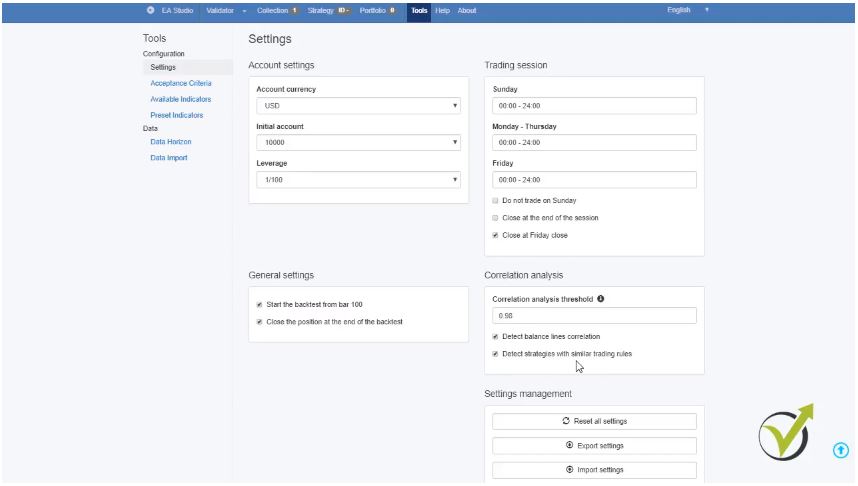 This means, if you have a strategy with similar trading rules and by similar we accept same entry condition. fFor example Accelerator Oscilator rises but with different level, this would be accepted as a similar trading rule. If any other strategy has the very same entry condition but with different parameters inside it will take it as a similar strategy. And, it will be removed from the collection.
We would like to trade different strategies to have better diversification of our risk
The idea is when we are trading portfolio of strategies we would like to trade different strategies to have better diversification of our risk. And this is how trading software EA Studio becomes very useful and practical as a professional tool for every trader. It gives us the opportunity to create a variety of Expert Advisors, trading strategies with different parameters, different indicators. With different entry rules and exit rules, and strategies trading on all market conditions.
If you have any questions about The Reactor you are very welcome to write at our support forum which you can find on our website and I will be very happy to assist you.
If you are interested in the trading software EA Studio, you can receive a discount as our student. EA Studio is included in our optimal pack and in the mega pack in packages.
So if you decide to enroll in any of those you will receive added value as courses from EA Trading Academy. If you are already our students you will receive a discount from the Forex software company.
We wish you save trading and let us know if you have any questions.