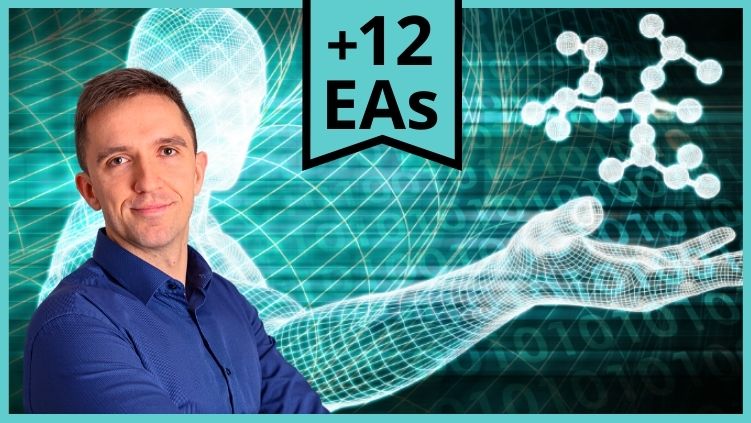 Forex strategy course: Get ready-to-use Robots for trading and learn an ultimate method to create Expert Advisors with no programming skills
using EA Studio
This Forex strategy course will teach you our best algorithmic trading methods to create whole portfolios of Expert Advisors and select the most profitable Forex strategy without any programming experience required.
Are you interested in trading on the Forex market with Robots or Expert Advisors, but you don't have profitable strategies or programming skills? Then this is the right Forex strategy course for you.
With this course, Petko Aleksandrov will share the 12 Expert Advisors that he trades every month in one of his real trading accounts.
Algorithmic trading is vital nowadays for all traders that want to trade efficiently or professionally. Technology today allows us to create our strategies without any prior experience easily. In this course, you will receive the answer to the question – How do I create my Forex strategy?
What is a Portfolio of Forex strategies, and why do we trade more than one Forex strategy?
We know that at some point, a single Expert Advisor will become unprofitable when market conditions change. We don't need to worry about it because we create many strategies and trade them simultaneously in one trading account. This is an easy system to implement and use because of the power of professional strategy builders as EA Studio.
Moreover, we update this Forex strategy course every month with new 12 Expert Advisors, and each Forex strategy is unique.
What will you learn in this Forex Strategy Course?
Trade with Expert Advisors on MetaTrader

Create your Forex strategy without

prior

experience

Generate profitable strategies over the Historical data

Filter

hundreds of Forex Strategies in our Collection

Understanding

over-optimization and how to avoid it

Select Forex strategy in 3 different methods

Practice algorithmic trading with 12 Expert Advisors

Additionally, you will receive 12 Expert Advisors every month that you can use to practice with on a demo account so that you can get a real feeling for algorithmic trading and gain valuable experience.
The Forex Strategy course is suitable for Forex traders who wish to learn about algorithmic trading and control their trading. Many traders get frustrated after they purchase an Expert Advisor, which does not work as promised. There are reasons for this.
These strategies were not generated and optimized over your broker's historical data, and they often don't work with your broker as expected. These Expert Advisors for algorithmic trading have been over-optimized so that you can see a perfect equity line. This is not the result you will see from your Forex strategy after you start algorithmic trading with it.
This is the reason we created this Forex strategy course. So you can generate your own Forex strategy, you can test it and see real current results over the accurate Historical data from your broker. You will also save a lot of time by exporting the Forex strategy with one click, as an Expert Advisor, ready for algorithmic trading and not waste any time or money on developers on Expert Advisors that fail.
EA Studio is a user-friendly software, and it will just be a short time until you generate your first profitable Forex strategy. In this way, you will join a small percentage of Forex traders who are profitable.
Each Expert Advisor that you create is yours, and you can sell it.
Contents and Overview
This Forex Strategy course aims to teach traders who have no experience in coding but have a desire to create their Expert Advisors to achieve more stable results.
You will start with the basics of algorithmic trading. You will learn how to collect the Historical data of the broker you have selected to use. This is the first and most crucial step in algorithmic trading. The mentor will show you how to export it correctly, and you will be provided with a script for MetaTrader, which will help you with the process.
You will learn about the strategy builders, which are software packages that we use to automate existing trading strategies or generate new strategies over the exported Historical data. You will also watch a demonstration of the whole process of generating, collecting, filtering, and exporting the Expert Advisors. Each Forex strategy is essential and should be adequately tested to make the whole portfolio profitable.
By the end of this master trading class, your confidence in algorithmic trading will skyrocket. You will fill many gaps in your trading skills. In trading, there is always risk involved, so you, as a trader, need to be well prepared.

Who is the instructor?
Petko Aleksandrov is the Head Trader and Mentor at EA Forex Academy. After he graduated from University with a degree in Finance, he continued his studies in London, specializing in Trading. He was asked to stay on as a mentor, but he felt that something was missing – algorithmic trading. Thereafter, Petko worked for a few financial institutions, brokerage firms, insurance companies, and banks in search of the best methods to trade on the financial markets. The recent years he has dedicated his time to recording the trading strategies and systems he uses. In the first year alone, he had over 10 000 students.
As with all of his courses, you receive personal support from Petko in our Forum, and you receive lifetime access to the course content.
We have a 30-day money-back guarantee, so if you feel that this Forex strategy course is not suitable for you, you can request a refund – no questions asked!
Enroll now and take your algorithmic trading to the next level!
We look forward to seeing you in this Forex Strategy course!
What am I going to get from this Forex strategy course?
All of our

vast

experience that we have

gained over

the years and

c

ontinue to build on.

The knowledge

you need

to generate an unlimited number of strategies and trade them as Expert Advisors.

A portfolio of

the

12 best

strategies,

as Expert Advisors

that will diversify your risk.

You will learn how

to automate your manual Forex

strategies

and spend only 15 – 30 minutes a week

following

them.
Who is the target audience?
Forex Traders who are open-minded

and understand that algorithmic trading is the best current and future trading way.

Forex Traders who hire developers to automate their Forex strategy

and now realize there is no more need for this

Newbie Traders who want to be independent

and trade

professionally from

home

Forex Traders that wish to use algorithmic trading to

spend less time in front of their screens
What are the requirements?
Basic knowledge of the Financial Markets will be useful but not

essential.

A d

esire to create the best Forex

strategies

for algorithmic trading

Computer to use FSB Pro and MetaTrader, and a computer/tablet/phone to use EA studio.

Course Features
Lectures

30

Quizzes

1

Duration

500 weeks

Skill level

All levels

Students

3657

Assessments

Yes