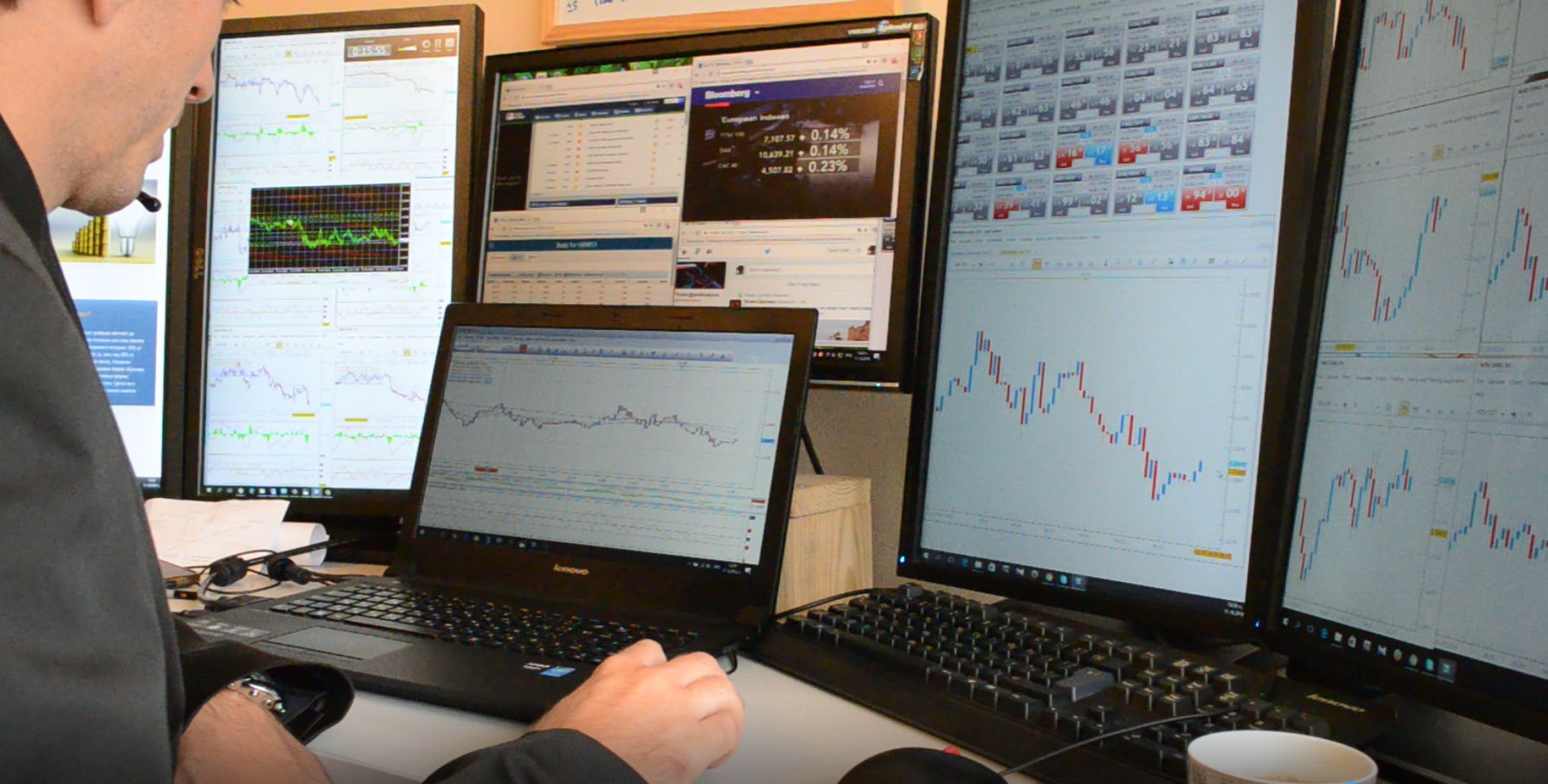 Day trading – over 1000 pips in one day with Petko Aleksandrov
Day trading is a professional method to trade within the same day, and not keeping trades overnight
Day trading from EA Forex Academy: Hello, it is Petko Aleksandrov, today is 12 of October. Today is a brilliant day for the GBP even during the London session we have
GBPUSD in a range it is just between 1.2280-85 to 1.2305.
At the moment I have many short trades opened, my Stop Losses are above 1.2350 you can see higher on 58 I have more on above 60. I do expect it to go further below to 1.2270-75. What do we see on a daily chart is that after the huge drop that we had last week during the Asian session we had a very negative day and today as well is another negative day.
This is so-called dead cat bounce and it is very useful in day trading.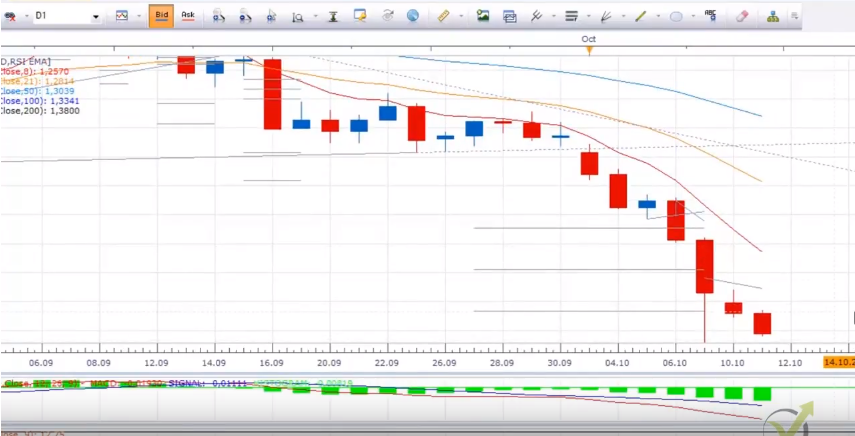 Even we had bounced during last week but the next days are very negative and the dead cat bounce means that after a huge drop during the next days there is no any pullback, there is no any bounce and the market continues to be negative. In the same time, we see that we have a very strong USD the whole morning versus all the currencies as you know in one of my monitors, I have the 6 majors always open.
I know which one is strongest and so I'm selling it versus the GBP. I do expect another 20 pips lower down till the end of the London session, if not I will take my profit which is not really bad. Till the moment I have around 600 pips which is not a bad profit but I want to reach 1000 which is my target every day-1000 pips. Of course, not everyday trading I can succeed it, but that's my target. So, how I do it, guys?
I sell every pullback during the day trading!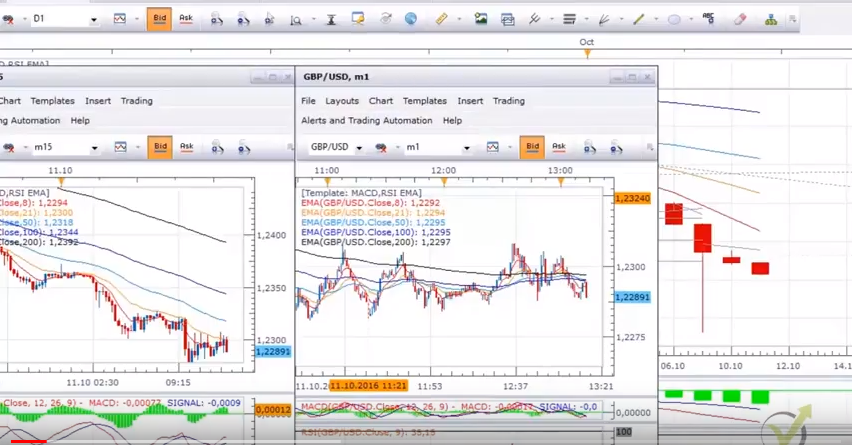 It's not a swing trading because I'm doing it on M1 chart, it's more of a scalping trading something between scalping trading and swing trading. So, what I'm looking for is the strong trend and I'm just looking to sell it when the trend is going down but this range, this morning is kind of messy and it just goes sideways but I really expected any moment to drop lower. What I can expect is another test of 1.23.
Anyway, my fib at the moment it's exactly there at 0.382 on a daily chart you can see there. Right now we have the drop, the price starts to go down now 1.2284. My first Take profit is very close few pips below it is 1.2283, I think that's it the price will break down now. It is just testing the 1.2280. My next to Take profits are at 70 and 65.
The GBP is at record low levels after the Brexit for the last three decades and this way fundamentally and technically I sell it the last days and I succeed to take great profits over here!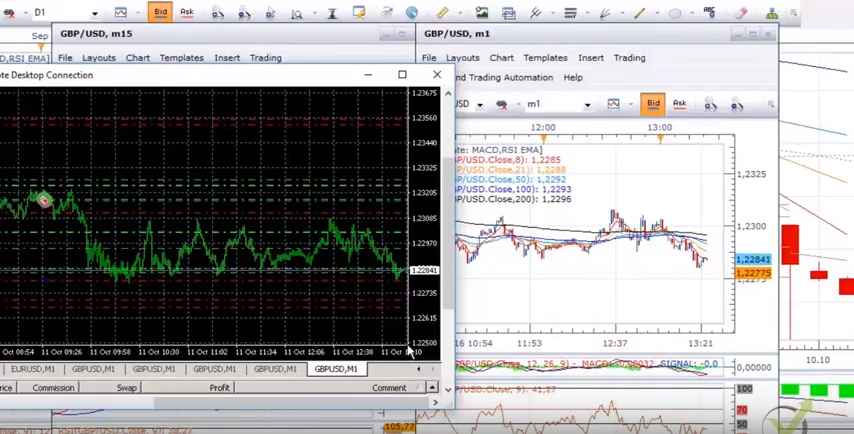 And my results during the last week are just great. The last candle that closed on M15 you can see it right over here it's a very negative one, it closed nearly on the zero, but you can see previously even one closed on the lowest point after that we had a move up. What I can draw is a counter trend line over here, you can see it was broken very impulsively. When we do day trading, we are looking for the impulsive breaks.
In the next minutes, I do expect it to go below, but it is 1:30 UK time right now, guys, because by 1:30 UK time I want to stop my trading for today. Usually, I do trade on only during the London session because it's crucially important for the Forex market. Of course, the others are great to trade it, especially the New York, the Tokyo but if I make a great result during London I take a break on the afternoon or I just do mentor and teaching. I do prefer to have two hours great trading with a good profit instead of trading the whole day.
So, normally what I do? I open many positions in one direction, so I do not rely on a single entry or on a single Take profit. Of course, it depends on your broker if you can hide unit or if you can add to the positions or reduce the positions.
What I do doesn't matter which broker I'm using:
I open many trades, many orders on different levels, so each one that I have opened is according to a different strategy
it's the same direction for all the trades
I use hedging positions on the other side to limit the risk while Day trading
this way I have a portfolio of different strategies not only one
If one starts losing if I didn't enter the right price the other well compensated and this way the losses are less and my profit line gets more stable. The price stopped again at 1.2280 but it doesn't go higher it just to 1.2285 and the same time I have a couple of positions open at the USDJPY, of course long because of the
USDJPY crossed a very important trend line.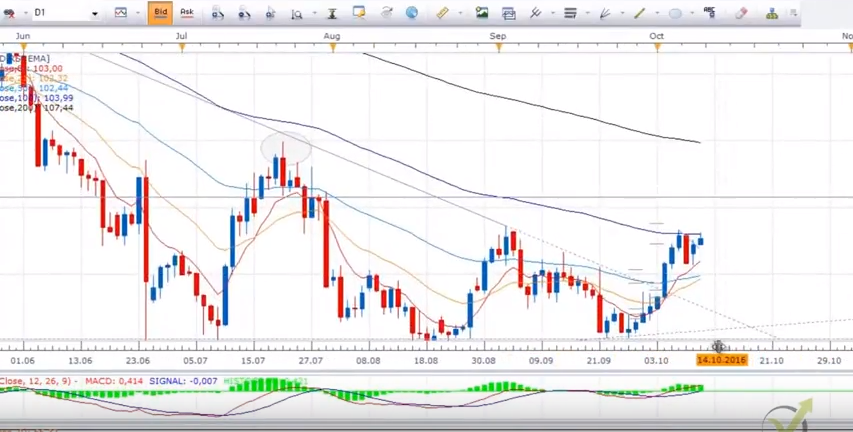 We have a trend line from the beginning of.. what is it January 2016 and it was broken last week. Very impulsively broken and now the USDJPY is very positive, so we are looking to buy it. This impulsive break was according to all conditions for an impulsive break that we educate in EA Forex Academy and as well in H4 chart we had this counter trend line, that was broken impulsively as well.
All trades here are on positive with me, but I do expect it to go above 1.0415 before reaching 1.0450-60. Anyway, most of my positions today are on the Cable. I have around 17 open positions and I have few hedging positions on the long side and I will close those if 1.2280 is closed. Definitely, strong support we have at 1.2270 and this is just for the day because anyway, this is record levels for the GBP and this level doesn't mean anything really.
The resistance is at 1.2307, 1.2310 before you can see it was support then it became a resistance, a strong resistance. My Stop Loss is above 1.2350-60 higher. It's very risky if I place them below this level.
What I was expecting during the London day trading session was this counter trend line to be broken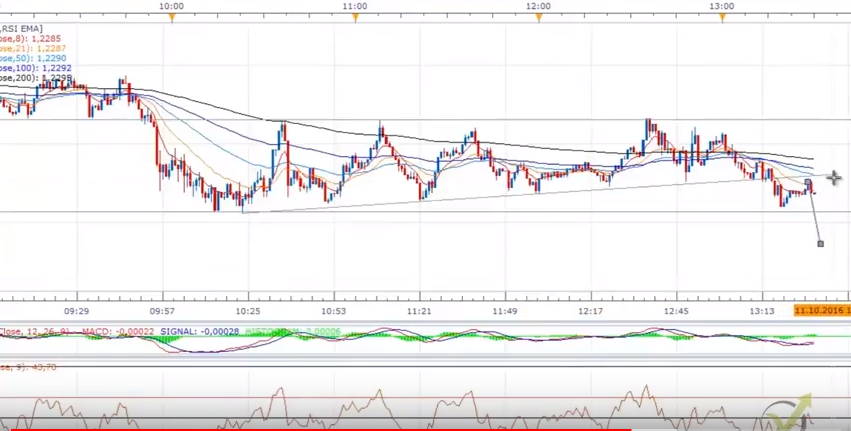 because the thing I want to see right now is the price to retest it and to go further below because normally when an important level or important counter trend line breaks we expect retest just what we see after that and then it will go further below today we don't have any important news that might interfere my trading and change the direction of the trading.
At 12 we were expecting sounders to talk, but he didn't say anything important that interfere the market. Huge movement on EURUSD as well I have 4-5 positions here even a little bit more EURUSD you can see actually they were closed right here, you can see here was the entry and then my Take profit was hit. I did not expect that it will go below 111 anyway I expected to go further below and you can see this was a very short trade with just 9 pips of Take profit but now I have some other that is with much bigger Take profit where the Take profit is at 1.1060.
You can see what's going on now with the GBP 1.2260-68, very close to my Take profit. One was closed, the next is just a few pips 1.2268, 1.2267 very, very close I'm just waiting a couple of seconds and I think it will be broken. You can see the retest was exactly what I did expect and then the price continued lower.
I do believe I already have a thousand pips in my pocket I will just wait a little bit more and here it is 1.2267, 62 even and I had my Take profits. Great day trading day!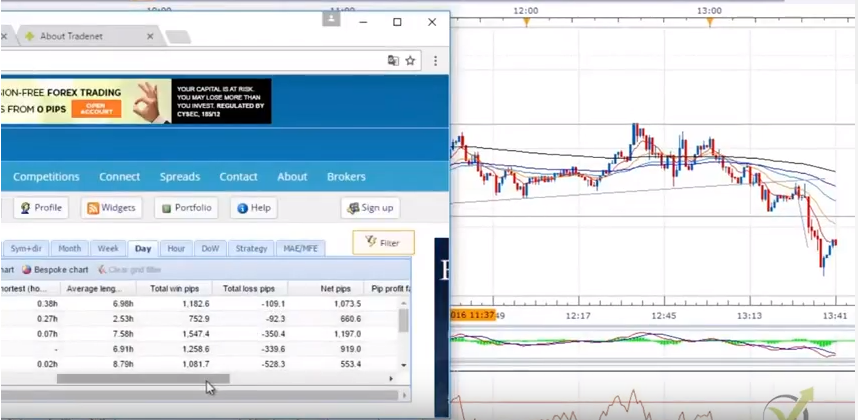 The price even continued to 1.2260, 1.2262 and the price continues lower. However, my Take Profit was reached so I'm not going to trade there.
You can see here are the profits, so it is totally 1182 pips and I have 109 or 109 losses. These were the hedging positions that I have but at the total I have is 1073.5. This is the Net pips 1073.5 this is the total result that I have. You can see yesterday is 660 but the day before it was 1197 and then you see the results from the previous day trading. Obviously, my target is always 1000 pips and I always wish you to have great trading days and always trade safe and smart.
If you are looking for professional day trading education, you can have a look at the Forex trading course – London, NY, and Tokyo trading system.
If you have any questions, please write in our Support Forum.
Tag:day trading, EA Forex Academy, Forex, forex day trading, forex pips, forex trader, forex trading, intraday trading, pips, trading, trading pips