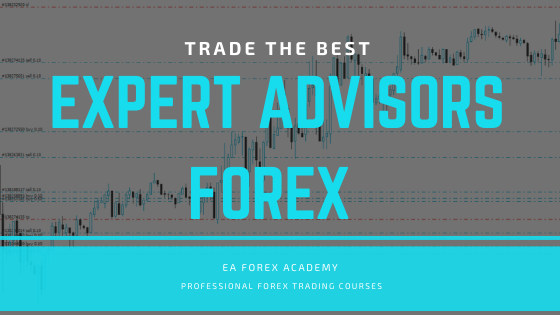 BEST Expert Advisor for MT4 & MT5: How to Find it?
Best Expert Advisors for Forex – the method to trade and have free time.
Do you know what Expert Advisors in Forex are?
These are Forex trading robots that allow us to trade while we are not in front of the computer. They execute the trades according to predefined entry and exit rules. Therefore, we can follow the trading strategies even without steering in front of the screen. And there is a bit more:
Why traders use Expert Advisors for Forex trading?
trade 24 hours from Monday until Friday
follow the trading strategies in 100%
avoid emotions while trading
possible to backtest the performance of the strategy
trade many Forex strategies simultaneously
In this lecture, I will show you the performance of actual trading with 99 different strategies as Expert Advisors Forex in one account. More I will show you how I test 99 EAs on a virtual account, without any risk, and how do I place in a separate account the top EAs.
This lecture is a free one from our course Automated Forex trading + 99 Expert Advisors
And here is the lecture where I will show you how we separate the top Expert Advisors from the account where we have the 99 Expert Advisors.
This way I find the best Expert Advisor that makes the most profit at the moment. And this is the only realistic way you can do it. If you buy the top Expert Advisors MT4 or the best Expert Advisor for MT5 from the MQL market, you are most probably going to lose. Why? You don't know if they are profitable. Just promises for the best MT4 EA.
Below you will see that I have already connected my Demo account to the FX Blue website and we have this precise statistic.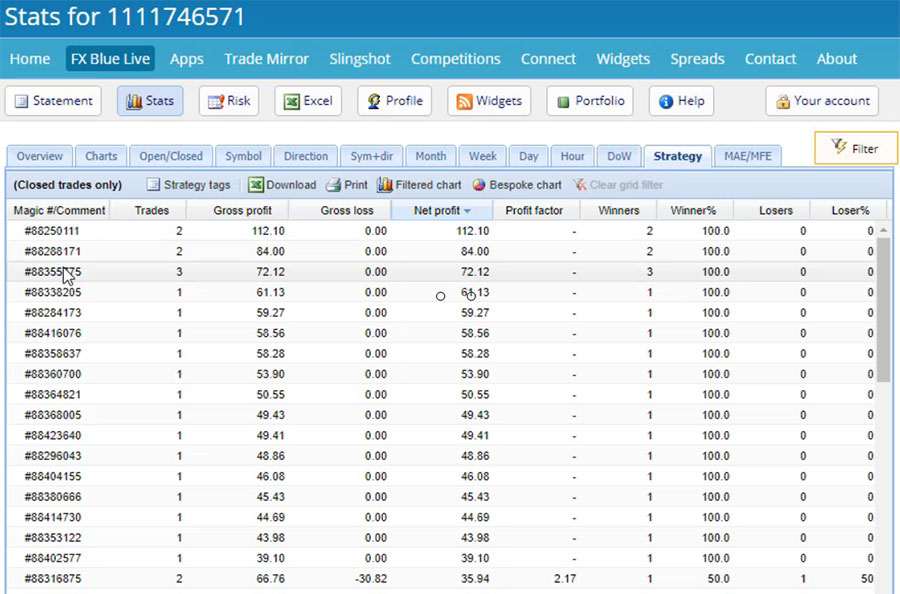 So here it's a personal choice if you want to trade only the top Expert Advisors Forex that currently make the most profit or the top 2, the top 3, top 5, top 10, top 20 if you want to trade. It's up to you.
The important thing is that when we separate the top performers, we need to keep watching the statistic. You can do this 2 times or 3 times a week or you can do it only over the weekend.
Personally, I do it every other day or let's say 3 times during the week, on Monday, Wednesday, and Friday normally, or during the weekend. As well, I take a look at the accounts that I'm managing.
The idea is that if you want to trade the top 3 Expert Advisors, you need to always trade the top 3 because what will happen with time is that some of these Expert Advisors will go down and some other Expert Advisor will come in the top 3. What we need is to change it, and how do we do that? Here is a picture of it:

Normally I take snipping to the results because I want to have the 3 magic numbers. Now, let's find these top EAs. I open the Meta Trader, I will go to File, open data folder: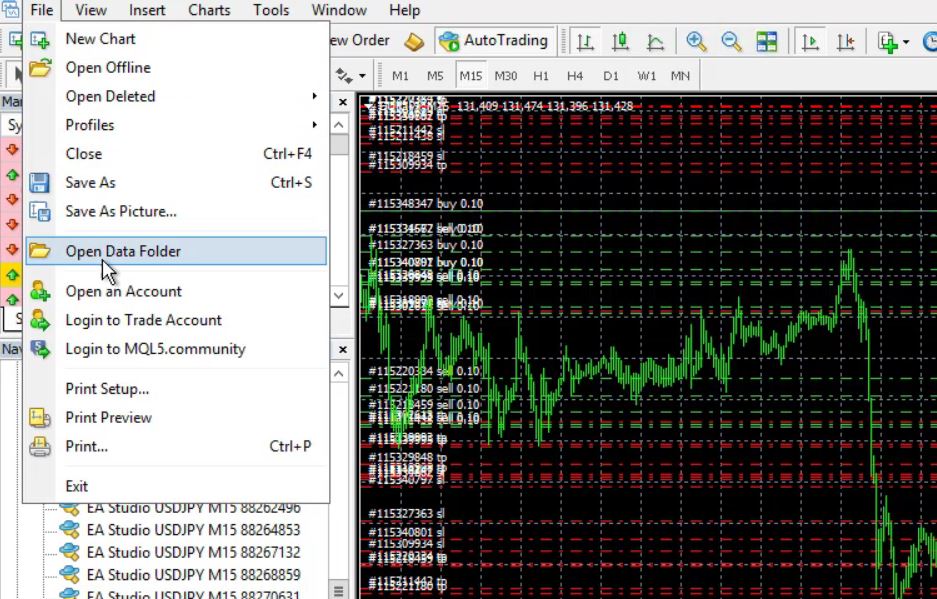 and then I will click on MQL4,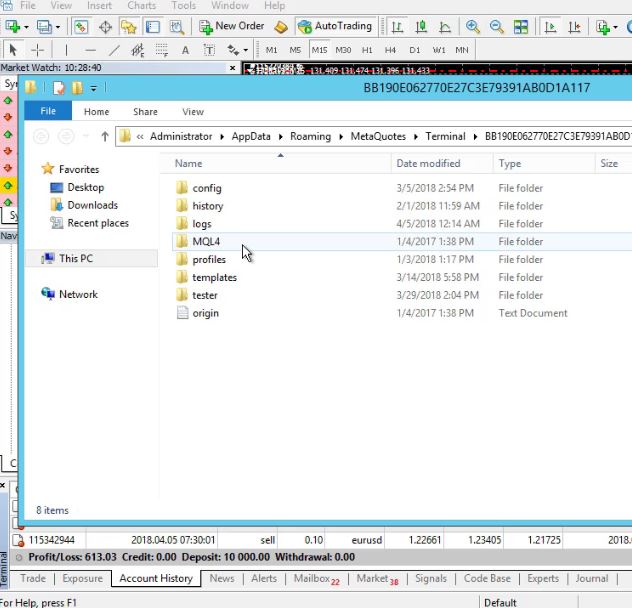 and I will go to the location of the Expert Advisors.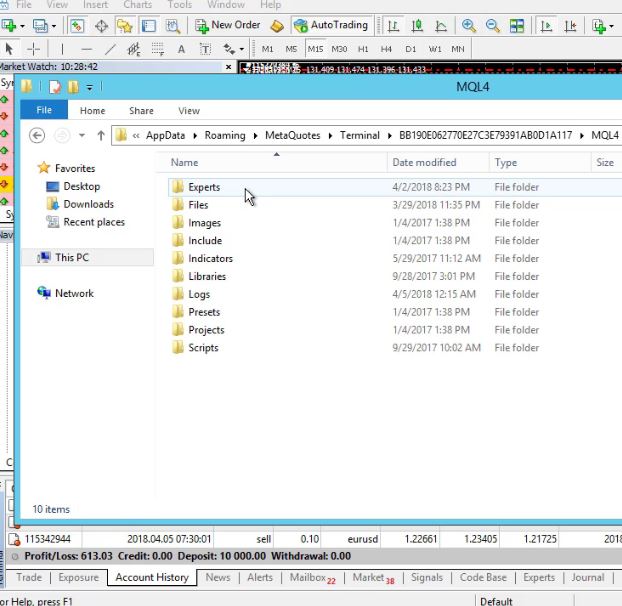 Search for the Expert Advisors Forex
Click the tab "Search Experts".

So here I will write down the magic number that I have on my other screen. It is 88250111. You can see that this is a USDJPY Expert Advisor.

I'll copy it,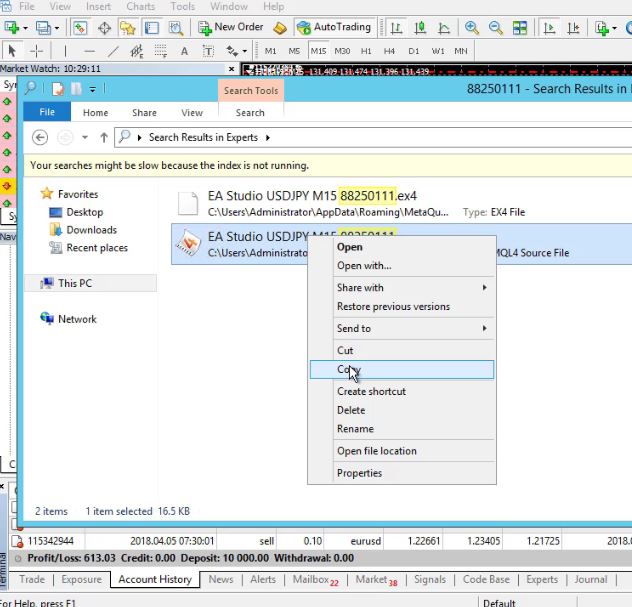 and I will make one folder here that says – Top 3 Expert Advisors Forex or Top 3 EAs. I'll paste it there.

Then I will look for the second Expert Advisor that is with number 88288171. It's another USDJPY Expert Advisor. Right-click on it and copy, and then I will paste it, as well, in the folder with the other one.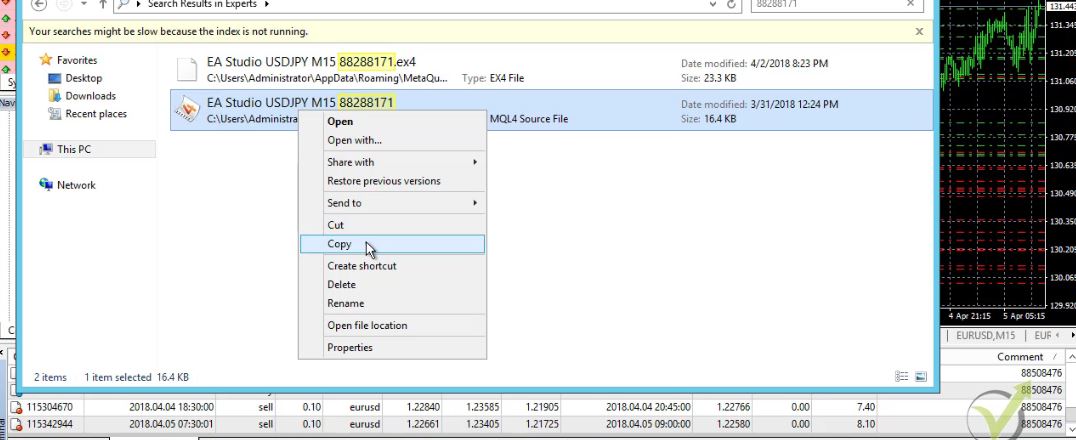 Right-click and paste.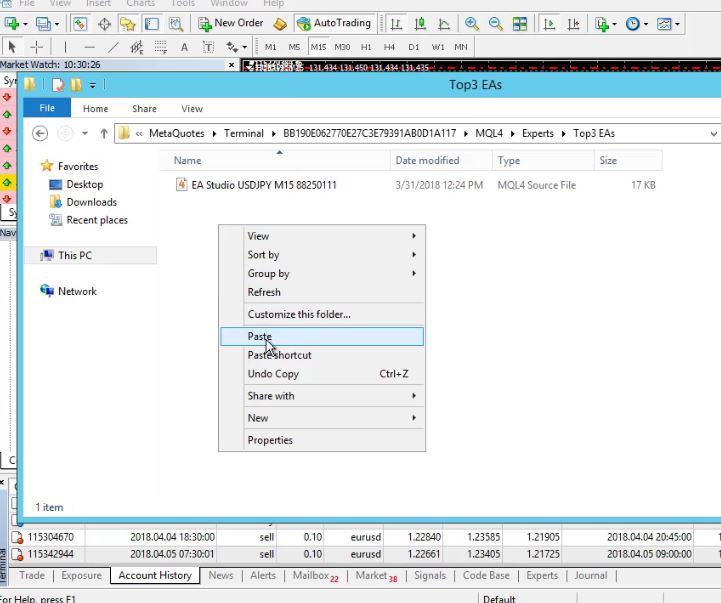 And then I will look for the last one. So it is 88355775. It's for EURJPY. I copy it,

and I will place, as well, this one in the folder.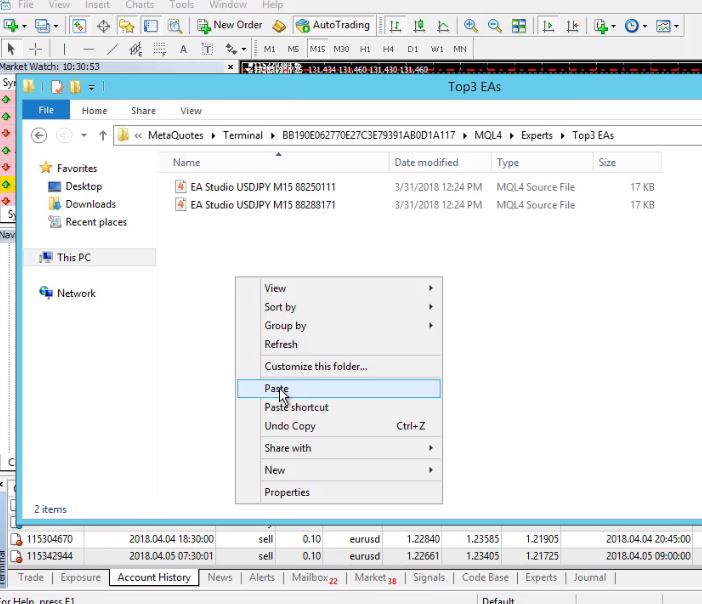 Place the Expert Advisors Forex on another Demo account in order to practice.
Now I will place these 3 Expert Advisors Forex into a separate Demo account. One more time, this is the moment where we place the best Expert Advisors trading on a live account.
This is the biggest prove you can have for yourself that you are trading with reliable Expert Advisors. You have tested so many, and you have found the best Expert Advisor.
But I suggest you first to do with on another demo account, so you can practice it. You can practice the process and you will learn how to do that. So here I have opened another Demo account for $3,000.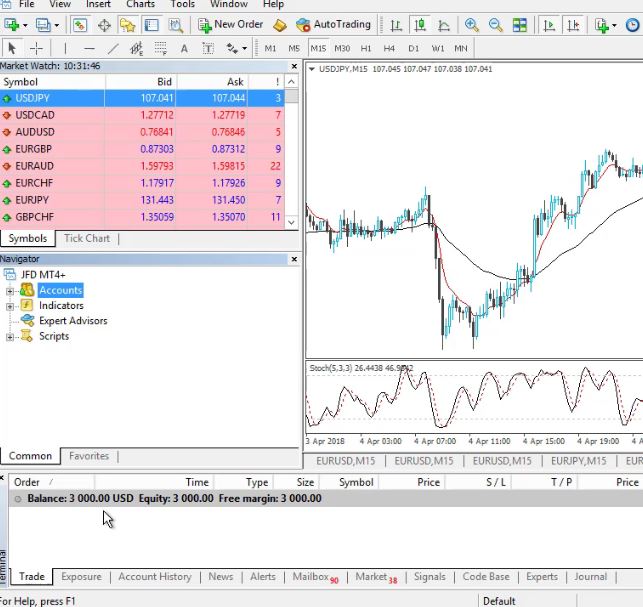 Please, don't take any of the numbers as a recommendation. You should always trade with how much you decide and it is a personal choice when you want to start trading live money.
Because this is your money you're risking and it is your risk that you are taking. So my advice is to take it easy, take your time. Don't hurry with live accounts. Practice always first on a Demo.
That's why I want to show here examples with Demo accounts.
I will go to the same path in the second Demo account:

I will paste these 3 Expert Advisors Forex over here:

Next, I will go to Expert Advisors and I will click on Refresh,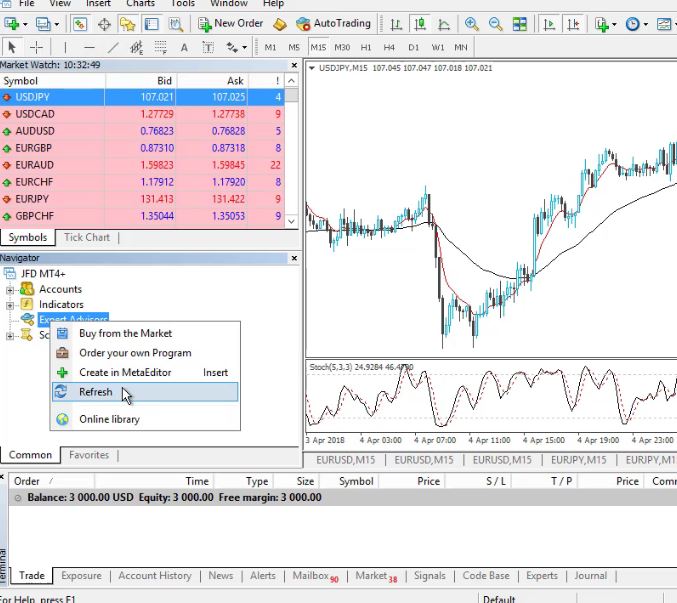 and this will force Meta Trader to compile the files. Here they are.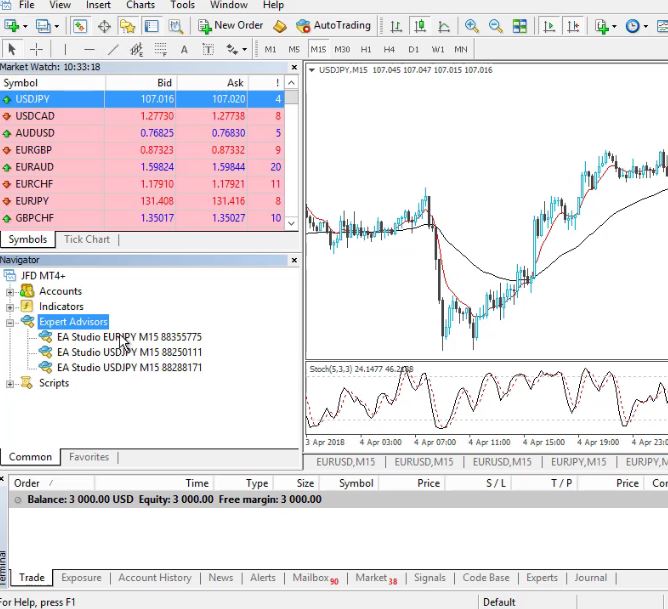 I have a couple of windows open here but what I need actually is EURJPY.

Let me put 1 EURJPY.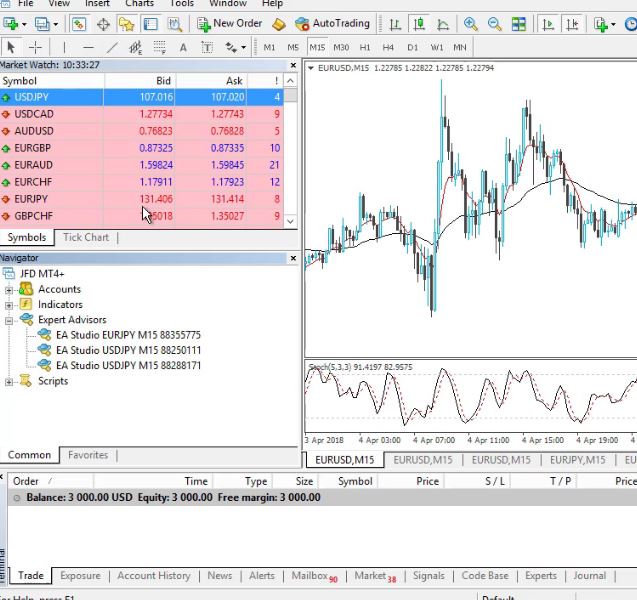 And then I need 2 times USDJPY. So on the first 3 charts, I will attach the Expert Advisors.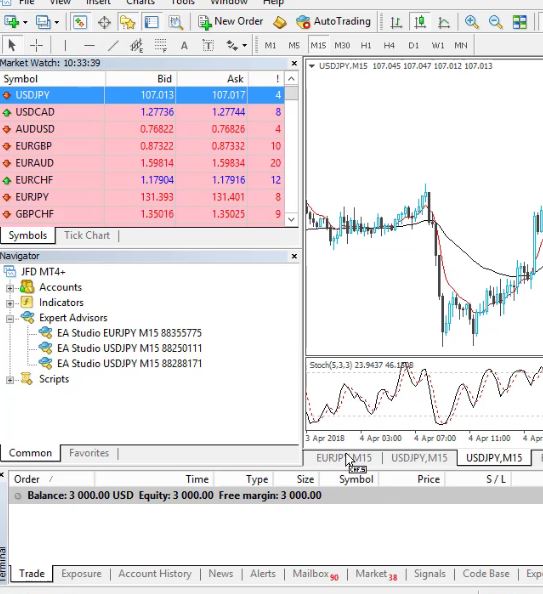 Enable the AutoTrading.
First, of course, I need to enable the AutoTrading.

Double-click over the Expert Advisor.
Click on OK.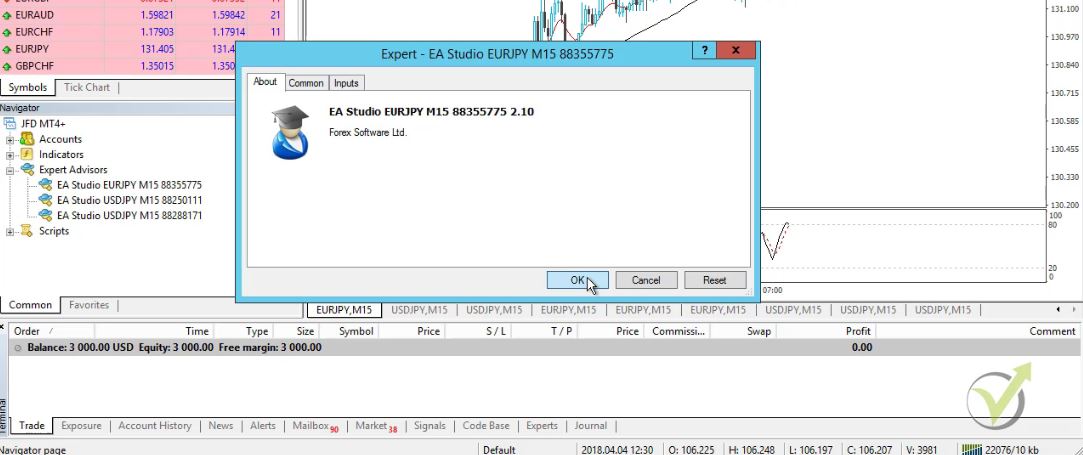 I do the same with the other 2 Expert Advisors. So these 3 Expert Advisors Forex are already trading in this account.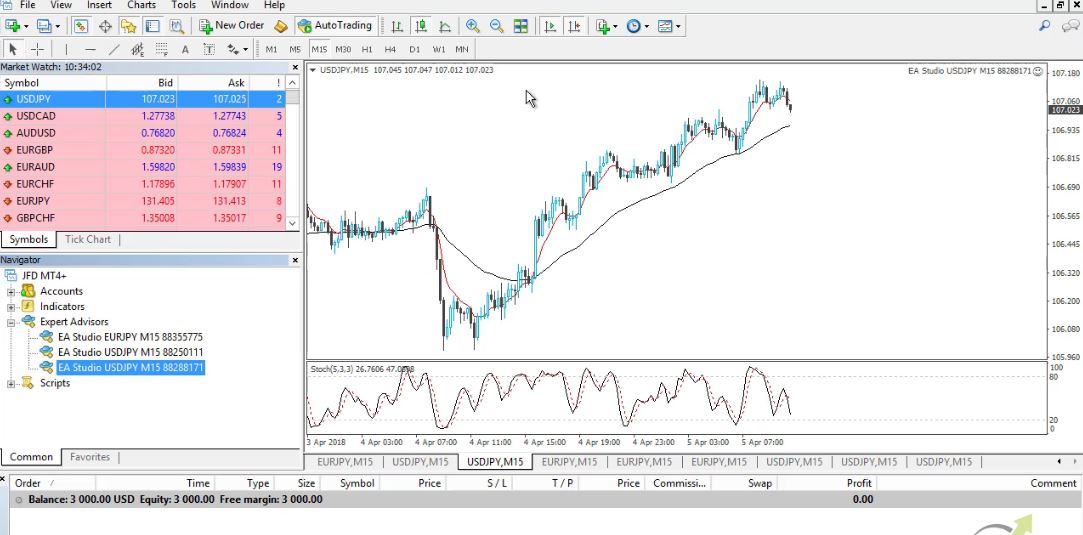 So this is what you need to do in order to trade the best Expert Advisors Forex from the 99. And of course, you need to follow the statistics. And when you see any other Expert Advisor going into the top 3, you need to replace it in the other account.
Don't switch from one account to the other because this will disable the Expert Advisors Forex.
So this way you will be always trading the top 3. Or if you decide the top 5, the top 10, it is up to you. I just suggest you start with a smaller number so you can follow easier the statistic. Keep running the two accounts.
Don't make the mistake to switch from one account to the other one because you will disable the trading in one account. You need to have 2 different accounts running at the same time so you can keep trading into the 2 accounts.
So this is entirely the system. It's really not a hard thing. It's a little bit of work to place the 99 Expert Advisors. But since you receive them ready for trading, you don't need to go over the whole process of generating and filtering strategies.
I just showed it for the people who want to do it by themselves or they want to trade different assets or different currencies. You know already how to do it.
But here the idea is to place 99 Expert Advisors, follow the statistics and open another account. Again, start with a Demo just to see how it is working and to get used to the whole process of managing the 2 accounts.
Now, the thing I have decided to do, I will update the course every month with new 99 Expert Advisors. So every month in the first week I will update with new Expert Advisors. This way I will include always the last 1 month as a history data which is important.
And once you have the course, you will receive new 99 Expert Advisors every month. So from there, it is your choice. If you want to trade with the top Expert Advisors MT4 from each month or you want to take the best Expert Advisor from each month and combine it with the Expert Advisors coming into the next month.
It's all up to you how you will manage it.
What you can do, as well, is to filter the strategies every month and when the new ones are coming you can just remove all these.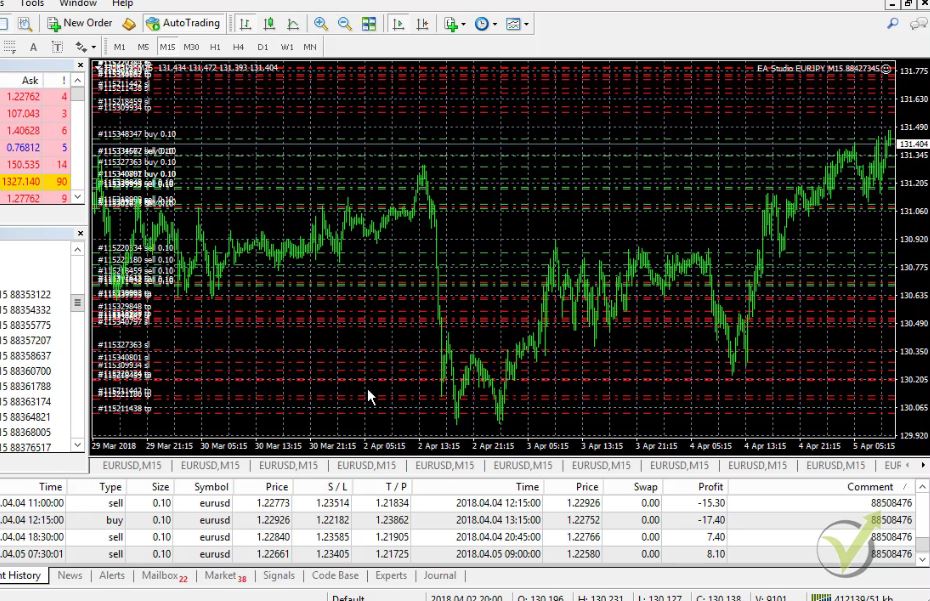 Then you can place the new ones and this way you will be always trading strategies that are generated and that went through the Monte Carlo including the last one month. So every month you can trade new Expert Advisors or, once again, you can take from each month to the top Expert Advisors.
Or if you have the possibility to run many Meta Traders on a few computers, on a VPS, it doesn't matter what it is. You can run hundreds of Expert Advisors Forex at the same time and this way, you will have the chance to take always the ones that are on the top from the different accounts. So it's a personal choice, how you want to do it.
It will be my pleasure to update the course every month with new 99 Expert Advisors. So you can have more possibilities and you can trade with more Expert Advisors. I will continue the video once I have some more statistics and if any of these 3 Expert Advisors go down. And I will replace it with another one.
If you want to test these 99 EAs from the Automated Forex trading course + 99 Expert Advisors, you can enroll in the course and download them.
Thank you for reading, and let me know if you have any questions in the Forum.
Cheers.