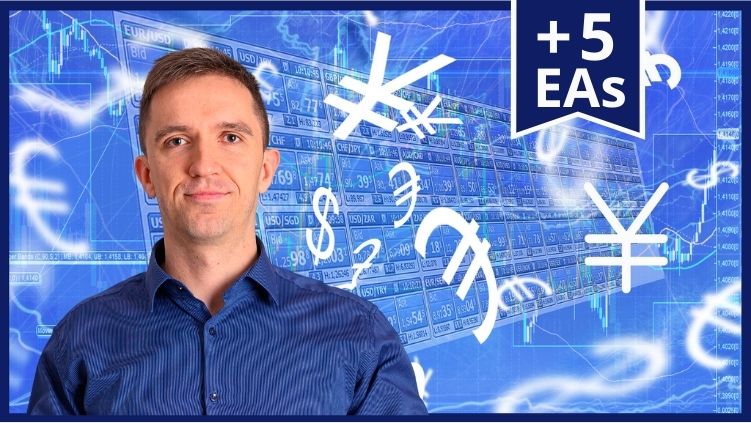 Forex trading strategy course – You will not just learn professional trading strategies but the ones that brought us the most profit.
The Forex trading strategy course is a class where I am going to teach you my top 5 Profesisonal Trading strategies that I have traded with over the last few years. And I will share the Top 5 Forex Robots that are ready-to-trade.
As a Pro trader, I only use professional trading strategies. I use both automated and manual trading simultaneously.
You will receive the Top 5 Forex robots of the Forex trading strategies AS A BONUS!!!
This Forex trading strategy course is designed to teach you 5 simple and easy to follow strategies. Even if you have little to no experience in trading. After completing this course, you will take your trading to the next level.
Over 3 000 students took this course in its first year, meaning that these 5 professional trading strategies have been tested by thousands of traders.
While there is a vast amount of theoretical trading courses where you will learn irrelevant theory. It is hard to find a comprehensive course like this one, which will teach you practical trading.
This Forex trading strategy course is designed for all levels of traders who want to improve their skills, learn how professional traders trade Forex, follow exact Forex trading strategies, and use professional EAs (Expert Advisors) to lessen the time spent in front of their screens.
What will you learn
in
this Forex trading strategy course?
T

rade 5 different professional trading strategies on 5 different currency pairs

How to f

ollow each strategy manually and execute the trades on any trading platform

Use the top 5 Forex robots if you wish to

trade

automatically on

MetaTrader

How to optimize these professional trading strategies for your trading broker

Follow the performance of the Expert Advisors in detail

Use the magic number as a tool to

analyze results

How to

diversify

your

risk by trading 5 strategies in one account, not only one
You will learn to diversify the risk because you are not trading only one, but five different professional Forex trading strategies.
No programming skills are required, you will receive the Expert Advisors ready to trade with. I will teach you how to properly place them on your MetaTrader platform, step-by-step.
Best of all – you will receive lifetime updates to this course, which means that every month, we upload new parameters for the strategies, so they are trading accordingly to recent market conditions.  It is fundamentally important to maintaining Expert Advisors in tune with the current market. 

How do I create professional trading strategies?
Extract Historical data from the broker I use

Use strategy builders to generate the strategies

Filter the strategies by testing them

Test on

a

virtual account to

limit

losses

Choose the best ones for real live trading
The secret system that we will teach you in this Forex trading strategy course
We use 5 Forex strategies on 5 different currencies on 3 different time frames. This way, we increase the trading volume in the account, which is impossible to do with manual trading, and we trade the volatility on all Stock markets – European, American, and Asian.
Nobody knows when the markets will become volatile but when you have 5 Expert Advisors (advanced forex trading strategies) trading for you 24 hours a day, you can't miss it. And to increase the chances I have selected the Top 5 Forex Robots that brought me the most profits until the moment.
In addition, we are always in a position to take advantage of two main market conditions – the sideways movements and the trending periods. Three out of the five professional trading strategies are designed as trend followers, where we use longer time frames as filters to confirm the entry on the lower time frame as M1.
The other two are the Forex strategies that trade on the sideways market, which is the most difficult to do with manual trading. The simple logic behind the sideways movement is to buy when the price is low and to sell when the price is high.
This Forex trading strategy course is the result of testing and trading thousands of trading strategies. We have combined the most robust strategies in this course, strategies that are easy to follow and trade, even manually.
The only thing you have to do
is
choose whether you will trade manually or automatically. I will teach you both.
Contents and Overview
This Forex trading strategy course is aimed at teaching traders precise and tested trading strategies that could be used manually and automatically
You will start with the very basic set up of the 5 strategies, and you will find PDF documents attached to each lecture. This will help you to set up the parameters of each strategy. In addition, these files are updated every month with new settings according to recent market conditions.
You will learn about MetaTrader, which is the only trusted platform for algorithmic trading. By the end of the course, you will be familiar with the magic numbers of the Top 5 Forex robots and know how to use them to follow the performance of these professional trading strategies.
You will be able to trade only the profitable EAs, by following their statistics, you will know which strategy out of the 5 yields the best results. Of course, it is best to trade them all simultaneously so you can achieve better risk diversification and more stable results.
By the end of this Forex trading strategy course, your confidence as a trader will soar.
You will have a thorough understanding of your trading style, and you will know if you want to trade manually or automatically, or both.
Once enrolled in this course, you will receive lifetime updates to the course. This means that every month, you will receive updated Forex strategies.
We have a 30-day money-back guarantee. If you decide that these Forex trading strategy course and the professional trading strategies do not match your trading style, you can request a refund – no questions asked!
As with my other courses, you will receive personal support from me – Petko Aleksandrov, in our Forum.
I am excited to see you in class!
Enroll now, and I will help you become a better trader!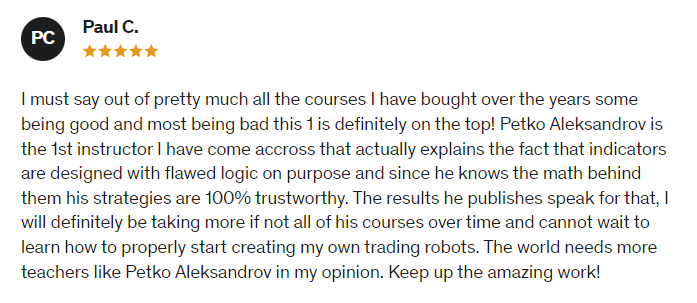 What am I going to get from this course?
Learn to trade automatically, with a maximum of 10-15 min work daily with no prior experience or programming skills required

How to limit your risk by using different Forex trading strategies, on different currencies, on 3 different time frames

Learn how to trade with Top 5 Forex robots at the same time and achieve better profits, with less risk

Get the knowledge required to be profitable in the volatile Financial Market
Requirements to trade these professional trading strategies?
Basic Forex knowledge will be useful but not essential – everyone can do it

An open mind to learn and trade more than one strategy or professional EA

Computer literacy and a good internet connection is required
What is the target audience?
People who want to win on the Forex market

Traders who are looking for professional trading strategies

The course is for traders who want to trade manually and/or automatically

Course Features
Lectures

38

Quizzes

1

Duration

500 weeks

Skill level

All levels

Students

6742

Assessments

Yes