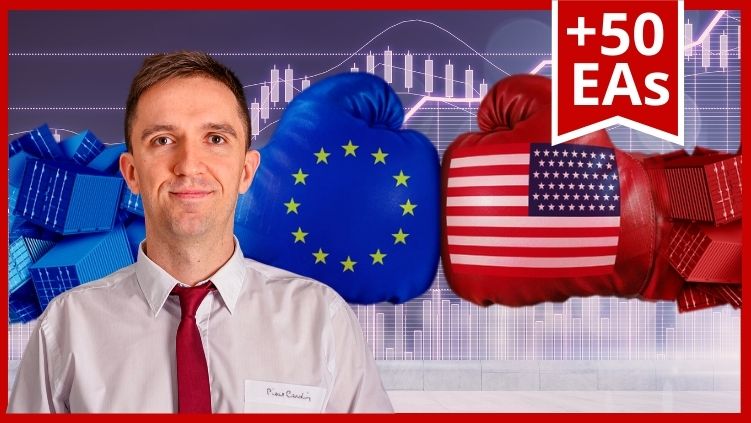 Best EURUSD EA Trading system
The best EA Forex is what you are looking for? This might be the right course for you! And you will find not just one EURUSD EA but 50 attached as a resource file!
The Top 10 EURUSD course strategies, is designed for traders who want to use Forex algorithmic trading with Expert Advisors. We have created a portfolio of 50 strategies, and in this course, I will teach you how to select the best EA Forex performers. You will learn the best method to test different strategies and select the ones that are currently profitable. And this is essential when trading. Even when backtesting Expert Advisors, it is all done historical data, analysing past performance, but when you test strategies over current data, you can see which ones are profiting. In current market conditions. 
We have re-recorded this course using all of the reviews and feedback from our students. One major improvement is that we now include not just 10 but 50 EURUSD EAs for Forex trading. In addition, we will update the course with a 50 new EURUSD EAs every month. 
You will receive the 50 EAs attached to the course as free Expert Advisors
We chose EURUSD because all the brokers offer low spreads on this currency, and no trader or investor wants to pay large spreads. In this Expert Advisors course you will learn that when trading, the spread is crucial.
I will show you the real performance of the Expert Advisors in this course, and I will teach you how to select the Top EURUSD EA yourself. 
Regardless of what level of experience you currently have, with this Expert Advisors course, not only will you take your trading to the next level, but you'll also make it easier while lowering your stress levels. You will be getting ready-to-use Expert Advisors that have been tested by thousands of students.
What will you learn in this EURUSD EA course? 
how to trade with 50 Expert Advisors, correctly and error-free
you will know, step by step, the process of placing the 50 EURUSD EAs onto the MetaTrader platform for testing
how to use the magic numbers of the Expert Advisors so you can follow their results in details
connect your trading account with a statistical website so you can see much more details about the EAs
how to select the best EA Forex strategies and place them onto a live trading account 
what criteria to follow in order to continuously keep trading the Top Expert Advisors
You will learn how to follow the results of all Expert Advisors, and this is very important while trading a portfolio of strategies, which is what you'll be doing in this Expert Advisors course.
The concept we follow in the Expert Advisors course is that you can always trade with the top strategies from the portfolio of 50 strategies that you will receive (free expert advisors). You'll test the top 50 EURUSD EAs on a Demo account, and then select only those that are profitable in current market conditions to trade with on a live account. And if any of those become unprofitable at a point can always replace them with some of the others that are currently profiting on the market. 
Once enrolled in this Top 10 EURUSD EA course, you will have access to the updated EAs, and we will teach you how to follow their performance on a Demo account. In this way you can select the Top 1, the Top 3, or any other number of strategies, and you place them into your live trading account. 
You will not spend money on trading robots that are very expensive, and work for a few weeks or months, only to then have to buy new ones.
Because the market changes constantly, this is usually the case with robots bought in the marketplace. That is why we cannot expect to be profitable with the same parameters for the strategies all the time. 
Also, by enrolling in the EURUSD EA course, you will trade many strategies in one account, you will diversify the risk, and you will not rely on one robot – this is key in Forex algorithmic trading.  
In this Forex algorithmic trading course, we diversify the risk by using 50 different Forex strategies, on 2 different time frames, and on the cheapest currency pair to trade – EURUSD!
Content and Overview of the EURUSD EA Course
This Expert Advisors course is aimed at teaching traders to avoid trading with emotion. Fear and greed are the two main reasons why more than 95% of traders lose their money. When we do algorithmic trading, our job is to analyse our trading account and to follow the performers that are currently profiting. We do not need to make any decisions beyond that, we simply select the best performers, which means we do not need to involve emotions.
You will start with a demonstration of how I have created the 50 Expert Advisors, and you will get step by step instructions on how to connect your trading account with a specialized website, which is free to use. When we use many Expert Advisors in one account, it is nearly impossible to follow their performance using just the trading history.
You will learn how I choose the Top 10 EURUSD EA, and I will help you find your own method of trading. In addition, you will have access to the 50 new Expert Advisors monthly. Keep an eye on the topic in our Forum to know when the new EAs have been released: Updates in the courses 
You will be able to immediately start practicing by following step by step instructions on how to place the EURUSD EAs on your Meta Trader platform and you will be able to do it by yourself, easily. 
By the end of this Expert Advisors course, you will have the confidence to trade with Expert Advisors and you will understand the incredible benefits of algorithmic trading.
Who is the instructor?
My name is Petko Aleksandrov, Head Mentor at EA Forex Academy. I have dedicated the last 2 years to recording my trading and sharing it with people around the world. I am very happy that my courses generate such interest, and in the first year alone, we've had over 10k students. In my courses, I share many Expert Advisors, which makes me very happy knowing that others benefit from my efforts and experience, while thousands of traders test my EURUSD EAs. Doing it this way, also increases the speed at which I improve my courses. 
After graduating with a degree in Finance from university, I worked for a few brokers and financial institutions. I went on to study Forex trading in London, where I gained a lot of hands-on knowledge and experience. In recent years I've specialized in algorithmic trading, which is not the future of Forex trading, but the present. It makes me happy to share my trading systems, and I will be happy to share my strategies with you in this Expert Advisors course!
What else will you Learn in this Forex algorithmic trading course?
Generate many Expert Advisors, test them and easily identify the best performers to use
Select the best EURUSD EA from the portfolio of Forex strategies to lower your risk 
Trade fully automatically with them and reach a professional level
Use EA Studio, the web-based professional strategy builder, more effectively, and see how to use it for Free with a 15 day trial.
Requirements for the Expert Advisors course and trading with the Top 10 EA?
Strong desire to learn how to do algorithmic trading and create robust Expert Advisors
Basic knowledge about the Forex market will be useful, and we will teach you the rest of the concepts and techniques you'll need.
The desire to become part of the exciting world of Forex algorithmic trading and patience to learn
Who is the target audience for the Expert Advisors course?
Beginner or advanced traders who want to use the best EA Forex for algorithmic trading 
Students who are open-minded to innovations with a desire to learn more and more
Traders without prior programming skills, with some experience in manual trading, but this is not essential.
Are you ready to take your trading to the next level?
You will learn to test each strategy for robustness by using a professional strategy builder called Expert Advisor Studio (there is a 15-day free trial available, you can sign up at practice while going through the course). The EAs from this Expert Advisors course can be used on the Meta Trader platform, which is provided by the brokers for free.
I decided to share these free EURUSD Expert Advisors because when many traders test them and give me feedback, we improve the strategies together. In this way I can say my team is not only the people that are with me in the office but all my students. We trade together and improve the strategies together. 
As with all my other trading courses, once enrolled you will receive personal support from me in our trading, always within 12 hours.
There is a 30-day money-back guarantee so if you feel that this trading style is not for you, you can always use this option.
I can't wait to see you in the Expert Advisors course!
Enrol now, and I will help you improve your trading.
Petko A
Course Features
Lectures

22

Quizzes

1

Duration

500 weeks

Skill level

All levels

Students

3596

Certificate

Yes

Assessments

Yes