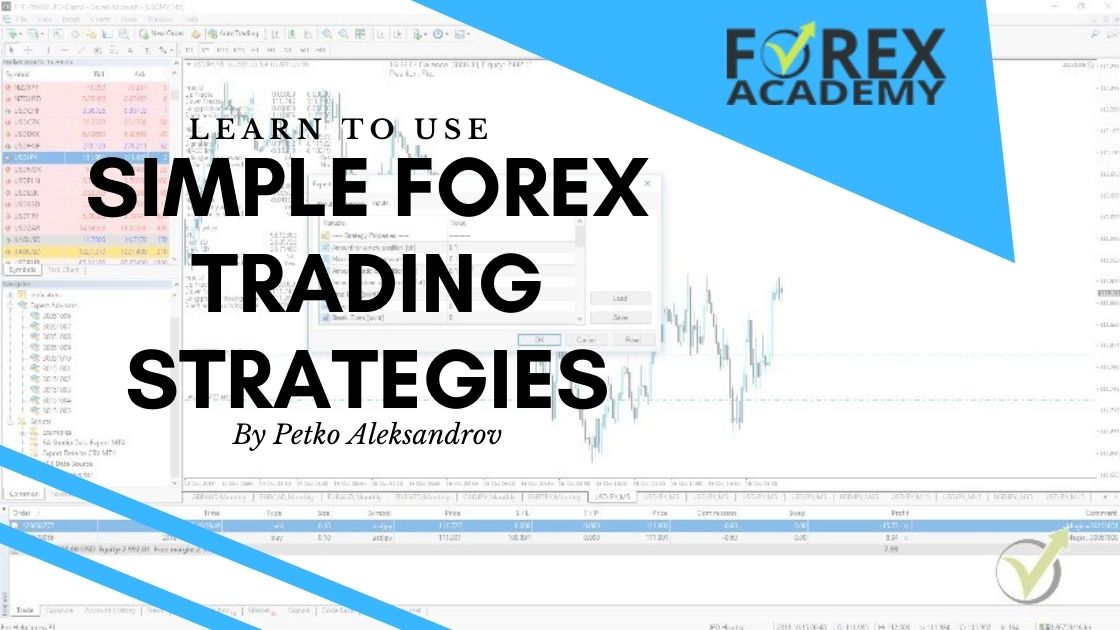 How to Trade with Simple Forex Trading Strategies
Using Simple Forex Trading Strategies is the simplest way to participate in the market
Hello, dear traders, this is Petko Aleksandrov from Trading Academy and I will show you that using simple Forex Trading strategies can bring you great profits. No need to look for complicated strategies or complicated robots.
I have placed the Expert Advisors over the MetaTrader platform. Or in other words, these are simple Forex trading strategies that are executed automatically. And I have created the Expert Advisors with EA Studio which is a professional tool for algorithmic trading.
You can see there are many trades opened already. Basically, the blue lines show where the trades were opened and the red lines show where the Stop Loss and the Take Profit are.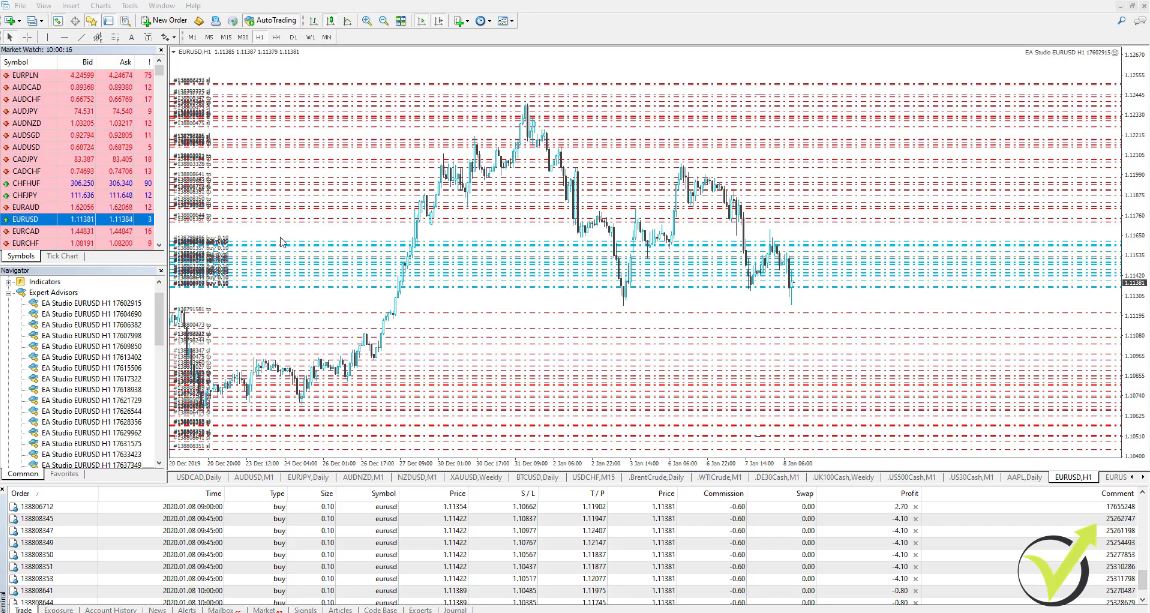 And when there are many Expert Advisors, it's really hard to recognize anything from the chart and we don't use it.
We don't look at it. Basically, what we are looking at is the terminal where we see the open trades and mostly what I'm focused on is the account history.

This is where we see the closed trades and the result. Currently, I have already $422 of a profit and an open profit of $20, and this is for less than 12 hours trading. But I focus on the account history. So even if my account goes on a loss, if the open trades go on a loss, this is fine.
I am taking into consideration only the closed trades because the open trades change and the result changes all the time. For example, just an hour ago it was above $100 of a profit over here, now it has reduced to about $20.
So on the account history, we see the closed trades. And these are the actual results that we have from these simple Forex trading strategies. Now, having the account history when we trade with Expert Advisors is really a headache to follow the results.
FX Blue allows you to follow the results
On the right side, you see Comment which is the section where we see the Magic Numbers.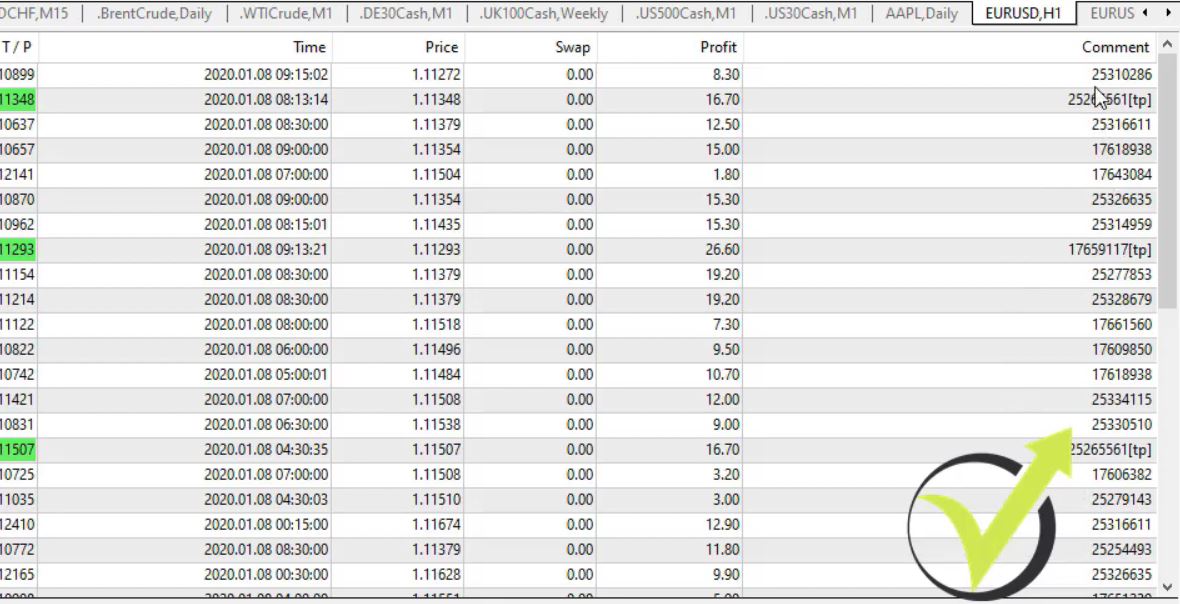 But even if I arrange it according to the Magic Numbers, it's hard to see which simple Forex trading strategies are profitable, which ones are losing, and which are the most profitable. You need to calculate it or put it in Excel and do some calculations from there.
And this is just less than 1-day trading, like 12 hours of trading. When I trade with these Experts longer, it will be really hard to do it from the account history.
So I use external websites like FX Blue or Myfxbook. And actually, from the Forex software company which has developed EA Studio, we are expecting such a tool in 2020, it will be free for everyone. But at the moment I am using FX Blue and I connect the account via FX Blue Live.
So I will connect my Demo account to FX Blue and if you don't have any of my other courses, you will see how it is possible to follow the results in the account very easily with such a statistical website.
I will click on register, and here I will need to select my broker server. I will press J to find it easier. Please don't take any of the brokers as a recommendation. I need to select any for my courses.
But there are many brokers listed and if you don't find your broker server, you cannot really do a lot. I mean I don't think they will add if you ask them, you just need to switch to any of the other brokers.
The registration to follow the results of so many Simple Forex Trading strategies is easy.
But anyway, there is a huge choice that FX Blue displays. And I will need to enter the account number. Then I will paste the read-only password. This is the investor password, and then I can enter any of my emails, click on Register, and that's it.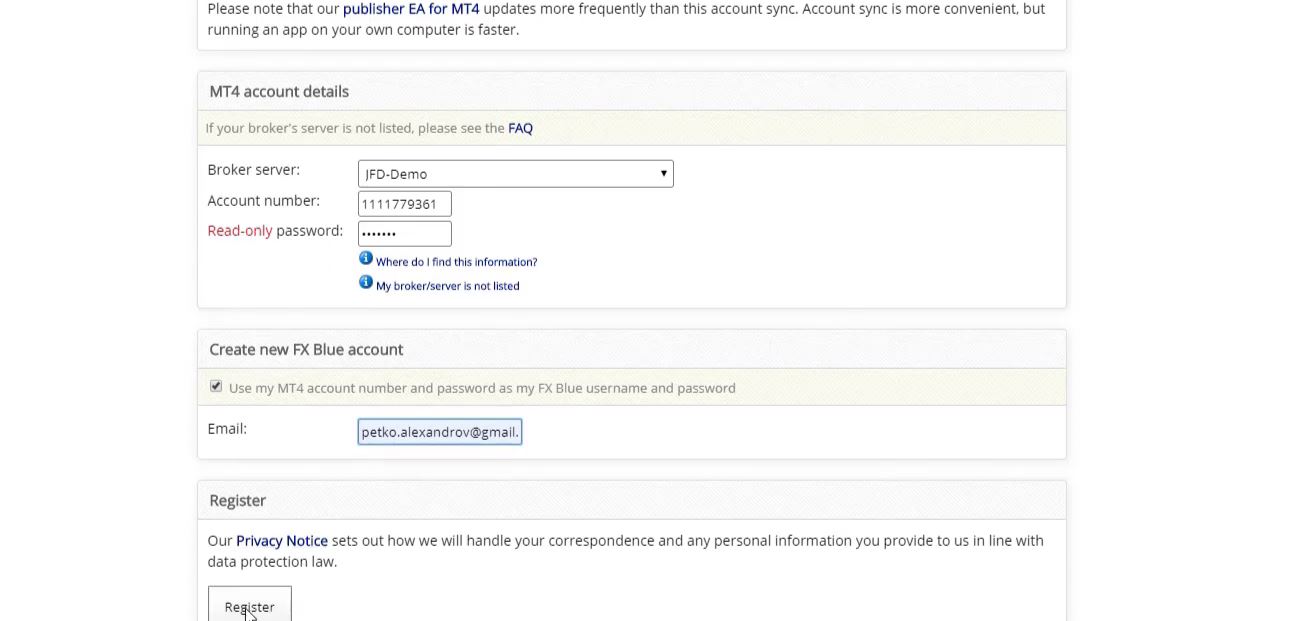 An important point to note, you need to click on the account synchronization,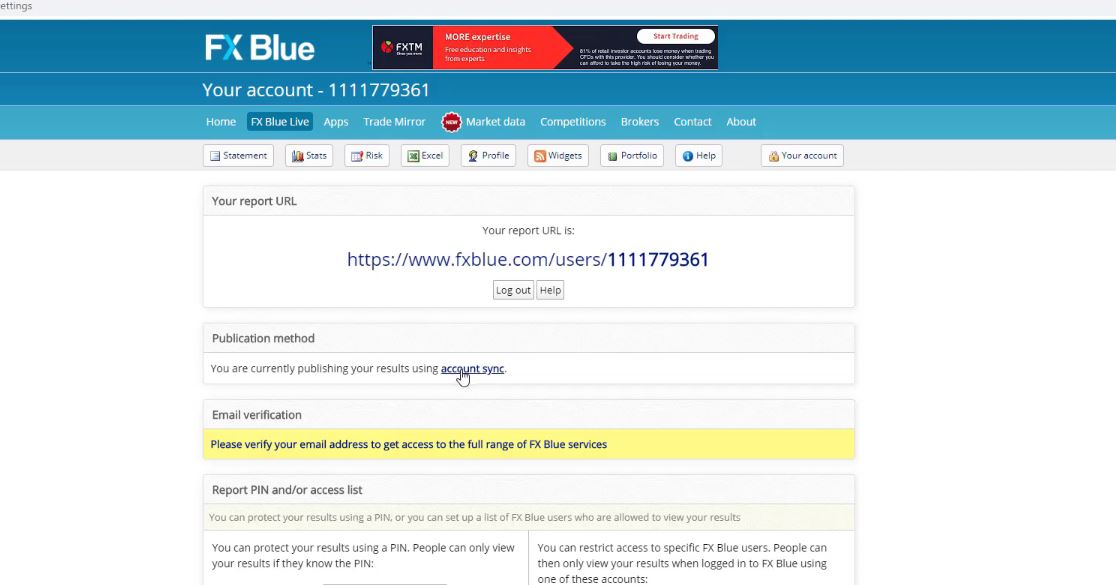 and even if you don't make any changes, click on Save changes.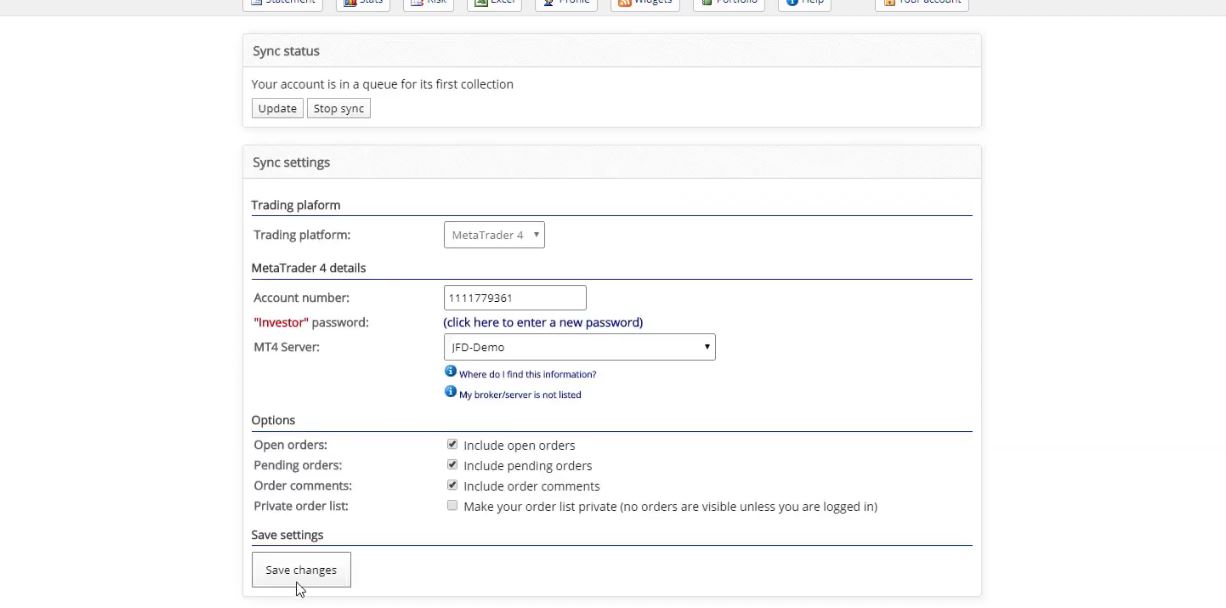 This will simply synchronize your account. And then when you go to Statistics you will see that my account is connected. So I have now many more statistics from the Meta Trader history for all the Simple Forex Trading Strategies that I use.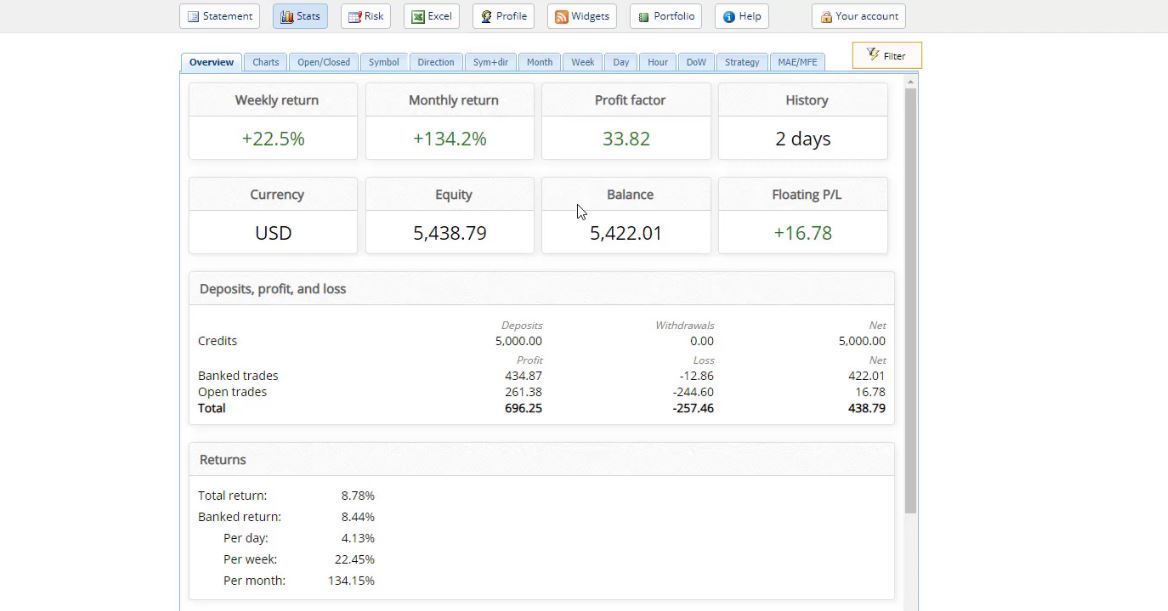 What I have is a weekly return, monthly return, Profit factor. Now, this is an expectation based on the performance so far. So it's not something we are looking at.
As I said, what we are focused on is the account history. Basically, the closed trades that we have so far. And we have just 2 days of history and it's even less because I placed the Expert Advisors yesterday. And then we have a lot of statistics, charts, and the balance line is just great at the moment.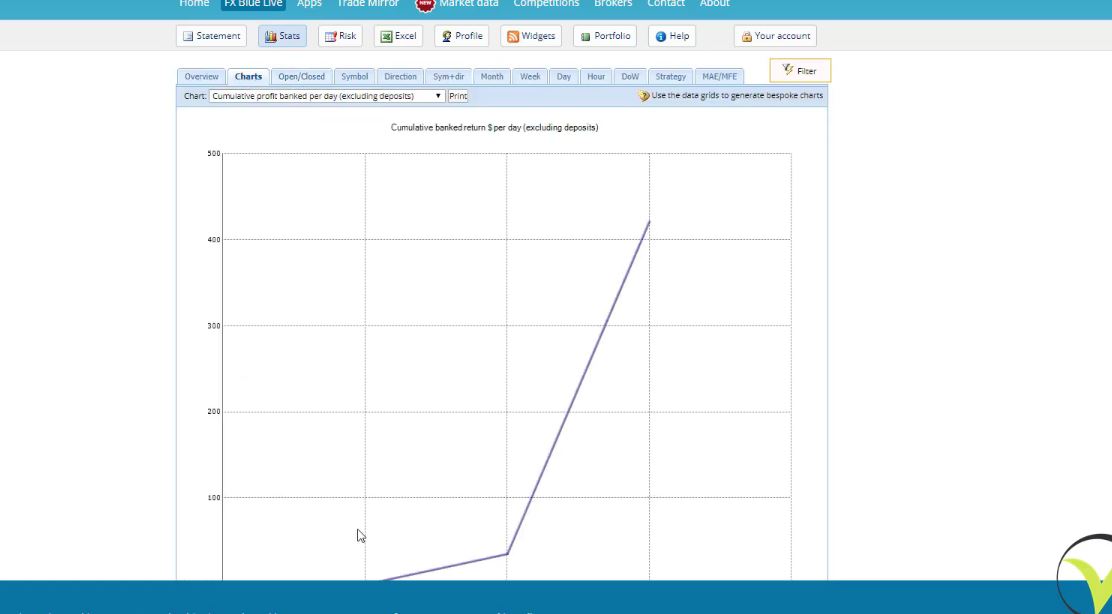 You have Open/Closed trades, Symbol, we have only EURUSD here in the Direction, and many more.
Backtesting the Simple Forex Trading Strategies
What I'm focusing on is Strategy. When I click on Strategy, I see all the strategies that opened and closed trades up to this moment.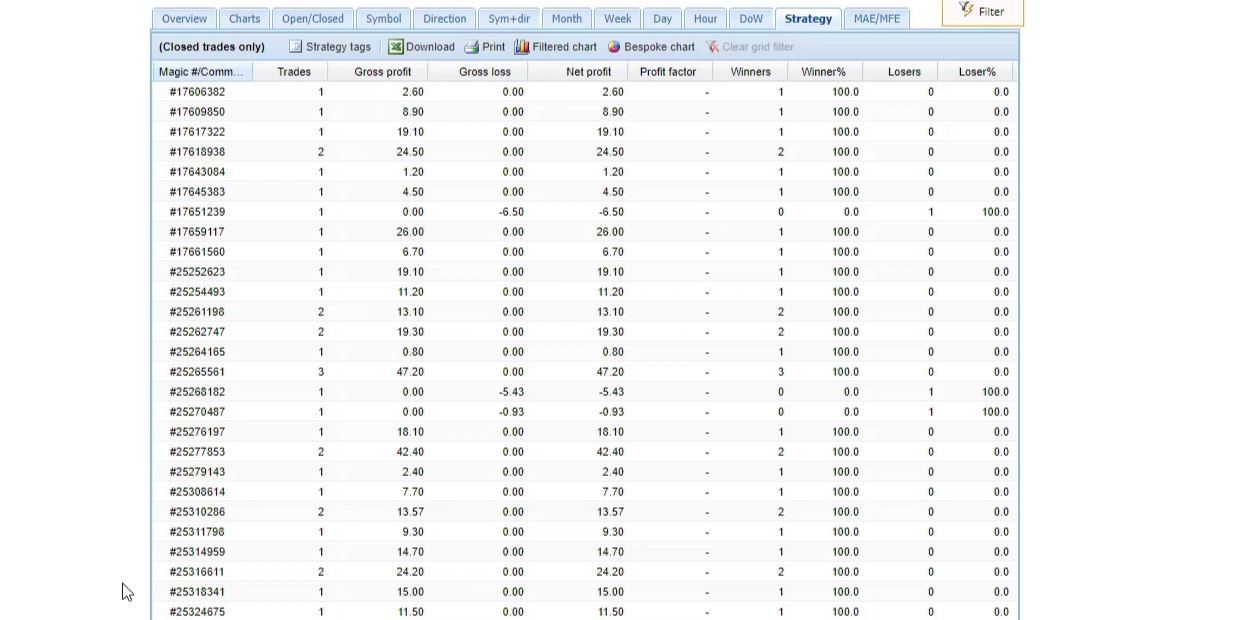 Here are the Magic Numbers so I know which Expert Advisors actually make the most profit. And here we have trades, which means the number of trades. So some of these Simple Forex Trading Strategies opened just 1, 2, one opened 3 trades already. And actually, I think it made the most profit of $47.20.
And then we have the Gross profit, Gross loss, Net profit, a thing I use to arrange the Experts. So when I click on it, I will see first the negative results. But when I click on it one more time, I will see on the top the strategies that have the most Net profit. And this is exactly what I am looking at when I am choosing the top 10 Expert Advisors or the top 10 strategies.
Simply, I can see until this moment which are the top Simple Forex Trading Strategies that are currently making a profit on the current market from yesterday till today. And this is the most realistic test that you can have with the Expert Advisors and strategies, not backtesting them. Of course, backtesting is great because it shows the performance of a strategy, something we cannot have with manual trading at all.
Profit factor for the Forex Trading strategies
The most realistic test is to test these Simple Forex Trading Strategies on the current market, on the current market conditions when you will actually be trading with them. So we can see 1, 2, 3, 4, 5, 6, 7, 8, 9, 10. For the current moment, these Expert Advisors until the one with Magic Number ending in 623 are the Expert Advisors that make the most profit.

Now, all of these Expert Advisors still don't have a Profit factor because they did only profits, and the ones below did only losses. The Profit factor is defined as the gross profit divided by the gross loss. And when we have profits and we have losses we will see the Profit factor. And then on the right side, we have a lot more as statistics; we have Winners, Losers, Average win, Average loss, Best trade, Worst trade, a lot of statistics.
We also have the longest trades, the shortest trades, pips are something very interesting that you can have a look at especially if you are trading some strategies with different lots. Then having the Net profit will not be a very precise statistic but when we are trading all the Experts with 0.1 or 1, I mean one and the same lots, then Net profit is just fine.
Practice on 2 Demo accounts
But if you trade Simple Forex Trading Strategies with different lots, then you should be looking at the pips, total Net pips. And until the end, we have many more statistics.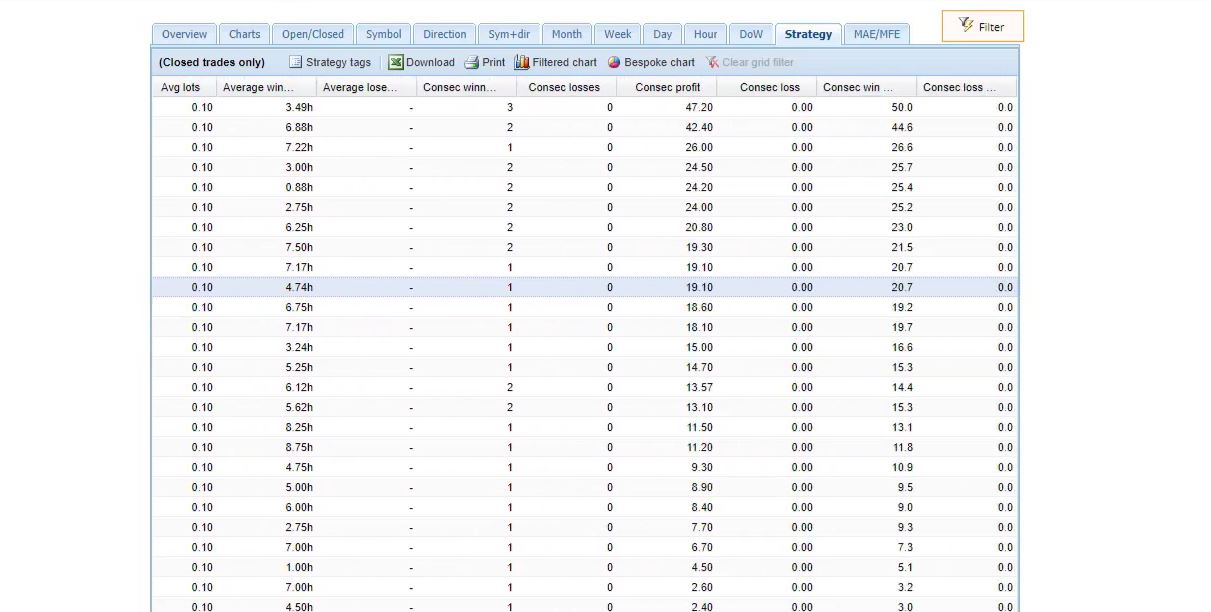 So this is how I follow the results of the Expert Advisors, this is how I see which are the top Expert Advisors. Now, you can create your own rules. I mean you can create rules like wait 1 week for the Expert Advisors to trade and see which are the 10 Expert Advisors.
You have the Magic Number. Copy it,

and then you go to the Expert Advisors, Open Data Folder,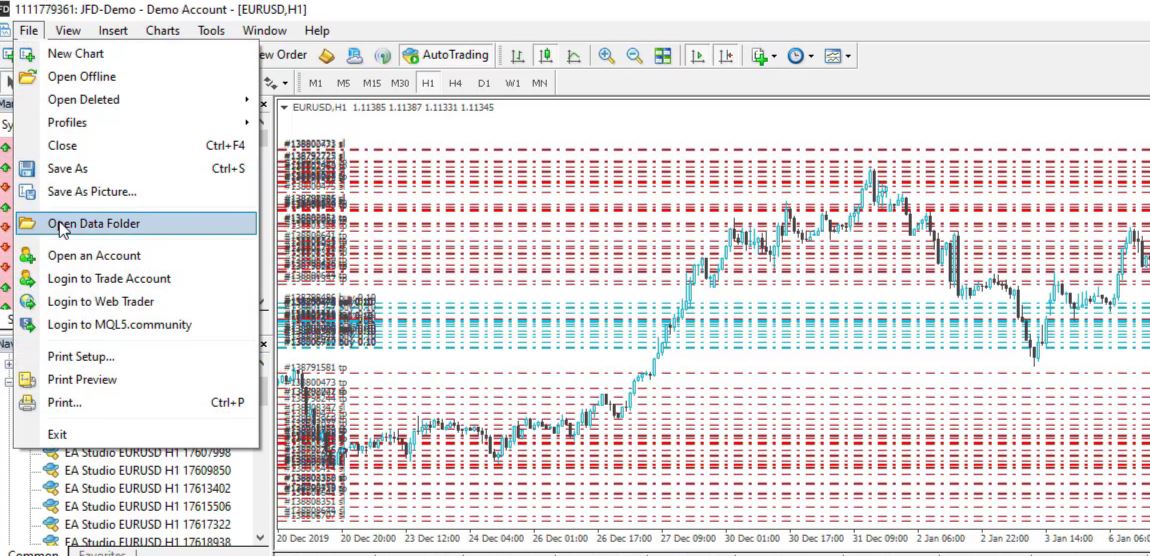 MQL4, Experts,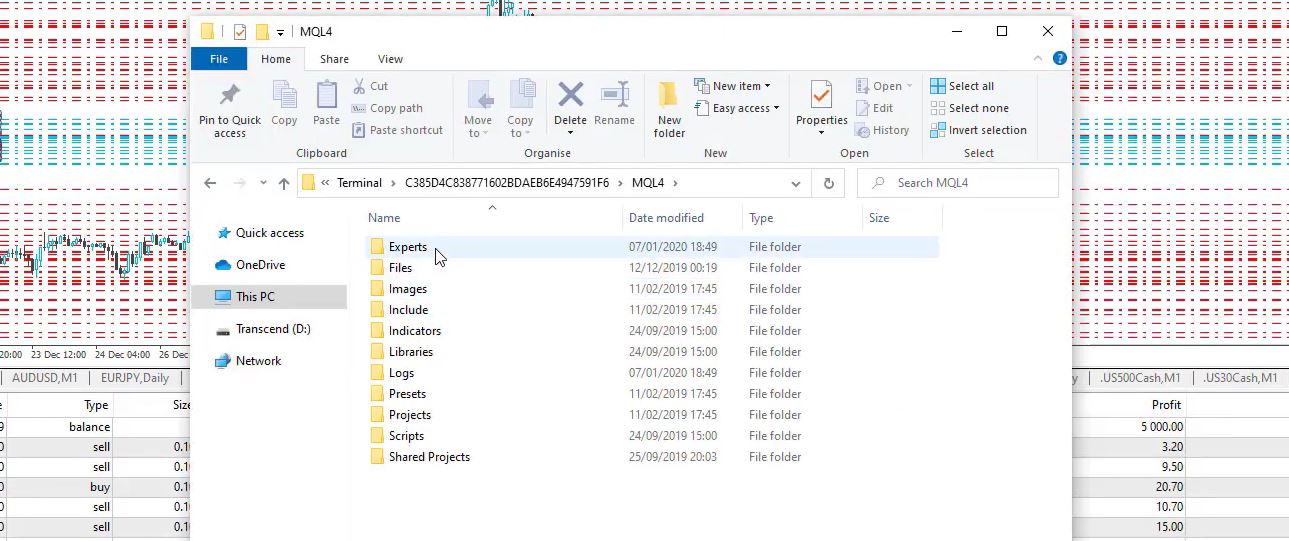 here they are.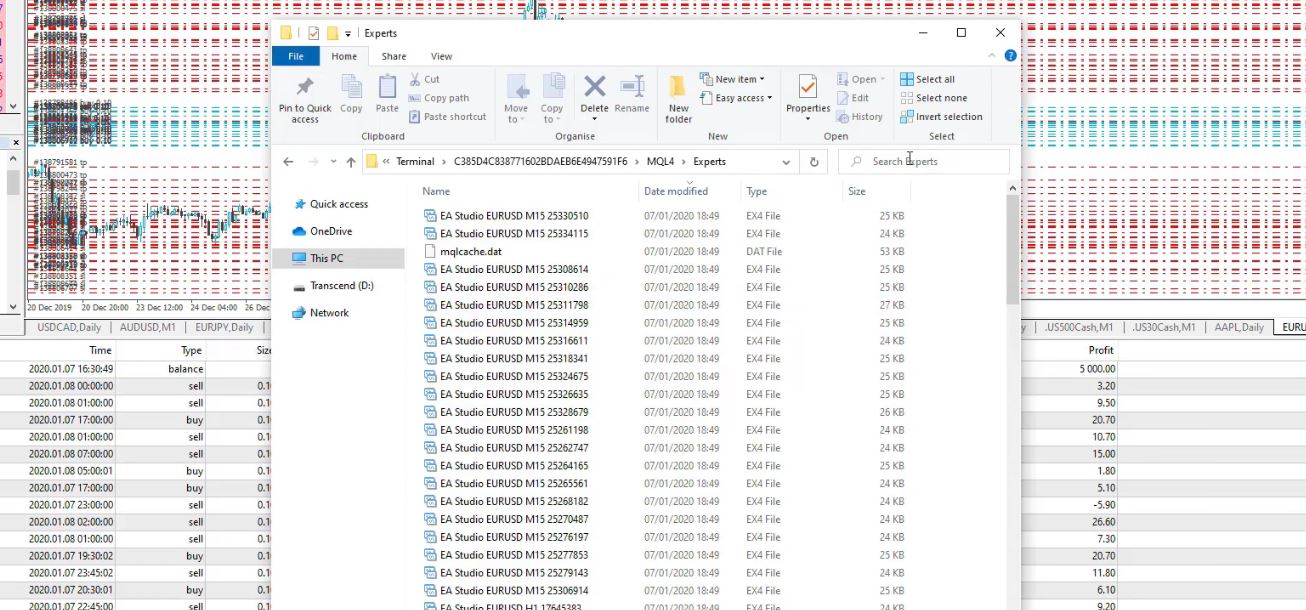 And you have the Search Experts tab where you can paste it, press enter and you will find it. This is the top Expert Advisor.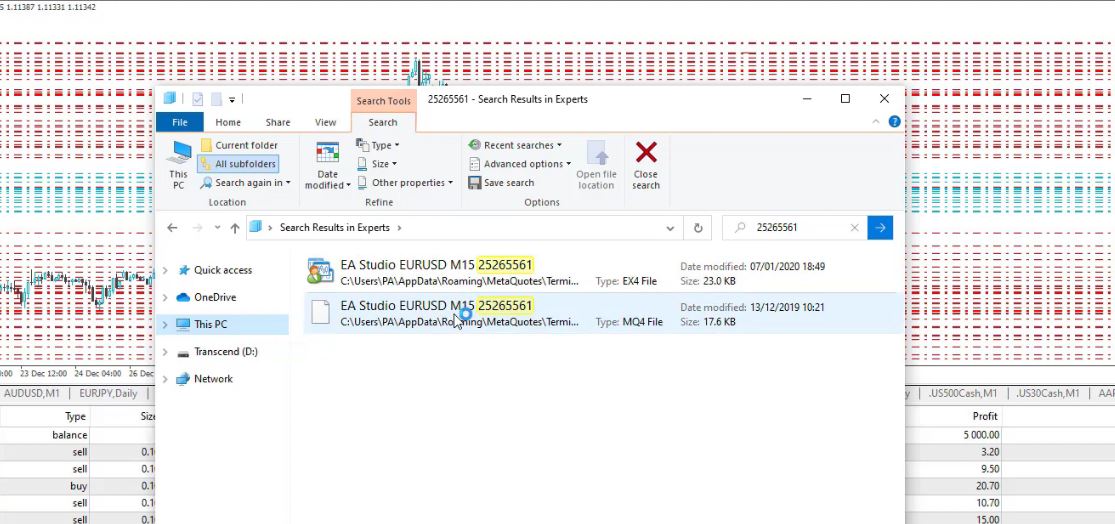 You can copy it from here and you can move it to your live account. Or as I always suggest in my courses, open a second Demo account and place there the top 10 Expert Advisors, or the top 5, or top 3, it doesn't matter. But practice on 2 Demo accounts first. So try to simulate like real trading on a 2nd Demo account until you are confident with the system until you get used to managing 2 accounts.
Get 50 Simple Forex Trading Strategies monthly
And actually, it's really easy to manage it. I mean we place the Expert Advisors, they start to trade, and then we connect it with FX Blue, and then we just follow the results and we see which are the top Expert Advisors. As I said, you can create your own rules. You can wait 1 week, you can wait for 5 trades to open at minimum before you select the top 10 Expert Advisors.
You can keep the Profit factor above 1.2, something which I really like. Or you can use Winners or Losers so you can make your own win/loss ratio, for example, have 7 out of the 10 trades to be profitable in order to move any of the Expert Advisors to your live account. So I leave it up to you. It depends on how you want to manage the account.
My job is to give you the Expert Advisors. In the Top 10 EURUSD course I will provide you with new 50 Expert Advisors which are Simple Forex Trading Strategies, every month so you will have a huge choice between strategies.
You can combine Experts from different months, you can depend only on the Experts that I will give you every new month, so it's really up to you. Try to create your own rules, make sure to follow them strictly.
Be sure to follow the rules
As well, when you move any of the Expert Advisors to your live account or to another Demo account, make sure to follow these rules there as well. So, for example, if you say that you will wait for 5 trades minimum to open, or let's say you wait for 3 trades as a minimum, you will wait for a Profit factor above 1.3.
And you move this Expert Advisor to your live account or the second Demo account. If the performance falls below that, if you see that on the other account the Expert Advisor has a lower Profit factor than 1.3, you remove it from there because it's not within your rules anymore.
And it's really recommendable to follow from Filter the last 1 month or the last 2 weeks so we can change the date range from here.
Normally, I look at the last 30 days, and the last 2 weeks which I use start date and end date and I look at the overall performance.
So make sure that when you are following the results, you're looking at the long-term, and the intermediate-term, and in the short-term as well. So this is how I trade with the Expert Advisors. Really easy, not something hard.
Practice on a 2nd Demo account before going for a live account
Practice on a 2nd Demo account, you will see that it works really nice to move Expert Advisors from one account to another and to keep the top 10 Expert Advisors on a separate account. This is how you will get the skill to trade always on a live account the Simple Forex trading strategies that are currently profiting. So I have still very few trades opened. I will go a little bit more aggressive.
In many of my courses, I show that I wait for at least 5 trades but here I will go to 3 trades minimum and Profit factor above 1.2. So I want to see Profit factor above 1.2 and minimum 3 trades in order to take these Expert Advisors for my live trading account, or as I always say, better on a second Demo account so you will be able to practice this way.
And this is how I will demonstrate it. So now I will leave the Expert Advisors trading for some time and then we will see what results we will have and we will see which are the top 10 Expert Advisors that make the most profit at the current moment.
Thank you for reading.