December 28, 2018 at 16:14
#8006
dommech
Participant
Hi team! Nice feedback! thanks!

@jacpin2002, thx for your share, will look at crypto as well but i think the spread was huge there, but will have another look with EA Studio 🙂

@Roman, Is there a way to optimize different trading hours with EA Studio? My laptop is very old as well so I use VPS on live accounts and also looking for mother market to buy me a new one 😉 Would love stocks as well but IC Markets have 1:200 leverage on those And I'm currently low on funds…
Here is the FX Blue account over that DEMO portfolio, I will add more pairs the coming days. (hope it's ok to post links?)
Some extra info about my thinking:
All my optimizations are from 2016.01.01 (Around 3 years)
I'm running the opti in EA Studio for 12h (reeeeally slow laptop)
I would re optimize every 3-6 months.
I'm lately started focusing more on lower drawdown settings (under 15%) and less higher profits.
I'm looking for Non correlated M15 Pairs, will maybe add other TF's for diversification
I'm trying to stay away from USD pairs as much as I can as I heard that BIG BANKS love to manipulate them (pls share your opinions)
Playing around with different smaller 1-200usd 1:500 Leverege accounts mostly (Low USD risk high % return) (Because I'm broke 🙂


Petko, thank you for your contribution to the Algo Community! you are doing A LOT! 🙂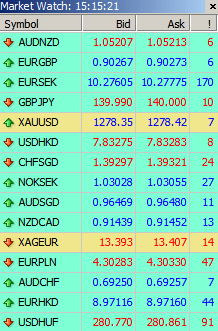 Here the Spread from IC Markets EURSEK is a bit high, but still a good performer if you look at FX Blue.
These are all the pairs I'm looking at for building a portfolio with IC markets, I have Pepperstone aswell but have not looked in to them yet.
I'm just a couple of days old with EA Studio but I've been playing around with algo for a year now.
My other EA's has spread filters and day and time filters, is there some way to us that with the EA's from EA Studio?
I must say that I'm impressed so far from the results and looks like I'm moving from MT4 (max 17 EA's/Program) to MT5 to try out the 50-100 EA's portfolio later on!
I read somewhere here that "broker" VPS services are not recommended how about directly thru MQL5 thru Metatrader (I've been using them for a while now)?