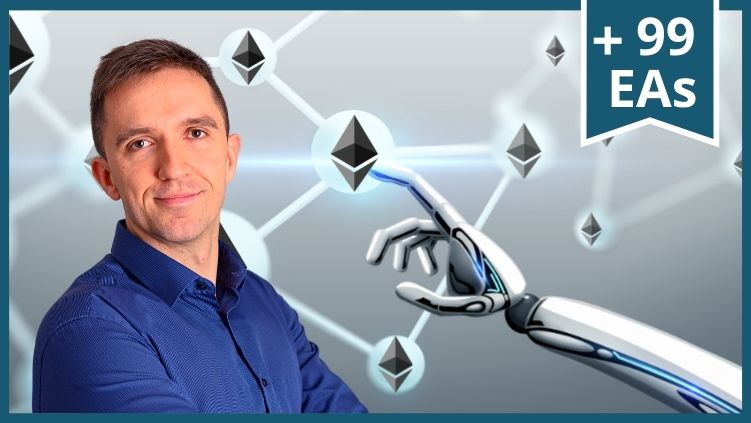 Ethereum trading course – receive 99 Expert Advisors every month and trade like a professional.
Petko Aleksandrov, the chief trader, launch an Ethereum trading course and mentor at EA Forex Academy. He teaches algorithmic trading in his online courses and shares his trading strategies with everyone without a doubt. You will see how he creates 100s of Expert Advisors for trading the Ethereum. You will receive the 99 included for Ethereum trading.
In this course, Petko demonstrates how he tests the strategies for one month period in a few minutes. Also, he shows the whole process from exporting the history data, setting up the EA Studio software, creating and exporting the strategies for trading.
You will learn to use the Meta Trader platform for algorithmic trading, which Petko considers as the only trusted platform for expert advisors". Also, Petko will teach you the process of placing the 99 Expert Advisors over the Meta Trader and how to follow the performance of each robot and select only the once that are making currently profits
Also, you will get familiar with:
What is CFD trading and how you can do algorithmic Ethereum trading
How to open a demo account with a trading broker for practice
How to avoid the Scam brokers and the important steps to avoid them
Exporting the history data from the broker, which is the first step
With the Ethereum trading course, you'll receive the script that Petko uses to export History data from the brokers. This is the first and most important step if you want to create robust strategies or to optimize those that you will receive in the Ethereum trading course. Petko will introduce you in an informative lecture the strategy builder EA Studio, which is used to generate strategies and test them for 1 month period within а few clicks. EA Studio provides him with the ability to generate 100s of strategies and trade the top once. Anyway, you will receive these strategies, and you will not need to go over the whole process.
"We need to be very flexible when trading – the Bitcoin costs are huge currently, and there are so many other assets to be traded, just like the Ethereum," says Petko Aleksandrov in the course.
Petko teaches that the usual reason that makes each trader lose are the feelings – the fear and greed. That is why in the Ethereum trading course, you will see 99 strategies trading together in one account on a fully Auto Trading mode. Petko just follows their performance and selects the most profitable EAs.
Petko Aleksandrov created EA Forex Academy, where he teaches Algorithmic trading to avoid the feelings in the students and to teach them how to trade relaxed. He depends on coding, formulas, statistics, and the hard work to create 100s of Expert Advisors and to select those that are currently profiting.
Petko has done that all, and he will give it to you-you will see the 99 Robots included in the Ethereum trading course.
After the University, Petko Alexandrov graduated from the LAT Trading Academy in London, where he started to develop his trading strategies with surprising profit. He was invited to stay in, but he decided to continue on his own with the algorithmic trading because he already knew that this was the future in trading.
If you are looking for more Еthereum trading courses, please look at the Cryptocurrency trading section.
What Will I Learn?
Manage Ethereum trading account and trade the Top Expert Advisors

Test strategies in 1 month on Demo account within a few minutes

Trade with 99 Ethereum trading EAs in one account

Manage automatically professional system for Ethereum trading
Requirements for the Ethereum trading course:
You should use a PC at a beginner level and have a good Internet connection
No previous trading experience is needed – follow the steps in the course
Have a PC, notebook, laptop, or tablet with Meta Trader Installed.
The desire to be a professional trader and gain knowledge
Who is the target audience?
Traders who cannot spend much time in front of the trading screen
Traders who desire to learn Ethereum trading and want to do algo trading
Open-minded traders that want to control the EAs in their accounts
Traders that wish to have a portfolio of 99 EAs and trade only the best once
Course Features
Lectures

14

Quizzes

0

Duration

500 weeks

Skill level

All levels

Students

3231

Certificate

Yes

Assessments

Yes
Introduction

Introduction

What are the brokers

The Ethereum strategies

Trading the 99 Robots/Expert Advisors

Updating the course
Sharapova Sisi

Learnt Patience

A lot of people like jumping without taking time out or be patient enough to follow step by step procedures that will lead them to their required success. This course avail me the first and most important step that I need to create robust strategies or to optimize those that I received in this Ethereum trading course.

Tina

I like this

I have been trading for many years and I am glad to tell any trader that cares to listen that you cannot make good profit if you keep trading only one strategy, it just doesn't work that way. You can only be the second best not the best doing that. Anyway, if you care, you can try out this course and it will tell you what I mean more. Petko's EA Studio provides him with the ability to generate 100s of strategies and trade with just only the top once. So stop putting yourself in the box, the market changes always, try different strategies. My penny of advise

George Lane

DONT MISUNDERSTAND PETKO

Just like I was arguing with a friend of mine. Petko did not say all the 100 strategies he mentioned in this course are profitable, you will use your own trading skills to pick them. But trust me when you do, you will be on your journey to the moon, your profits will soar. Thanks to Petko and the team for a great work but they can still improve and do better

Tom Storm

Short and Simple

I was about saying can't we just directly have the working strategies instead of 100s firs and fortunately I came across where you said EA Studio provides the ability to generate 100s of strategies and trade the top once but that, you will provide these strategies, and no one will need to go over the whole process.

Travis Nose

Better

A friend introduced me to EA Forex Academy, I first contemplated a bit before I decided to give the courses a try because of my previous experiences following strategies made by Tutors and the very many loses I have had. For now, I will only say that the courses are yet to fall short of expectation and I hope they remain so. You guys are really committed to this stuff and I am proud of the progress you are making. Long live EA Academy, Lon live Aleksandrov's team

Loading...
You May Like
You May Like