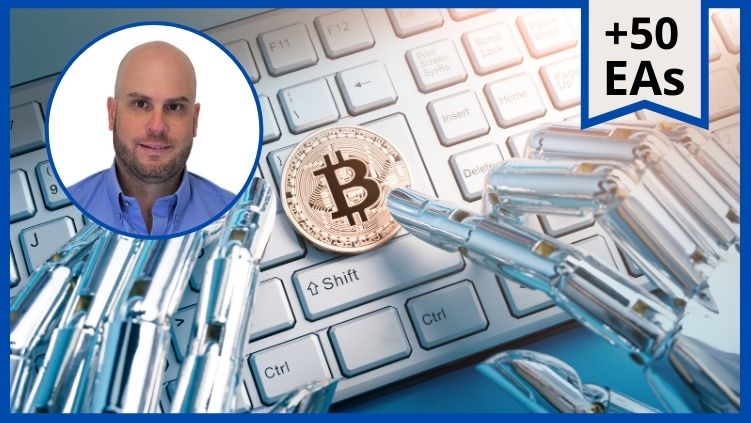 Cryptocurrency trading is becoming more and more popular. This course will teach you how to trade with a portfolio of 50 Robots like a professional trader.
Do you want to learn how to trade on the Crypto market, using trading robots?
Cryptocurrency trading has definitely been at the forefront of the news recently and we are now able to apply Algorithmic trading to this lucrative market.
The Cryptocurrency Algorithmic Trading Course will teach you everything you need to know to start algorithmic trading with Robots. Best of all – every month you'll receive 50 NEW BTCUSD Robots that you can use for your trading. This is what we do professional algorithmic traders, and we are happy to share our years of knowledge and experience with you!
Hello traders! This is Ilan Vardy, a professional algorithmic trader, mentor and instructor. We trade on the Crypto and Forex markets using hundreds of Robots. We create them, we test them, and we will share the 50 best robots, in current market conditions with you, which you can download as resource files. Moreover, we continually update and improve them as market conditions change.
Crypto trading for beginners is now easier than ever because online trading platforms allow retail traders like you and I to use robots to trade. In reality, very few beginner traders know about this type of trading, and most will try manual trading with no education or experience, driven by emotions and desire to profit. Over 95% of people lose their capital in the first month. By taking this course, I will show you what you need to do, step by step so you can learn the skills required before placing any trades and risking any money.
Why 50 Robots and not just one?
Every robot is an automated trading strategy. Experienced traders know that each strategy has profitable and unprofitable periods as market conditions change. But when 1 or 2 strategies get into an unprofitable phase, we don't need to worry because the others compensate for it. This is called risk-diversification. So having a portfolio of various strategies is a great way to stay current as market conditions change.. And the easiest, and most robust way to do it is with Robots – not manual trading.
We will teach you how to use the trading platform MetaTrader, which is best for algorithmic trading. It is completely free and you will see how easy it is to download and install on your computer at home.
Initially, you will learn how to test these 50 Robots on a demo or virtual account so you will not be risking real money. However, I will show you how to identify the best strategies, and when you're ready, you can transfer these to a real account. But you can do this when you're ready. There is no time limit, or deadline for you. You can practice for as long as you like.
What will you learn in this Cryptocurrency Algorithmic Trading Course?
How to start trading from scratch using professional online tools
What is Historical Data
What is a backtest
How to easily create your own trading robots using EA Studio
How to install the Robots on MetaTrader and test them
How to identify the best performing robots, and move them to a 2nd account
Our Cryptocurrency Algorithmic Trading Course will teach you how to create advanced strategies and automate them without the need for any programming or coding knowledge or skills. You'll have a clear understanding of how to use the strategy builder EA Studio which is a professional tool for creating thousands of robots, quickly and easily. There is a 15-days trial period which you may use to practice, and I'll show you how to create a free trial account in seconds.
The course curriculum is complete, and includes Full HD videos, attached PDFs, resource files, and practical activities that will help you improve your trading skills while learning. Trading should not be taken lightly and that's is why we have shared our years of experience to give you the right skills to get started after completing this course.
You'll also receive a portfolio of 50 New Robots every month, that were created in current market conditions, for current market conditions, and are updated as market conditions change, which will make this course your Number 1 resource for new strategies
By the end of this Cryptocurrency Algorithmic Trading Course, you'll have a thorough understanding of:
What Historical data is and why it's so important
The value of selecting the right trading broker
Strategy builders and how to use one
Trading with many strategies as Robots to build a portfolio
Risk diversification and small drawdowns while trading
So don't waste any more time with manual trading – We will teach you how to trade with Robots, and you'll see how easy it is
Once you complete this course, you'll understand why over 80% of institutional traders use Algorithmic Trading.
Enroll now, and I will see you in class!
Course Features
Lectures

19

Quizzes

0

Duration

500 weeks

Skill level

All levels

Students

385

Assessments

Yes