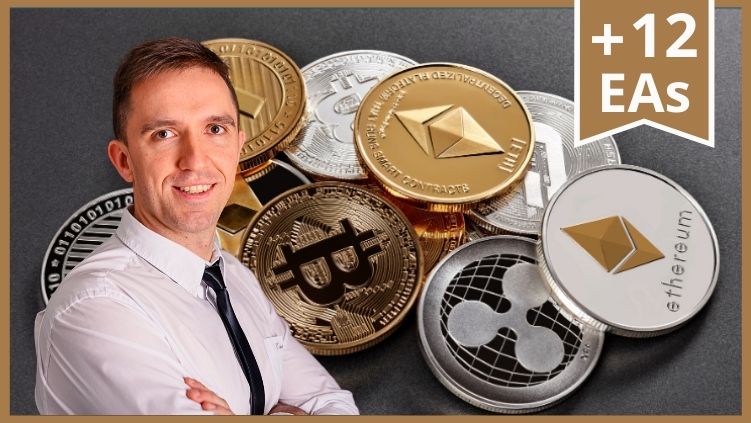 Cryptocurrency trading course – the complete guide for trading cryptocurrencies.
Cryptocurrency trading course is created for beginner traders who wish to become professionals. I am Petko Aleksandrov, the Head Mentor at EA Forex Academy, and I have created advanced courses for Forex and Cryptocurrencies. From manual trading to algorithmic trading, from Bitcoin and Ethereum trading to a mixed portfolio in Forex trading. Many students asked me for a basic cryptocurrency trading course, and I answered the request.
During the course, I will demonstrate algorithmic trading with 12 Expert Advisors, and I have decided to add them to the course, so every student can practice.
I do believe when someone is paying for a course, it should be much more than what is over the internet for free. And all the basics in trading are there for free. And this is the reason why I did not want to launch a basic course, and now I have put my entire experience and skills in this course to make it more than that.
In the basic cryptocurrency trading course, I have started from the very beginning. I have covered a manual cryptocurrency trading strategy, I added many examples of it, good and bad, and I have covered as well the more professional algorithmic trading using Expert Advisors. This way the course starts from the basics but reaches a very professional level.
What will I learn in this cryptocurrency trading course?
Learn in the basics in cryptocurrency trading course and the details because they matter
A manual trading strategy that can be used for all cryptocurrencies or assets
Learn to trade with Expert Advisors as a professional trader
Have good money management, which is a must when trading
How to use 12 Expert Advisors that will improve your results
The process I follow when creating strategies
the cryptocurrency trading course will teach you to be a relaxed trader
We saw already that it is not the case to buy and wait with months or years the cryptocurrencies to reach the skies. We saw that they can fall extremely fast. The manual cryptocurrency trading strategy, that I have shown in the course is profiting even when the price goes down. Yes, we can benefit when the price is going down, and I have shown that in the basic cryptocurrency trading course with trading examples.
I have gone also, in detail about the algorithmic trading with cryptocurrencies. I have shown a professional strategy builder, EA Studio, that we use to generate, test and automate strategies into Expert Advisors for trading. I will teach you how properly to export History data for each the cryptocurrencies, how to generate strategies and to select the Top performers.
The idea is that we generate 100s of trading strategies for the different cryptocurrencies, and we choose to trade the best once. After that, if one starts to lose, we replace it with a new one that we have already created.
I have shown trading with 12 Expert Advisors in one trading account and how we select to use the best performers in a different account.
As in all of my courses, I have decided to add the 12 Experts as a BONUS to the course. You will receive Expert Advisors for the Bitcoin, Dash, Ethereum, and the Litecoin. These are the most volatile and preferable cryptos in trading.
This does not require any trading skills or programming skills. Just a strong passion to learn and practice.
The best thing – you receive lifetime access to this course which means that all updates and improvements in the basic cryptocurrency trading course, you will have it on the moment!
Taking this course is risk-free. You will receive a 30-day money-back guarantee if you decide that this is not your trading course.
Requirements:
Basic cryptocurrency trading course starts from basics and reaches advanced trading
No prior trading experience needed. Of course, any will be useful.
A device as a laptop/computer with a good internet connection is needed
It is required to have a very strong desire to study an learn.
Who is the target audience?
The basic cryptocurrency trading course is for the very newbies that want to become pros.
Anyone who wants to be an active trader, and not an "investor"(buy and wait)
Traders that want to trade manually and control the trades that are opened
People that want to use Expert Advisors for algorithmic trading
If you are interested in a more advanced cryptocurrency trading course, please look at the Cryptocurrency Algorithmic trading – The Revolution course.
How does cryptocurrency trading work?
Cryptocurrency trading is normally associated with CFD trading. The traders use the value of the price. There is no physical purchase of the coins but pure trading on the value of the price.
How to start cryptocurrency trading?
Trading on the market and especially with cryptocurrencies has its risk. That is why good trading education is needed. There are plenty of online courses that will help you start and trade with confidence.
What platforms to use when trading Cryptos?
There are 100s of different platforms and exchanges. The platforms normally are provided by the trading brokers where everyone can have access to the market and trade with CFD trading. On the Exchanges normally the spots are limited and buying a coin could be delayed.
What is a good Cryptocurrency trading course?
All courses that will teach you the basics of cryptocurrency trading, how to use the trading platforms and how to invest wisely are useful. A good cryptocurrency trading course should teach you a precise trading strategy that could be applied in actual trading.
Course Features
Lectures

44

Quizzes

1

Duration

500 weeks

Skill level

All levels

Students

1412

Assessments

Yes