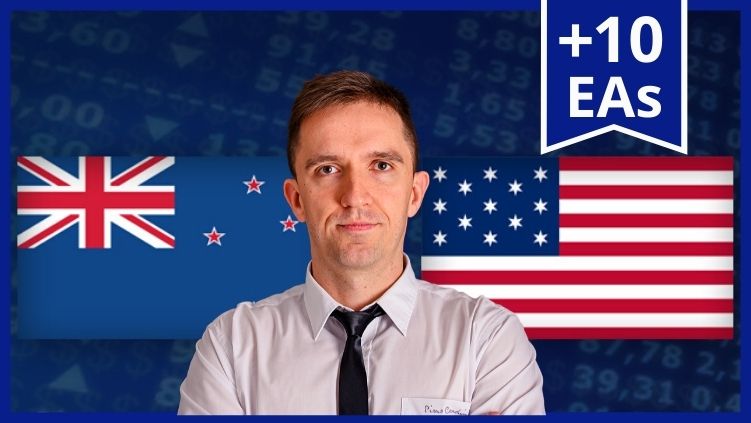 Smart trading system is a must in the nowadays volatile market!
Smart trading system is much important as having a good strategy.
Are you looking to calculate the proper trading amount, lot traded, and the number of Expert Advisors?
Petko Aleksandrov has created a course where he will teach you how to manage the risk in your trading account and he will demonstrate what is the worst-case scenario when trading with many Expert Advisors. This is something that others will not tell you.
Petko Aleksandrov is a professional trader with more than 10 years of experience in trading. He has traded 100s different strategies and systems before launching his 1st course. He wanted to make sure that the system and the methods he demonstrates are reliable and applicable even if you are a beginner trader. Also, he has concluded that trading with Expert Advisors or the so-called Robots is the only stress-free method to trade on the market.
His experience in manual trading helps him every day to create better and better Expert Advisors and he is very opened to share them with the students.
In this Top 10 NZDUSD course, you will receive his Top 10 NZDUSD Experts that he uses currently. He will guide you step-by-step to use properly those robots.
You will get the 10 EAs for FREE! No extra charges. Also, you will receive the source code for MetaTrader 4 and MetaTrader 5. That is the most popular Forex trading platform and it is free. You can trade manually or you can trade with the Expert Advisors.
To use these 10 Experts you do not need trading experience or programming skills. Petko Aleksandrov will provide you with the ready code for the strategies and he will show you how to use these 10 NZDUSD Expert Advisors. Also, he will demonstrate to you the complete process he follows and how he actually succeeds to create so many Expert Advisors for his trading courses.
The KIWI stands for NZDUSD currency pair. Petko has selected to use this currency pair because it does not have huge unexpected moves which are very common for the other currencies. The trader includes EAs for many different currency pairs in his courses so everyone can collect and build a portfolio of different strategies. This way you will be able to achieve stable results and better risk-diversification.
What will you learn in this Smart Trading System?
How to trade with 10 Expert Advisors at the same time in one account
The right lots calculation when trading with many EAs
Complete guidance for the beginner students to use Robots
Follow properly the results in the account in details
Trade on a Demo account and do not risk real money
Select the Expert Advisors you want to use on a live account
Petko's methods to select the best strategies for real trading
Тhe complete process that Petko follows daily to create EAs
Regardless of what your level of algorithmic trading experience is or with how many EAs you have traded, this course will give you a clear idea of what algorithmic trading is and how actually you e can create Expert Advisors without IT skills. The most important is that your confidence in trading will rise when you use 10 different strategies as Expert Advisors.
Why does the trader include 10 Experts for the Kiwi in this Smart Trading system?
Everyone knows that each strategy has losing phases. And this is a fact. When Petko Aleksandrov trades many Experts simultaneously in one account he diversifies the risk. When one strategy is in the negative phase, the others compensate for it.
This is the real deal here. This is how traders and investors achieve stable results nowadays. You can not depend on a single strategy. At one moment you will lose. Petko tested 100s or even 1000s of strategies and Expert Advisors before sharing his knowledge with the others. He will explain in details how the strategies behave, and what is the worst-case scenario when trading with 10 EAs. Something other mentors will never tell you. They normally show only profits.

Who is the instructor?
Petko Aleksandrov has established the first Algorithmic Forex Academy in 2016. He teaches traders how to create Expert Advisors without programming skills. Petko says " We are traders, we can not lose time to learn to code, we have to trade!" And in this trading system course, you will see how he creates many strategies and Experts without programming skills needed.
After Petko released his first trading course, during the first one year he had over 10 000 students joining the Academy. The courses are very practical, with no boring slides with theory but just strategies and examples. The best way to learn algorithmic trading.
Start learning the course today! It is risk-free. There is a 30-day money-back guarantee, and if you decide that this is not your trading course, you can always take advantage of it. No questions asked.
For any questions, write in our Forum. Petko will answer personally within 12 hours.
Enroll now, and become a confident trader!
Course Features
Lectures

24

Quizzes

0

Duration

500 weeks

Skill level

All levels

Students

821

Certificate

Yes

Assessments

Yes
ivonemisters

Strange stuff

This guy does strange stuff, his style looks a bit different from the style of other traders that I have met in the past and it looks like it is really working for him. Aleks always find a way to use currency pairs that people run from believing it does not have huge unexpected moves which are very common for the other currencies

Cone D

Better from you

Somrthings about Forex trading always look too good to be true until take the risk and give it a trial, an example is what I found this course doing. Petko tested 100s or even 1000s of strategies and Expert Advisors. I initially felt it is a waste of time. However I was totally wrong. Thanks for sharing his knowledge with the others

George Lane

NOW IT IS RIGHT

Trust me when I say only one strategy doesnt work perfectly. If Petko teaches about using one strategy, I would have stopped following him long time ago. Petko tested 100s of strategies and Expert Advisors before sharing his knowledge with the others. He teaches what he is sure about and his strategies are worth the try, aint forcing anyone though

Iohan Dive

How do you manage this stuff

In this course Aleks took his time to explain in details how the strategies behave, and what is the worst-case scenario when trading with 10 EAs. Something other mentors will never tell you, what they normally show is only profits. A great way to know sincere and wonderful tutors

trade1234321

IT PROFESSIONAL

IT Professional?, I hope you will not let Programmers get me arrested now that I am calling myself a programmer. I feel EA Studio is unfair to many programmers that used to make Robots for us years back and collect big money on just one Robot as it has made all things to easy and cost effective. I now develop my strategies myself and also use Petko's with a very great and obvious profit results. Thanks buddy