MetaTrader Robots idea:
manage hundreds of Expert Advisors (trading robots) and use a simple method to choose the best from multiple Meta Trader 4 Forex trading platforms

!

Are you interested in robot trading on the Forex market? How about a MetaTrader 4 Forex Trading course that might provide you with Weekly updates?

Are you looking for a practical MetaTrader Robots course?

Do you want to know how professional traders manage their accounts and choose the best performing EA to trade in a real environment?

Do you want to learn how to create and maintain a balanced portfolio and manage risks?

If your answer to any of the above is yes, then this MetaTrader Robots course is for you.

Enroll in this MetaTrader Robots course, and you will receive the robots we trade with, attached as a resource file to the course, every week!
The lecturers of this course have extensive experience in foreign exchange algorithmic trading.

Years of experience in creating, testing, and managing Forex portfolios We have trained more than 75 000 students, many of whom have gone on to become successful traders

A leading provider of algorithmic trading education in the Forex and

Crypto

markets
Learn simple but very valuable tips and tricks to manage multiple platforms, charts, and expert advisors (Trading robots) using MetaTrader 4 and a free, easy to use and customizable spreadsheet, attached as a resource file
A comprehensive guide for managing demo accounts and choosing the best performing EA for real account trading.
Learn to trade like a professional trader

How to use free online software to easily analyze and monitor the performance of demo Meta Trader 4 and 5 Expert Advisors

Choose the best performing robot to organize work in a quick and easy way
Learn how 80% of today's successful traders use algorithmic trading to profit in the $5 trillion-a-day market

Build confidence in your trading abilities

Learn how to use resources to test and apply your own strategies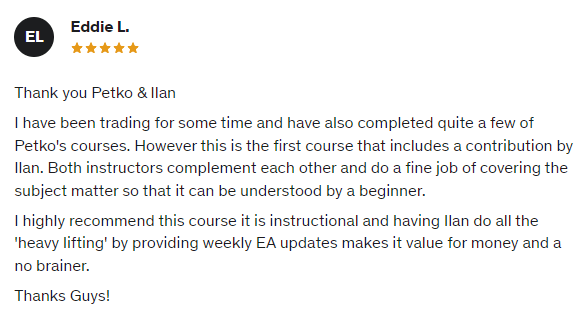 What we offer in this MetaTrader Robots course: 
Well-designed, easy-to-learn sequential video lectures, suitable for beginners or experienced traders

Customizable spreadsheet template to organize your demo account and track the results of trading robots

Downloadable PDF, attached to the relevant lectures that serve as a resource to help you understand the terminology and follow the process

Regular course updates

AND BEST OF ALL: Every week, you will receive the robots we personally use to trade with on a real account
By completing this MetaTrader Robots course, you will:
Understand the foreign exchange market, including the most commonly used terms

Understand the difference between demo (simulated) trading and live (real) trading

Have the knowledge required to select the right broker for you
Understand and be able to easily work with the

MetaTrader

4 platform, which is the most common platform for algorithmic foreign exchange trading

Know

how to easily install, and manage multiple

MetaTrader

4

platforms

Understand what Expert Advisors are and why it's so much more convenient and productive to use them for trading over manual trading

Know how to install Expert Advisor on the chart and start trading immediately

Understand what Magic Numbers are, and how we use them to effectively perform analysis on our EAs
Know how to easily keep track of all of your demo accounts, various assets and monitor EA performance

Know how to create a balanced trading portfolio to minimize risks and losses
About this MetaTrader Robots course:
A 30-day, no questions asked money-back guarantee from us

This course is suitable for beginners who wish to learn about algo trading or experienced traders who wish to streamline their workflow and manage their risk more effectively

Unlimited, lifetime access to all course materials, including all downloadable resources and all future updates, including the

weekly robots
You will also receive access to our entire team of traders and mentors. Should you have any questions at any time, post a question in our forum and be a part of our community, where you can ask questions, or simply share your successes or challenges with others.
Make a small investment in yourself and gain real-world knowledge, based on years of experience. Our focus is on teaching in a simple, easy to follow method. We do not believe that teaching our students boring, irrelevant facts that will overwhelm them is the correct approach. Rather, we give you, our student, an opportunity to quickly apply what you have learned and become confident and profitable.
Traders who already use algorithmic trading and MetaTrader 4 will improve their analysis and EA management, and learn new techniques to simplify their workflow and save valuable time
Go ahead and register for this MetaTrader Robots Course! With a 30-day money-back guarantee, you have nothing to risk, and everything to gain.
We look forward to seeing you in class!