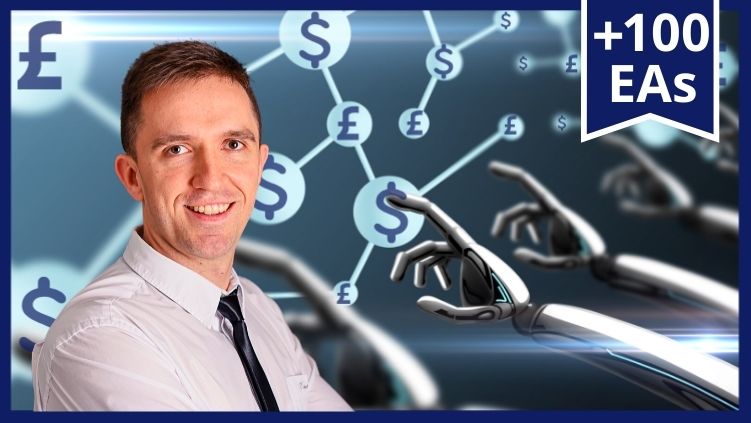 How to trade Forex? The most common question in trading. This GBP USD trading strategy will change your mind about Forex trading.
How to trade Forex is a question many traders ask and few find the right answer.
Hello! My name is Petko Aleksandrov and I am the head trader at EA Forex Academy. In this course, I will share with you the most effective method we use to trade on the Forex market. Everyday many traders join the Academy and this gives me a lot of energy to keep sharing how to trade Forex stress-free. I have decided to create a sweet and short algorithmic trading course for the GBPUSD and I have included the Portfolio Expert Advisors I use.
Portfolio Expert Advisors is the most innovative method in Algorithmic trading. Even the brokers are not familiar with it. You will find attached files 3 such Portfolio Experts and they combine 100 strategies for the GBPUSD. If you are trading manually, you have no chance to follow 100 strategies simultaneously. But when it comes to algorithmic trading, this is possible even for beginner traders and people without programming skills.
How do I succeed to trade not with one GBP USD trading strategy but with 100 strategies?
Everyone can use ready Expert Advisors. These are coded trading strategies and all the traders need to do is to attach them to the chart. The benefit of using Expert Advisors is that they trade all the time – 24 hours all week long. No trader can do that and especially with 100 strategies.
More, the Portfolio Expert Advisors combine many single Expert Advisors into one. This way we can place many strategies on a single chart window in Meta Trader. This method is still unknown to the mass of traders, the brokers or the Meta Trader itself. However, the Portfolio Expert Advisors trade without an issue on the platform and I will demonstrate it to you.
While there are plenty of trading courses teaching how to trade Forex on slides, it is hard to find a demonstration course like this one. You will see actual trading and you will receive ready Portfolio Expert Advisors.
What will you learn in this How to trade Forex course?
How to set up the trading platform Meta Trader
Trade many strategies in one Portfolio Expert Advisor
Trade on statistical results and ignore the emotions
Make proper backtesting in Meta Trader with your broker's data
Place properly the Portfolio Expert Advisors on the Meta Trader
Follow and manage the account based on the actual results
Not to depend on one GBP USD trading strategy but many
No trading experience is required – you will know how to trade Forex with Expert Advisors. This course is geared for advanced traders and beginner traders.
Most people struggle to find a profitable GBPUSD trading strategy for years. Even such is found, that is not enough. Every strategy has its losing periods. A professional trader should not depend on one strategy or one Expert Advisor. It is much better to trade many strategies or Expert Advisors simultaneously. This way when one in the losing period, the others compensate for the loss. In this trading course, I will teach you not just how to trade Forex with many Expert Advisors together but how to create an unlimited number of EAs for trading with real backtest results.
I have selected to use GBPUSD because is one of the most volatile and at the same time stable currency pair. Being a major Forex currency it has the lowest spread with all the brokers.
I will demonstrate the whole process I go through to create strategies and how I select the top performers for the Portfolio Expert Advisors. In the course, you will find attached 3 Portfolio Experts with 100 strategies inside. As with my other courses, I am going to update the course every month with new 100 strategies. That way you will always trade with strategies that are created for the recent market conditions.
Your job will be to follow the results of the Portfolio Experts and remove the strategies that perform below the expectations.
You will end up only with the winning strategies. To build these Portfolio Expert Advisors I used the strategy builder EA Studio. This way it is possible to combine many Expert Advisors into one(if you want to test how to trade Forex with professional software, you can register for a 15-days free trial and practice advanced algorithmic trading).
In the end, you will see real results with this system and you will decide if you want to give it a try or not.
How to trade Forex is a question with an answer. Risk diversification! We follow a simple idea which is already beneficial for us and our traders. Every strategy has a losing phase and this is normal. This phase could last for a couple of a few days, weeks or longer. No one wants to trade and have consecutive losses. What most traders do is to give up from the strategy. They start searching for a new one. This is why we trade using many strategies together. When a strategy goes in its losing phase, the others compensate for the loss.
Normally everyone searches for the strategy that will bring his profit every day. Unfortunately, every strategy or Expert Advisor has a losing phase. The market changes daily. This is why when trading with Portfolio of Expert Advisors we achieve better diversification the risk and at the same time more stable results.
Who is the instructor?
I am Petko Aleksandrov and it is my job to teach traders how to trade Forex. It was hard for me to get where I am now, and that is why I do my best for my students to learn fast and easy. With online courses it is easy to access the lectures anywhere you are, from any device with an Internet connection. More, I have tested thousands of strategies and Expert Advisors, and in this course, just like my other courses, I share the ones that I found to work the best. The most frequently asked question I get is:
How to trade Forex?
proper trading education is a must
expert advisors to automate your trading
risk-diversification with many strategies
good money management in the account
Now I have the pleasure to meet so many traders around the world and share my trading strategies with them. Also, this way many people trade with my Expert Advisors and all the feedback is precious because I succeed to improve the strategies.
Algorithmic trading is the key point in trading:
Less time in front of the computer
The trading is stress-free because we remove the emotions
Testing a strategy does not take months like in manual trading
Do not hesitate to ask me any questions in our trading Forum. I always answer within 12 hours. Having good communication with my students is a priority for me.
If you think that this trading method does not fit your trading style, you can always use the 30-days money-back guarantee.
Enrol now, and I will help you become a better trader.
See you in class!
Course Features
Lectures

14

Quizzes

0

Duration

500 weeks

Skill level

All levels

Students

2262

Assessments

Yes