Trading portfolio Expert Advisors is now a reality, and in this course, you will get 100 strategies with 10 Portfolio Experts
Forex Trading Portfolio EAs for the EURUSD currency pair is what you will receive every month with this course. In each Portfolio EA, we have included 10 individual EURUSD Trading Strategies, and there are 10 Forex Portfolio EAs included. This means that in total, you will be receiving not just one EURUSD Trading Strategy but 100 strategies for the world's most traded currency pair.
We are constantly tracking the latest technologies and trends on the Financial market, and Portfolio Experts are a revolutionary concept in Algorithmic trading.
How do the Forex Trading Portfolio Expert Advisors work?
Well, they work in much the same way as regular Expert Advisors, the difference being that the code contains not one, but many trading strategies. In addition, we can trade more than 99 strategies in one Demo account, which is the limitation of Meta Trader.
You do not need any programming or trading experience to use the Forex Trading Portfolio Advisors. These are ready-to-use robots, that I will teach you how to easily use on the market.
In addition, we will teach you how to create your own Portfolio Expert.
Why do we need to use Trading Portfolio Expert Advisors and not one EURUSD Trading Strategy?
Imagine you want to trade one 1 complete lot size. Instead of trading the complete lot using just one EURUSD Trading strategy, how about trading this lot size with 10 different strategies using 0.1 lots for each? Much better diversification, right? How about 100 strategies with 0.01 lot? Something impossible to achieve if you're trading manually, but very possible using portfolio Expert Advisors.
What you will learn in the course is how to manage these Robots after you place them on a demo account for testing, risk-free. The concept is to eliminate the unprofitable ones and leave only the strategies that are making profits.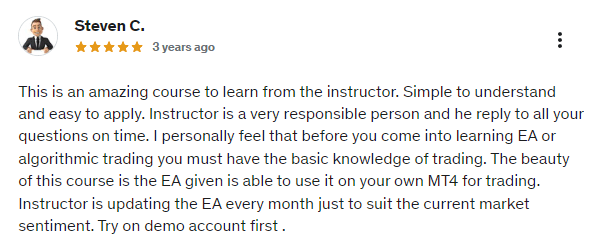 Who invented the Forex Trading Portfolio Expert Advisors?
The developers of EA Studio created the technology. I will teach you the entire process I follow, so you will also learn how to use the Expert Advisor builder called EA Studio.
The Portfolio Experts have been designed for and are used on the most common platform for Algorithmic trading – Meta Trader 4. In the course, you will find the Robots for MetaTrader 4 and the ones for MetaTrader 5. On these platforms you can trade one EURUSD Trading strategy but you can also trade 100 of them, which makes a difference!
We have tested the method for months, before creating this course for you, and we can confidently say that no errors or issues are trading with the Forex Trading Portfolio Expert Advisors.
Petko Aleksandrov, our Head trader follows the latest news and trends on the Forex markets daily, and he will update the course with every new feature or tool available. Above all, once enrolled in the system, you will receive a lifetime license to the course.
If you have any questions, please post on our Support Forum.
Requirements
You will receive ready-to-use Trading Portfolio Expert Advisors – you don't need to have any programming skills or knowledge
Good internet connection to the server of the broker is critical to trade these Robots all the time
You do not need trading experience, the work of the trader is to follow the performance of the account
The desire to learn and practice is vital in order to succeed at algorithmic trading
Who is the target audience?
People who are looking for algorithmic trading with Forex Trading Portfolio Expert Advisors
Traders who want to trade with robots, and spend much less time staring at their trading screen
Everyone who is looking to diversify risk, and achieve stable results with the Expert Advisors
Traders who believe that trading with different strategies in one account is required for success.