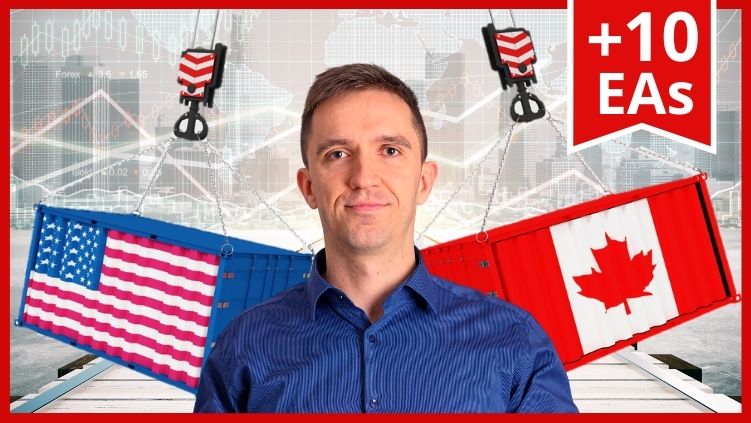 Algorithmic trading strategies course is dedicated to the robustness.
Algorithmic trading strategies is a course where Petko Aleksandrov will provide you with 10 Expert Advisors that he tested for the USD CAD.
For a professional trader, for him is very important to diversify the risk in trading. This is possible to be done with different assets and different time frames. But most of all with different algorithmic trading strategies. To demonstrate that he created many Expert Advisors for USD CAD trading strategy and tested them on a virtual environment. After that, he selected the best performers to use in his trading and to include in the course.
You will receive the 10 Expert Advisors for the Algorithmic trading strategies FOR FREE!
You do not need any programming skills. The 10 EAs will be ready for trading, and you will learn how to trade with them.
The best thing: You receive a lifetime license for the course and the 10 algorithmic trading strategies. When we update these EAs, you will receive the updates for free. Petko Aleksandrov updates the EAs every 2-3 months so they can continue trading with the current market conditions.
You will see step by step how to test the strategies over the Historical data of your broker. You will learn how to see if they are over-optimized or not. This is the only way to trade robust algorithmic trading strategies.
What is the secret behind the systems of Petko Aleksandrov?
He trades many Expert Advisors in one trading account. This way he diversifies the risk between many strategies and does not depend only on one USD CAD trading strategy. Also, when he uses many Algorithmic trading strategies he succeeds to achieve more stable results.
In this Algorithmic trading strategies course you will learn:
the most important first steps in algorithmic trading
how to use Meta Trader platform – the most common trading platform
how to recognize the robust strategies and avoid the over-optimized strategies
perform robustness testing with Meta Trader platform
use Walk Forward, Monte Carlo, and Multi Markets robustness tests
use the Historical data of your broker to generate algorithmic trading strategies
test on demo account properly the Expert Advisors
trade on the live account only the profitable EAs
Regardless of what your level of trading experience is with Forex strategies, you will get a deeper knowledge of how Expert Advisors work. Also, in this short and sweet course, the Expert Advisors that you will receive are validated with all robustness tools. You will receive the ready code which means that they will be ready for trading.
All algorithmic trading strategies have their drawdowns. But when you trade with 10 EAs at the same time, you will lower the drawdowns. When one loses, the other will compensate for the loss.
Many people look for a good USD CAD trading strategy that will never have a loss. Guess what? They never find it and the only thing they do is to lose their time. The thing you should be doing is to combine different algorithmic strategies in a way that your balance will grow.
Who is the instructor?
Petko Aleksandrov is a professional algorithmic trader. During the last 10 years, he has tested 100s of systems to trade on the Forex market. This is how he came to the conclusion that a trader can not depend on a single strategy but a portfolio of trading strategies. Because every strategy has a losing period, and when trading many simultaneously, the others compensate for the loss.
That is why Petko Aleksandrov trades many Expert Advisors in one account – diversified risk!
During the last years we have recorded over 500 lectures for algorithmic trading, and over 15 000 students joined our courses. Petko Aleksandrov is very happy to share his experience in trading, and he will continue recording more courses with different algorithmic trading strategies.
In this Top 10 USD CAD course, Petko Aleksandrov will demonstrate to you the easiest methods to generate many Algorithmic trading strategies without the trading experience needed. You will learn how to automate these strategies as Expert Advisors without hiring developers or coding by yourself. Petko will use a trading program called EA Studio, which comes with a 15-days free trial, and everyone can test it.
It is very important for any trader to recognize the over-optimized algorithmic trading strategies. Over-optimized strategies are those that you will find on the market people selling. THey place the best parameters of the indicators in order to fit the backtest for the last years. This way you see a perfect equity line, and when you start trading, the strategies will fail.
Petko Aleksandrov answers personally to any questions within 12 hours in our trading Forum.
We provide 30-days money-back guarantee, so there is no risk-taking the course.
See you inside the course!
Enroll now, and get these 10 algorithmic trading strategies which will improve your trading.
Course Features
Lectures

16

Quizzes

1

Duration

500 weeks

Skill level

All levels

Students

1481

Assessments

Yes