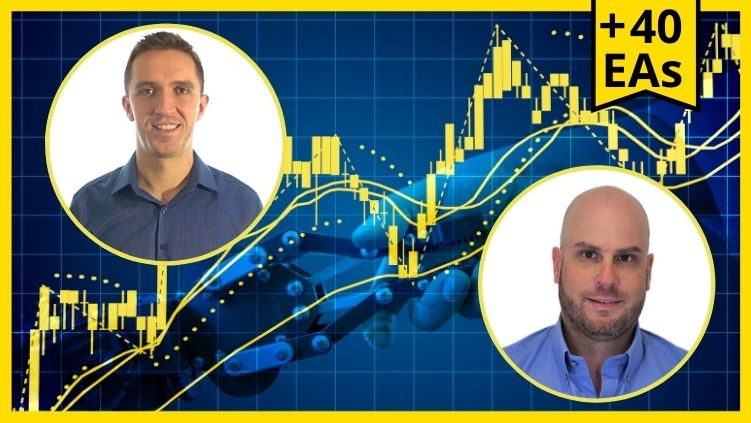 Algorithmic trading course is what every beginner trader needs before risking real money. Trading on the Forex Market is so much quicker and easier when trading with robots. Learn how to trade like a pro, and get 40 trading robots every month 
 Are you a beginner trader looking for a course that teaches you the basics and how easily to trade with Robots (Bots) 
 Forex trading has evolved in recent times. Manual trading has become outdated, and algorithmic trading, or trading with robots, as it's commonly referred to, has become the standard for most large trading houses and financial institutions. However, most online educational resources insist on teaching beginners how to trade manually, but results are not what students are promised or what they expect.  The reason why we have created this basic Algorithmic Trading Course.
This is where we at EA Forex Academy differentiate ourselves. And this Algorithmic trading course will guide you step by step through all of the basics you'll need to know to start creating & trading with robots, like a pro. And, as a bonus, we have included 40 robots and will update them every month to ensure they are always the most effective in current market conditions. This is what we do, every day. Create and test robots to trade autonomously for us, and we will share these with you. Every month. 
On behalf of us, your teachers – Petko Alexandrov and Ilan Vardy, and the rest of our team -  welcome! We are full-time algorithmic traders. Every day, we create and test robots. We have been doing this for a long time, and have created and tested many thousands of robots across different assets, time frames, and market conditions. And we trade live with the most successful robots, updating them as needed in current market conditions. 
Trading on the Forex Market as a beginner is now so much easier and safer because the trading platforms available allow smaller retail traders to trade using robots. In reality, however, very few new traders know about trading with robots and start by trying to trade manually by following either free or paid for courses on online platforms. The result is that most lose their money very quickly, and are left feeling deflated and give up. They let their emotions get the better of them. But there is a better way – trading with robots. And in this Algorithmic trading course, we will walk you through the entire process – it's much easier than you think and you can join the exclusive group of profitable traders. 
We create many robots, not just one
and we share them with the students!
What is a robot? A robot is essentially a Forex Strategy that executes trades automatically when market conditions appear right. Not all strategies can be profitable all of the time. This is why we trade with multiple robots – when some are in a negative period, others will be in a positive period. It's a numbers game, and risk diversification is at the core of the strategy. This can only be achieved by trading with multiple robots, not by trading manually. Think of it as having many traders trading for you, 24 hours a day, using their tried and tested strategies. 
You will learn how to use MetaTrader, a free trading platform, which has been designed in a way that makes incorporating the robots a quick and easy process. We will show how to do it in just a few easy-to-follow steps. 
Best of all, you can practice for as long as you want on a demo account, trading with real robots, executing real trades, and getting real-world results. There is absolutely no risk to you or your capital at all, and once you're comfortable, you can move into a live environment and start small or big – it's up to you. The methods are identical. You decide how much to risk. 
What will you learn in this Algorithmic trading course
?
How to start, with no prior experience.

 

The fundamentals of Forex Trading – this is very important and often overlooked.

 

Comparing a number of brokers – some basics to look for before selecting your broker

 

How to create your own robots –

no software programming required

 

How to install your robots into MetaTrader

4, in just a few easy steps

 

How to monitor your robots' performance and select the best robots to trade with

 

What conclusions to draw for yourself after the tests

 
Everything you need is included in this course: Full HD video lessons showing you exactly how we do everything, PDFs for reference and information purposes, covering much of what you'll learn, and activities to practice what you've learned.  
Trading with your hard-earned money is not something to be taken lightly, and this Algorithmic trading course will teach you how to get started the right way, based on our many years of experience. 
We will show you how to practice, risk-free, before committing any real money. The reality is that most new traders realize that they need to educate themselves only after they've lost their money. By the time you've completed this course, you'll be ready to start trading with robots. 
And, as mentioned, every month you'll get a portfolio of 40 new robots that we have created, and trade with. This is needed to keep up with ever-changing market conditions. Simply download them as soon as they've been uploaded by us. 
By the time you complete this Algorithmic trading course, you'll understand: 
What Historical Data is, and why it's so important for algo trading

 

The importance of selecting a broker that fits your needs

 

What a Strategy Builder is, and an understanding of the one we use regularly

 

How to create many strategies, automated as trading robots

 

How and why we diversify our risk

 
Don't frustrate yourself by wasting time on trying to learn hundreds of manual trading strategies that may or may not work, when there is such an easy automated way to trade with robots. 
You'll have the time to do the things you love while your trading takes care of almost everything for you 
Become a trader quickly and easily – Enroll now and we'll see you in the Algorithmic trading course. 
Petko Aleksandrov & Ilan Vardy 
Course Features
Lectures

27

Quizzes

1

Duration

500 weeks

Skill level

All levels

Students

962

Assessments

Yes