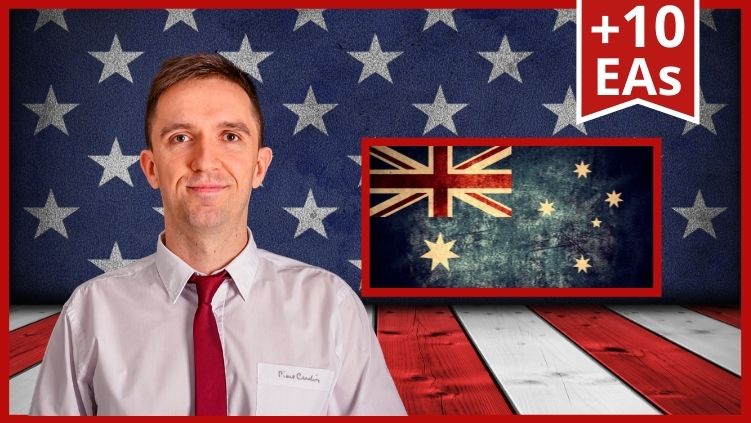 Algo trading course – looking for Expert Advisors that will make your trading easier?
Algo trading course – Top 10 AUDUSD Expert Advisors is one of the shortest and sweetest algo trading courses that will teach you to trade with 10 AUDUSD Expert Advisors on the Forex market. More, I will teach you how to create your own Expert Advisors without IT skills.
I am Petko Aleksandrov, the Head Mentor at Forex Academy, where we teach thousands of students daily with our online trading courses.
In this algo trading course, I will demonstrate to you how I avoid Demo testing when trading with Expert Advisors. I will demonstrate to you the 2 methods that I have been using to simulate Demo trading, which saves me a lot of time. Of course, I will include the 10 AUDUSD Expert Advisors that I have created during the course.
While there are plenty of algo trading courses that will teach you how to program the strategies, it is hard to find a practical algo trading course like this one which will give you ready Expert Advisors and will teach you to generate your own Expert Advisors even you have no idea about trading or programming
What will you learn in this algo trading course?
Method to test the Expert Advisors for one month in a few minutes
A 2nd method that will teach you to do the complete process automatically
how to attach the 10 Expert Advisors on the MetaTrader for trading
create new strategies with EA Studio using your Historical data
how to use the Historical data from your broker, and how to export it
select the robust strategies and simulate Demo trading
You do not need to have any experience in trading or programming – the algo trading courses are suitable for beginner traders.
The algo trading course is suitable for people who are looking for winning strategies. Many cannot find even one profitable strategy. I will show you how to generate many and how to select the top ones.
I will update the course and the 10 Expert Advisors whenever it is needed. The market changes all the time, and we need to stay in tune with it. That is why when a change in any of the Expert Advisors is needed, I will update it, and I will let you know.
The strategies are backtested with my broker, but I would suggest you test them on Demo account with the broker you use. This way you will be able to see which EAs work over the Historical data of your broker.
In the algo trading course, I will show you in details the system I am following with the 2 methods, so you can decide which one works for you. To create the Expert Advisors I used the strategy builder EA Studio as a software(if you want to test it by yourself, I will teach you how to use the trial version so you can learn along with the other algo trading courses from Forex Academy).
I will provide you with the code of the Expert Advisors.
So all you will need to do is to place them on the chart of trading. If you have not done that, I will teach you.
As a trader, I use precise statistics for the EAs that I use. Backtesting is not enough. The Backtest output is important. These are the Count of Trader, Profit Factor, Max Equity Drawdown, Max stagnation, etc. In this way, I know what to expect from the strategies and I can improve them all the time.
I teach that the trader should use many Expert Advisors simultaneously. Stable results could be achieved this way, and the risk is lower. After testing on a Demo account, we choose which ones to use in the live account. This is time-consuming. That is the reason why I have developed the two methods, and in this algo trading course, I will put all of my experience with it. You will see how it is possible to trade the EAs straight to the live account.
Who is the mentor?
My name is Petko Aleksandrov, and I am a Forex trader with many years of experience on the market. I have already created many online algo trading courses, and I share 100s of strategies monthly. I am happy when others test my Expert Advisors. This way others can benefit too, and at the same time, I get feedback.
Most of my algo trading courses are dedicated to algorithmic trading because this way the emotions are eliminated. As you know the fear and greed are the two emotions that force the traders to lose their money.
In this algo trading course, I will share you my trick for avoiding Demo account, and I will give you 10 of my EAs as a bonus!
If you have any questions, you can always write your question in our Forum. I will answer you within 12 hours.
We provide a 30-day money-back guarantee for all of our algo trading courses that you can use if you decide that this course does not match your trading style.
Enroll now, and in this algo trading course, I will teach you how to improve your trading.
See you inside the class!
Course Features
Lectures

13

Quizzes

0

Duration

500 weeks

Skill level

All levels

Students

1127

Assessments

Yes