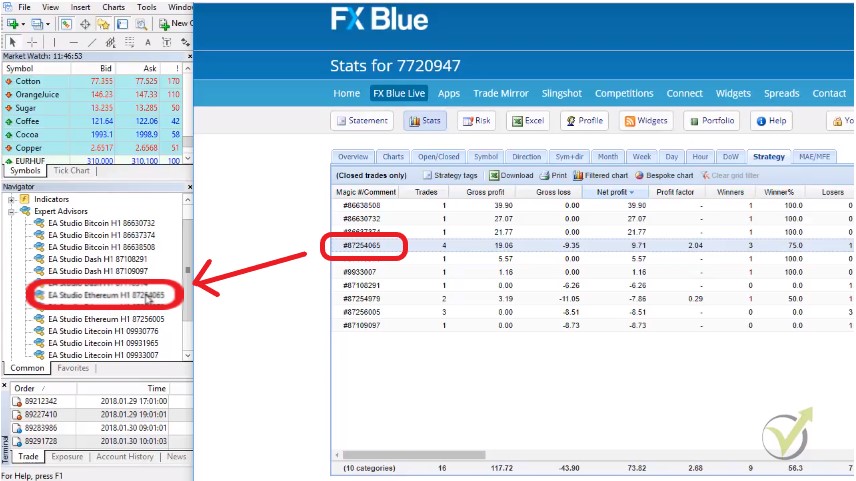 Basic cryptocurrency trading course – how to place the best EAs in a separate account
Posted by

Categories

EA Studio

Date

August 13, 2018
.
Basic cryptocurrency trading – the necessary steps for every trader
Basic cryptocurrency trading course is actually a step to the professional algorithmic trading with cryptocurrencies. It is a course much further from the basic that could be found over the internet.
In this course, the mentor Petko Aleksandrov starts with the basic cryptocurrency trading terminology and details that a beginner trader needs to know before start trading with cryptocurrencies. The students will learn how to install the Meta Trader platform, how to choose the currencies to trade, what are the pips and the points and so on.
As a demonstration, he uses the four cryptocurrencies – Bitcoin, Dash, Ethereum, Litecoin. There is a demo with manual and algorithmic trading. This way the students can choose which option is more suitable for them.
The manual trading system in the basic cryptocurrency trading course is based on the Counter trend line: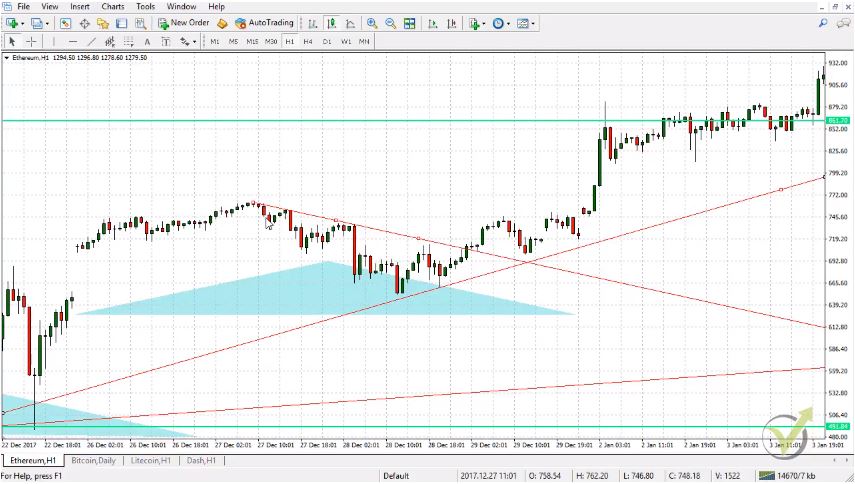 This trading system is based on the trend direction on the longer time frames as a Daily chart and Weekly chart, and the counter-trend line on the hourly chart. The counter-trend line gives fantastic opportunities to enter on the market and Petko dedicates a whole course on it called Bitcoin trading course – Cryptocurrency never losing formula.
In the basic cryptocurrency trading course, are placed many examples of live trades, that make the system clearer.
The second part of the course is dedicated to algorithmic trading. For all new traders, algorithmic trading is possible with Expert Advisors. Expert Advisor is the automated version of a strategy. How exactly it is working you can find in our post Expert Advisor – the Reality.
During the basic cryptocurrency trading demonstration with EAs, the students will examine 12 Expert Advisors trading on the four cryptocurrencies. The mentor has selected standard H1 chart, and created 4 strategies for each crypto.
This way he puts equal weight on each cryptocurrency, and that is the idea in portfolio trading of Expert Advisors.
Below you will read a free lecture from the basic cryptocurrency trading course, called How to place the best EAs in a Separate account?
During the lecture, you will learn from Mr. Aleksandrov, how to maintain or manage the trading accounts. Why do we say account? As we said in one he is testing the strategies virtually, and on the other one, he places the top performers. If one fails at a current moment, he replaces it with another one that proved profitability.
Enjoy the lecture:
Hello dear traders, I continue with a little bit more of statistics that I have already: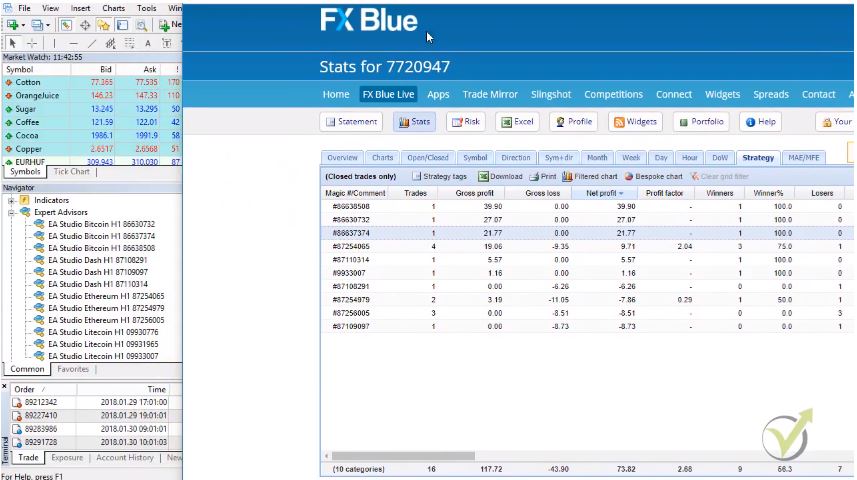 Still, I have the three profitable trades on the top. These are the ones with the Bitcoin.
You can see if I just move it a little bit sideways that these are exactly the magic numbers for the Bitcoin 732374 and then we have 508. This is very, very normal because the Bitcoin is much more volatile than the other cryptos. It is normal that the Bitcoin at the moments will make a bigger profit. That is why for a basic cryptocurrency trading, I have selected these 3.
But at the moments as well it will make bigger losses, much more volatile asset as you know. Anyway, what are the options now?
One option is, you can put the top 3, the top 5. Or in this case, you can put the top 6 which are currently making a profit. You can see they are on profit. If I click on the Net profit you order the strategies according to the profits. You can do the same as with profit factor, with winners trades, with all the statistics here. But what we are looking for is the Net profit.
As I said most of the time you will see the Bitcoin that is on the top because of its volatility.
What you can do with this basic cryptocurrency trading system?
Instead of taking the top Expert Advisors or strategies you can take the top 1 from each cryptocurrency. What I mean, is you can take only this strategy that ends on 508. And then you take the best one from the Litecoin for example. And let's see which is this Expert Advisor ending on 065. 065 where is it? 065 it's right over here. This is for the Ethereum.: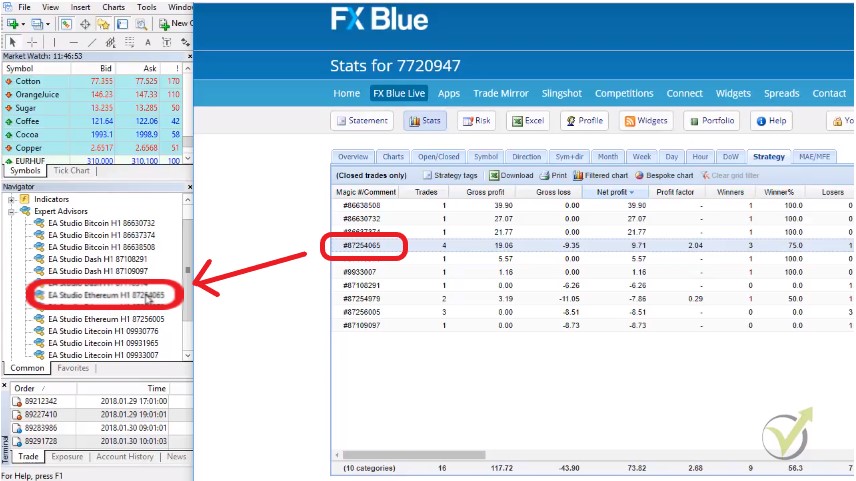 Let's see which one is the other one 314. 314 that is the one with the Dash. What you can do, is you can take the top ones from each cryptocurrency. Currently, we see that with the Litecoin not yet a lot of data. Or we have these losing strategies probably some of those are with the Litecoin. I see this 007 is with the Litecoin.
Then we have 291. 291 is with the Dash. 979 is with the Ethereum and these last ones 005 is with the Ethereum. And 097 here with the Dash.
It doesn't mean that these strategies are actually losing. What it means, is that they are currently making losses. This is once again because the market is changing and it's changing every day. And it's normal every strategy, every Expert Advisor to has profits and to has losses, and you will see this in this Basic cryptocurrency trading course.
We always keep in one account the top performers.
I will show you exactly this system. So, it's up to you once again if you want to take the top 3 from all of the strategies, the top 5, the top 10. It is your choice or if you want to have more diversification of different cryptocurrencies. Because if I put the top 3 I will stay only with the Bitcoin.
But my idea in the basic cryptocurrency trading course is to trade the top 3 from different cryptocurrencies. 
I will take the top 1 from the Bitcoin, the top 1 from the Dash and top 1 from the Ethereum.  I will just write them down on a piece of paper or in any file. I'm writing the magic numbers of the strategies that I want to use. The first one is 86638508. Now, the next one is the one here with 065. One more time let me check it 065, it is with the Ethereum.
I will write it down 87254065. Then I will have this one over here which is 87110314. And this one as we saw it is with the Dash. I have this strategy, this strategy, and this strategy.
Now, I will show you in this Basic cryptocurrency trading course how you need to select these 3 strategies.
I'm going to File, Open data folder and then I'm going to MQL4 and I click on Experts. And here are the 12 Expert Advisors. What I will simply do?
I will take the ones with these numbers. If you have many, many strategies like 99 with our other courses you can write down the magic number. It will be easier for you to find it. Anyway, with the 12 is very easy. The Bitcoin one was 508, it is this one. I press and hold ctrl. So, the other one is 065. It is this one over here with the Ethereum. And 314 is this one with the Dash.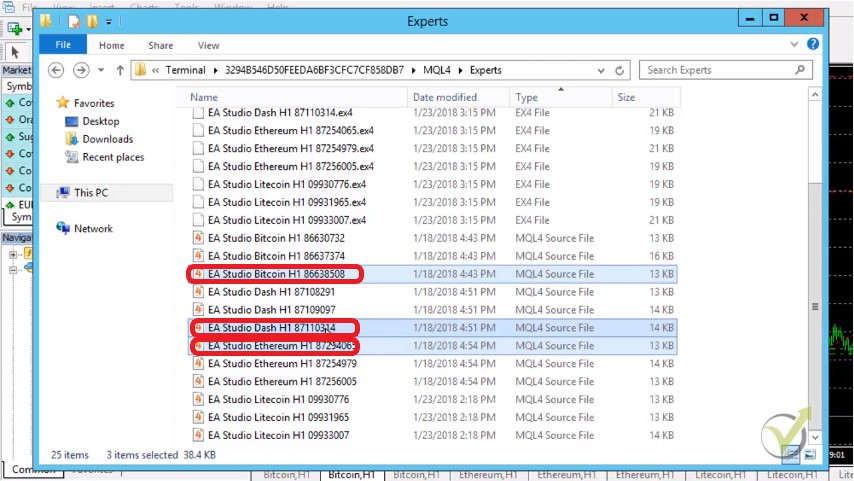 So, what I will do? I will copy this and I will create one new folder that says top 3. After that, I will just paste these Expert Advisors here. Now what I will do, guys?
I will open another demo account and I suggest you do this whole process first on demo accounts.
And not to hurry going into live trading, that is what I always suggest my students from the Basic cryptocurrency trading course.
Just to master it and to see how it's working.
I will just copy this and I will go to another demo account that I have open. And I will paste these Expert Advisors over there. File, Open data folder then I click on MQL4 and I go to Experts. And I will paste these 3 Expert Advisors that I have selected from the other account. I am closing it. I'm going to Expert Advisors and I will click on refresh.
When it is ready you will see them just below Expert Advisors and here they are. Now, I have here some Forex currencies open. I will just close this all.
How to place cryptocurrency Expert Advisors on Meta Trader?
one chart for the Bitcoin and drag the Expert Advisor
one for the Ethereum and you can double click on the EA
and one chart for the Dash, any of the two above
What I can do, is I can just drag the Bitcoin over here. I can drag the Ethereum over here and I can drag the Dash over here. Make sure to go on the exact time frame. I will make the others as well on H1 and the Bitcoin: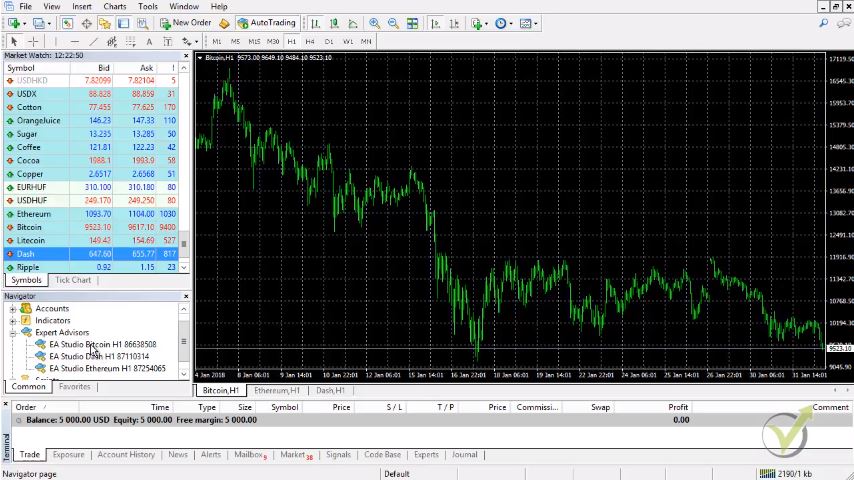 The next thing is I need to enable the automated trading. You can do it also with Ctrl + E. Then I will drag it over here. I click on OK, I will drag the Ethereum as well, I will click on OK and I will drag the Dash as well and I will click on OK. You see the 3 Expert Advisors are smiling and they are working now as well on this account.
So, this is how we are doing it. We move the best performers.
You can create your own system, this is an example way in this Basic cryptocurrency trading course, you can create your own system for moving only 1 Expert Advisor. You can change it, you can do whatever you want basically with the Expert Advisors. This is a simple system that I'm sharing with you.
Just take top Expert Advisors from each time frame and place it in another demo account. Now, this process just repeats. We connect this account with FX blue. We follow this performance, we follow the performance of the other account where are the 12 Expert Advisors.
And if any of these 12 Expert Advisors start to show better results than any of these 3 I will replace it, I will delete it from the second account. I will put simply the better Expert Advisor.
Very simple Basic cryptocurrency trading system.
One of the most frequent questions that I get is How long time to test this basic cryptocurrency trading system?
That is a really personal choice and with everybody is different. It is hard to recommend time because it depends on how much time you are spending. If a trader spends a few hours a week after work on testing any strategy, and another works all day long on it, obviously the second will get it faster.
Patience is needed when testing a strategy. The huge mistake I have noticed with the students in the Basic algorithmic trading course traders do is to test it for a few days or a week. They see some quick profits and jump on a live account with huge trading lots.
Why do traders need to practice on a Demo account?
One week is a short period of time to test any trading strategy. A trader needs longer time to observe results, and especially if those are with Expert Advisors.
A lot depends on the volatility that is on the market. In the basic cryptocurrency trading course, you will see that it takes time trades to open and close. And we can not depend on the results from one or two single opened trades.
 Predefined period to test any Expert Advisor as 2 weeks, 1 month, 3 months, etc. This way you will avoid the emotions(get into live trading when there are profits on the virtual account).
A minimum number of trades for the Demo account is a good method. For example, to move the top 3 on a separate account when they make a minimum of 10 trades. This way the trader eliminates the time as a factor.
However, the EA Studio that we are using to generate strategies is limitless with its capability. We can generate daily strategies, test them and trade them. And that is the whole idea.
Hope it's clear. Don't worry if you have any questions or if you didn't understand something you can always ask me in our SUPPORT FORUM and I will be there to answer you.
Thank you very much for reading. If you are interested in the whole course, the name is Basic Cryptocurrency trading course – from A to Z.
For more cryptocurrency trading courses please click the link: https://eatradingacademy.com/courses/cryptocurrency-trading/