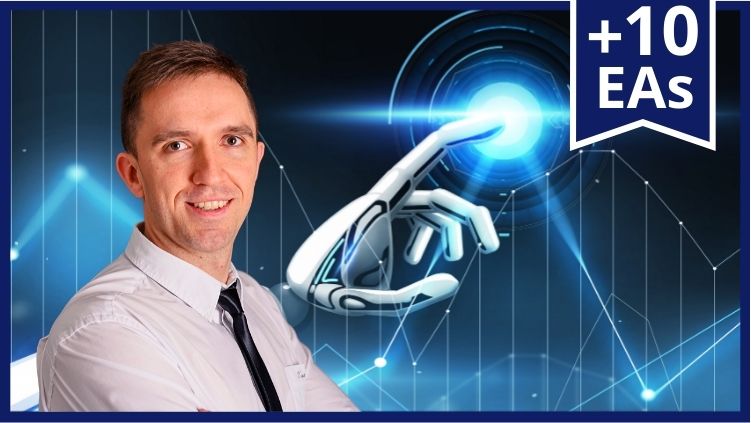 Dow Jones Expert Advisor course will teach you how to use Expert Advisors for indexes, and you will get 10 Expert Advisors for the Dow Jones.
This Dow Jones Expert Advisor course will teach you how to trade indexes with different Expert Advisors.
Are you looking for a stress-free method to trade stocks? This course might be the right choice for you even you do not have any algorithmic trading experience. By the end of this course, you will learn to create profitable strategies by yourself and how to test them on a virtual account before trading on a live trading account.
Dow Jones Expert Advisor is a great choice because this is the most volatile asset among all the stocks. In the course, you will learn how exactly the Dow Jones Index works, and you will learn to trade it with Robots. You will receive not 1 Dow Jones expert advisor but 10!
Algorithmic trading will teach you to remove all the stress when trading Stocks.
While there are plenty of stock market courses that will show you how to do technical analyzes on the market and trade manually, it is hard to find a comprehensive algorithmic course which is suitable for advanced traders and in the same time for beginner traders.
With this Dow Jones Expert Advisor course, you will have the chance to trade with ready Expert Advisors. You will learn how to follow the results in your trading account and filter the strategies – this should not take you more than 30 min PER WEEK!.
What will you learn as knowledge in this Dow Jones Expert Advisor course:
How algorithmic trading works for indexes and how to do it alone
Test the 10 strategies on a Demo account without any risk
How to follow precise statistics and choose the EAs for a live account
Methods that Petko Aleksandrov uses to select the Best Experts
How to use professional software and generate your own strategies
Build your confidence by trading with automated strategies
When trading with 10 different strategies you will not depend on one single one, and you will improve your results
Regardless of what your level of trading experience is or how long time you have been trading on the stock market, this algorithmic course will give you the chance to trade with 10 great strategies automated as Expert Advisors. No more looking at the charts hesitating to close a trade or not. The Robots will open and close the trades using exact trading rules.
Whether you prefer to select the best strategies, or you wish to trade with the 10 Expert Advisors, you will have a good risk-diversification – if one strategy performs bellow the expectations, the others will compensate for it. Petko Aleksandrov will demonstrate to you how to recognize the strategies in their profitable phase. And exactly those EAs he uses for a real trading account.
Unlike other stock market courses for Experts that will teach you how to code the strategies, this course is designed to teach you actual trading. You will learn how practically to use the 10 Dow Jones Expert Advisors that are ready for trading. You do not need any programming or trading experience.
Contents and Overview of the Dow Jones Expert Advisor Course
This Dow Jones course is aimed at teaching beginner and advanced traders why algorithmic trading is useful. Why it is the preferable way to participate in the market.
We will start with a basic section with lectures introducing the beginner trader to MetaTrader platform, What are the indexes like Dow Jones and why it is better to trade them and not stocks. You'll then dive into step-by-step demonstration from Petko Aleksandrov where he shares how the Dow Jones strategies are created, and how you can trade the Dow Jones with Expert Advisors.
You will learn in detail about how he tested the strategies and how he selected these 10 Expert Advisors. Petko Aleksandrov will also share his two methods to avoid Demo trading which are very effective and save a lot of time.
So you can trade with Expert Advisors confidently, the mentor will include in the course the EAs that he selected from thousands. More, by enrolling in the course you will receive lifetime updates to these Expert Advisors.
By the end of this Dow Jones Expert Advisor course, your skills and confidence as an algorithmic trader will soar. You will have a thorough deep understanding of how Stock market algorithmic trading works and what results could be realistically achieved.
Who is the instructor Petko Aleksandrov?
Petko Aleksandrov is the CEO of Forex Academy and he has been trading for more than 10 years on the Forex market and he uses hundreds of strategies for his algorithmic trading. In all the courses created by him, the trader includes his best strategies as Expert Advisors. He says "Sharing my strategies and Expert Advisors makes me happy because I save a lot of work to thousands of traders. Also, when I get the feedback I succeed to improve the strategies. It is similar to having a team of thousands of traders!"
In 2016 Petko Aleksandrov has established Forex Academy with a team of professionals, and for the first 1 year, over 10,000 traders joined the Academy.
For any questions along the course, make sure you write in our trading Forum.
The 30-days money-back guarantee allows you to take this course without any risk. If you decide that this is not your trading style, you can use this option.
We can not wait to see you inside the class!
Enroll now, and we will bring your trading skills to the next professional level.
Trading Academy team
Course Features
Lectures

17

Quizzes

1

Duration

500 weeks

Skill level

All levels

Students

1051

Certificate

Yes

Assessments

Yes
Tom Storm

New idea for someone like me

Though I still have a long way to go even after I have taken this course. However, I am now finding it easy to use Expert Advisors confidently, which is the beginning to a great thing. Thanks for providing a course with the EAs that you selected from thousands and your lifetime updates to these Expert Advisors.

George Lane

NOT DISAPPOINTED

I did not want to take this course initially because I had my doubt, but am happy I finally took it. The reason why I took it was that I saw where he mentioned the 30-days money-back guarantee which would allow me to take the course without any risk. And that if I decide that this is not my trading style, I can opt out. Turns out to be cool

Iohan Dive

NOT A BAD COURSE

My major take home from the course is that you will have a thorough deep understanding of how Stock market algorithmic trading works and what results could be realistically achieved. It is a simple pretty straight process with wonderful result. You can either join the winning side or stay aloof with the losing side. lol

trade1234321

Dow Jones

This sounded like a comedy series, Dow Jones, I have never like the idea behind this style but surprisingly working and profitable. I think the course is aimed at teaching beginner and advanced traders why algorithmic trading is useful and why exactly it is the preferable way to participate in the market.

Sharapova Sisi

PRACTICAL COURSE, DELIVERING VALUE

Ok, I will share my honest opinion with whoever cares to listen. Follow a tutor like Petko who has great experience in trading and enthusiastic about training people. Don't follow people that know nothing. I fully recommend Petko's course for anyone who cares to listen and make progress. You will definitely learn how practically use the 10 Dow Jones Expert Advisors that are ready for trading and many other things that will bring you much proft