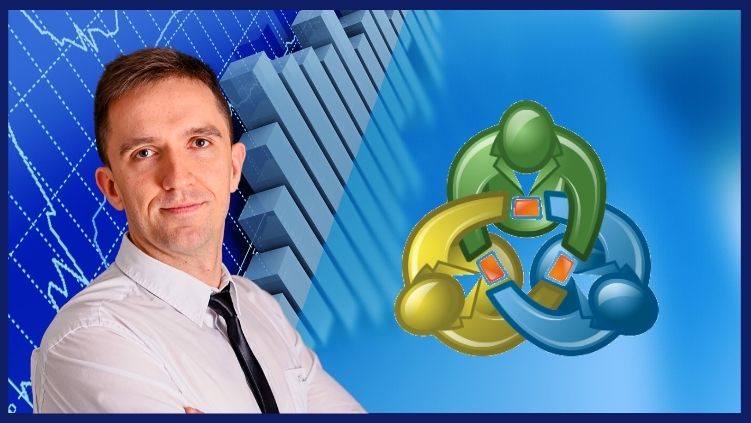 MetaTrader 4 Course
has been
designed to
teach
you the essentials of trading
on this popular
platform.
MetaTrader 4 course will teach you how to trade 3 strategies for EURUSD, EURGBP, and GBPUSD currency pairs on the most common trading platform, and it will teach you how to feel comfortable on MetaTrader.
Are you looking for the best and right way to start trading on the Forex market?
MetaTrader 4 is the trading platform that most traders use to trade on currently. The two main reasons for this is that it is free and it is easy to use. It's easy to access, download, and install, because most brokers provide it on their websites.
And this MetaTrader 4 course is a step-by-step guide on how to use it like a professional
The MetaTrader 4 course covers everything in a progressive sequence, from installation and set up to how to draw on the chart and finally how to put it all together and start trading with Robots (Expert Advisors).
As a professional trader with over 10 years of experience, I trade both automatically (with robots) and manually. And in this course, I am going to all of my experience with you, and teach you to execute the best strategies manually, but also include 3 of my Expert Advisors (Trading Robots) ABSOLUTELY FREE!, giving you the choice to trade the strategies manually or automatically.
Trading automatically with the EAs, will require a fraction of the screen time required to monitor the markets
All you will need to do is to follow the performance of the Expert Advisors once or twice a week. But I will show you that in this MetaTrader 4 course.
No prior trading experience is required. This MetaTrader course is designed for traders who are just starting out, or for those who have never used MetaTrader 4.
Unlike many other courses sold online, in this course, no programming skills are required if you want to trade with Expert Advisors, you will receive the ready-to-use trading file, as well as the code (programming file) for the strategies. In addition, I will demonstrate how to correctly place and initiate the EAs on your charts.
And, as an additional bonus, I will include in this MetaTrader 4 course a great Custom Indicator which will improve all of your trading strategies.
It will show you, visually, which is the best currency pair to trade and where the highest volatility is, in real-time.
Once enrolled in the course, you will have lifetime access. This means that you will have access to all updates for this MetaTrader 4 course for ever. Every 2-3 months, I update the 3 Forex strategies with new parameters, ensuring the Expert Advisors are always up to date with current market conditions.
I will teach you how to set up your trading screen in MetaTrader 4 for each of the 3 strategies. I will show you what the entry rules and the exit rules are. You will learn to use simpler strategies coupled with advanced strategies to identify entry rules and confirmations before the actual trade is opened.
What will you learn in the MetaTrader 4 course?
What to look for when selecting your broker, and how to avoid the many scam brokers online

How to install MetaTrader 4 Forex platform on your trading

computer

so you can practice with

a

Demo account,

risk-free

Customization of the trading platform using the chart properties and settings
How to use the drawing tools in

the

MetaTrader 4 Forex platform – channels, shapes, and arrows, Fibonacci

different pending orders – Buy Limit, Sell Limit, Buy Stop, Sell Stop

Use Stop Loss and Take Profit which is part of every strategy

How

to use all trading indicators in MetaTrader 4 Forex platform and

the

trading signals they provide

I

mprove your trading with the

custom indicator

which I will include in the course as a Bonus
Quickly and easily create

templates and profiles,

to customize your

MetaTrader 4

platform

How to correctly

execute trades using the 3 strategies which you will learn in the course

Place

and initiate

the 3 Expert Advisors on

the

MetaTrader 4 Forex platform

Perform

backtesting to see the results over your broker's data

How to

find the best values for the parameters in the indicators using the optimizer
What is the key point with the 3 strategies in this MetaTrader 4 course?
They are developed for EURUSD, GBPUSD, and EURGBP. This way you will have equal exposure on the three currencies. A common mistake that even the more experienced traders make, is to trade only the major currency pairs. This increases the risk in the account.
Additionally, 3 strategies are uniquely different. This way we achieve better risk diversification and while increasing our chance of potential profits.
Regardless of your level of trading experience is, the MetaTrader 4 Forex course has been structured in such a way that once completed. beginner trader will be able to easily start trading with the MetaTrader 4 Forex platform, and advanced traders can upskill, strengthening their existing knowledge
Unlike other trading courses that try to teach theory by using slides, this MetaTrader 4 Forex platform course has been designed to teach you with practical steps, so you never feel like you're getting left behind
In addition, you will get example trading strategies, which you can backtest and see the actual result. This is invaluable when you start trading
Who is the instructor for the MetaTrader 4 course?
My name is Petko Aleksandrov, and I have been a trader for well over 10 years. Recently my time has been split between trading professionally and creating and recording educational online courses. This way I am able to share my trading experience by providing strategies and Expert Advisors in all of my courses. I enjoy meeting traders from around the world and sharing experiences with them.
I have worked for several financial institutions, Forex brokers, insurance companies, and that has assisted me in understanding the industry holistically, and given me the opportunity to filter out the noise and focus on what works best. I have tried most of the trading platforms and instruments available. Through this practice, I learned that MetaTrader 4 is the easiest platform for beginner traders, as well as professional traders who are using algorithmic trading.
As with all of my other trading courses, you will receive:
lifetime access to the course and all updates in the course

notifications when I update the course, so you can use

the updates

immediately

30-day money-back guarantee, which you can use it if you decide that this

course is not suitable for you
If you have any questions, just post them in our Trading Forum, and I will always reply to you within 12 hours.
I look forward to seeing you in the MetaTrader 4 course!
Enroll now, and improve your trading skills!
Course Features
Lectures

37

Quizzes

0

Duration

500 weeks

Skill level

All levels

Students

984

Certificate

Yes

Assessments

Yes
trade1234321

Good Tutor

I like it when a tutor is ready to sacrifice all in order for the student to understand what he is teaching. Aleksandro put in all of his experience in the course, from the course I found it easy to execute the best strategies manually while also including 3 of his Expert Advisors

Khalique Ur Rehman

Best Choice

It was one of the best choices on my forex journey to reach Mr. Petko A. and I hope others will have the same feeling.

Laura Stone

Trusted

I found it difficult to trust any broker or anyone recommending broker just like Petko does sometimes because a lot of them always have a refer link. However, Pet seem a bit different. He also taught me on what to look for when selecting me broker, and how to avoid the many scam brokers online. It is at least helpful

Cone D

I WILL PARTLY RECOMMEND

I rarely recommend online Tutors, however I am going to recommend Pet because I learnt some new things which I believe will be beneficial to my trading style. As such I will partly recommend him, remember I don't recommend people in the past

Sabastian Lim

EXPERIENCE IS TRULY THE BEST TEACHER

I almost gave up on following Petko at some points when I was not patient enough. Petko painstakingly addresses the issue and to me that looked like sluggishness, so I ventured into trading without proper tutoring from him. The result was terrible because of that. Now I know better and I am following his courses a day at a time without rushing, and believe me, my results are now doing very great. Petko is the best guys

Loading...
You May Like
You May Like